The terms "Delta SkyMiles" and "transparent" don't usually go in the same sentence. I can hardly blame them for leading the way among US airlines when it comes to "innovating" loyalty programs, as they were the first to add a revenue requirement for status, and then eventually award redeemable miles based on revenue rather than distance flown.

That's all fine, though the one thing I really take issue with is that Delta SkyMiles eliminated their award charts altogether as of early last year. So if you want to know how much an award ticket will cost you, you can log onto delta.com and search for the variable price, as it's the only way you'll know for sure.
The reason they've eliminated award charts is quite obvious, in retrospect. Long term Delta wants to make SkyMiles revenue based on the redemption side, and it's much easier to do that if people don't have pre-conceived notions about how much things should cost. It sure seems like they're trying to make SkyMiles worth a penny each, and that will be an easier adjustment to make if they can condition people to expect dynamic award pricing.
The good news is that Delta hasn't devalued the cost of saver level partner awards much in the past couple of years. While they have several tiers of pricing and the cost of awards on their own metal have largely gone up, that hasn't spilled over to saver level awards much. Delta's last major award chart devaluation was in 2014.
It looks like for the first time in a while, Delta is increasing saver level & partner award costs for travel as of October 1, 2016 (keep in mind this is the "travel by" date, and not the "book by" date).
The cost of business class awards between the US and South Pacific is increasing from 80,000 miles to 95,000 miles one-way.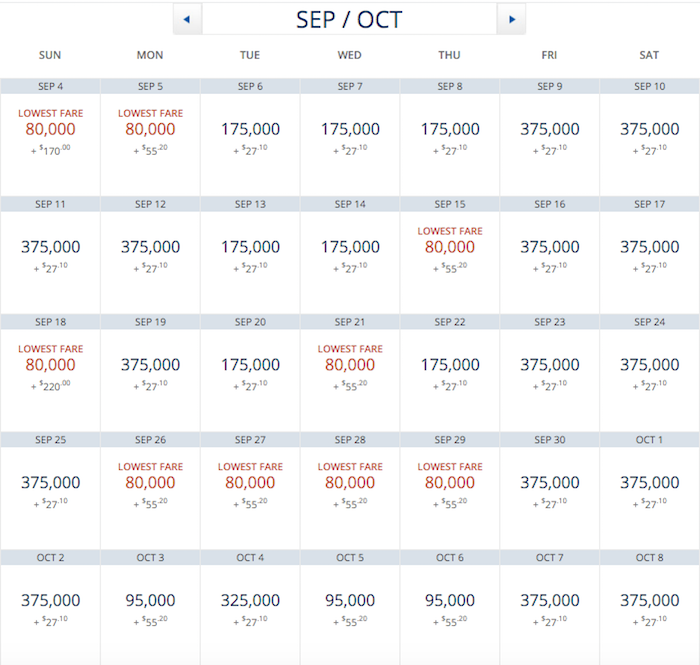 You can see this if you look at the cost of an award from Los Angeles to Sydney on September 29, 2016:

And then again a week later, on October 6, 2016, where the same Korean Air flights cost 15,000 more miles:

By the way, can we just stop for a second and note how obscene Delta's award pricing is getting on their own flights? For a flight which looks almost completely empty, Delta is charging 750,000 SkyMiles for roundtrip business class between Los Angeles and Sydney (while economy is 230,000 miles roundtrip for the same flights):

There are some other award cost changes as well. The good news is that the cost of roundtrip economy travel between the US and South Pacific decreases from 100,000 miles to 90,000 miles at the saver level. There are some other adjustments in other regions as well, like from Hawaii to Asia, though they're mostly not too major and negative.
Unfortunately since Delta doesn't publish an award chart, though, I can't do a side-by-side comparison. 😉
Bottom line
The downside to Delta not publishing award charts is that they can do what they want when they want, and only a few savvy members may catch on to what they've done. In and of itself these changes aren't terrible, and in some cases are positive.
On one hand it's a bit odd that Delta is increasing award costs between the US and Australia given that it's at a time where capacity is being added to the market by American. On the other hand, I can also see the logic, given much of the saver level award space between the US and Australia routes through Seoul Incheon at this point, which is a long way to go.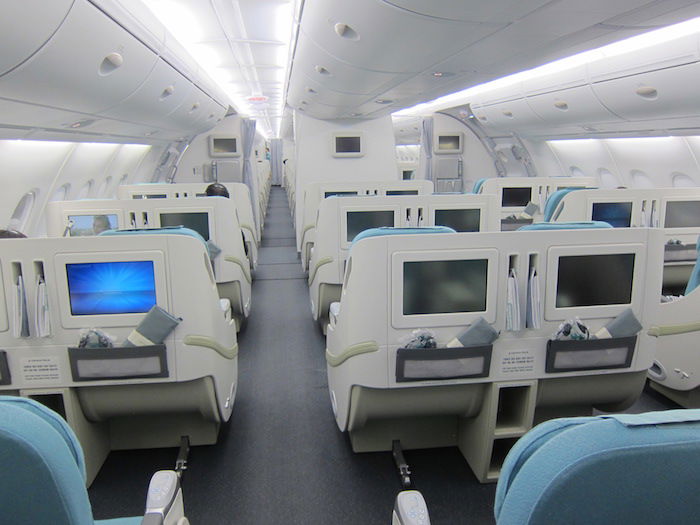 Korean Air A380 business class
Here's to hoping these are all the award cost changes that Delta SkyMiles is making for now…