Back in October I wrote about a surprising limit which Delta SkyMiles was going to put in place as of January 1, 2015, for points transfers from partner programs.
The new rule was basically that you couldn't transfer the equivalent of more than 250,000 Delta SkyMiles from a partner program to Delta in a calendar year. Originally I assumed this restriction only applied to American Express Membership Rewards, though we quickly found out that this applied to all partner programs.
This was a pretty gutsy move on a couple of levels:
This is the first time we've seen a US frequent flyer program limit points transfers in such a way
It was especially surprising since Delta's co-branded credit card is issued by American Express, so I was kind of shocked that both parties were okay with that
Well, it seems that Delta SkyMiles will be reversing course on this. There will be no limit to the number of SkyMiles you can transfer from partner programs. The Delta Membership Rewards page has been updated with this information, though it also applies to other partners as well:
The previously published Delta® SkyMiles® program update, which would have limited the number of Membership Rewards® points that could be transferred into a SkyMiles account beginning January 1st, will not take effect.

As part of American Express' continued partnership with Delta, this means that there will be no annual limit on point transfers from the Membership Rewards Program to the Delta® SkyMiles® program. You will continue to enjoy your Membership Rewards benefits and the ability to transfer Membership Rewards points to the SkyMiles program as you do today.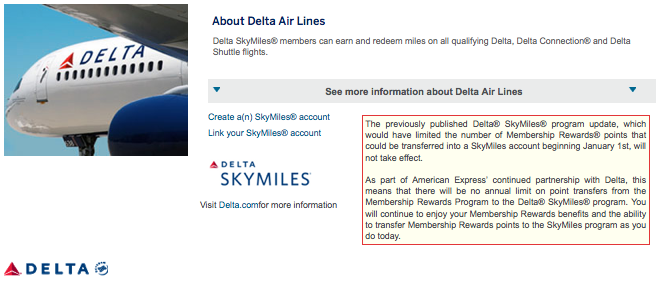 As I've explained in the past, there are some great uses of Delta SkyMiles, and with the 2015 SkyMiles program, one-way award tickets will be possible for half the cost of a roundtrip. So it would have been a huge loss for many to cap those transfers at 250,000 miles.
SkyMiles continue to be one of the best mileage currencies for travel to Australia, Tahiti, and in some cases, Europe.
Bottom line
I'm not just excited about this for the obvious implications, but also because this hopefully reverses the precedent Delta set with their decision. As we know, Delta loves to "lead" and then other airlines like to blindly follow, so my concern was that other programs would implement similar restrictions. Now that Delta has reversed course, that seems unlikely.
(Tip of the hat to View from the Wing)