And the saga continues…
Earlier in the week I posted about how Delta will be discontinuing their Atlanta to Dubai flight as of Spring 2015, as part of the seemingly never-ending battle between the "big three" US carriers and "big three" Gulf carriers.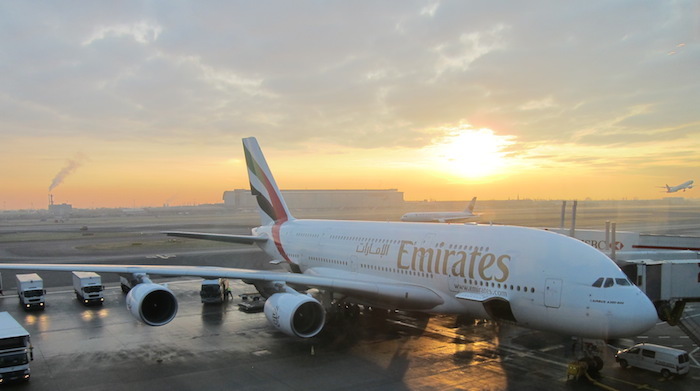 Anyway, Delta apparently disagrees so strongly with that piece that their Chief Legal Officer sent an email to Air Transport World, which they published in a press release.
Here's the letter, in its entirety:
To the editor,

Delta's decision to cancel our Atlanta-Dubai service has been under the microscope in recent days, both by Karen Walker, the Editor-in-Chief of Air Transport World, and by Emirates, the heavily subsidized Gulf carrier that has driven competition out of the U.S.-Dubai market.

A column by Walker last week questioning our motives for canceling the Atlanta-Dubai service demonstrated a startling ignorance of how modern airline hubs operate.

Walker noted that none of the Big Three Gulf carriers – Emirates, Qatar or Etihad – operated flights from Atlanta to Dubai and concluded that Delta didn't have any competition on that route.

As the editor of a respected airline trade publication, Walker should know better. Atlanta is Delta's (and indeed the world's) busiest hub, and is heavily reliant on connecting traffic to support its international service. Customers traveling from the U.S. to Dubai today have a choice of 16 daily departures from 12 U.S. cities – 14 of which are operated by Emirates. That airline's extensive interline and code sharing agreements with U.S. carriers means most passengers traveling to Dubai can easily book one-stop service on Emirates through the gateway of their choice. Delta is competing with every one of those flights, all of which are heavily subsidized by the United Arab Emirates.

Unlike Delta, the Gulf carriers don't have to worry about being profitable or operating under the normal constraints of a free market, making fair competition impossible. Indeed, Delta's Atlanta-Dubai route lost money for two years before we made the difficult decision to cancel the service.

Walker also noted that the Gulf carriers are boosting U.S. service in part to connect American passengers to the Indian subcontinent through their Middle Eastern hubs. She correctly notes that "Delta does not have a sub-Indian continent network (nor do any of the U.S. carriers)."

There is a reason for that. In the past Delta had flown nonstop to Mumbai from both New York and Atlanta. Today the U.S. airlines operate almost no service to India because they have been driven out of the market by the subsidized Gulf airlines. The same phenomenon has occurred with European airlines, which have been driven out of the market by Gulf subsidies. It is shocking to realize that U.S. airlines have just a single flight to the second most populous country in the world.

The point that Walker omits is, of course, is the stunning level of subsidy enjoyed by the Gulf carriers. At $42 billion and growing, it is one of the largest trade-distorting subsidies on record, and without question violates the Open Skies agreements between the U.S. and Qatar and the United Arab Emirates. That is why Delta, United and American and airline labor unions continue to urge the U.S. government to open consultations with those nations to resolve the issue. The impact is real and growing fast – and thousands of U.S. airline jobs are at risk. A long-haul international flight like Atlanta-Dubai directly supports 800 airline jobs.

Emirates, meanwhile, touted an "analysis" claiming that our Atlanta-Dubai service was wildly profitable, and accused us of cancelling it to make a political point. That's just nonsense. Airlines don't cancel profitable routes, and Delta is no exception. Our Dubai service lost money for nearly two years, for the reasons stated above – we have been competing with heavily subsidized Gulf carriers that simply don't have to worry about whether routes are profitable, since they are supported by their governments.

It's not surprising to see Emirates making this type of argument, given that the airline is fighting to continue to dump subsidized capacity in the U.S. But it is disappointing to see the same deliberately misleading rhetoric in a respected publication like Air Transport World.

Sincerely,
Peter Carter
Executive Vice President and Chief Legal Officer
Delta Air Lines
As far as arguments from Delta go, this is actually one of the more well reasoned ones. I mean, at least their CEO didn't link these airlines to 9/11, so it sort of only gets better from there.
Still, where do we even begin with Mr. Carter's response?
He's accusing the Gulf carriers of using rhetoric, when he used the term "subsidized" nine times in one letter? Pot. Kettle.
He claims "airlines don't cancel profitable routes." That's certainly not true. Presumably an airline would cancel a profitable route if they thought they could utilize the plane better elsewhere. But there's a big difference between that and claiming that airlines simply don't cut profitable routes. Airlines presumably have route networks which maximize their profitability, which is different than not cutting profitable routes.
He makes it sound as if the US carriers have been "driven out" of the Middle East/India. Instead, these are markets they all consciously chose never to compete in. He's claiming Delta used to have two flights to India, the second most populous country in the world, and goes on to say how they were "pushed out." Did he really think consumers were well served by Delta's two flights between the US and the second most populous country in the world? It's sort of tough to fault an airline for taking over market share in a region where Delta never tried to compete.
He certainly does make a valid point about Delta having a lot of competition on the Atlanta to Dubai route, even though none of the Middle Eastern carriers served the route as well, given how much of the route was based on connecting traffic. That's a valid point.
Bottom line
I realize it's not going to happen, but if Delta really wants to prove their point, they should release the numbers. Not that I think Emirates' "independent data" is necessarily 100% accurate, but I have been monitoring the flight for a while. Fares are high and the flight seems to be pretty consistently full.
Not that this is a perfect indicator of profitability, but if that combo can't make allow the world's most profitable airline to turn a profit on the route, I do have to wonder what I'm missing.
It's also interesting that Delta claims they haven't turned a profit on the route in two years. Crude oil is less than half the price now than it was two years ago. That was around the time that the price of oil really started to plummet.
Doesn't that suggest the reason Delta is canceling the route is due to reduced activity in the oil industry, as opposed to added competition from Gulf carriers? In other words, if crude were still over $100 per barrel would the route be profitable, regardless of competition from the Gulf carriers?
That's not really any different than Delta reducing capacity to Brazil and Europe due to the strong US Dollar, which is decreasing demand for travel to the US.
I'm guessing this isn't over, and that Emirates/Air Transport World will have a response. Get your popcorn ready, folks! Am I the only one who would love Akbar Al Baker to chime in right about now?
Who do you side with in this saga?