You've gotta give Delta credit for how well they take care of their employees. Yesterday Delta announced that they're paying employees over one billion dollars in profit sharing this year. This profit sharing amounts to more than 10% of gross pay for most employees, with the average employee receiving about a $6,000 bonus. That's a lot.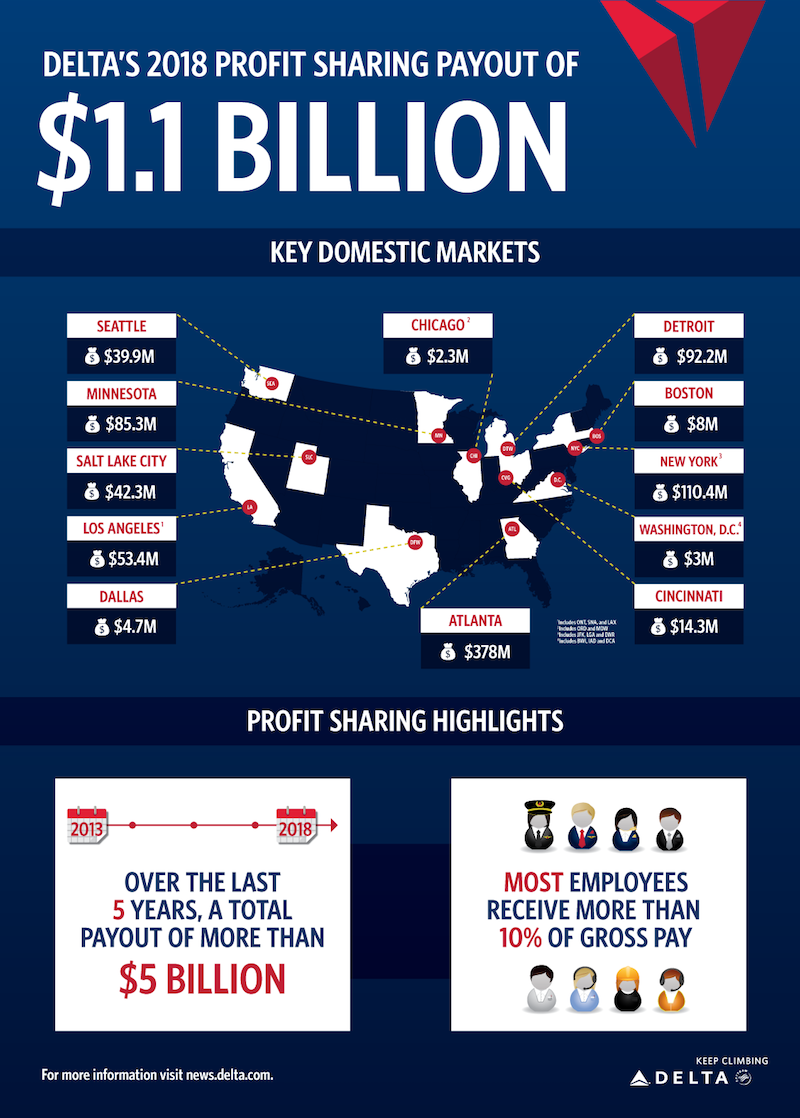 Here's what Delta's CEO, Ed Bastian, had to say about the profit sharing:
"This is the fourth year in a row that Delta's profit sharing has topped $1 billion — a milestone no company in history has ever achieved. Delta people are the reason for our success and Valentine's Day is our favorite day each year as we celebrate the incredible results our people have delivered.

Our industry-leading profit sharing and compensation philosophy reflects a decision we made a long time ago to share in the company's success each year with our people who make it possible. Rather than make a one-off payment like other companies, Delta is invested in highly competitive base pay, an industry-leading annual profit sharing plan, and monthly bonuses each year when the airline performs well."
I give Delta kudos for this, and it's clear that on balance their employees are more invested in the company than at other airlines (though that's not true across the board).
Perhaps the more interesting story that has emerged here is how pilots at other airlines feel about this profit sharing. Forbes has an article about how American pilots are saying "what about us?" following yesterday's news. According to the story, here's how profit sharing at the "big three" US airlines differs for pilots:
A Delta captain will get a payout of $29,000 to $59,000 (wow!)
A United captain will get a payout of $9,300 to $20,500
An American captain will get a payout of $3,600 to $7,500
Not surprisingly, American's pilot union (the Allied Pilots Association) wants to discuss higher profit sharing following yesterday's news. Here's what a union representative had to say:
"The profit sharing pool at Delta is an Olympics size pool," Tajer said. "American's is a kiddie-size pool.

"Our pilots want to not only talk but also we insist on seeing our operations leadership recognized and properly aligned with the financial success of our company like Delta pilots have been for years," he said.
Here's what an American spokesperson had to say:
American spokeswoman Leslie Mayo said, "We are proud to be able to distribute $241 million in profit sharing to our team members for 2017, as well as a mid-contract pay increase of 8% for our pilots.

"Those raises and profit sharing were the right thing to do for our pilots," Mayo said. "They earn it every day."
For more context, here's how the profit sharing arrangements at American, Delta, and United work (as you'll see, not only does Delta have the biggest profits, but they also share the highest percent of them with employees):
Excluding special items and profit sharing, Delta earned $6.5 billion in pretax profits in 2017, while American earned $4.1 billion and United earned $3.5 billion, according to APA figures. Delta is sharing $1.1 billion while United will share $349 million and American will share $241 million.

Delta shares 10% of pretax profits up to $2.5 billion and 20% above $2.5 billion, APA said. United shares 10% up to a 6.9% pre-tax margin and 20% above that margin. American shares 5% of its pretax profit.
Aside from profit sharing, pilot pay at the three carriers is roughly comparable, with senior captains all making $323-330 per hour. If you're curious, here are the pilot pay rates for American, Delta, and United.
I'm a bit conflicted in regards to how to feel about the frustration from American pilots.
On one hand, airlines are greedy at the expense of passengers, so it's not like I want them to keep more of their money and have bigger executives bonuses.
At the same time, it sure seems to me like airline pilot pay is once again getting unsustainably high. Pilots are now back to their pre-9/11 pay rates (inflation adjusted), with some captains making $400,000 per year in total compensation. If any of a variety of factors occurs, airlines won't be able to sustain these pay rates, and they'll be back to where they were before. American and the pilots negotiated contracts, and American even raised their pay by 8% last year, which wasn't required by the contract. They're getting more than they negotiated and are entitled to.
Furthermore, part of the reason that Delta has such generous profit sharing is because they generate higher profits. American pilots want higher profit sharing even though the airline doesn't do as well, which to me largely misses the point. While I think management decisions are the driving force in airline performance, employees also do make a big difference, and I can't say I notice that many employees at American going above and beyond.
Do you think American pilots have a valid complaint?