Delta had quite a meltdown last week, following a big storm that hit their Atlanta hub. While there's nothing they can do about weather, the degree to which it impacted their operations left a lot of people wondering just how operationally reliably they are. They had around 4,000 canceled flights, and their CEO admitted that they let their customers down, and that they're taking steps to prevent similar issues in the future.
Let's keep in mind that Delta trademarked the term "on-time machine," and they think they're so good operationally that they don't even have an industry standard interline agreement with other major carriers, which allows them to rebook passengers on competing airlines.
Delta got a big gift this past Sunday, in the form of the United incident involving Dr. Dao, as it took all of the attention off their operational problems.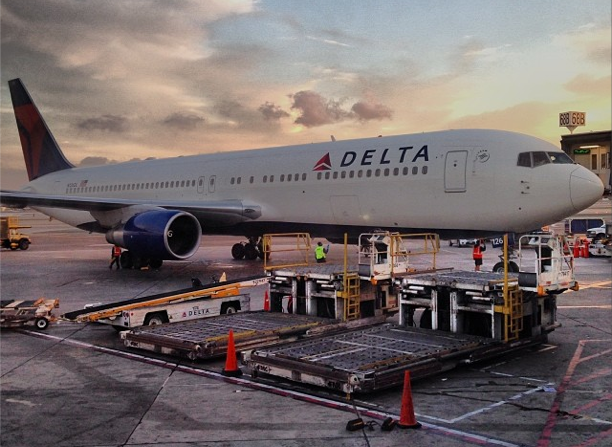 Given what a disastrous week they had operationally, Delta will proactively be sending out compensation to certain passengers, with the offer to choose between a $200 travel voucher and 20,000 Delta SkyMiles. Per Point Me to the Plane, here are the terms associated with the offer:
Delta will provide a PROACTIVE $200 travel voucher or 20,000 SkyMiles to all customers who experienced an IROP (a delay of greater than three hours in getting to their final destination, or a canceled flight) on two or more flights during the course of the April 3-9 service. This includes travel scheduled on April 3-9, 2017.

Examples:

Customer is on a cancelled flight and they opt not to travel and take the refund: Do not qualify
Customer is on a flight either canceled or delayed and they are rebooked on another flight that is delayed for less than three hours: Do not qualify
Customer is on a flight either canceled or delayed and they are rebooked on another flight that is also canceled or delayed for more than three hours: Qualify
On one hand I commend them for offering proactive compensation. On the other hand, it seems pretty cheap to only compensate passengers if they experienced two major delays or cancelations. So if your flight was canceled and then they could only rebook you on a flight a couple of days later, you're apparently not entitled to compensation. It's especially disappointing given how much pride Delta takes in their operational reliability.
Regardless, if you flew Delta in the past week or so, hopefully you have an email coming your way. And Delta has certainly done a better job handling overbooked flights this week than United has…
Were you impacted by Delta's operational problems last week?