Later this month Delta will inaugurate international service with their A350. The airline has 25 Airbus A350s on order, which they'll be taking delivery of through 2022. So far Delta has announced three longhaul routes with this plane over the coming months, all of which are between Detroit and Asia. Launch dates for international A350 service are as follows:
Detroit to Tokyo Narita as of October 30, 2017
Detroit to Seoul Incheon as of November 18, 2017
Detroit to Beijing as of January 17, 2018
Well, today Delta has announced their next two international A350 routes. They're both out of Detroit, and include an additional Asian gateway, as well as the Delta A350's first route to Europe. Specifically, the following additional routes will be operated by the A350:
Detroit to Amsterdam as of March 31, 2018
Detroit to Shanghai as of April 19, 2018
Delta has four daily flights between Detroit and Amsterdam, and they haven't yet announced which one of them will feature the A350. All of Delta's other A350 routes are once daily.
That means by next April Delta's longhaul A350 route network will look like this:
There are a couple of things that make the A350 unique as far as Delta's onboard product goes. First of all, the A350 will be the first plane with the new Delta One Suite, which features a configuration with doors at every seat. On one hand this is an exciting development, though I'm not sold on the seat as such.
The Delta One Suite is based on the Vantage XL seat, which is a slightly above average business class hard product. So while the added privacy of the door is nice, I suspect this will be a pretty claustrophobic seat, and I'm not sure how much better it is than the reverse herringbone seat that they otherwise used for these flights to Asia. I certainly want to test it out myself.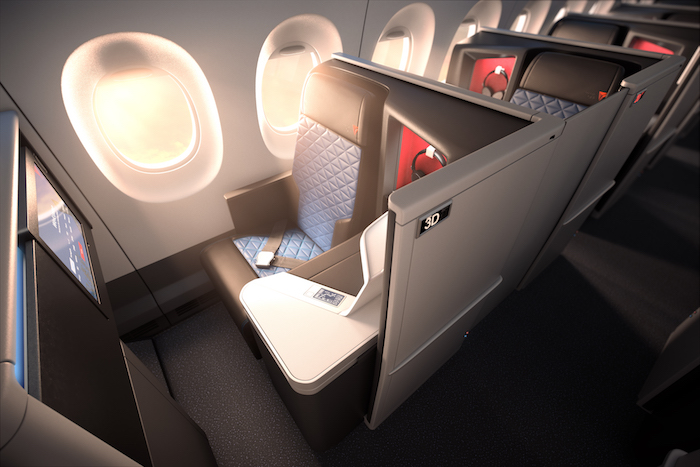 On top of that, the A350 features Delta Premium, which is the name of their new premium economy product. This will eventually be offered on other longhaul aircraft as well.
The one thing to be aware of with the A350 is that Delta added a special surcharge for those booking their A350 Delta One Suites. Those on discounted business class tickets have to pay an additional $500 one-way for this product over other products, while those on more expensive fares have to pay an additional $250. So even if you find a good business class fare to begin with, you'll end up paying an additional $1,000 roundtrip if the ticket is on an A350.
I've seen some situations where the surcharge hasn't applied, so I'm not sure if Delta is slowly starting to reconfigure this policy, or what.
What do you make of Delta flying the A350 to Amsterdam and Shanghai?