12 days ago there was a brief period where Swiss first class award availability was bookable using Star Alliance miles. While Swiss has generally restricted first class awards to Miles & More elite members since 2013, this isn't the first time since then that they've released space, and the precedent was certainly that they'd honor such tickets (I flew Swiss first class from Zurich to Los Angeles a bit over a year ago under similar circumstances).
However, for whatever reason this time around Swiss decided they didn't want to honor the tickets. Most people who booked these award tickets booked through Aeroplan, which is Air Canada's spun off frequent flyer program.
I'm going to assume that Aeroplan (and Air Canada) did everything they could to pressure Swiss to honor these tickets. Swiss is an unbelievably arrogant airline, and it's completely within character for them to do whatever the heck they want. So I don't blame Aeroplan for the mistake, and certainly don't plan on pursuing any sort of action against them. I have filed a DOT complaint, with the goal of seeing what Swiss has to say about this.
But I do have a major bone to pick with how Aeroplan has handled this situation. It has been 12 days since people booked these award tickets. I don't know about others, but they haven't contacted me to inform me that these tickets wouldn't be honored. While many people individually noticed that Swiss was canceling their tickets, to me it's ridiculous that they didn't tell members "there are issues with the tickets, please be patient," or anything. Instead they just haven't communicated at all.
Six days ago Aeroplan released a statement to bloggers saying the following (and while the statement is appreciated, this isn't a substitute for direct communication):
Over the next few days, our agents will be contacting each member to personally arrange first or business class redemptions on another Star Alliance carrier or to reinstate miles free of charge.
Up until Sunday night I wasn't contacted at all. And my contact from them yesterday wasn't a phone call asking whether I want my miles reinstated or working with me to find another option. Instead, it was just a blank email with a new e-ticket receipt attached, without any explanation of what was going on.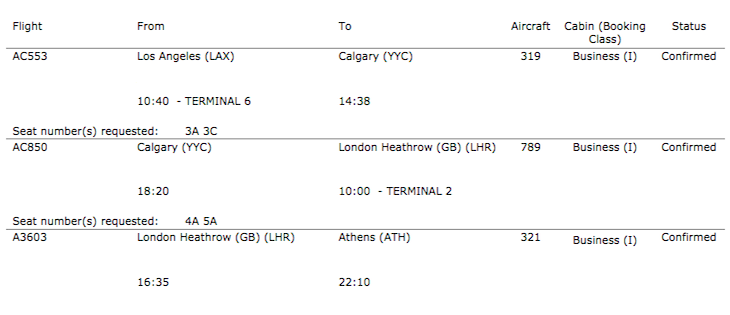 I get that this was largely out of Aeroplan's control, and I get that they're probably as frustrated as we are. But 12 days later not having any sort of a phone call or email explaining what happened, is unacceptable. And on top of that, just emailing a new e-ticket receipt without an explanation is ridiculous. Oh, and they also haven't refunded the difference between a first class award and business class award (not that I plan on taking this routing via Calgary with a layover of nearly four hours and then a layover of over 6.5 hours, when I previously had a one-stop routing).
To those of you who also booked these tickets, has Aeroplan reached out to you? Am I the only one that thinks it's ridiculous that they haven't reached out to members in any sort of a substantial way?