Travel with my dad is always fun, and heck, my dad's flights are even "exciting" when I'm not traveling with him. Perhaps for some context, check out my post from this past summer entitled "My Dad Is Flying Southwest, And I Need A Drink."
Well, I bring you the latest installment of "My Dad Is Flying ______, And I Need A Drink."
My Dad's Adventures Flying To West Palm Beach
We are spending Christmas in the Palm Beach area. It's the most central area for my family to meet, between Ford's mom, my mom and her boyfriend, and my dad. My dad is visiting from Tampa, and while it's only about a 3.5 hour drive, he's getting to the age where he doesn't feel comfortable driving long distances alone anymore.
So I offered to book him a flight. I headed over to Google Flights, and found flights on… Southern Airways Express?
I had never heard of them, but it seems like they fly 3x daily between Tampa and West Palm Beach… using a Cessna Grand Caravan. I have a lot of questions about the business model given that this isn't an Essential Air Service (EAS) route, but that's besides the point…
As you guys may remember, my dad isn't great with technology at all. He got a cell phone for the first time a couple of years ago, and all he can really do is call and text (it has been so nice to see the extent to which he has embraced that). And yes, he still sends me a picture daily of his dinner, in case you guys are wondering.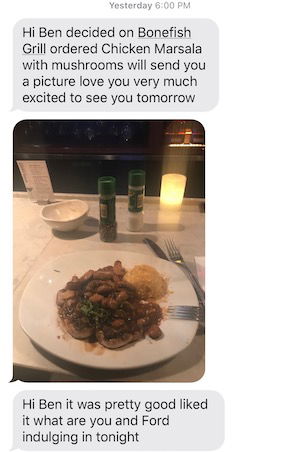 So I presented the option to my dad.
"So dad… I can get you a nonstop flight from Tampa to West Palm Beach…"
"That's great, Benny!"
"But it's going to be on a small plane and on an airline you've never heard of, is that okay?"
"Yes Benny, that's fine."
I was kind of surprised he didn't have more questions. Yesterday we talked on the phone.
"Benny, can you check me in online?"
"Dad, they don't have have online check-in. It's a very small airline."
"Okay, so I just go to the ticket counter tomorrow?"
"Yes, when you get to the airport just look for the Southern Airways Express ticket counter."
"The Southwest Airlines ticket counter?"
"Nope, it's Southern Airways Express. It's a separate airline."
"Benny could you get me a seat assignment?"
"No, they don't do seat assignments. It's a very small plane."
"Oh… like Southwest?"
Well, he flew today, and I woke up to the following text from Southern Airways Express:
Southern Airways flights do not depart from the main terminal at Tampa International. Instead, we operate from Signature Flight Support, 2450 North Westshore Boulevard, Tampa, FL, 33607. There is no check-in counter at our private terminal. Please arrive 30 minutes prior to the flight, make yourself comfortable in the lobby and wait for one of Southern's crew members to greet you approximately 15 minutes prior to departure. Our pilots can be easily identified by their powder blue neckties and white hats. If you have any questions, feel free to call our Customer Service Center at 800-329-0485.
I got that text at around 5AM, so was going to wait until 8AM to call my dad to make sure he was up, to make him aware of this. But then at 8:30AM I got a call from my dad.
"Benny, I just called the airline and they told me they don't leave from the airport. I have the address."
"I was about to call you and tell you that but weren't sure you were awake. But how did you get their phone number?"
"I called 800.555.1212 of course."
Oh…
As I mentioned when I wrote about the Southwest Airlines situation, my dad isn't very good with technology, so he doesn't know how to use the maps feature of a phone (though perhaps it's something good for me to teach him when I see him!).
He knows how to get to Tampa Airport, but if he goes anywhere unfamiliar he has someone print out MapQuest directions for him (I feel like he's the last person on earth to use that website?)… go figure he had no one today who could print out those directions for him.
Then mid-morning I got another text, which made all of this even more fun:
PRESIDENTIAL FLIGHT CHANGE NOTICE. President Trump's visit to Palm Beach is closing the private air terminal to commercial traffic. Your upcoming Southern Airways flight between December 20 at 9:45pm through January 6 at 11:59pm is being diverted to the Atlantic Aviation terminal at BOCA RATON AIRPORT, 3700 Airport Road, Boca Raton, FL 33431. This is a government-mandated change. Flight times remain the same. Please call Southern's Customer Service Center with questions. 1-800-329-0485
Suffice to say that this is inconvenient, and it's rather annoying that they only told us this day of departure, given that this has been going on for flights for a couple of days now, and they knew this was going to happen.
That being said, I have to admit I got at least a slight level of satisfaction out of this, for no reason in particular. 😉
Then there has been bad weather in Florida for much of the day (and the past week, for that matter), so the flight was also delayed by over an hour. At least the flight wasn't canceled, unlike the flight this morning.
On the plus side, I have quite enjoyed his updates throughout the entire experience, and he even just landed…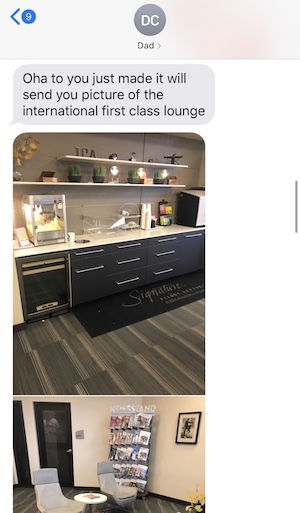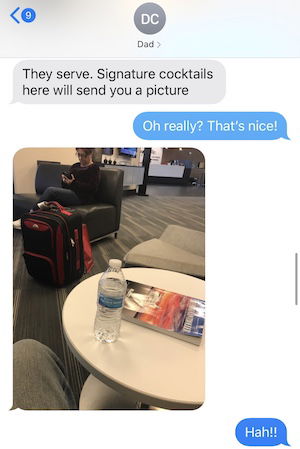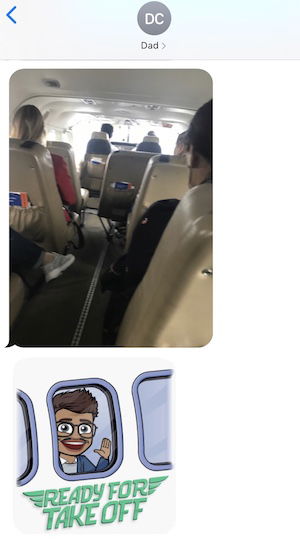 Bottom Line
I'm grateful that I'm able to spend the holidays with my family, though planning travel for my dad is always an adventure, given that he generally doesn't embrace technology much.
On the plus side, I'm happy his flight wasn't canceled, and that he has been a good sport throughout all of this.
I hope everyone's holiday travel goes smoothly!