Even though I've lived in Seattle for over 18 months, I actually never made the trip to Vancouver before this past weekend. I'm not sure why, exactly. I love Vancouver, and it's a pretty quick two hour drive to get there. Or alternatively a quick flight or scenic train ride.
Anyway, I met a few friends in Vancouver this past weekend, and decided to make the drive. While I live in hotels full time now, I figured this was as good of a time as any, as I do still have my car in Seattle. I'll be shipping it to Florida next week, so it was my last opportunity to make a road trip.
Given my general frustration with both US and Canadian customs & immigration when flying, I figured I'd briefly share my experience driving across the border.
Crossing border into Canada (from the US)
I drove up to Vancouver on Thursday afternoon, and figured the queues would be long given that it was Easter weekend. I was kind of surprised by how short they were. There were a handful of open lanes, and each had maybe a dozen cars in it.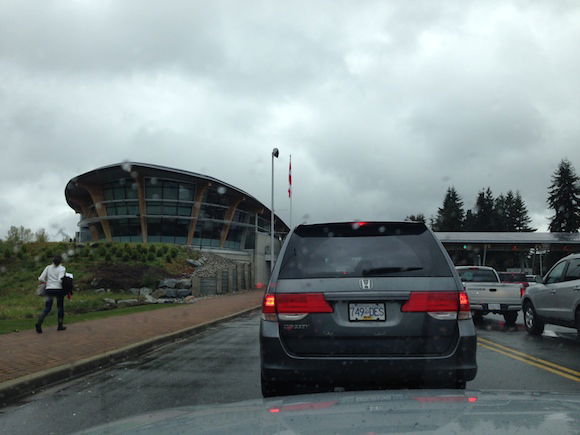 It's like a toll booth — you just pull up and there's an immigration officer in there that asks you a few questions. The questioning was actually less intrusive than when I've flown into Canada. I was asked:
Who does this car belong to?
Where's your car registered?
How long are you staying in Canada for?
Where are you staying?
Are you meeting anyone?
Where are the people you're meeting from?
And then I was sent on my way. I was kind of surprised, I figured there would be officers standing outside, checking trunks, etc. But it seemed that would only happen in the "secondary" area, which I didn't see anyone selected for.
Anyway, it was surprisingly easy and pleasant, and the whole process (between waiting and having to slow down) took maybe 15 minutes.
Crossing border into US (from Canada)
I drove back Sunday afternoon, so I guess I shouldn't be surprised that the queue was really long. The signage said that it was about a 40 minute wait, but the line looked much longer (of course I don't have a sense of how long the process takes, but the queue must have been at least a quarter of a mile long).
I have Global Entry, and I wasn't actually sure if that meant I could use the NEXUS lane or not. The NEXUS lane is on the far right of the checkpoint, and there was no queue at all. It was downright exhilarating to drive past a quarter of a mile of parked cars at 30mph (or since I was still in Canada, I guess I should say ~48km). 😉
I was also kind of scared, since I figured I might be sent back or would get yelled at.
The NEXUS lane was kind of like a drive thru. You simply hold out your Global Entry card and point it at a scanner, which identifies you based on the chip in the card.
Then it tells you to proceed forward to the window, where there's an immigration officer. To say that he was focused on efficiency would be the understatement of the year. He barked his orders/questions (both in terms of volume and aggressiveness/assertiveness):
"GLASSES OFF."
"WHERE ARE YOU GOING?"
"Seattle."
"WHAT ARE YOU DOING THERE?"
"I live there."
"BYE. GO."
Whole thing took maybe five seconds.
I'm not kidding when I say that I got a rush out of the whole thing. Remember when Pre-Check was first a thing, and you couldn't help but giggle at the excitement of it all, especially when they opened it up to the masses? Yeah, well I couldn't help but get the same rush out of this.
Bottom line on crossing the border into Canada
Not only is the drive incredibly scenic, but I was surprised by just how easy the border crossing was. I had a blast in Vancouver, and actually had two hotel experiences that I think may both be the best I've had in North America. Stay tuned for those shortly!
Have you driven across the border between the US and Canada, and if so, what was your experience?