Global Entry is one of the greatest things to happen to international travel in the past few years. Previously coming off longhaul flights I would always dread not only being asked over-the-top questions by immigration, but also often queuing for well over an hour. Global Entry is a dream come true as far as that goes, as it's nice to be able to land and be outside of the terminal within a few minutes without feeling like you took it up the chutney.
I don't mind immigration in most other countries… except, oddly enough, Canada. Let me say upfront that I love Canada. It's an awesome country, Vancouver is one of my favorite cities in the world, etc. But their immigration officers drive me absolutely bonkers.
I've never actually had to queue at immigration for extended periods of time in Canada, but rather I can't stand the terrorist-like questioning, as if you're simultaneously trying to smuggle bombs, meth, and child porn into the country. Which seems to happen to me every time.
Fortunately I came prepared this time. I flew Cathay Pacific first class from New York to Vancouver and got a solid three hour nap in. As we were on our final approach the fabulous first class flight attendant, Carrie, made me a cappuccino. I asked if I could also have a couple of glasses of Krug. Not only is it mighty tasty, but it's the only way I'd get through Canadian immigration without increased blood pressure.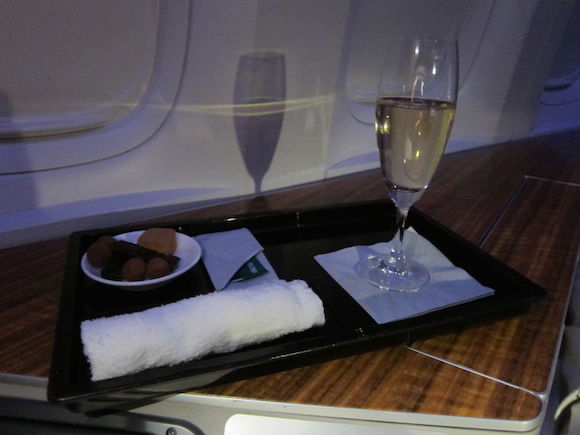 I think I've cracked the Canadian immigration questioning code. They ask you a simple question, and then take your answer and put "why" in front of it for the next dozen interactions, and each time give you a smug look as if they just cracked the world's biggest mystery. So usually the conversation goes something like this:
"So what brings you to Canada, eh?"
"I'm just in transit enroute to Hong Kong?
"Why are you in transit enroute to Hong Kong?"
"Well, because the flight through Vancouver had the best deal."
"Why did the flight through Vancouver have the best deal?"
"Well, because I'm using miles, and there was award space on this flight?"
"Well, why was there award space on this route and not any other?"
*crickets*
This time around the line of questioning was a bit different:
"So you're only here for one day, eh?"
"Yes, I flew Cathay Pacific from New York since it's a more comfortable plane and am connecting to Seattle tomorrow."
"Are you meeting anyone here?"
"Well it might be a Saturday night, but the flight was 90 minutes late and the bars are closed, so I guess not." "Um, no."
"So what were you doing in New York?"
"Picking up a 'shipment,' of course." "I have family there."
"And what are you doing in Seattle?"
"How is this any of your business?" "I live there…"
"Where are you staying?"
"The Fairmont downtown"
"Ah, but which Fairmont?!"
"Does it really freaking matter, Inspector Gadget?" "The Fairmont Waterfront."
"Are you sure?"
"Yes…"
"So, do you have anything with you?"
"I"m not standing naked in front of you, am I? So clearly…"
I can appreciate the concept of questioning that's designed to detect behavior, but surely there are limits to that, no? I kind of feel like what I do in my home country isn't the business of immigration in a foreign country. But hey, at the end of the day it's their border and I guess they can do what they want.
Which brings me to my point… I really need to get NEXUS, which is the fast track service for Canadian immigration. If I plan on going to Canada with any frequency and living past the age of 40, it's my only option…
Anyone else get frustrated by Canadian immigration? Or which country's immigration frustrates you the most?