While a lot of credit cards have no foreign transaction fees nowadays, that doesn't necessarily mean you're getting the same deal with all cards. As I've explained in a previous post, different payment processing systems have different systems for calculating exchange rates.
That's why you'll sometimes notice a minor variance in the exchange rates when using a Visa vs. a Mastercard, for example.
Rumor has it that the reason for the discrepancy in exchange rates is as follows:
Visa guarantees the exchange rate the day you make the purchase, but has a built in cushion since the transaction typically only posts a couple of days later, so exchange rates could change, meaning there's some risk for Visa
MasterCard charges the exchange rate the day the transaction posts (often a couple of days after the transaction), so since they're charging whatever the rate is, the cushion is much smaller
Fortunately both processing systems let you view their exchange rates online, so you can crunch the numbers for yourself:
This morning I posted about some amazing premium cabin fares out of Cairo, which are being caused by the big devaluation in the Egyptian Pound.
The currency used to be pegged to the USD, but that's not the case anymore, and it has caused the value of the currency to drop significantly, as you'll see in the below chart.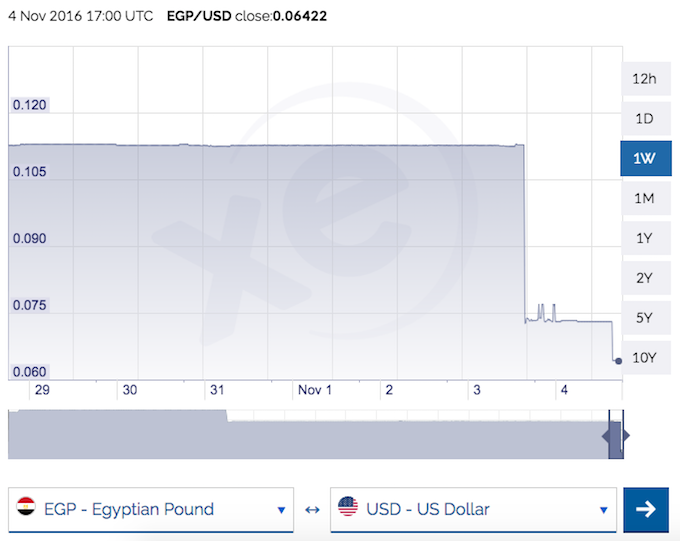 So for anyone purchasing airfare out of Cairo, it's interesting to note how different cards will calculate the exchange rate.
Transactions submitted to Mastercard today in Egyptian Pounds will get you a rate of 0.06833 USD per Egyptian Pound.

Meanwhile transactions submitted to Visa today in Egyptian Pounds will get you a rate of 0.07542 USD per Egyptian Pound.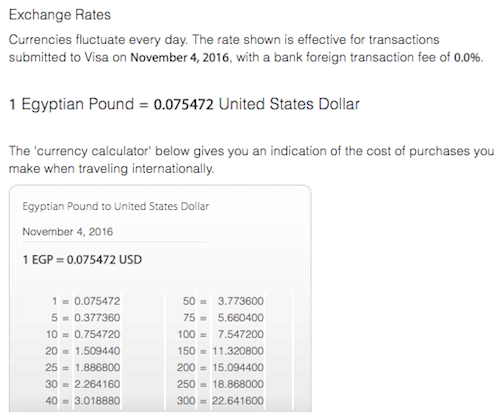 That's a difference of ~10% in the exchange rates used by the platforms. As you'll see, even the Mastercard conversion rate is off from the official conversion rate (0.06833 vs. 0.06422). I don't think that discrepancy is intentional, but rather just reflects the speed at which the Egyptian Pound is falling, while the processing systems only update their payment systems daily.
So while under normal circumstances you'll sometimes find a ~1% difference in return between Visa and Mastercard, in situations with more currency fluctuation, you can find a much bigger variance, as is the case here.
So if you're booking a ticket out of Cairo right now, I'd recommend using a Mastercard over a Visa.
In theory I might even recommend waiting a couple of days to book a ticket in hopes of the currency stabilizing and exchange rates catching up, though I'd guess airlines will very shortly be adjusting how they price tickets out of Egypt…