Over the past several years we've seen the number of credit cards in the market with no foreign transaction fees increase drastically. This is great news for frequent travelers, and couples nicely with the global acceptance of credit cards increasing as well.
Not only can I now make credit card purchases abroad without incurring foreign transaction fees, but in many cases I can also earn a huge number of bonus points. For example, you can earn bonus points on not just international airfare and hotel purchases, along with things like dining, parking, taxis, public transportation, etc.
While a lot of cards have no foreign transaction fees, that doesn't actually mean you're getting the same deal on all cards. The exchange rate can vary based on which card you're using.
MileValue links to the online tools which allow you to see the daily exchange rates being used by Mastercard and Visa: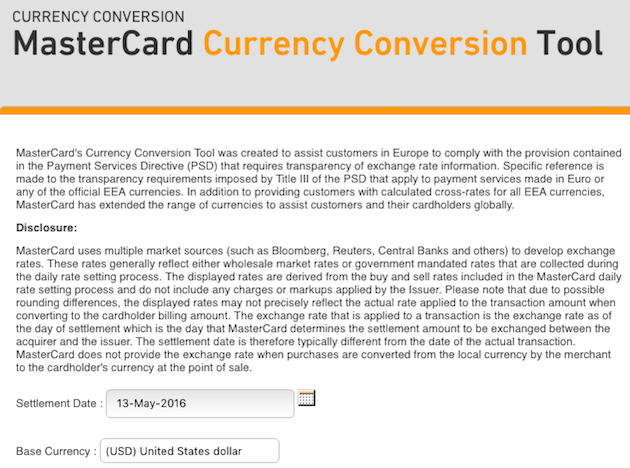 This reveals some interesting things:
"No foreign transaction fees" doesn't always mean you're getting a fair rate
It's easy to assume that "no foreign transaction fees" means you're getting the market rate, but that's not necessarily true. If you were truly getting the "fair" exchange rate, then the conversion rate would be roughly the same going from Currency A to Currency B as it is going from Currency B to Currency A. But that's not the case.
Let's look at the Visa currency conversion tool, for example. According to it, 1USD converts to 0.886358EUR.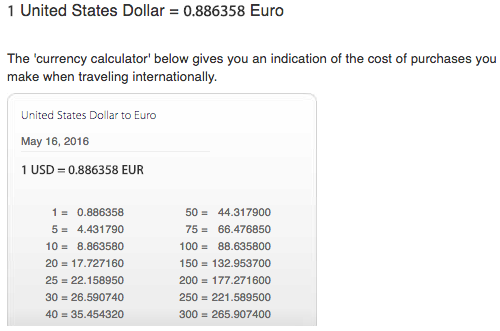 Logically you should be able to divide 1 by 0.886358 to get the conversion rate from EUR to USD. 1/0.886358 is 1.1282USD per EUR. Yet the conversion rate when going back is 1.138186USD per EUR. So that's a spread of ~0.89%.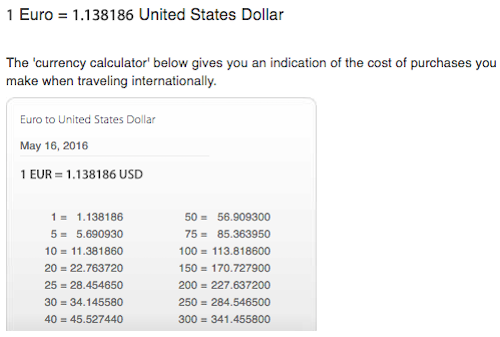 So let's look at the same for Mastercard. 1USD converts to 0.880592EUR. Logically you should be able to divide 1 by 0.880592 to get the conversion rate from EUR to USD. 1/0.880592 is 1.135599USD per EUR. Yet the conversion rate when going back is 1.135301USD per EUR. That's a spread of only ~0.02%, which is much better.
As you can see, MasterCard's conversion rate is much fairer, in this instance.
Does Mastercard really have better exchange rates?
I figured I'd look at the exchange rates for some random currencies to see whether Mastercard really has better exchange rates than Visa. Here's a table with a few examples:
| Value per USD | MasterCard | Visa |
| --- | --- | --- |
| AUD | 1.37855 | 1.36421 |
| EUR | 0.880592 | 0.87859 |
| GBP | 0.693193 | 0.69154 |
| HKD | 7.7633 | 7.7592 |
| JPY | 108.5 | 108.5069 |
| RUB | 64.7 | 64.6 |
| SGD | 1.3755 | 1.36944 |
| ZAR | 15.035 | 14.9941 |
As you can see, Mastercard's exchange rate is better in all instances, except with the Japanese Yen, where Visa is slightly better.
Rumor has it that the reason for this discrepancy is as follows:
Visa guarantees the exchange rate the day you make the purchase, but has a built in cushion since the transaction typically only posts a couple of days later, so exchange rates could change, meaning there's some risk for Visa
Mastercard charges the exchange rate the day the transaction posts (often a couple of days after the transaction), so since they're charging whatever the rate is, the cushion is much smaller
Bottom line
In the past I've always decided which card to use abroad based on which offered the best rewards. I never really considered that the exchange rates can vary pretty significantly among cards without foreign transaction fees.
While there are some instances where Visa may end up being cheaper due to a change in conversion rates, from hereon out I'll be using Mastercards for all my international purchases. That works out great, since there are several rewarding points cards that run on the Mastercard network.
Use these Mastercards when traveling internationally:
Have you ever considered exchange rates used by different cards when deciding which card to use abroad?