Aviation has long had gender stereotypes, with the assumptions that men are pilots and women are flight attendants. It's great to see that change over time, in particular with more women in the flight deck.
Not only have women historically faced more problems with becoming pilots, but I recently saw a story about how historically most male pilots knew they wanted to be a pilot from a very young age, while the same isn't true for female pilots. Presumably that's because they largely never thought that was possible, and were never encouraged to consider that as a career option.
So anything that encourages women to consider a career as a pilot from a young age is great. Aviation is an industry of passion, and probably more than just about any other industry, it's one that people dream of from a young age.
As you might expect, there's still a huge disparity in terms of the number of female pilots by country. On one end of the spectrum you have Saudi Arabia, which doesn't have any female airline pilots.
I loved how in 2016 Royal Brunei had three female pilots land a plane in Saudi Arabia, a country where the women wouldn't have even been allowed to drive cars at the time. There is perhaps some irony to Brunei making a social statement like this, but I appreciated it nonetheless.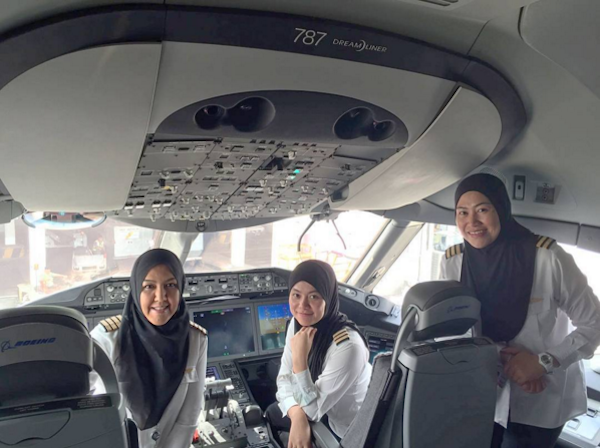 You might be surprised to learn, however, the country that has the highest percentage of female airline pilots, as reported by The Telegraph. My guess would have been that it's the US, UK, Australia, Canada, or a Northern European country.
But the country with the highest percentage of female airline pilots is actually India. This in spite of the fact that in 2012, India was voted the worst G20 country in which to be a woman (Canada was voted number one).
Globally about 5.2% of airline pilots are female, while in India that number is closer to 13%. Meanwhile in the UK that number is 4.8%, and in the US that number is 4.4%, so both countries actually have a below average number of female pilots.
It's interesting to see the different percentages of female pilots across airlines in the same country. For example, in the US, 3.6% of Southwest pilots are females, while 7.4% of United pilots are females. That's clearly more than a coincidence.
In fairness, I suspect part of the reason the US has relatively few female pilots is because the US in particular has an aging pilot "force." Many pilots at major US airlines have been there for decades, and the reality is that decades ago there were very few female pilots.
My guess is that in the US the number of female pilots hired in the past several years is significantly higher… or at least I'd hope it is. That might also partly explain why there are so many female pilots in India. The aviation industry is booming, and is so much bigger than it was even a decade ago.
Are you surprised that India is the country with the most female pilots, and that the margin is so big?