Well this is awesome!
Last Tuesday was International Women's Day, and my inbox was flooded with airline press releases about airlines operating flights staffed exclusively by women. It's great to see how far the aviation industry has progressed, though it clearly still has a long way to go.
For example, here's part of the press release from the Lufthansa Group, which I almost found embarrassing, since they couldn't even get an all female cockpit crew for an Austrian 767 (bolding mine):
In recognition of today's International Women's Day (#IWD2016), the passenger airlines of the Lufthansa Group flew with female crews into John F. Kennedy International Airport in New York. From the cockpit to the cabin, 63 female aviation professionals operated the flights, which originated from five cities throughout Europe, including Frankfurt, Munich, Geneva, Vienna and Brussels. Only one Austrian Airlines pilot was the "odd-man-out", as the carrier continues developing its female cockpit crew to include a Boeing 767 pilot.
Hopefully at some point having all female crews isn't something which is noteworthy anymore.
But here's an "all female crew" first which is especially cool, and pre-dates International Women's Day. I'm not sure how I missed it, but it gained traction on Reddit yesterday. A couple of weeks ago Royal Brunei had their first ever flight staffed exclusively by three female pilots… and it was to Saudi Arabia! Per Royal Brunei's Instagram:
RB's first ever female trio at the flight deck; Captain Sharifah Czarena, Senior First Officer Sariana and Senior First Officer Dk Nadiah in the flight deck prior to operating flight BI081 from Brunei to Jeddah wishes Brunei Darussalam a "Happy 32nd National Day"
This wasn't even for International Women's Day, but rather coincided with the country's National Day. Here's the picture of the three pilots: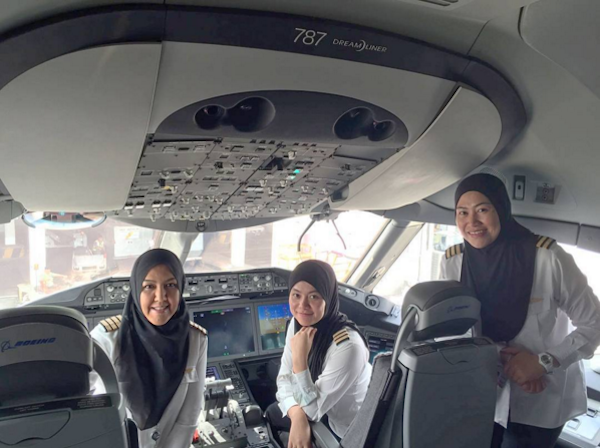 Now I'm not sure if the flight being operated to Saudi Arabia was a coincidence or not, but if so, it's a pretty awesome one. Saudi Arabia is the only country in the world where women can't legally drive, so to have three female Boeing 787 pilots land a plane there (and presumably "drive" it to the gate) is great.
Not that it excuses Brunei's horrible human rights policies, but it's still pretty cool…
Do you think the flight being operated to Saudi Arabia was a coincidence or by design?