Condor invited me to join this flight to promote their new route from Frankfurt to New Orleans. While I didn't pay for this ticket, my primary reason for taking the flight was to make people aware of the new route, not to promote their business class product. All opinions expressed below about the onboard experience are my own.
---
While Ben grew up flying Condor, I hadn't flown them until earlier this year. I had a great experience on my outbound flight to Cape Town, though wasn't overly impressed by my return in their Premium Class. In any case, I was excited to try their new business class product on the 767 onboard the inaugural flight from New Orleans to Frankfurt.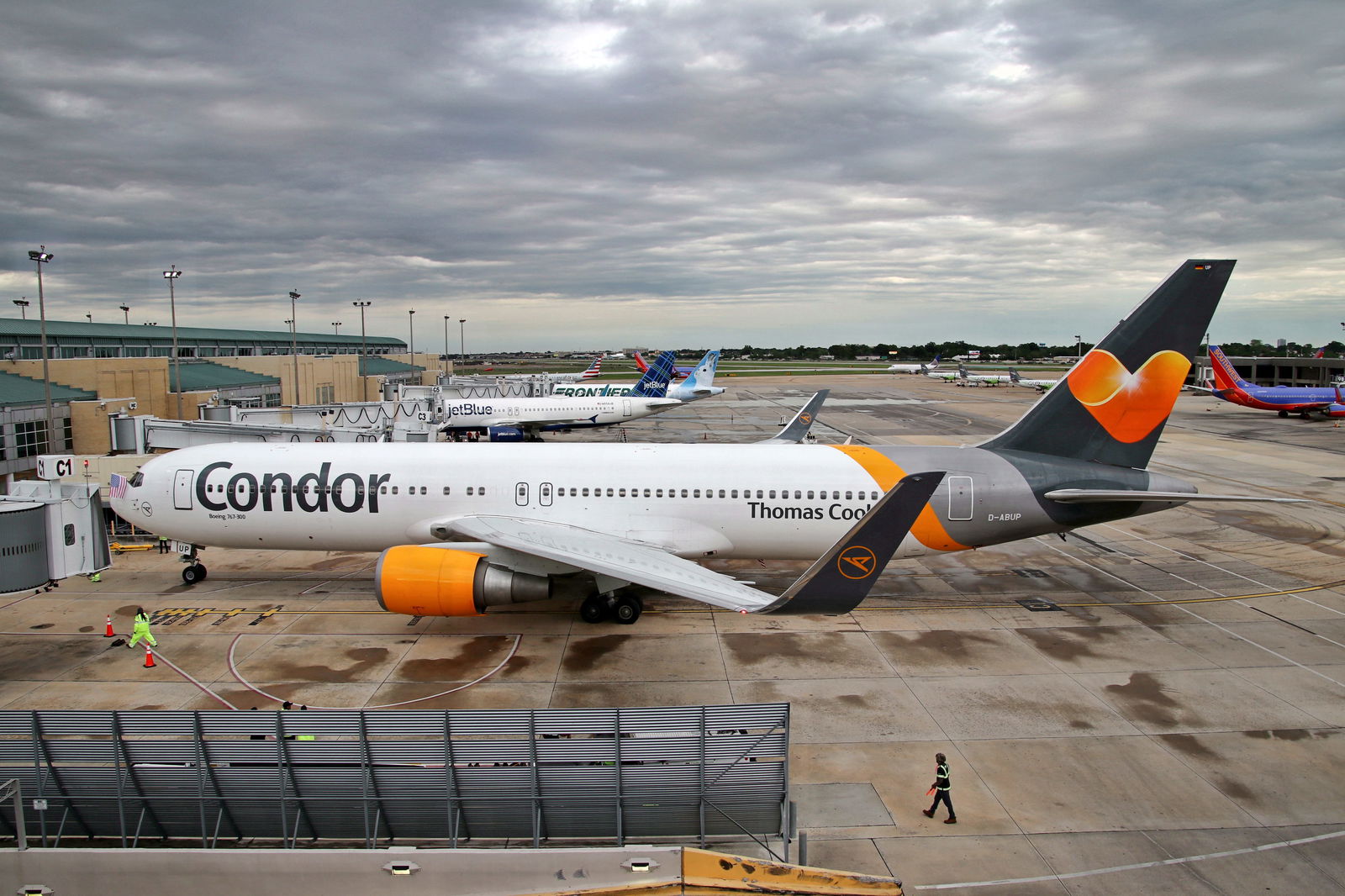 It's important to consider that Condor is a leisure airline, so most of their markets have little or no competition, and their passengers on most routes are Germans going on vacation. What makes them unique in comparison to other Thomas Cook Group airlines is that you can easily book roundtrip or even one-way tickets with them. Meanwhile, Thomas Cook Scandinavia only sells flights as a part of vacation packages.
I arrived at the airport around 5:30pm ahead of the 6:00pm water canon salute and media event.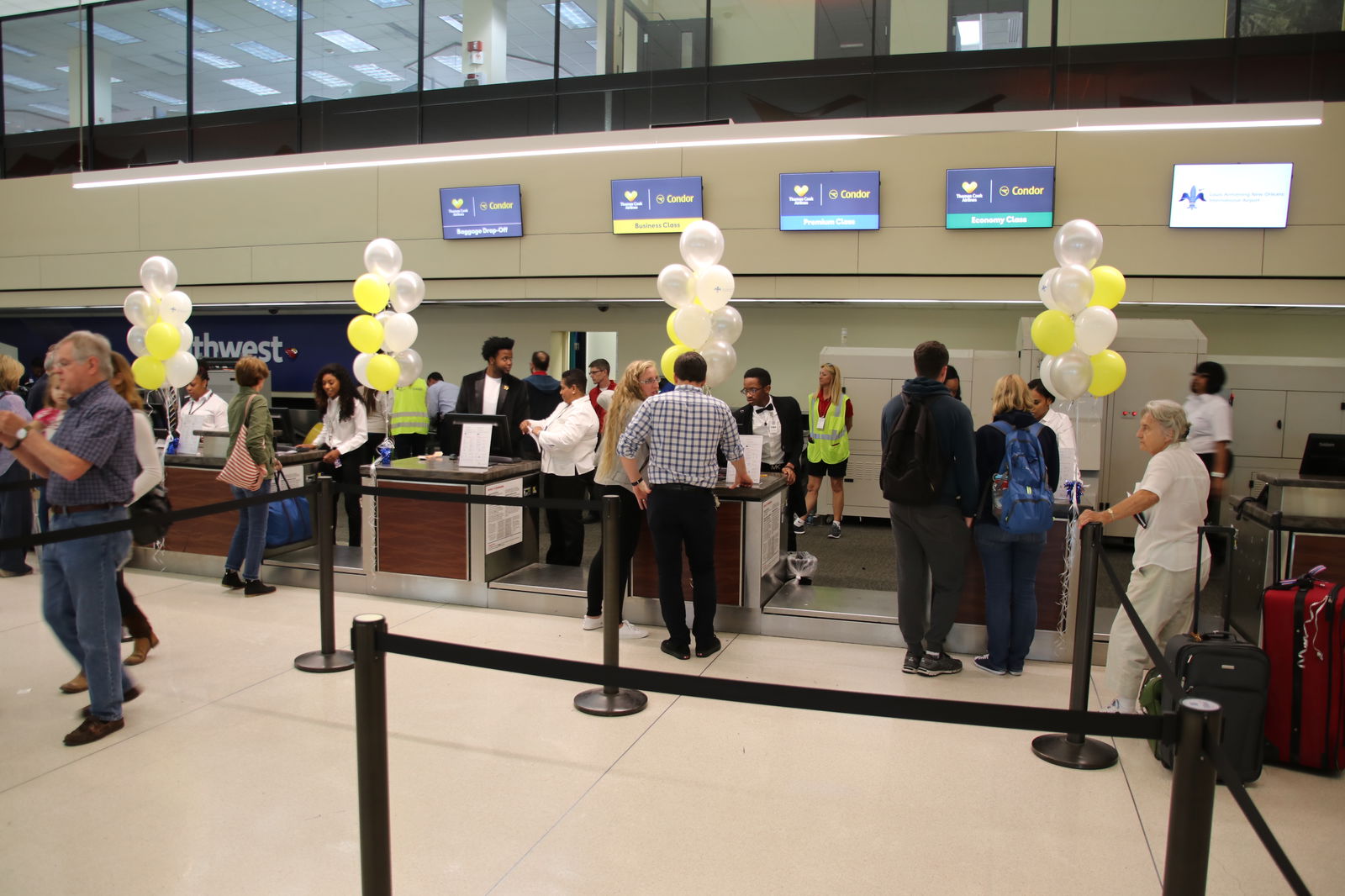 Sure enough, the 767-300 sporting Condor's new livery pulled in at 6:08pm with the German and American flags flying high.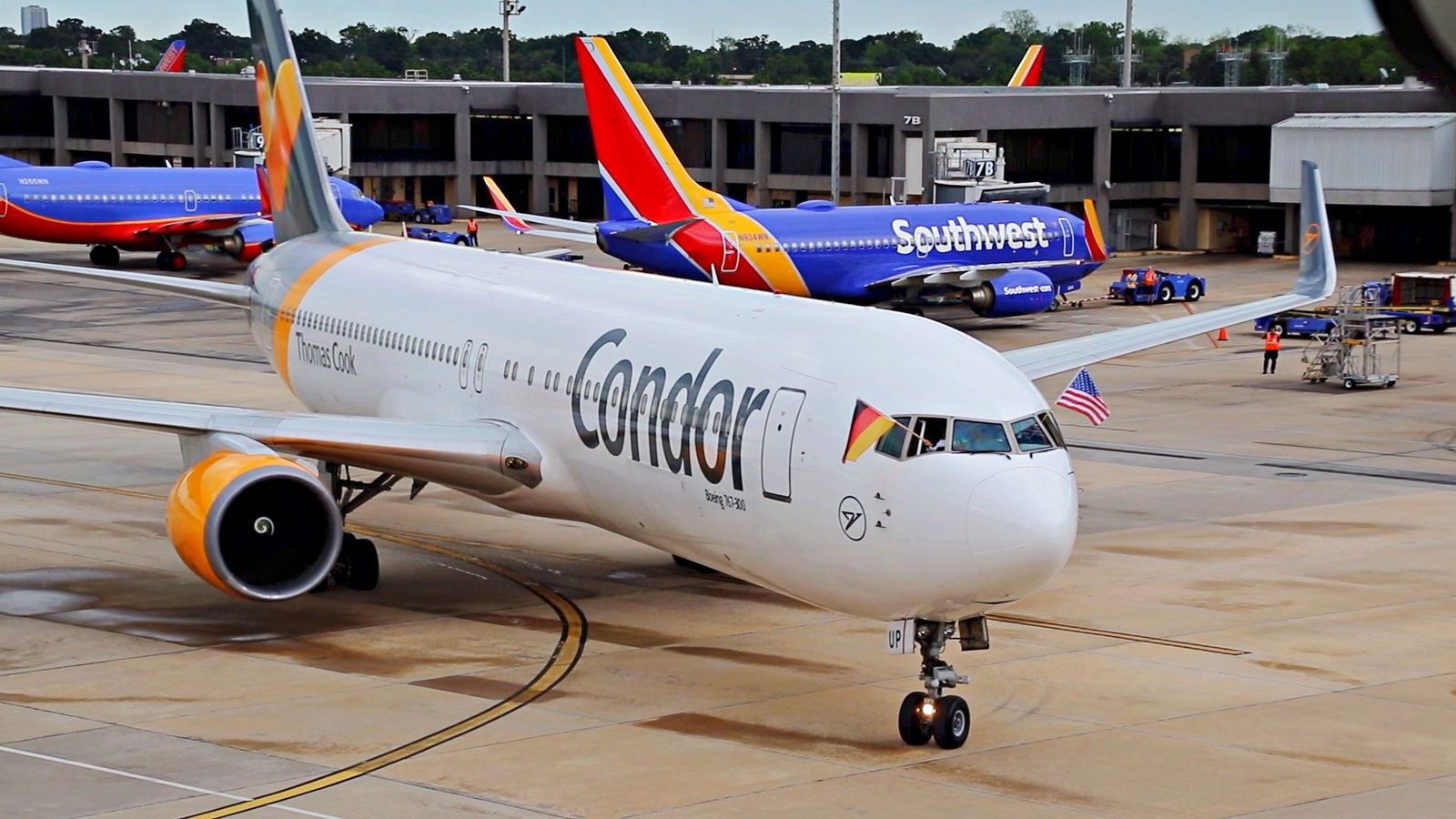 After the ribbon cutting and a press conference, it was time to depart. Unfortunately thunderstorms in New Orleans prevented the ground staff from cleaning and loading the aircraft, meaning we had to wait for an additional hour before we could board.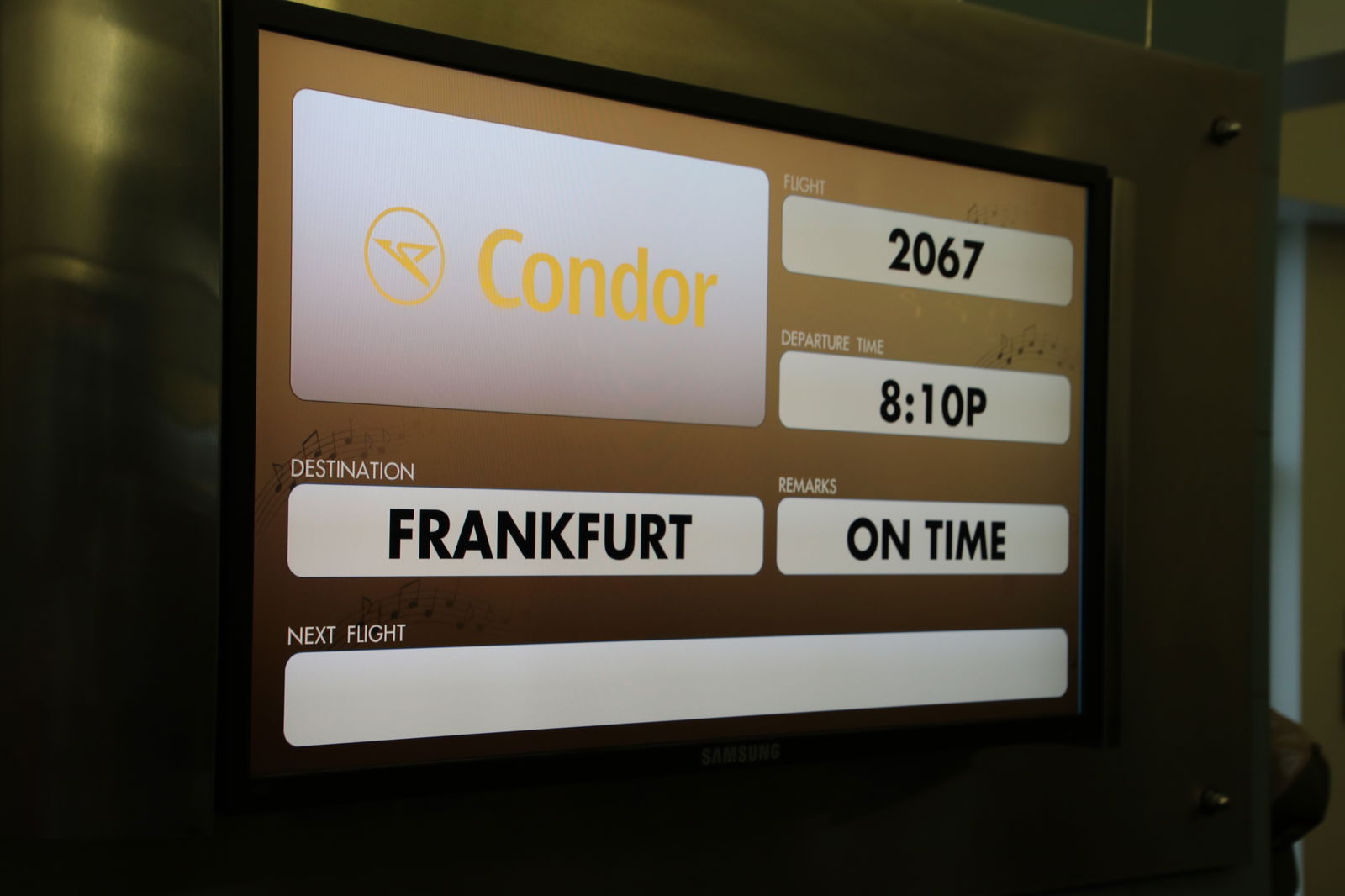 One perk of being on a special flight is that it's entirely reasonable to ask if you can board early to snap some photos of the cabin 😉 When the aircraft was ready for boarding I had the cabin for two minutes before they let anyone else on.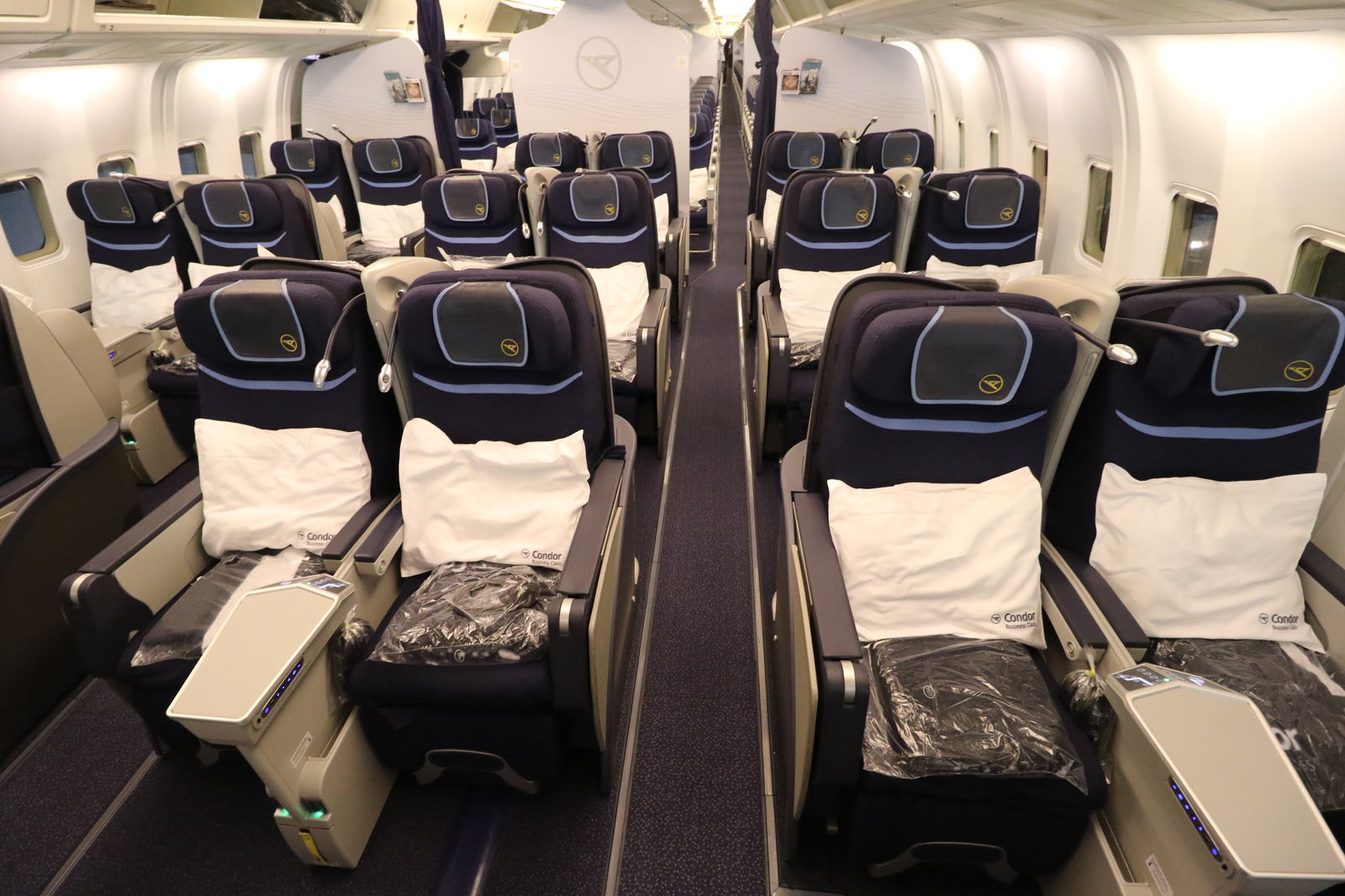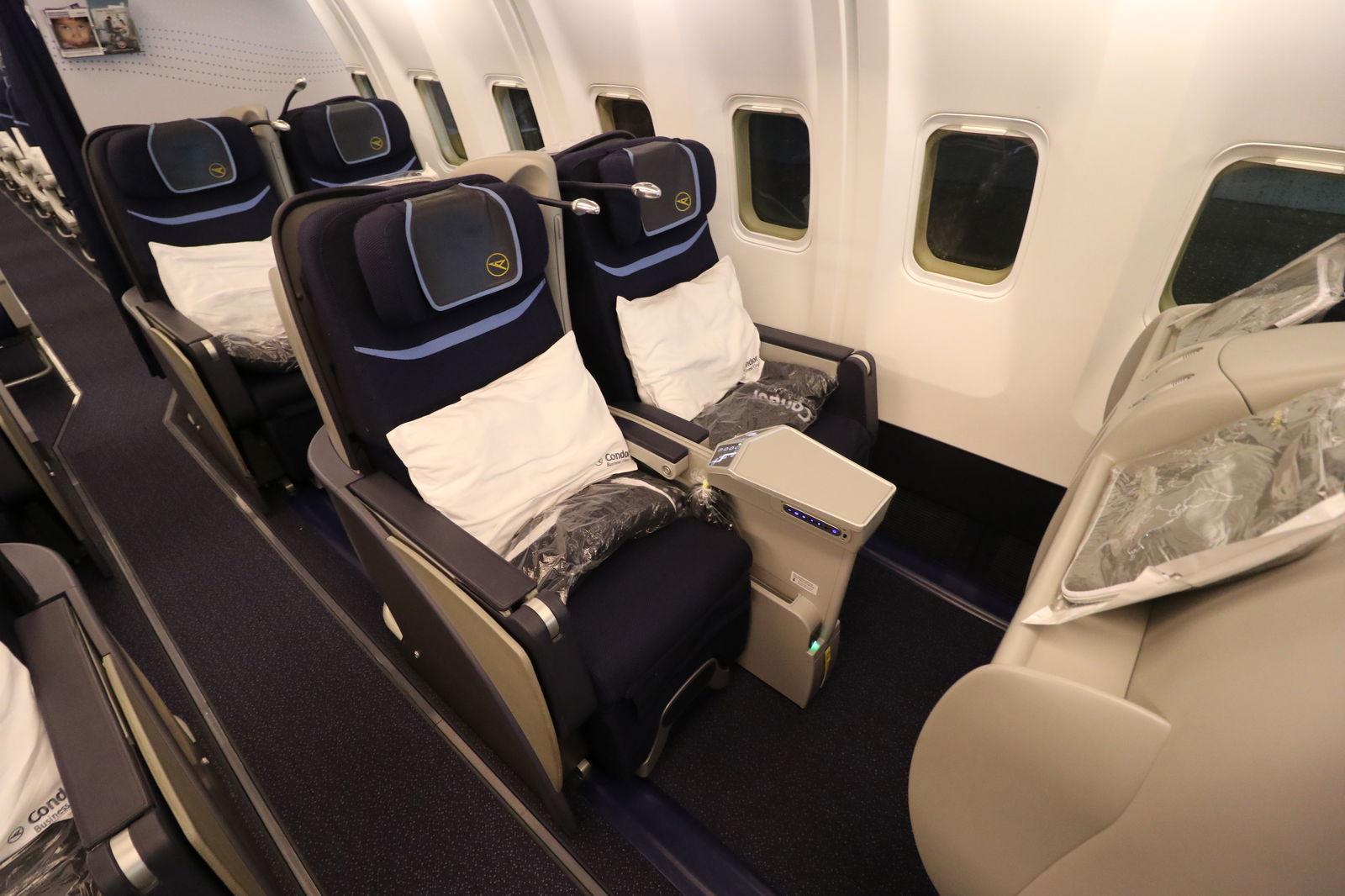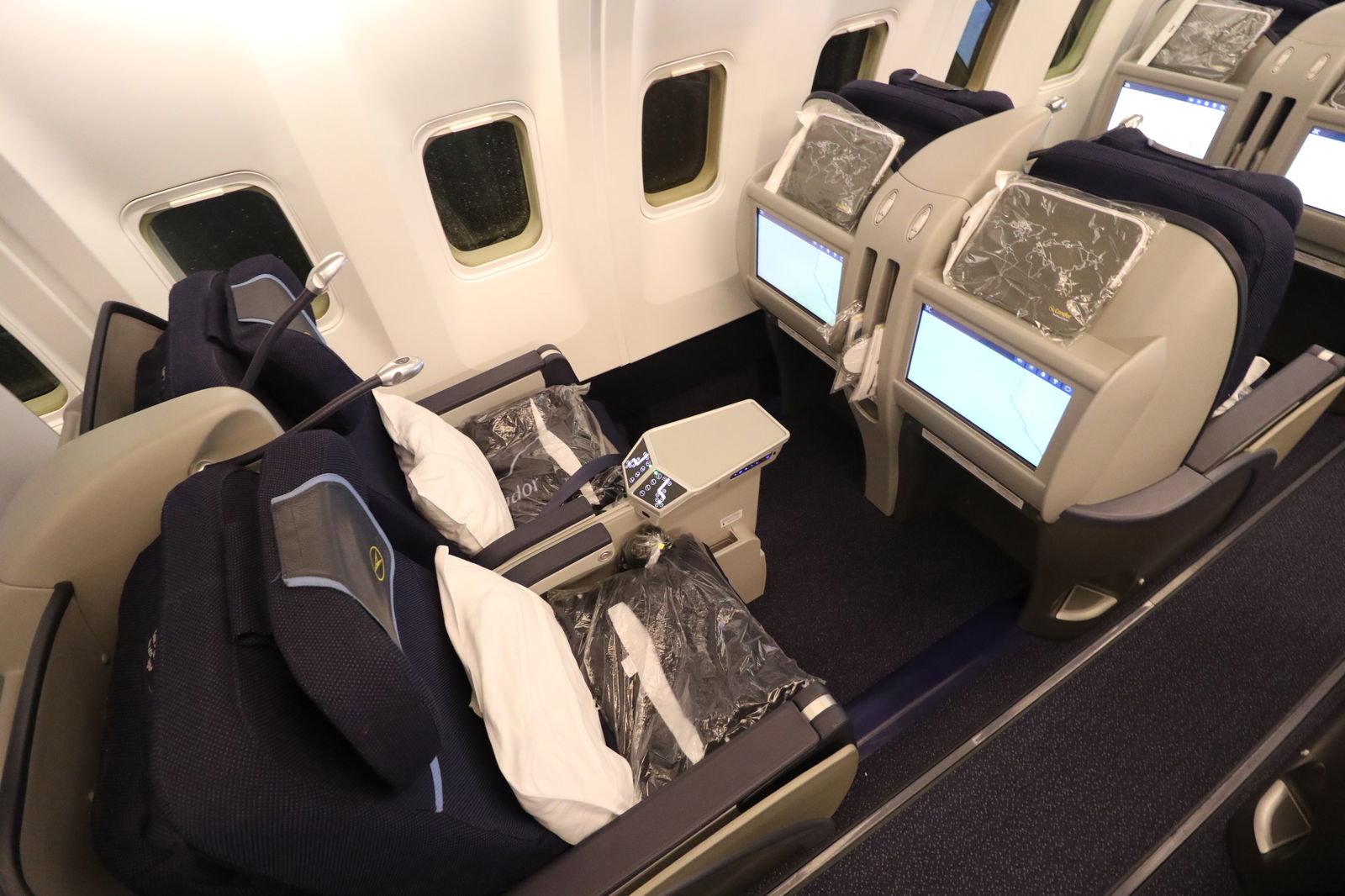 Condor has two different 767 configurations. One has five rows of 2-2-2 business class, for a total of 30 seats. Meanwhile, the aircraft I was on had only three rows, also in a 2-2-2 layout. While I can't quite make sense of it, the airline always blocks seats 1H and 1K for the crew, and even have a privacy curtain for them. While this is nice for the crew, I imagine the long-run cost of always blocking two seats must be high.
Regardless, I was lucky to get a window seat in row 2. The seats have no privacy since you can see your entire row if you glance over, but there was a privacy partition that was helpful when going to sleep.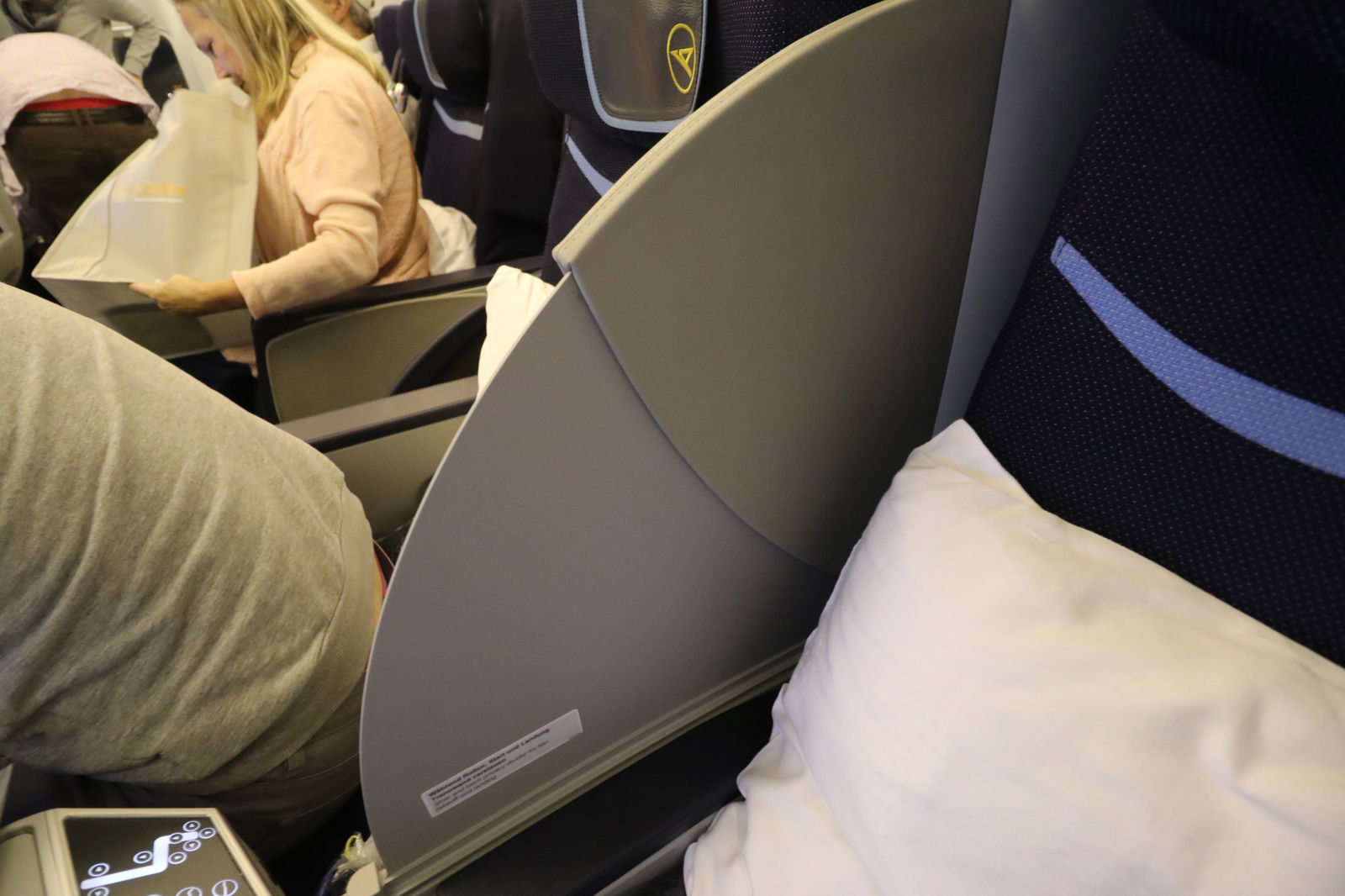 My seat itself was comfortable for sitting, and had a highly adjustable headrest.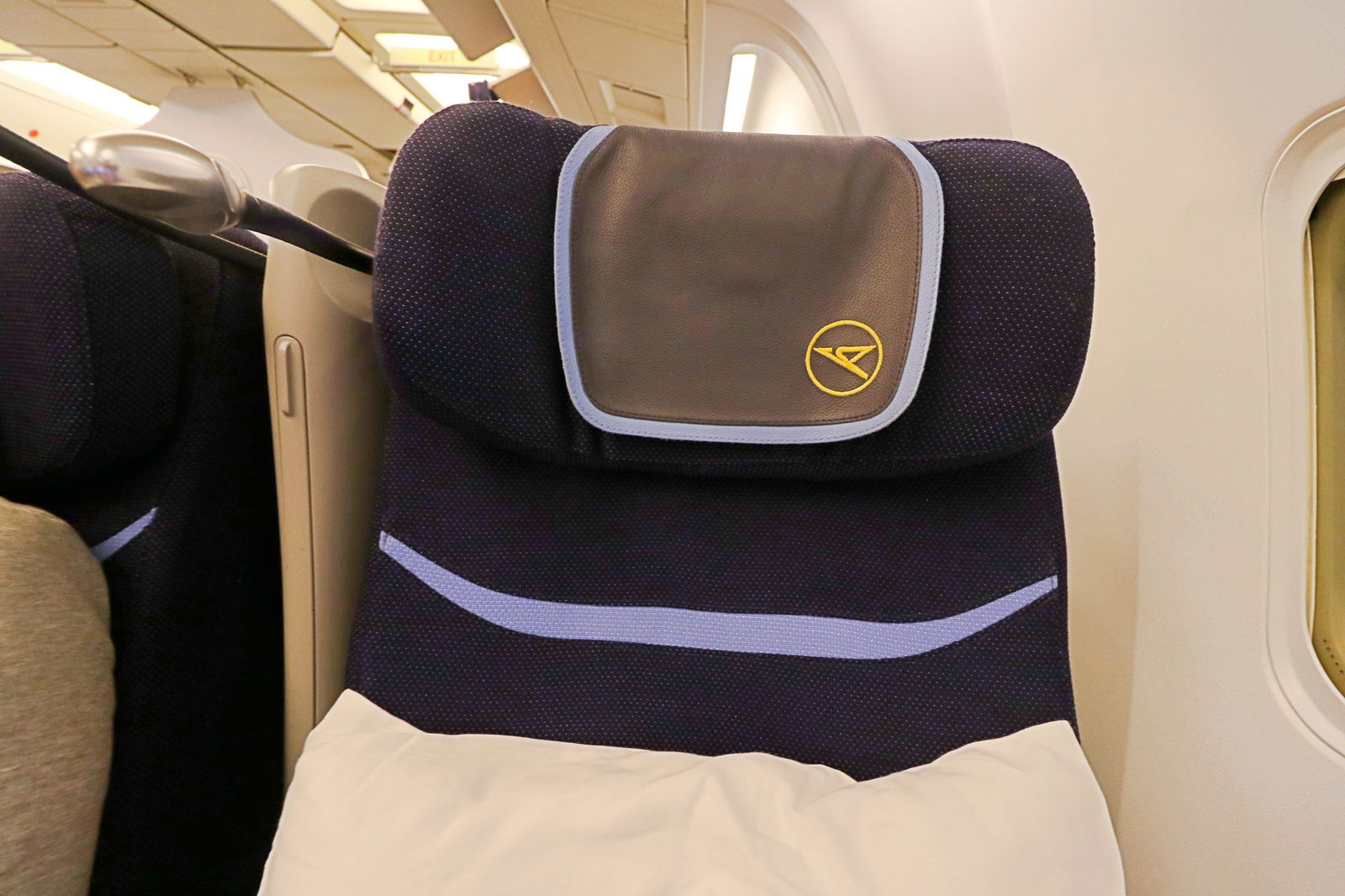 Part of the right armrest could be lowered with the click of a button to widen the bed. Further up that armrest were the seat controls and a drink tray.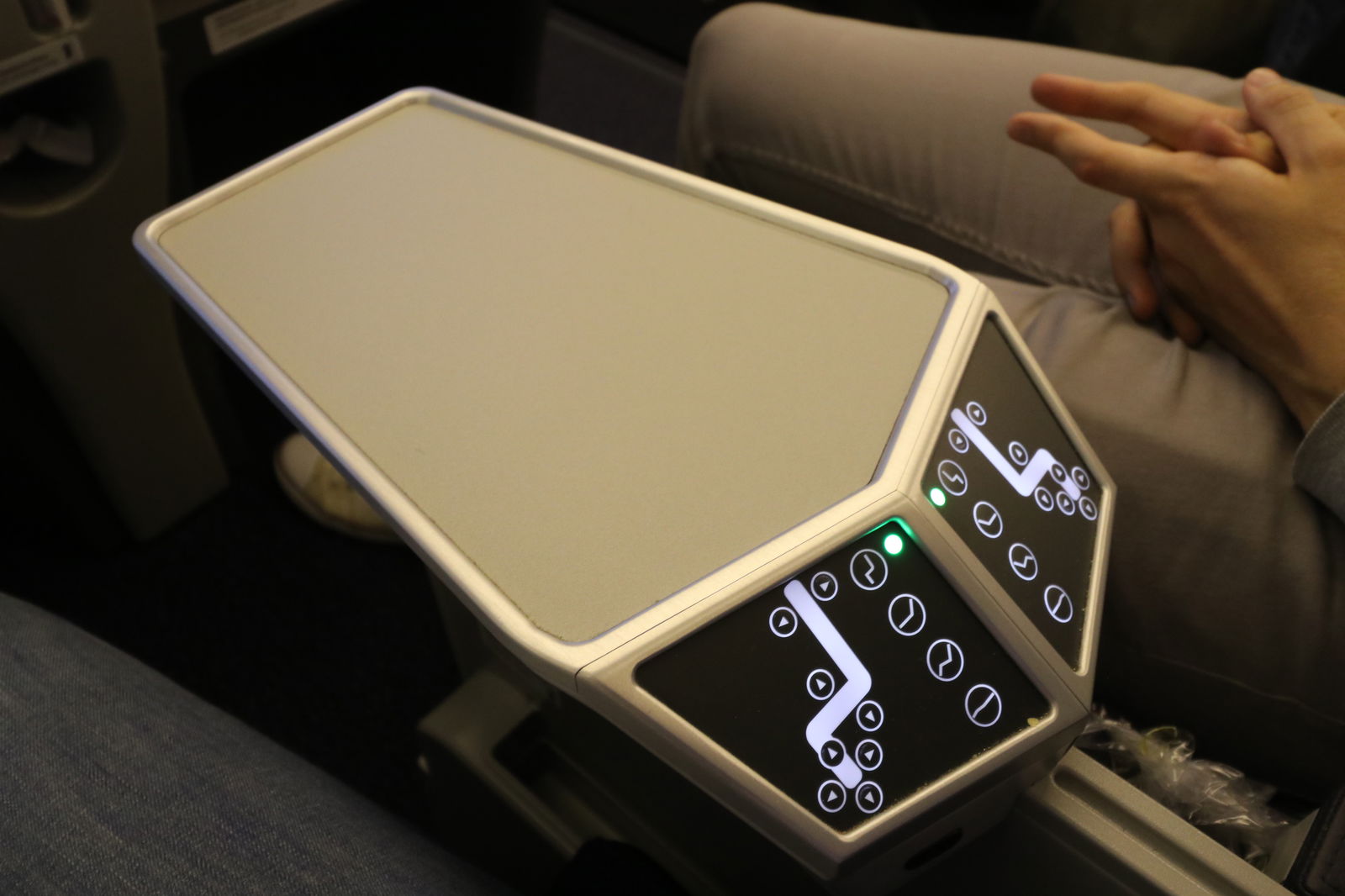 Underneath it was an ejectable remote.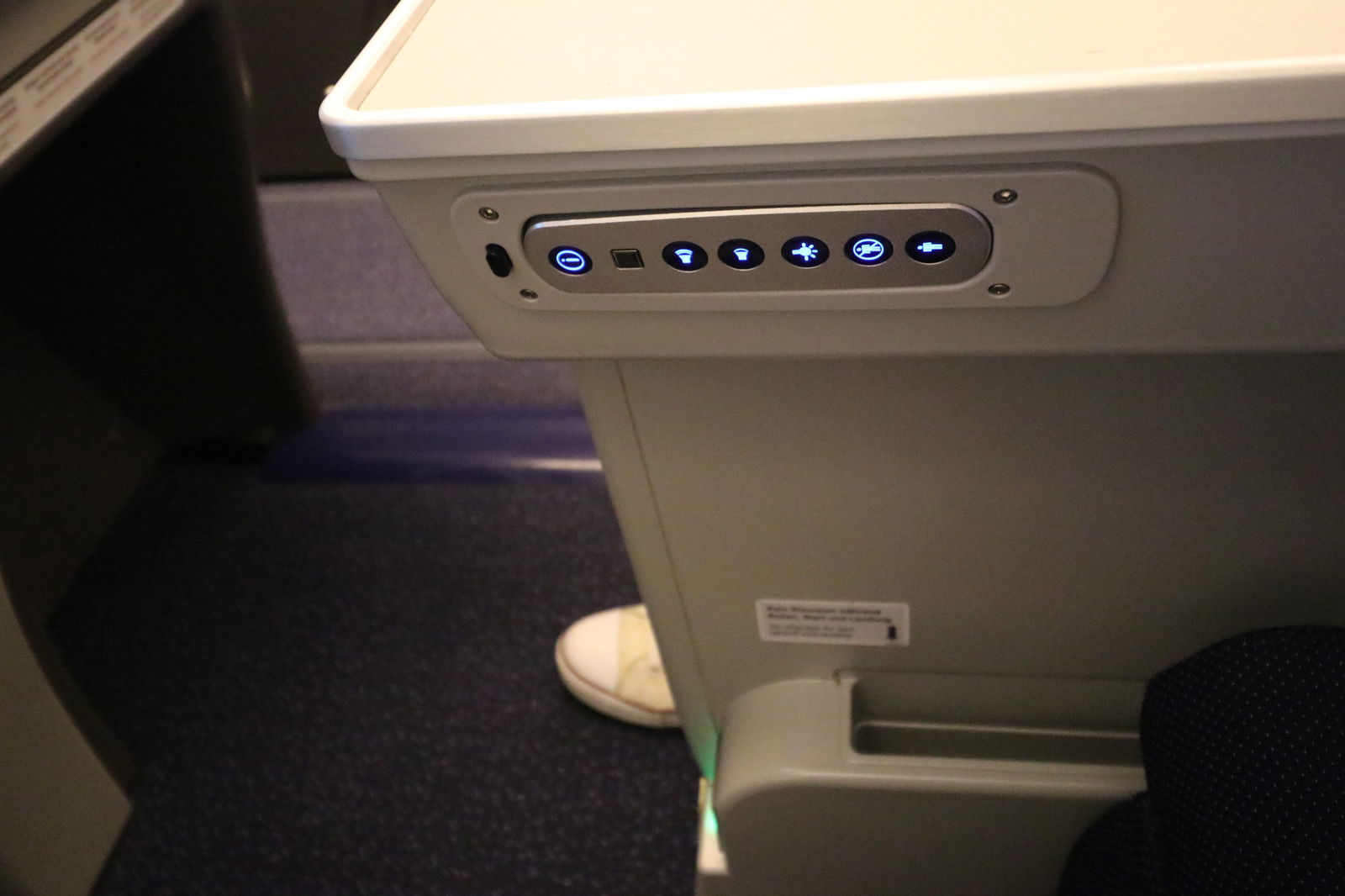 The left armrest contained the tray table, which was sturdy. When reclined, the entire armrest automatically lowered.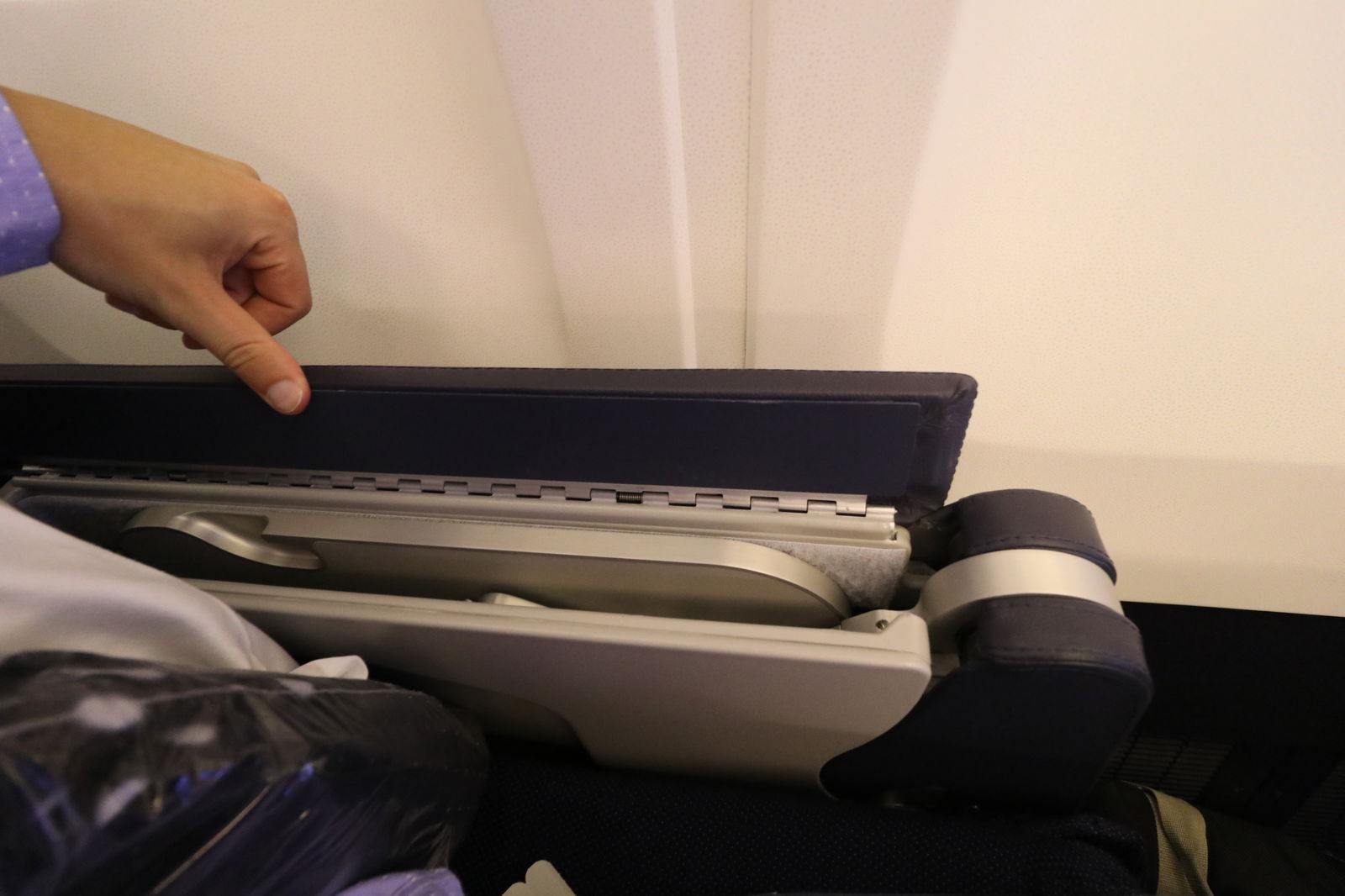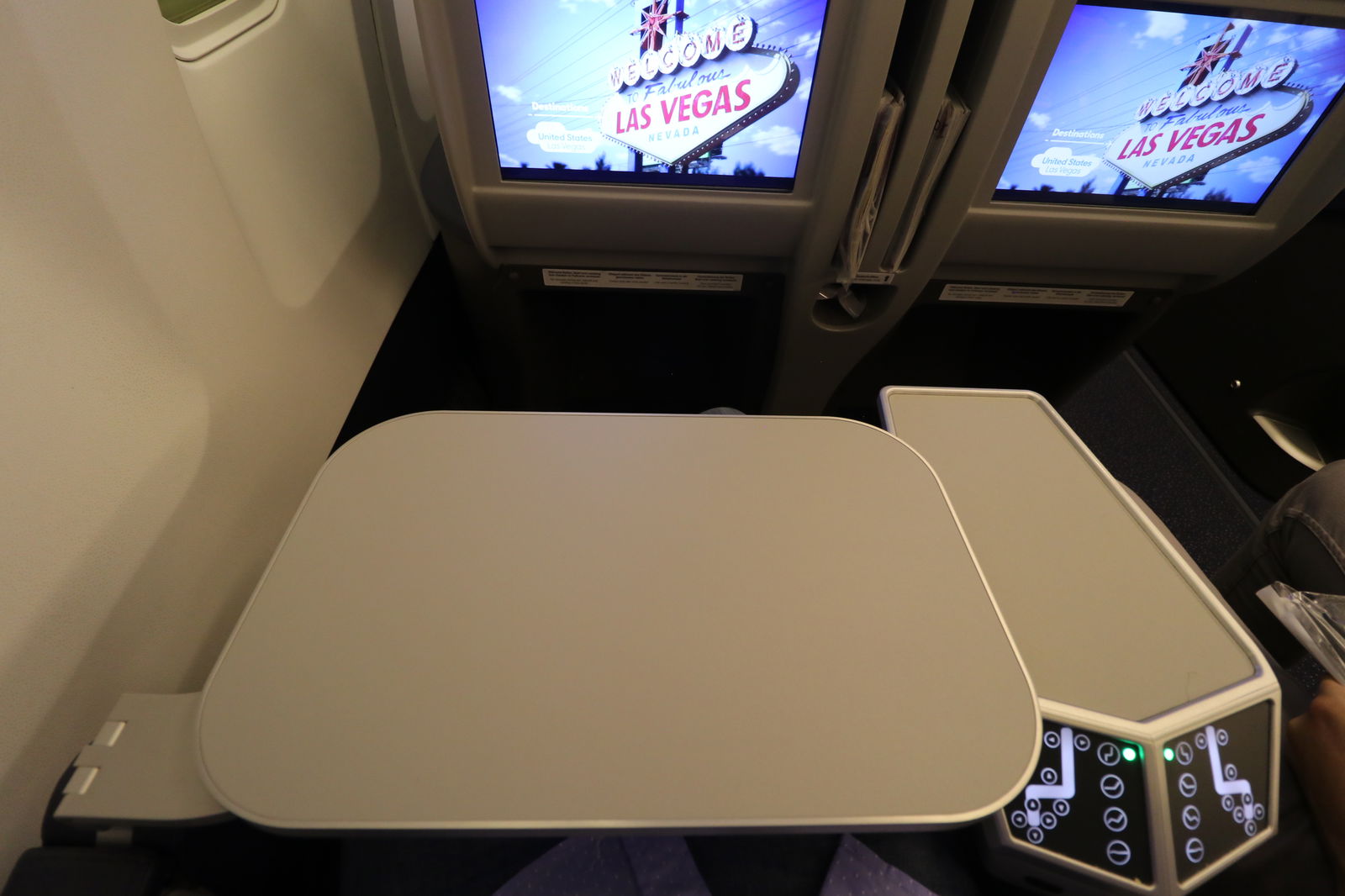 In the center armrest there were also two power ports. Allegedly there were USB ports at the seat as well, though I couldn't find them.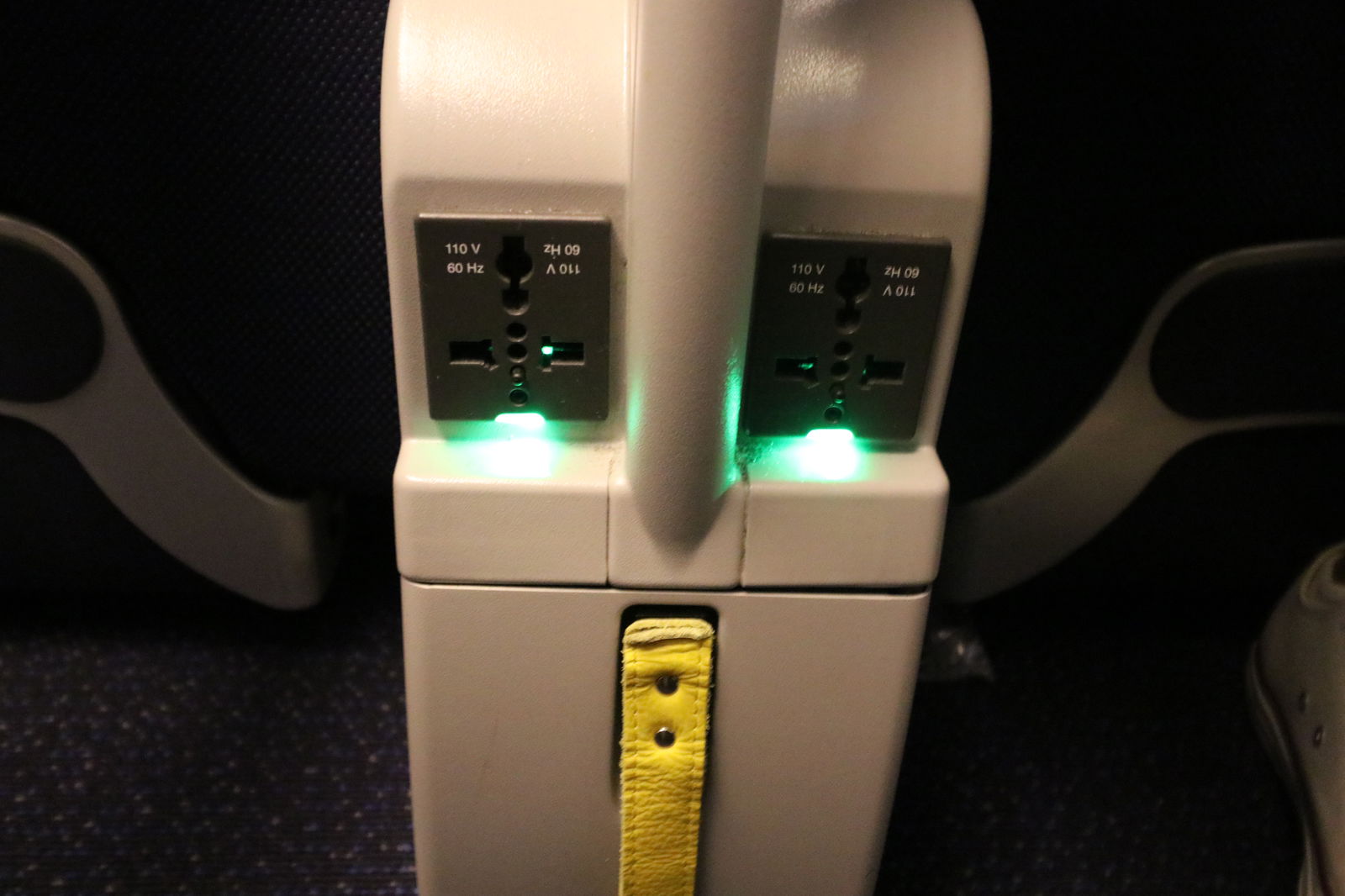 The entertainment screen was large and responsive to touch.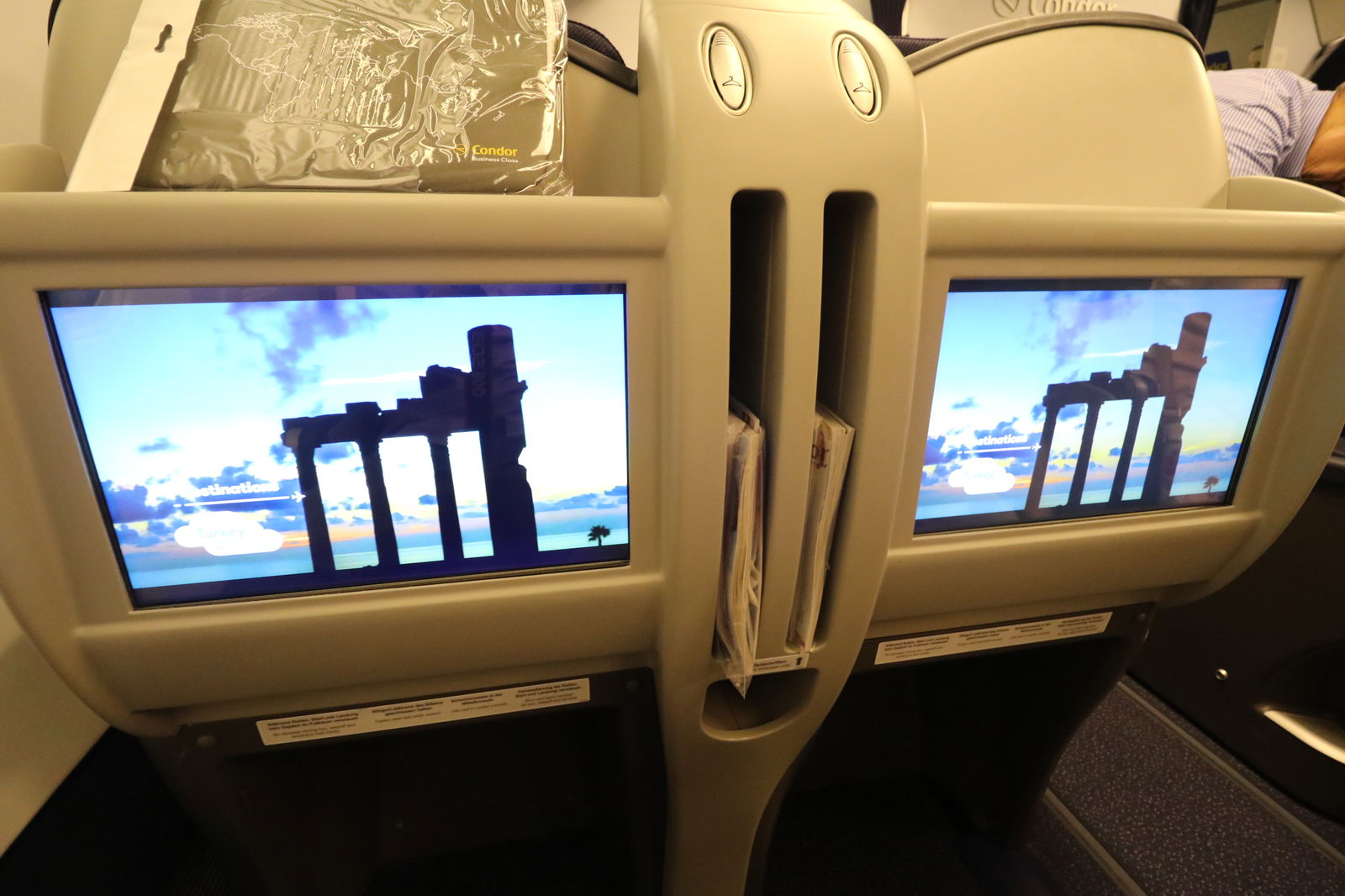 The entertainment selection was average, but more than enough for the 10 hour flight.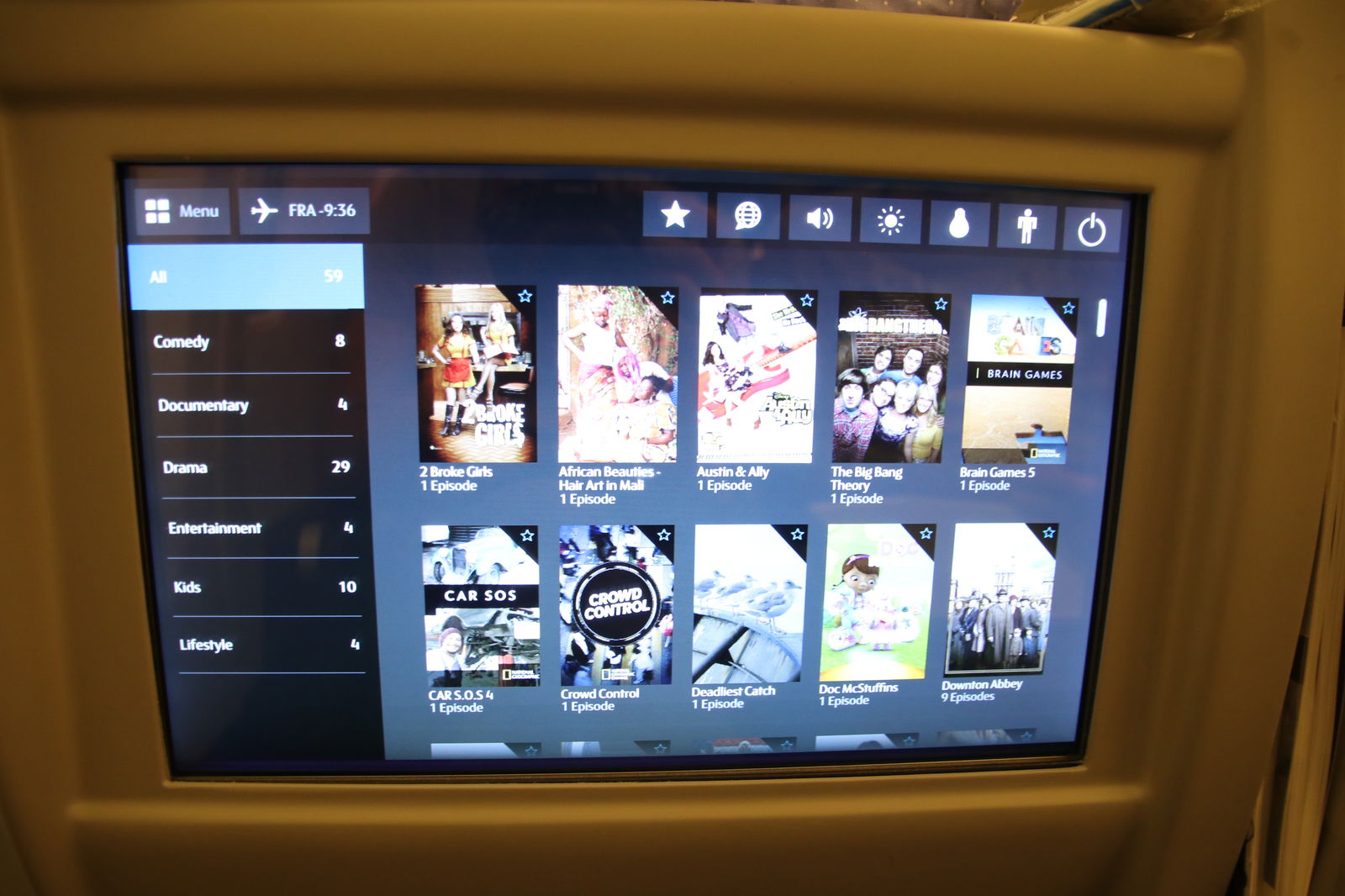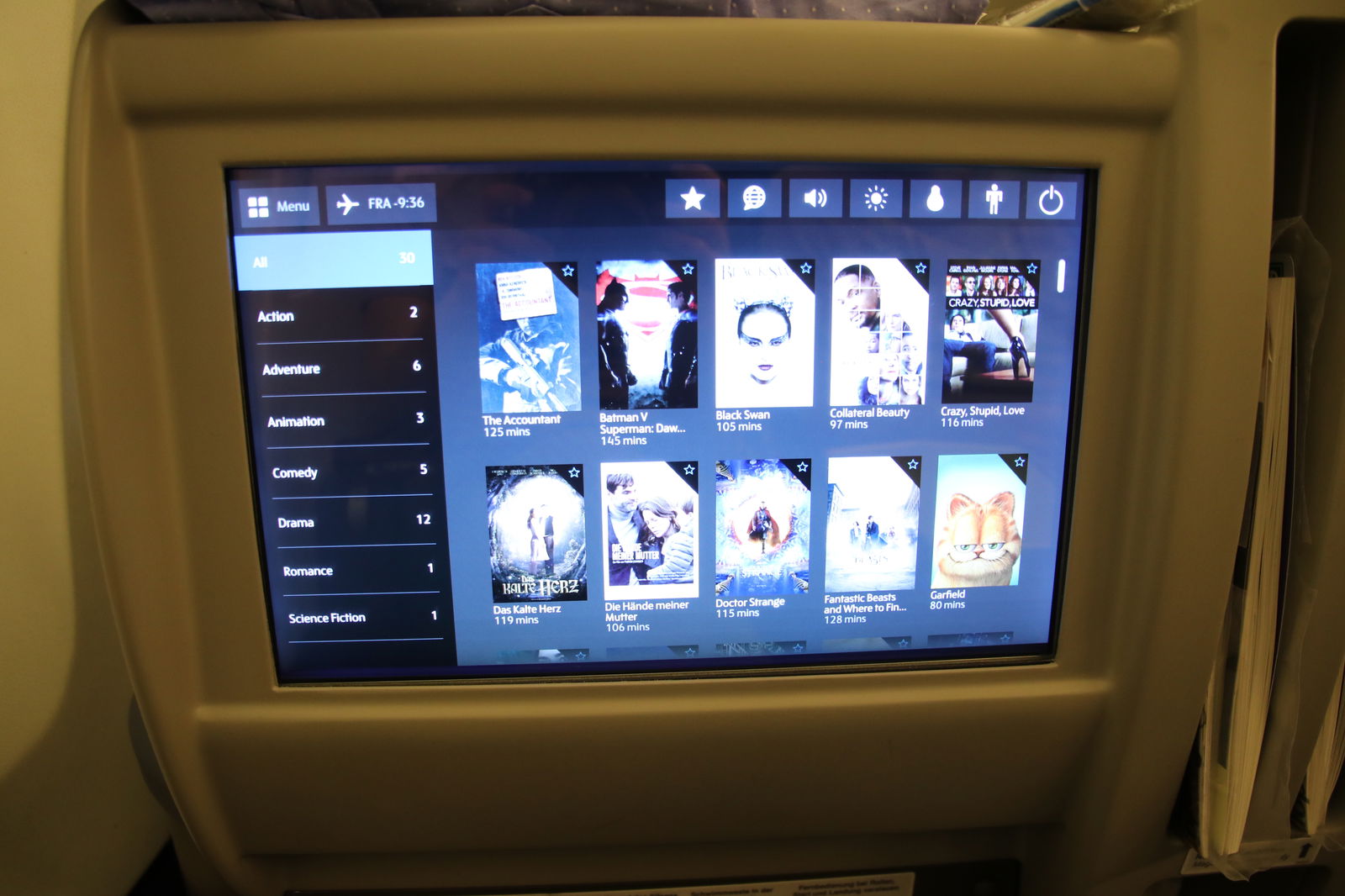 I ended up using the Condor headphones for most of my flight. They canceled almost all outside noise – color me impressed.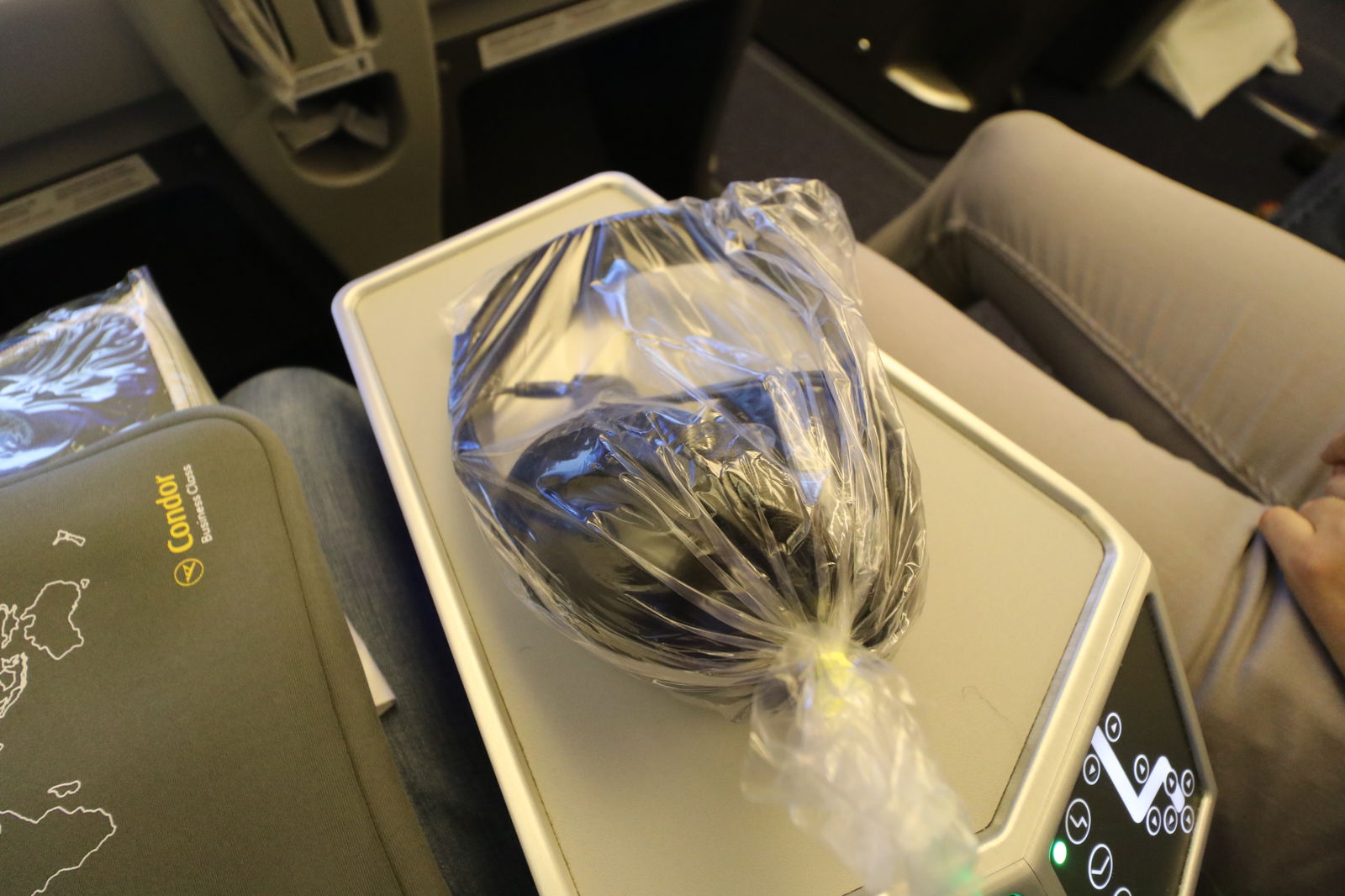 As a storage-freak, I really appreciated the relatively big storage area above the screen. I wish more airlines would implement simple solutions like this in their forward facing business class.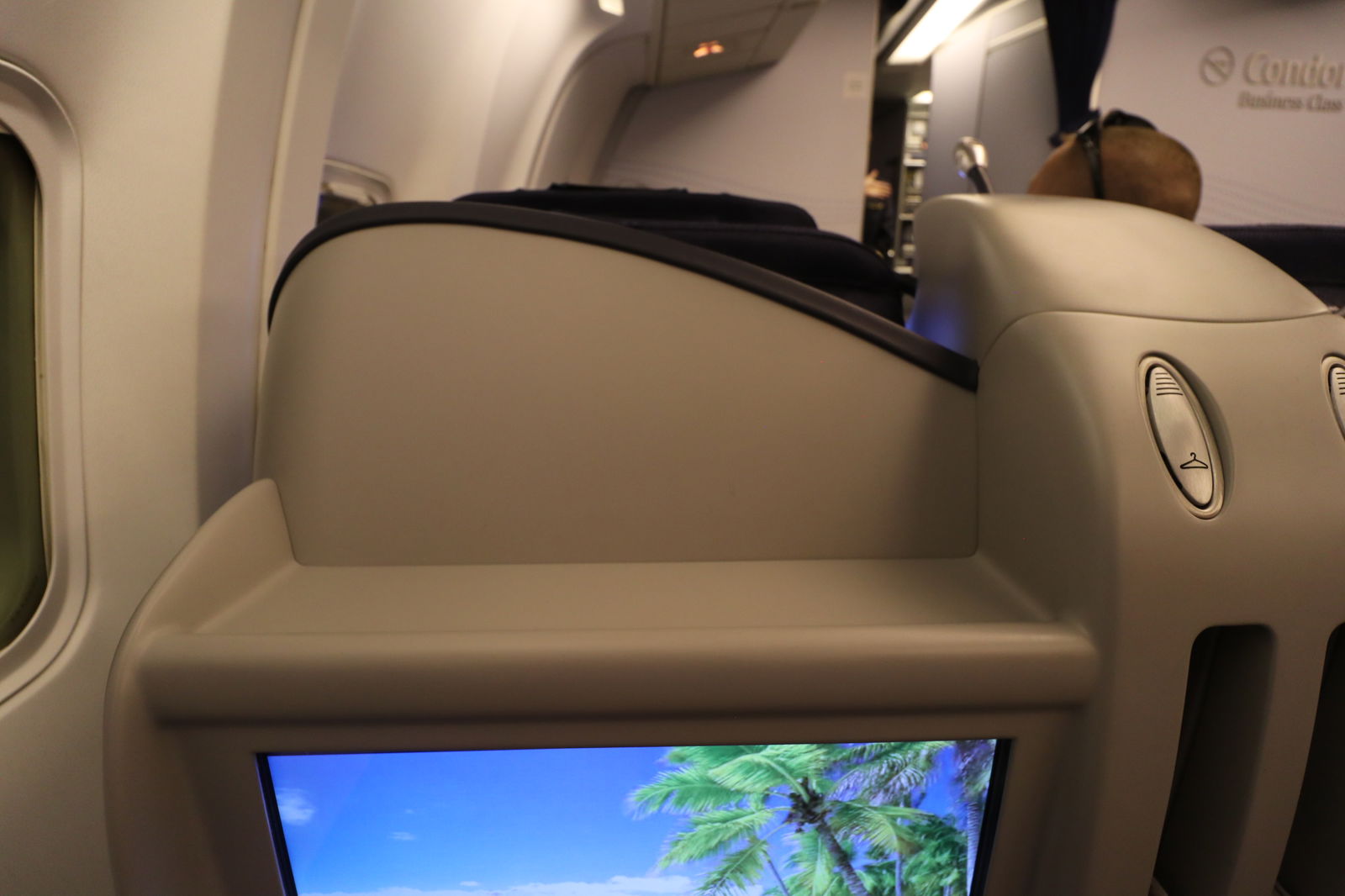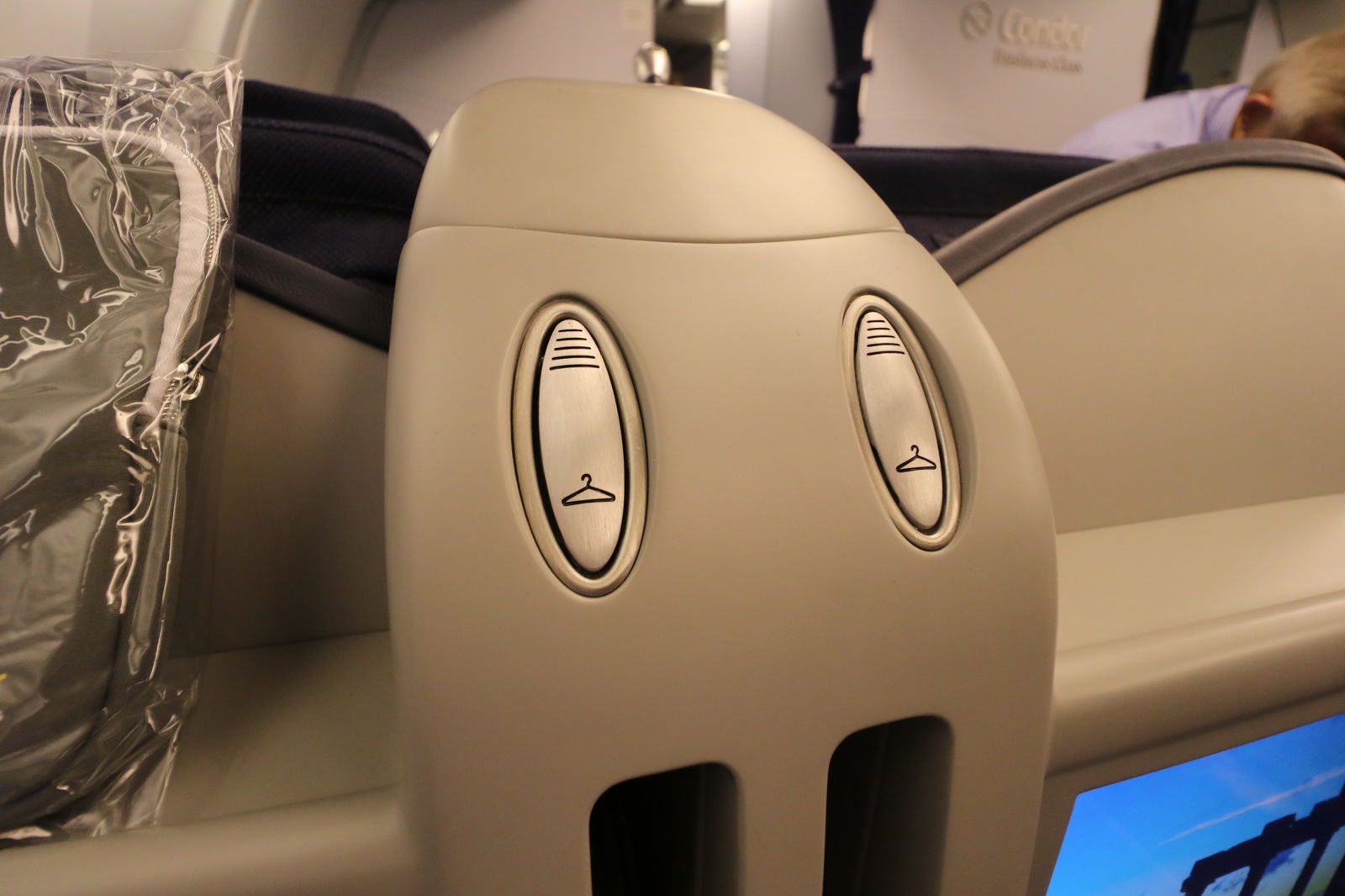 The amenity kit was a winner with me. I don't usually have a preference for branded amenity kits (apart from Rimowa), and I actually really liked the tablet/laptop case design.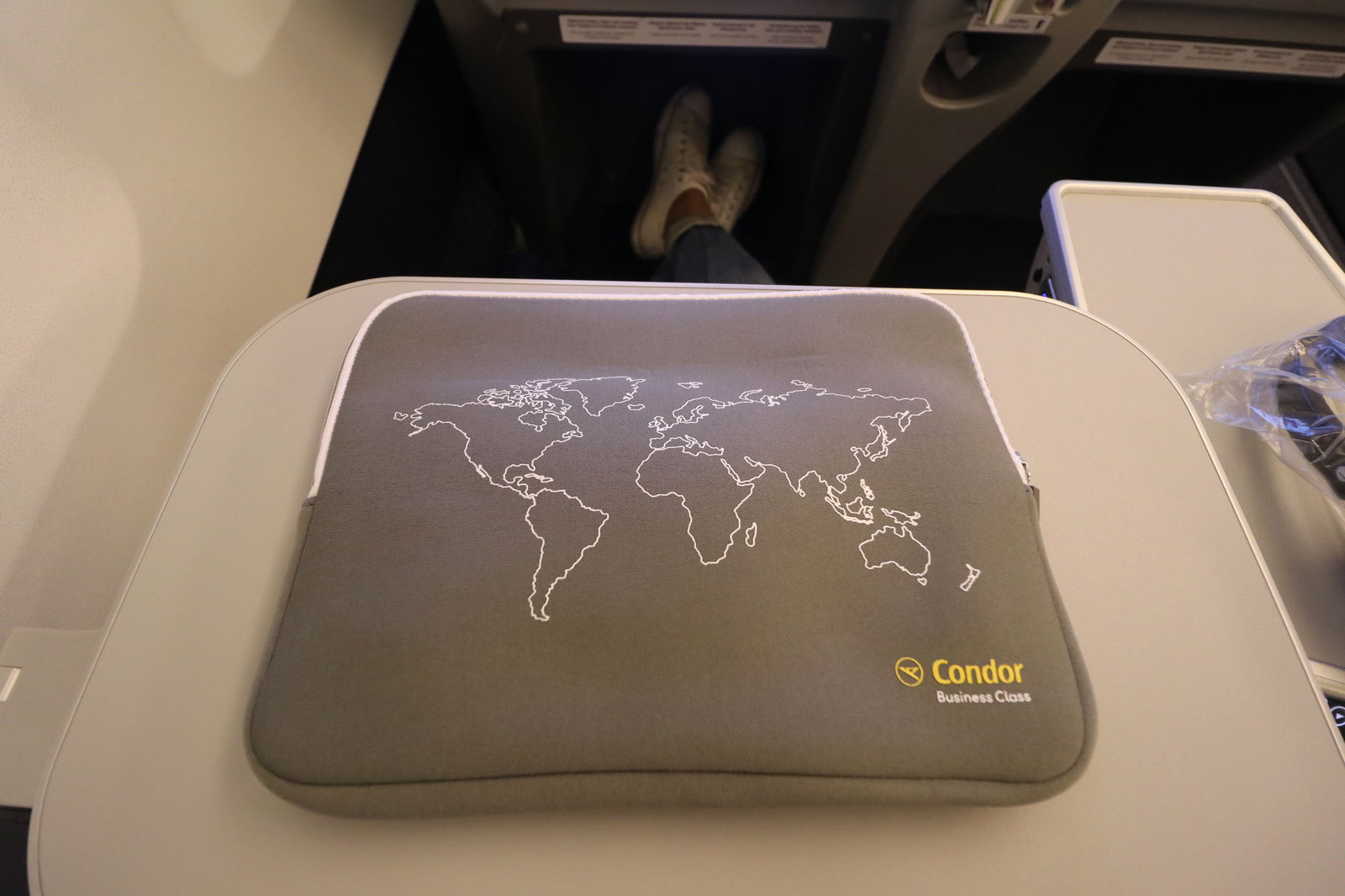 It contained the bare-essentials and was identical to the premium economy kit.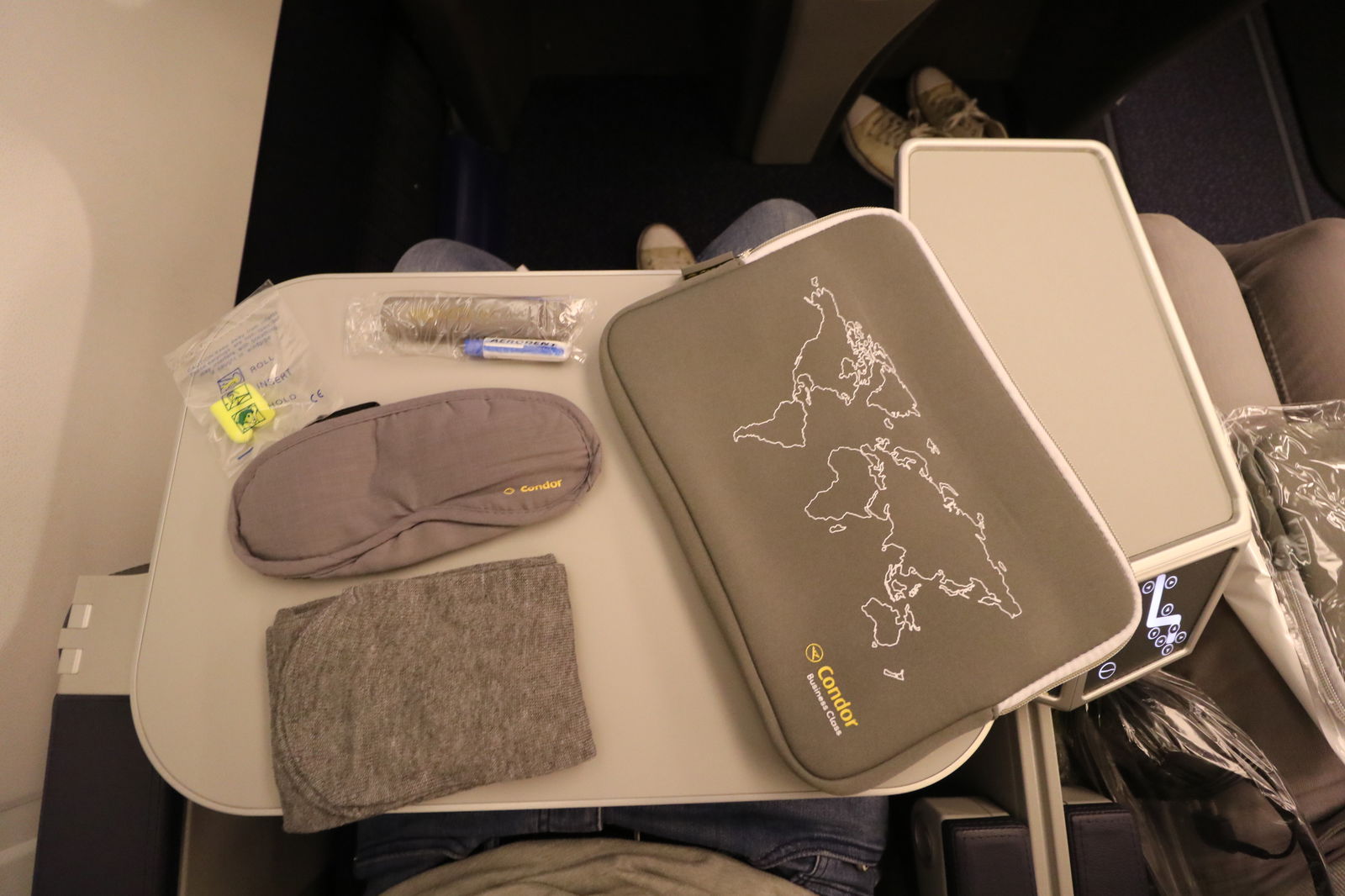 The bedding and pillow were nice.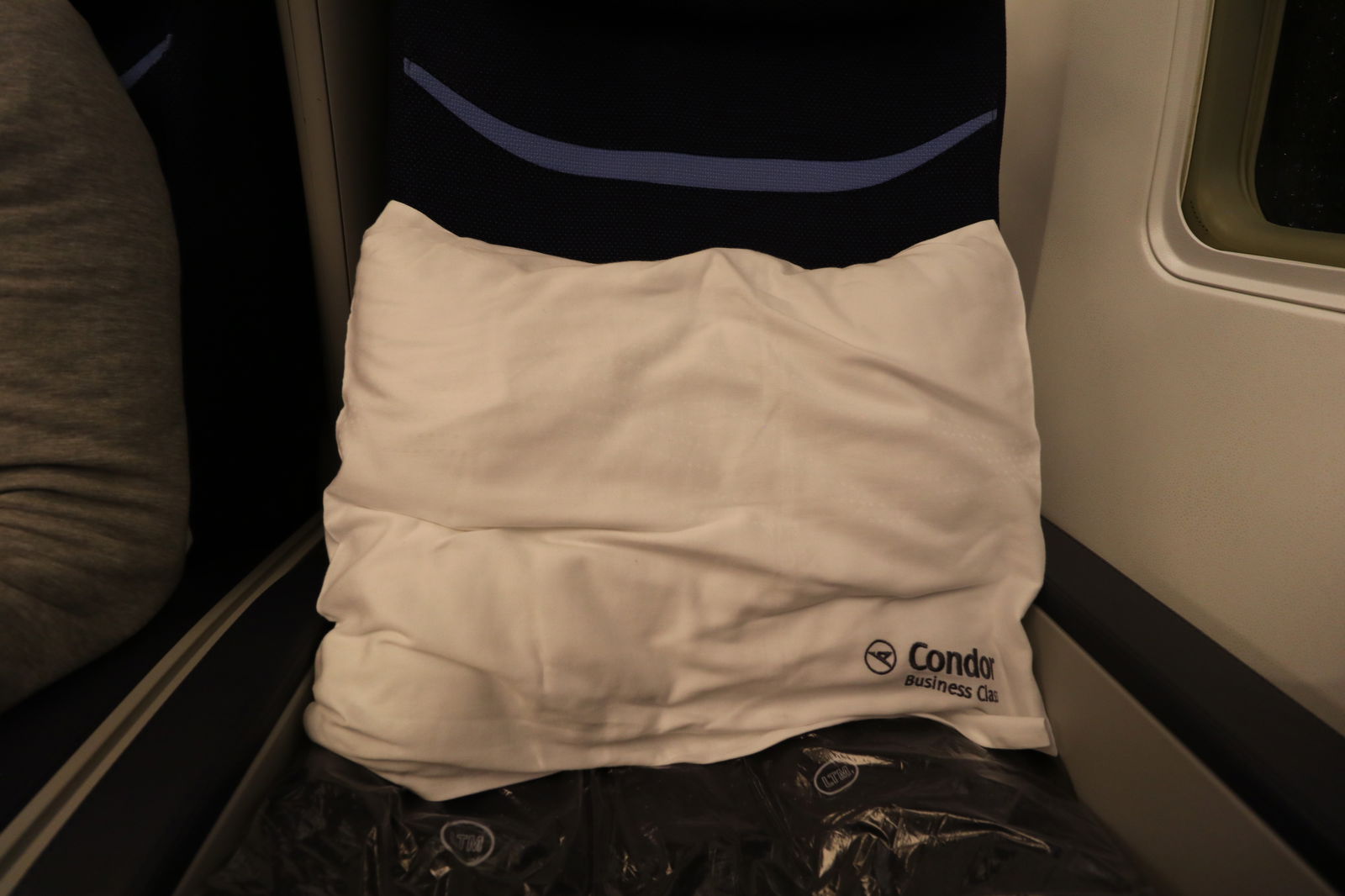 As soon as I settled in the crew offered me a welcome beverage. Choosing between orange juice and sparkling wine, I took the latter.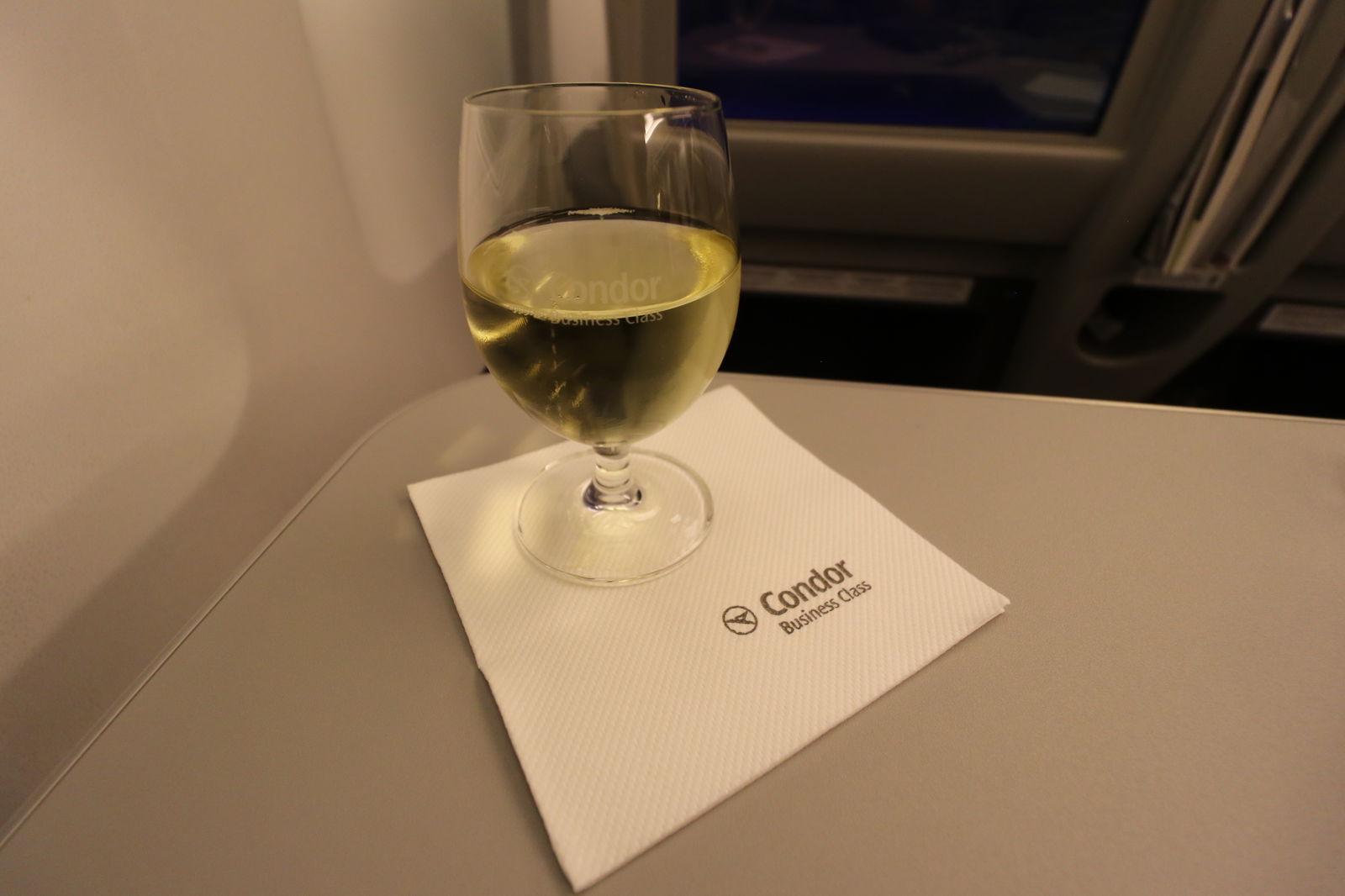 Sadly the weather delays continued once we were onboard, and we ended up taking off two hours behind schedule. Part of the delay was caused by the ground handlers not knowing how to push back a 767, which was amusing and reminded me that this inaugural flight was a big deal for so many people.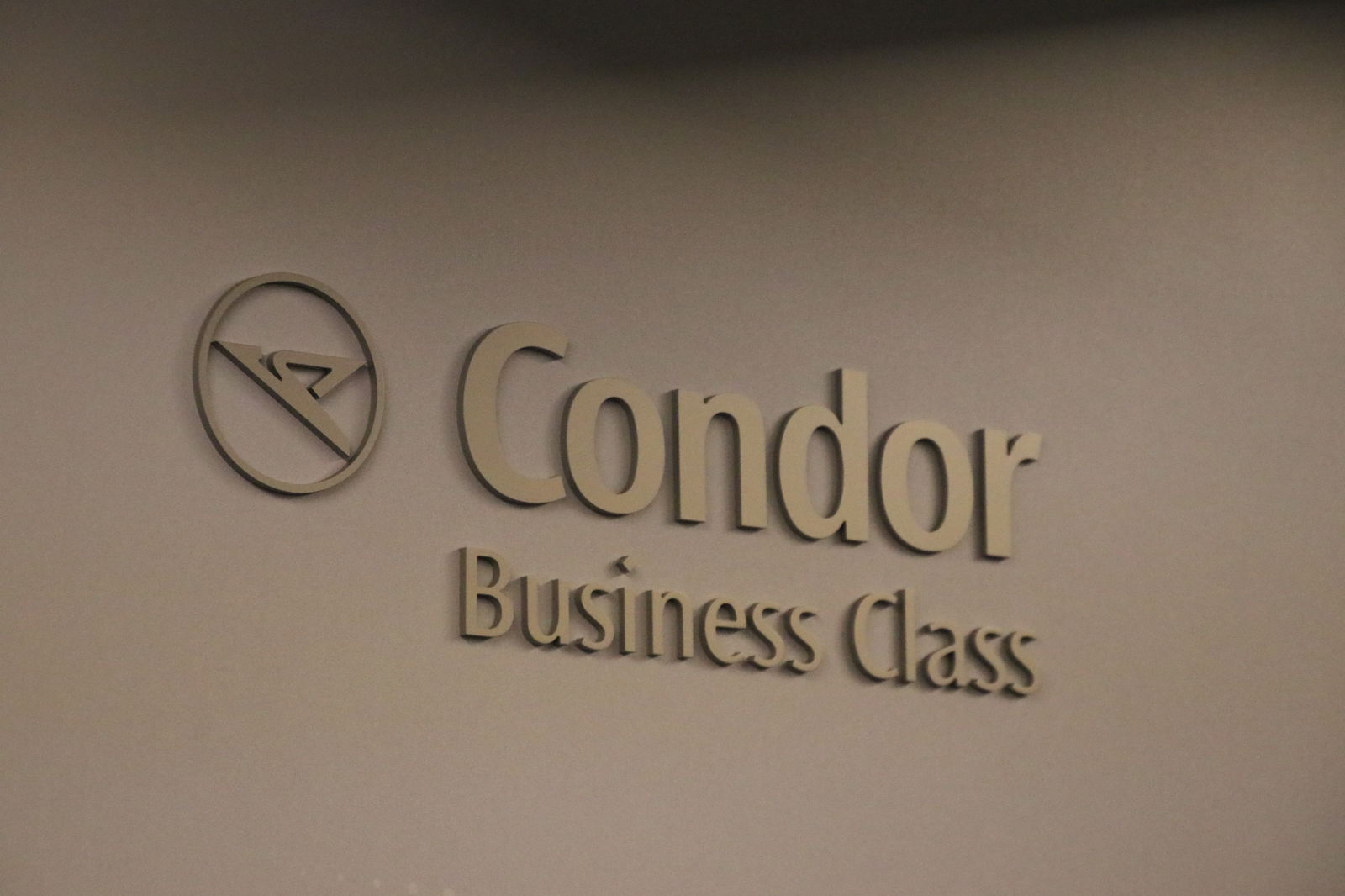 Once in the air, I decided to watch Black Swan, which I'd never seen before.
As soon as they could, the crew rolled out the beverage carts and distributed the menus.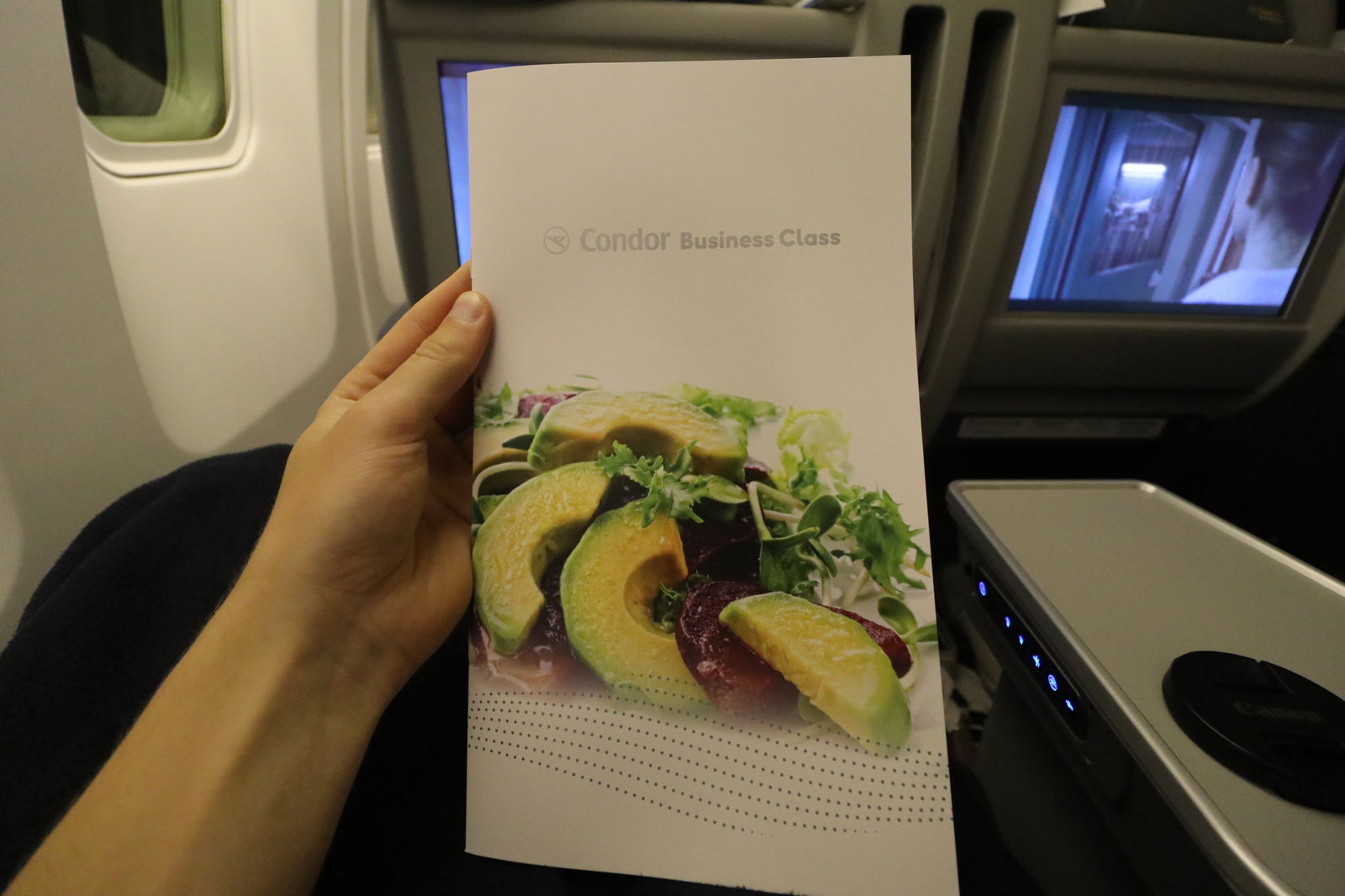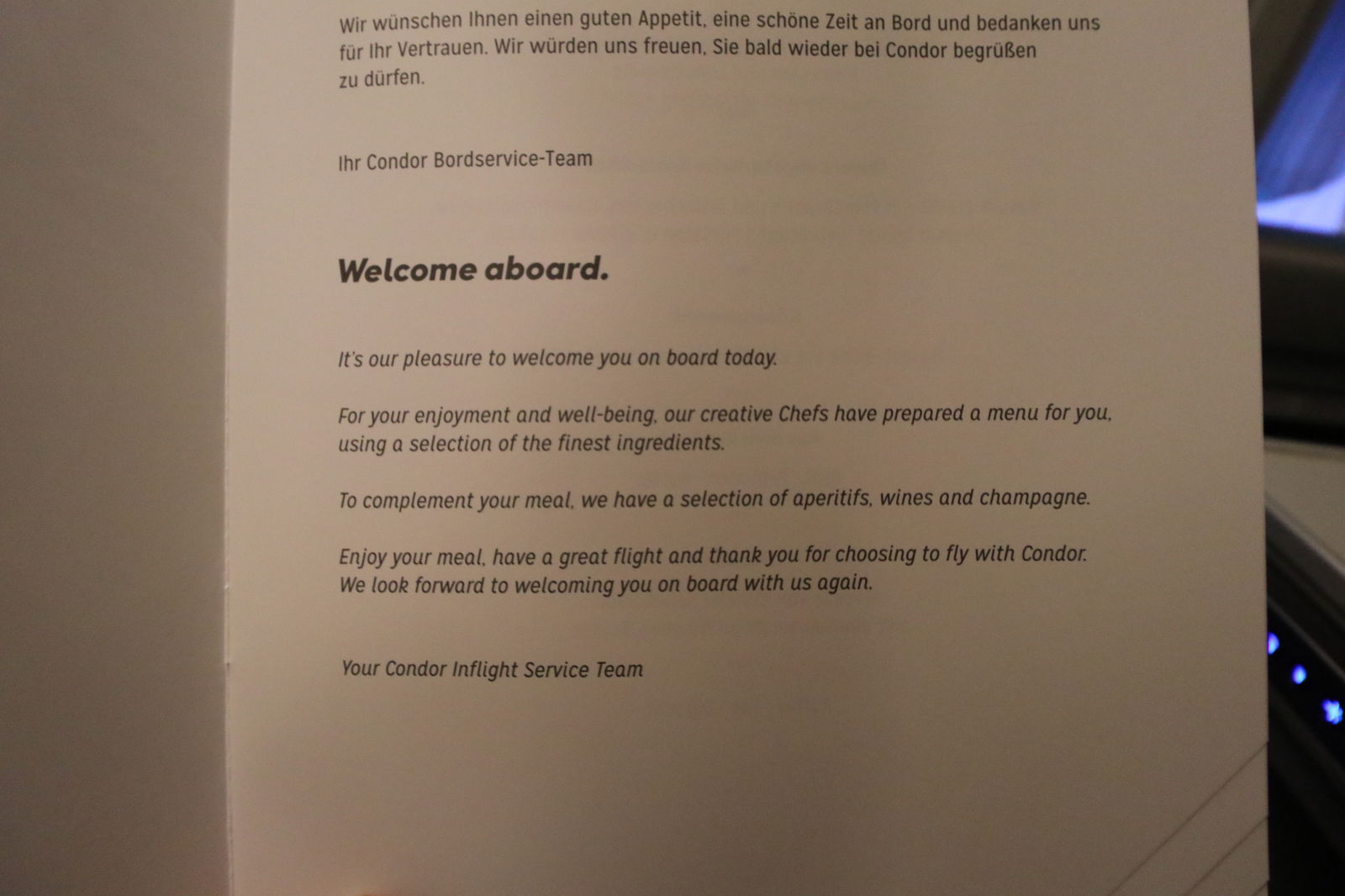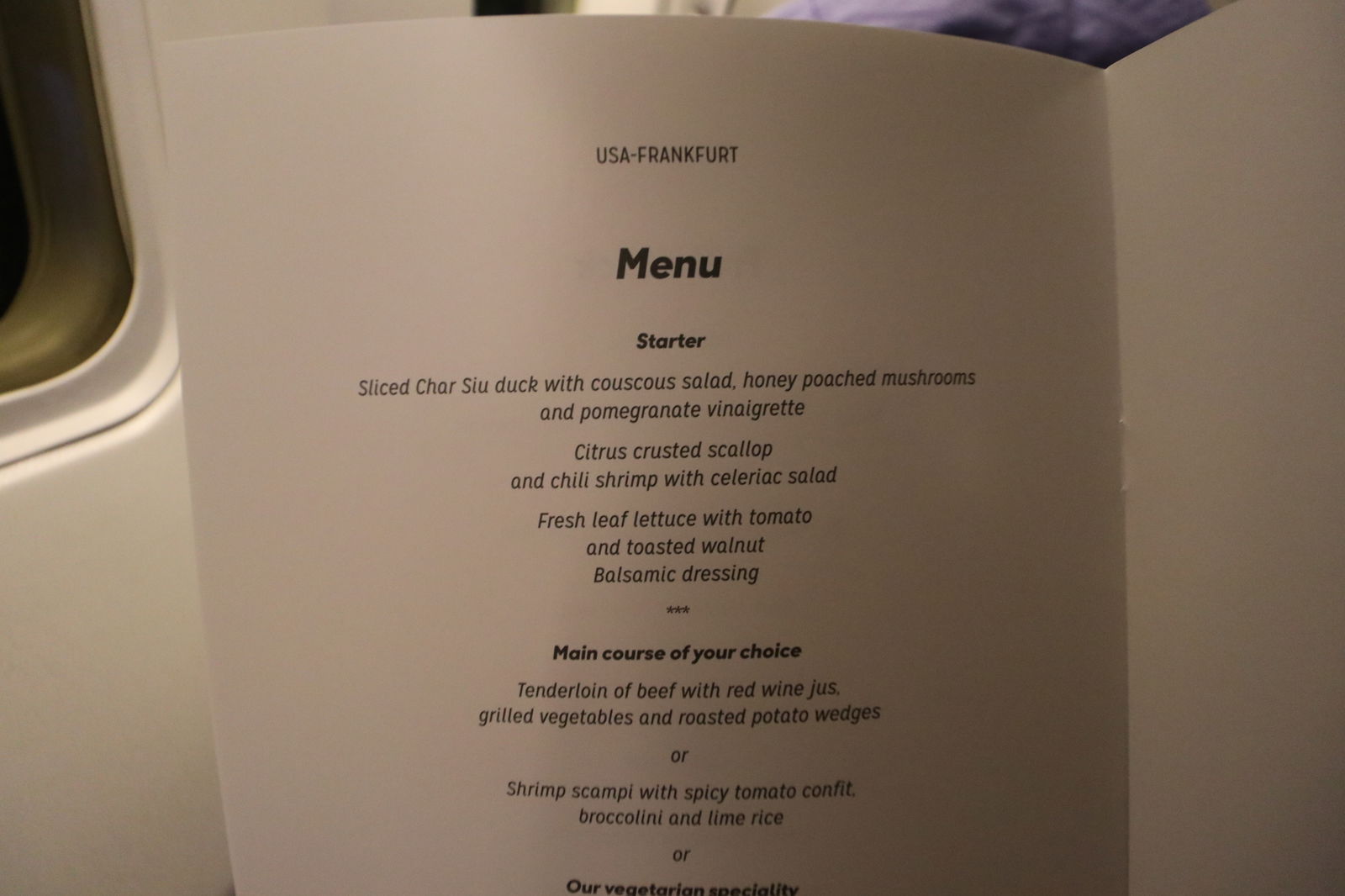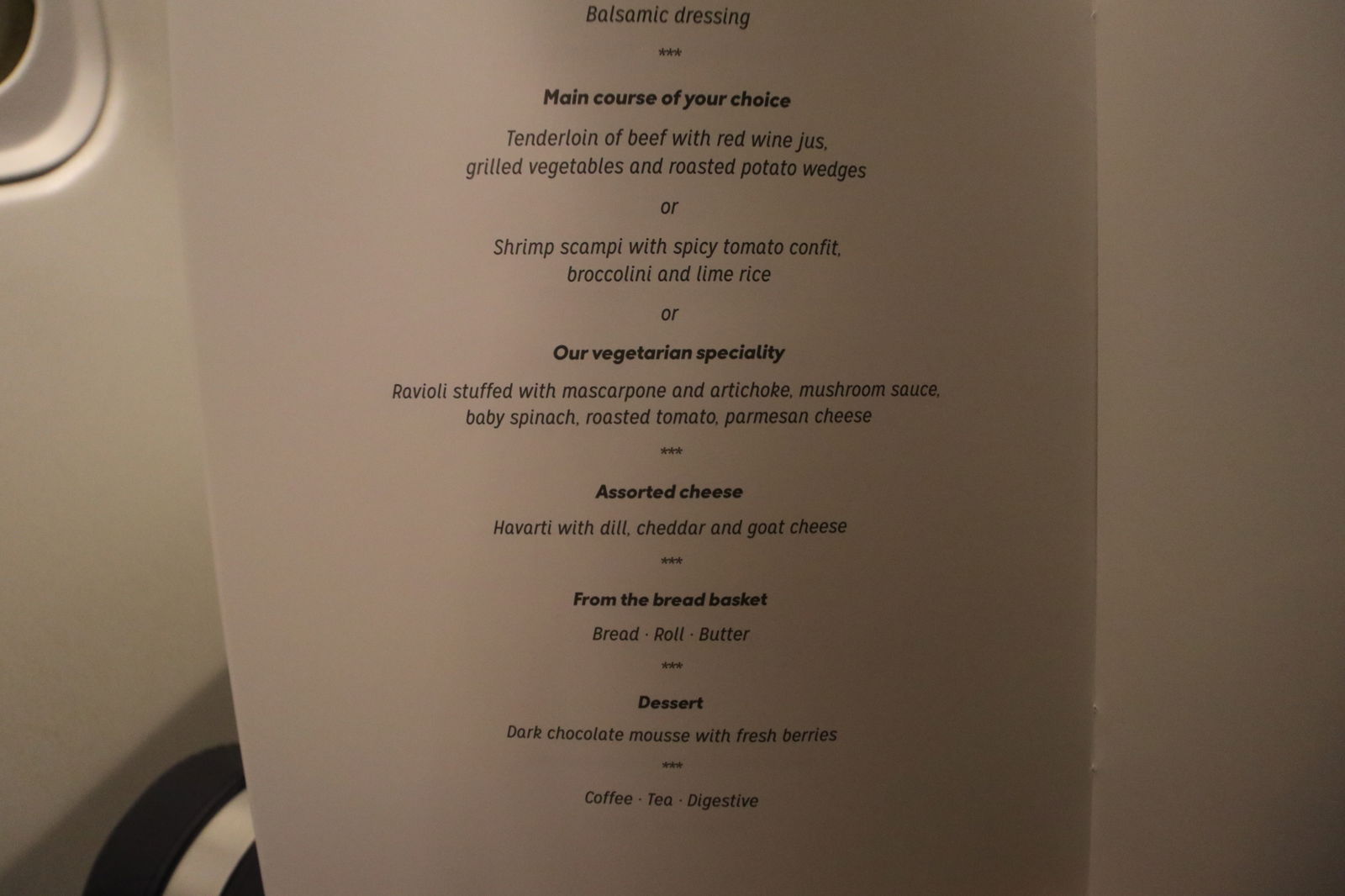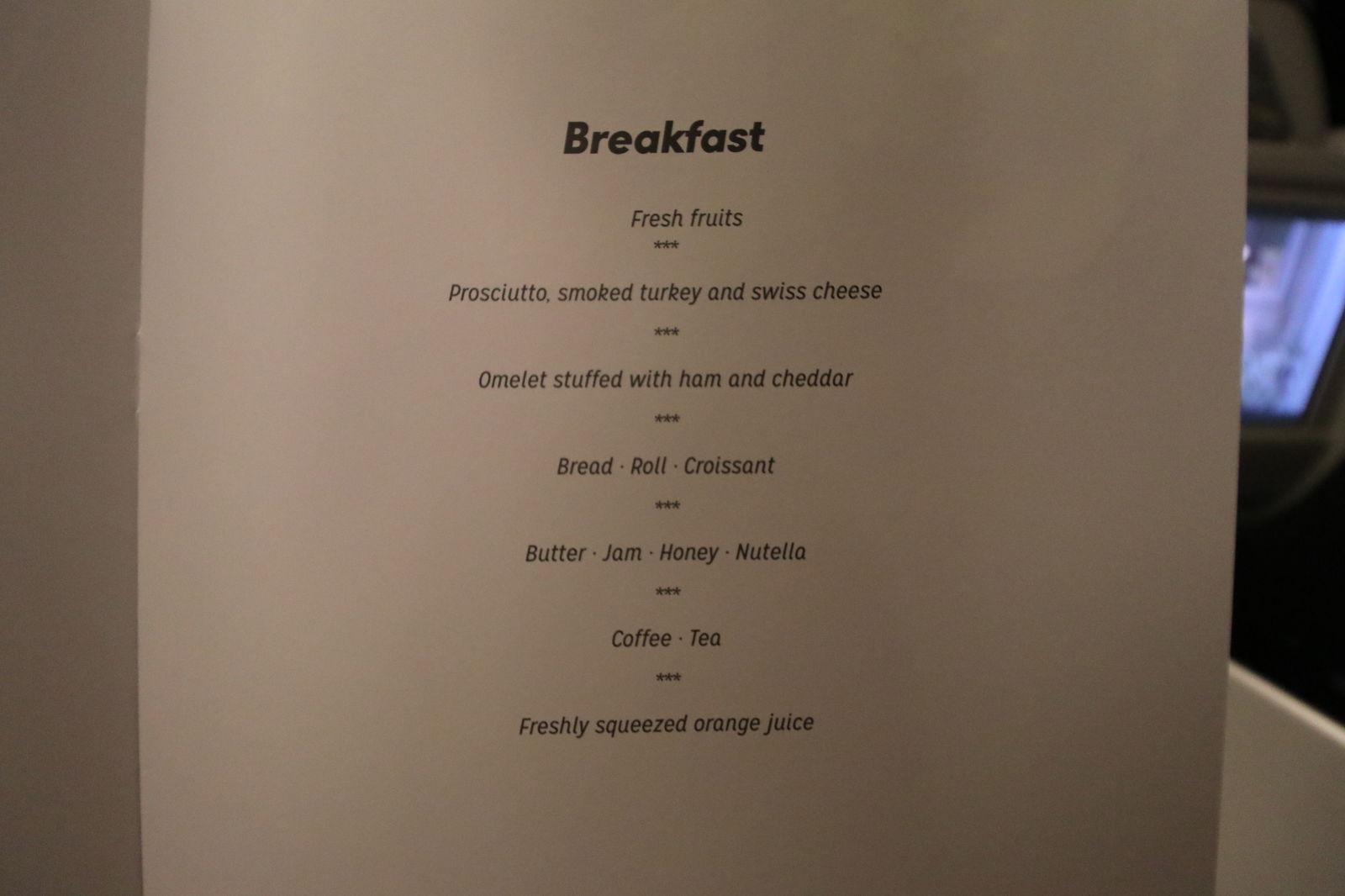 And the drink menu read as follows: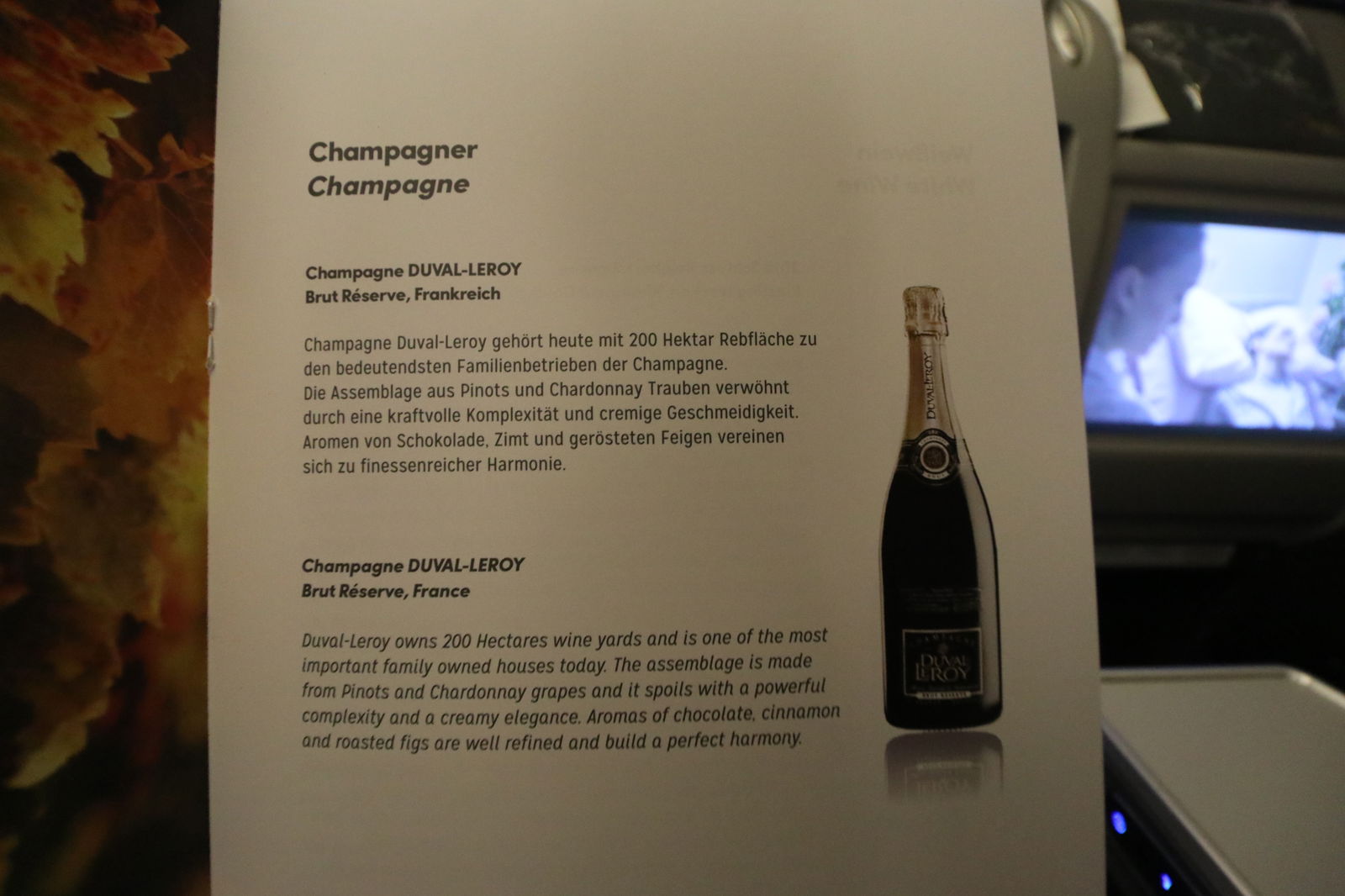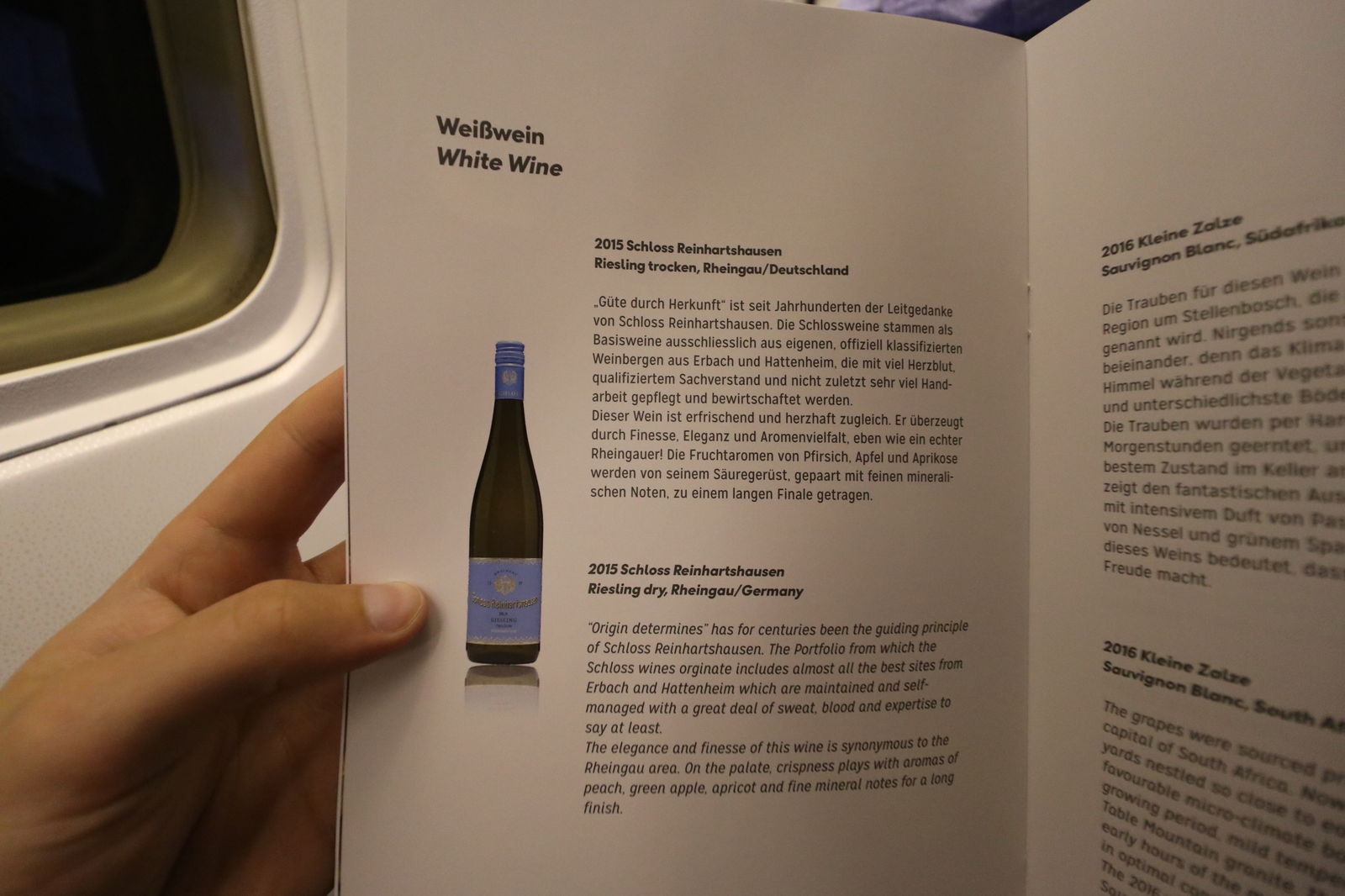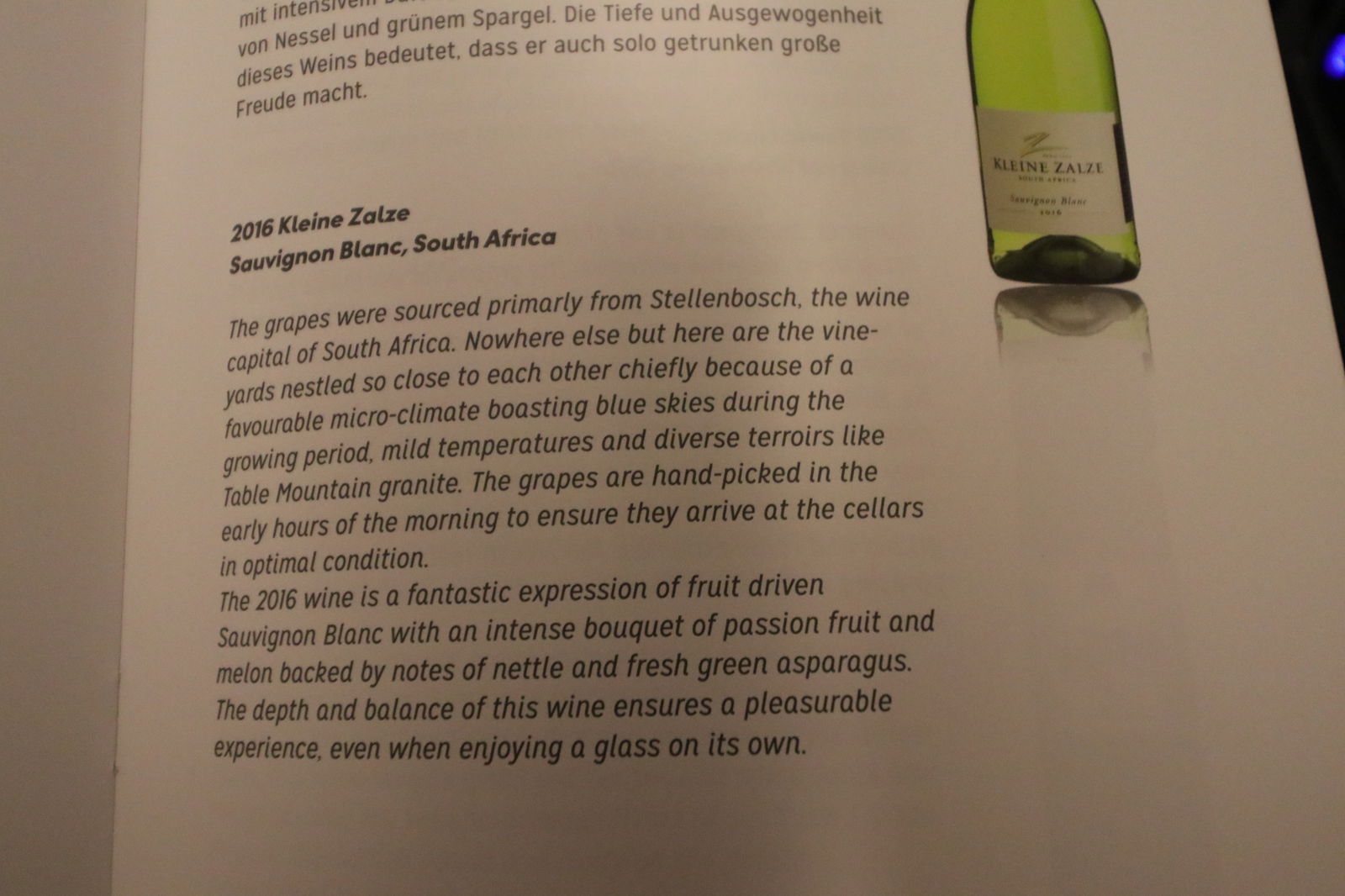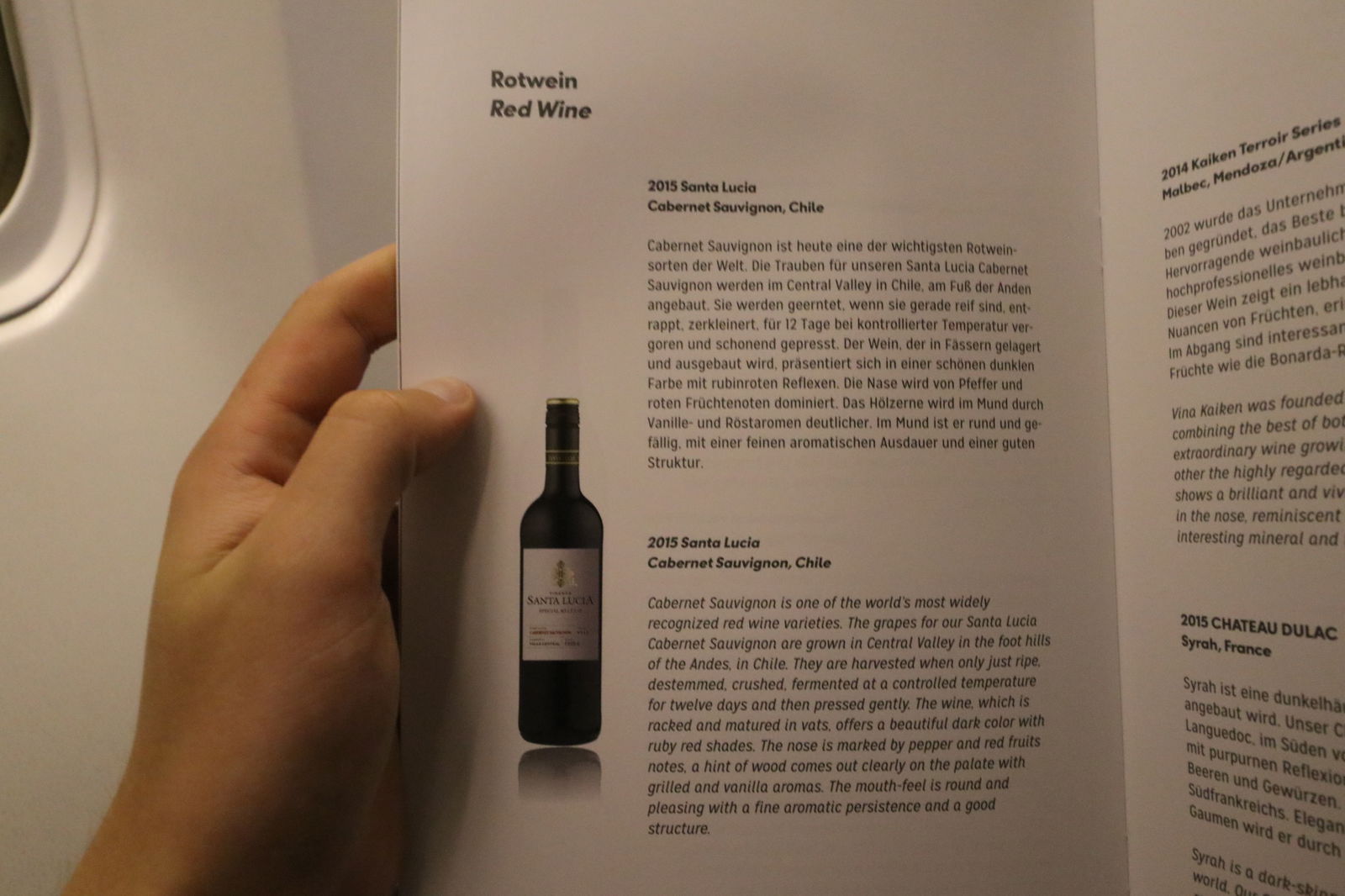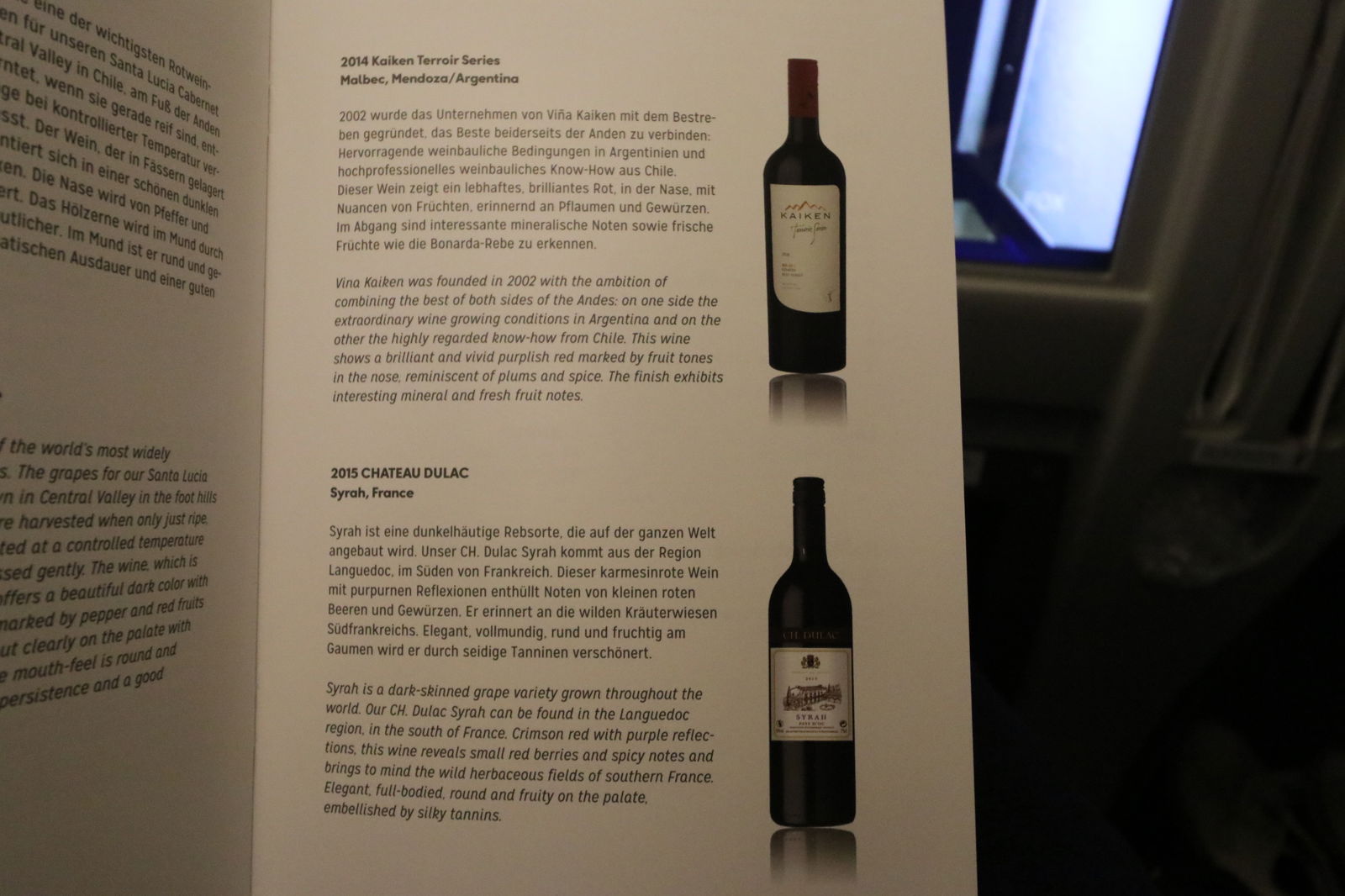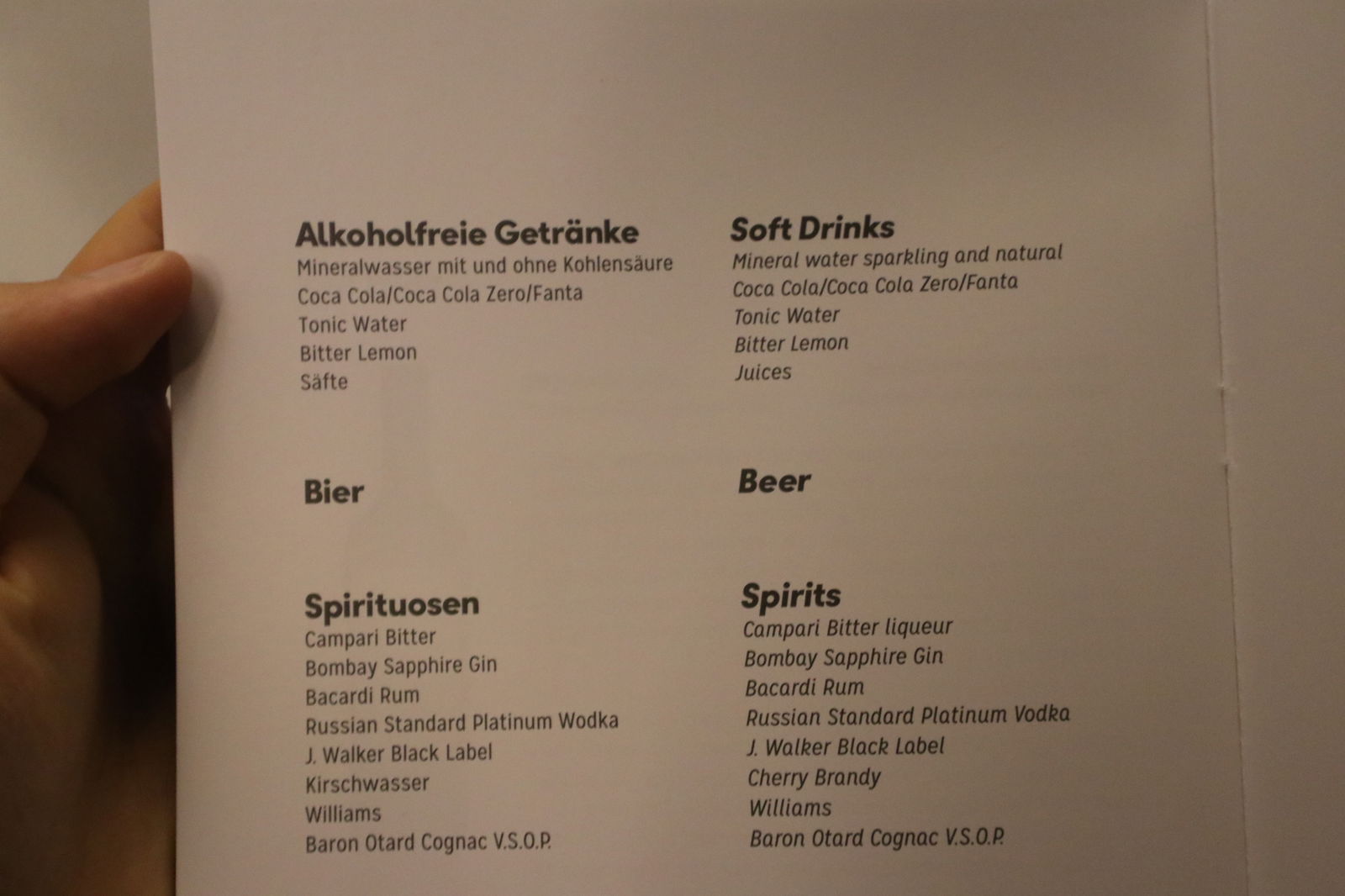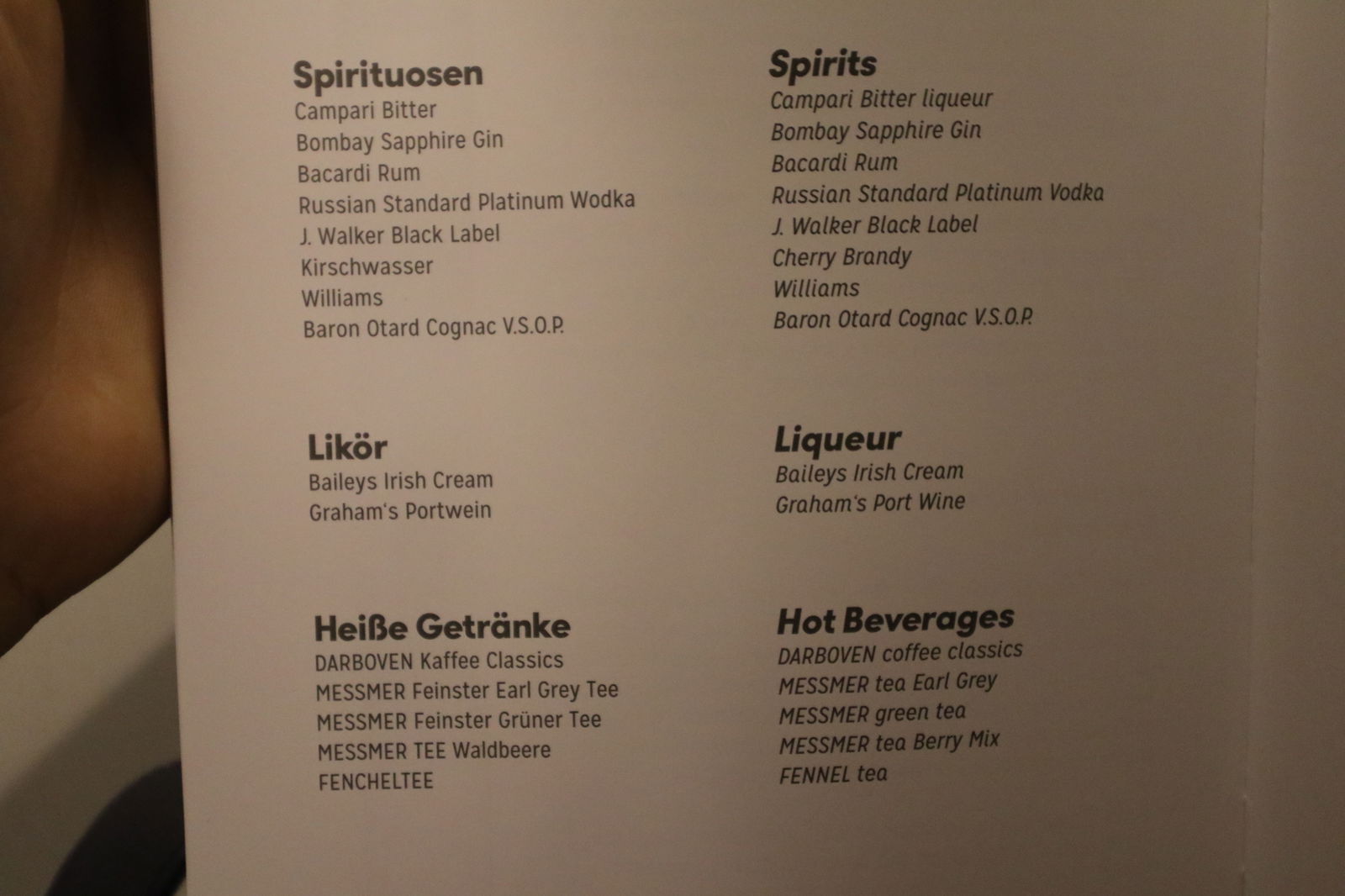 First the crew served a packet of almonds, which I snacked on with some "bitter lemon juice."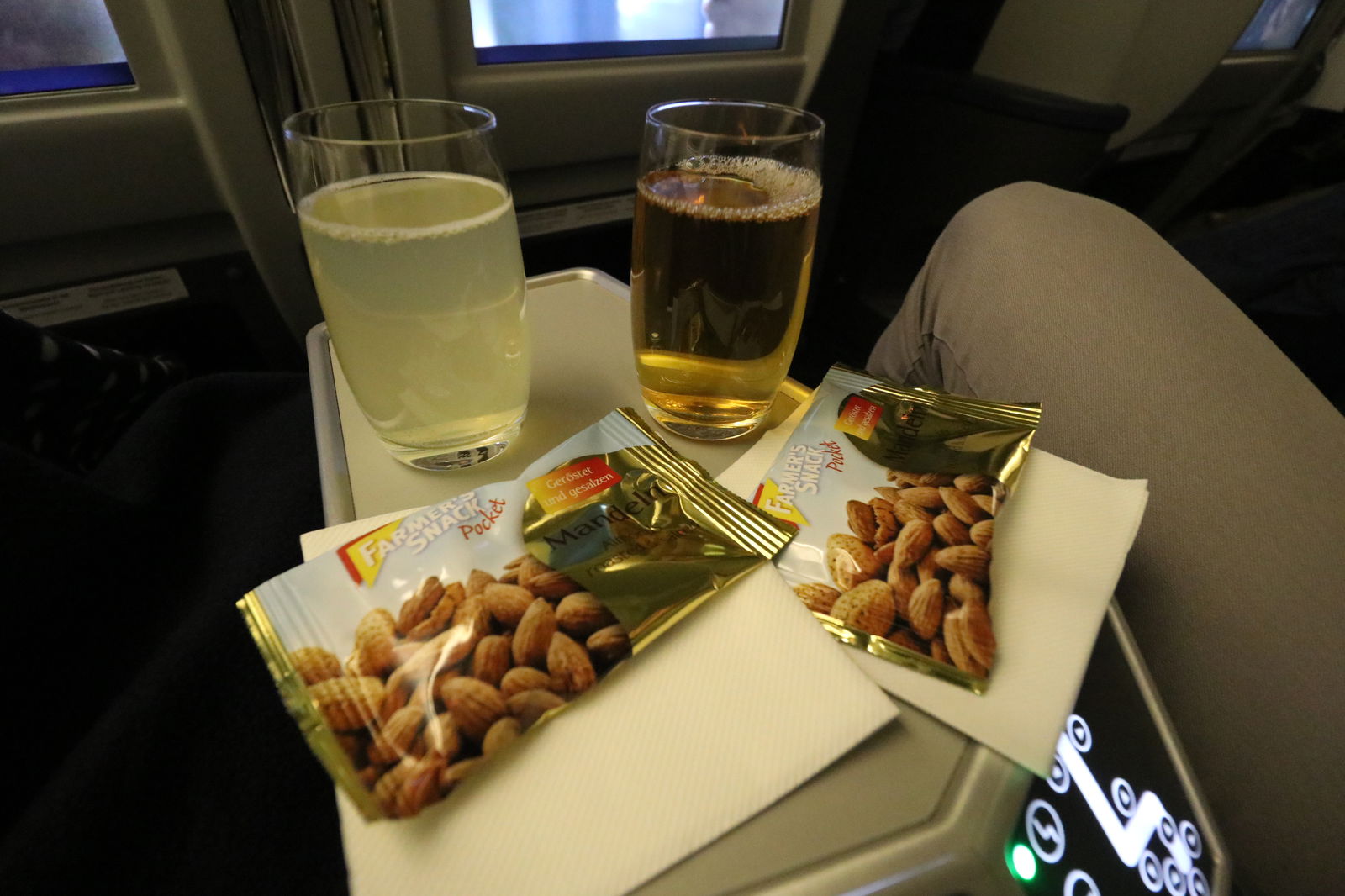 Before presenting the first course, the crew gave out hot towels.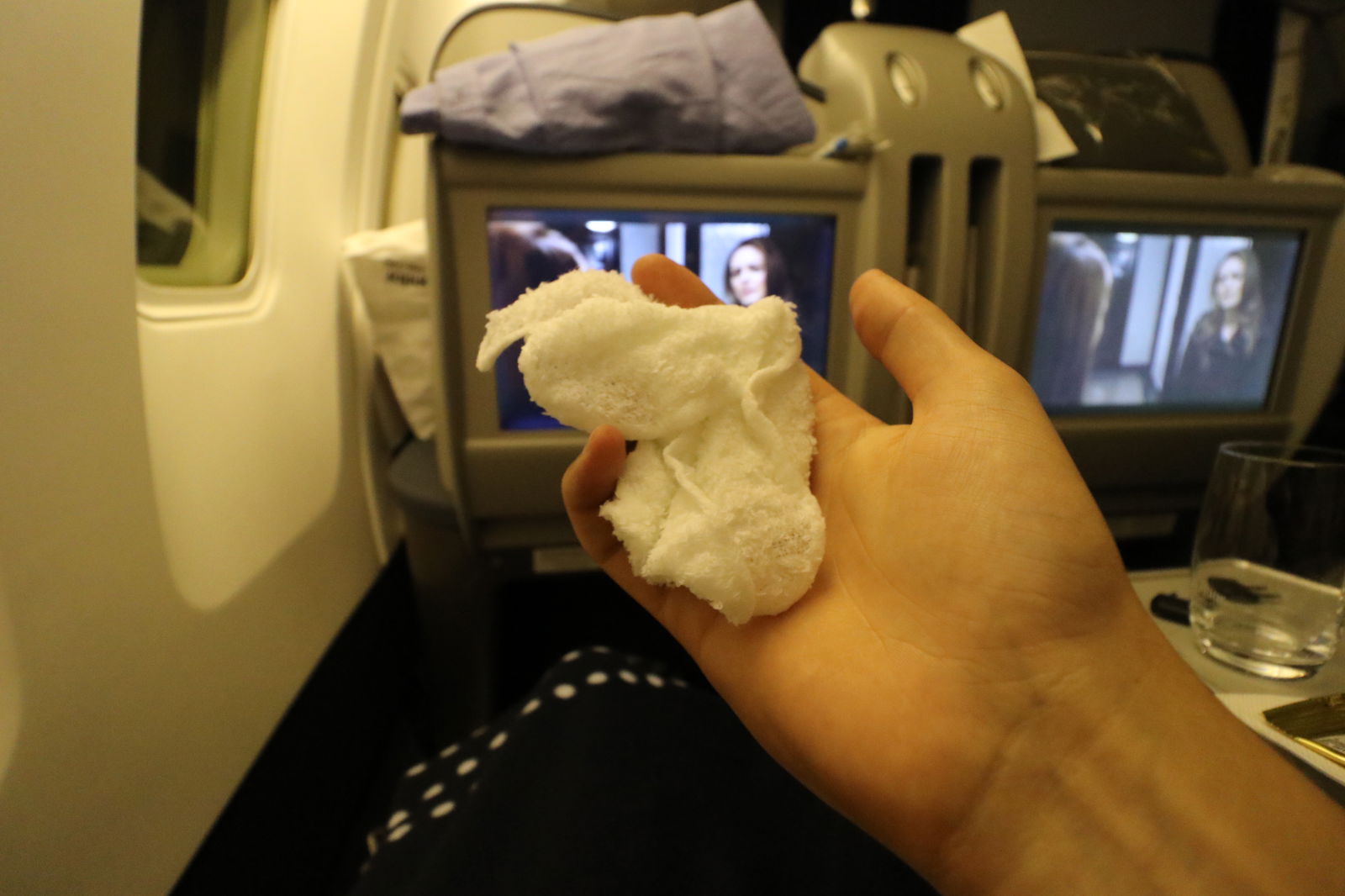 Next, the appetizer was served. It's worth noting that I ordered a special meal, hence the lack of dairy products.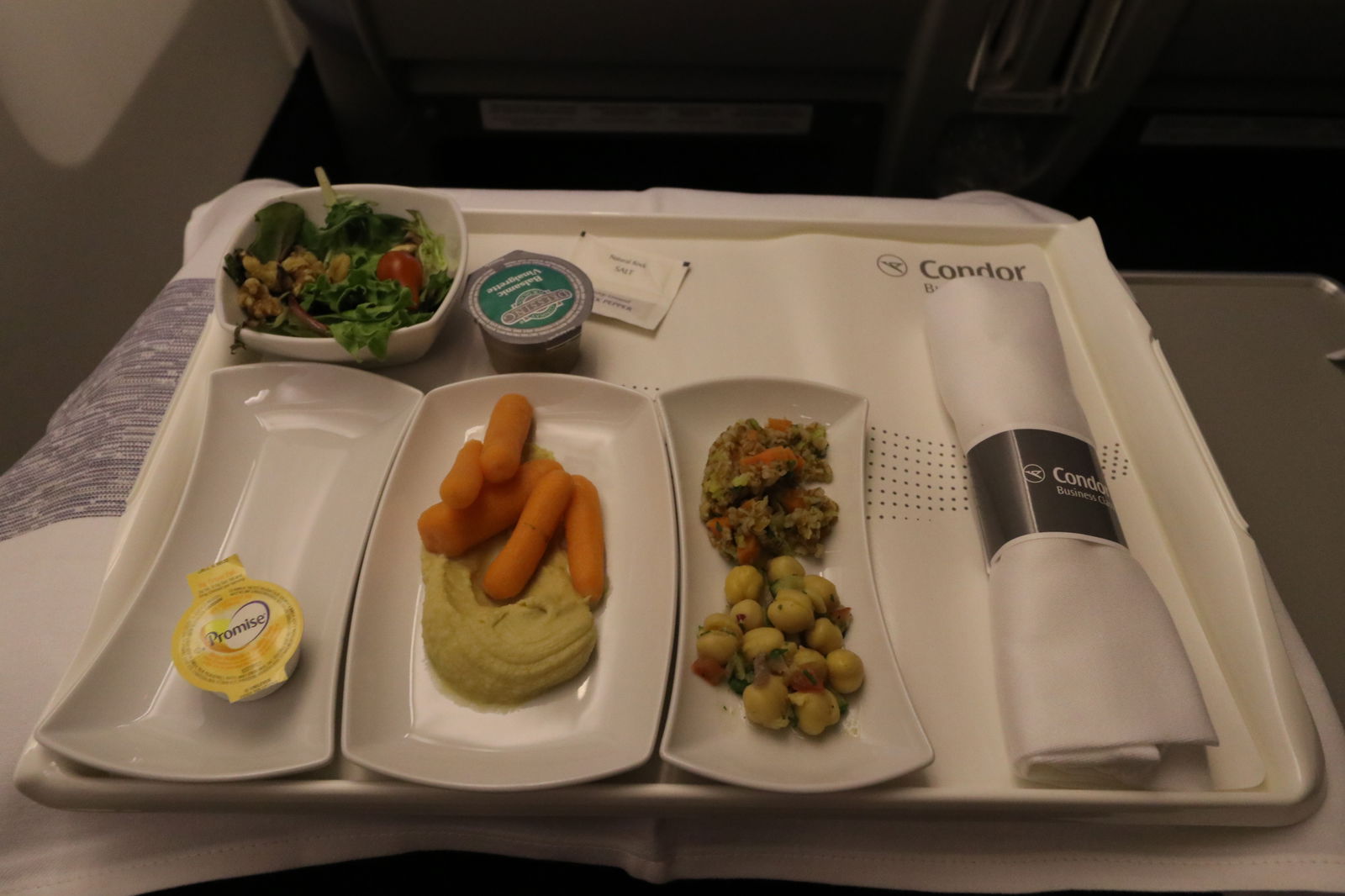 The main course was served soon after.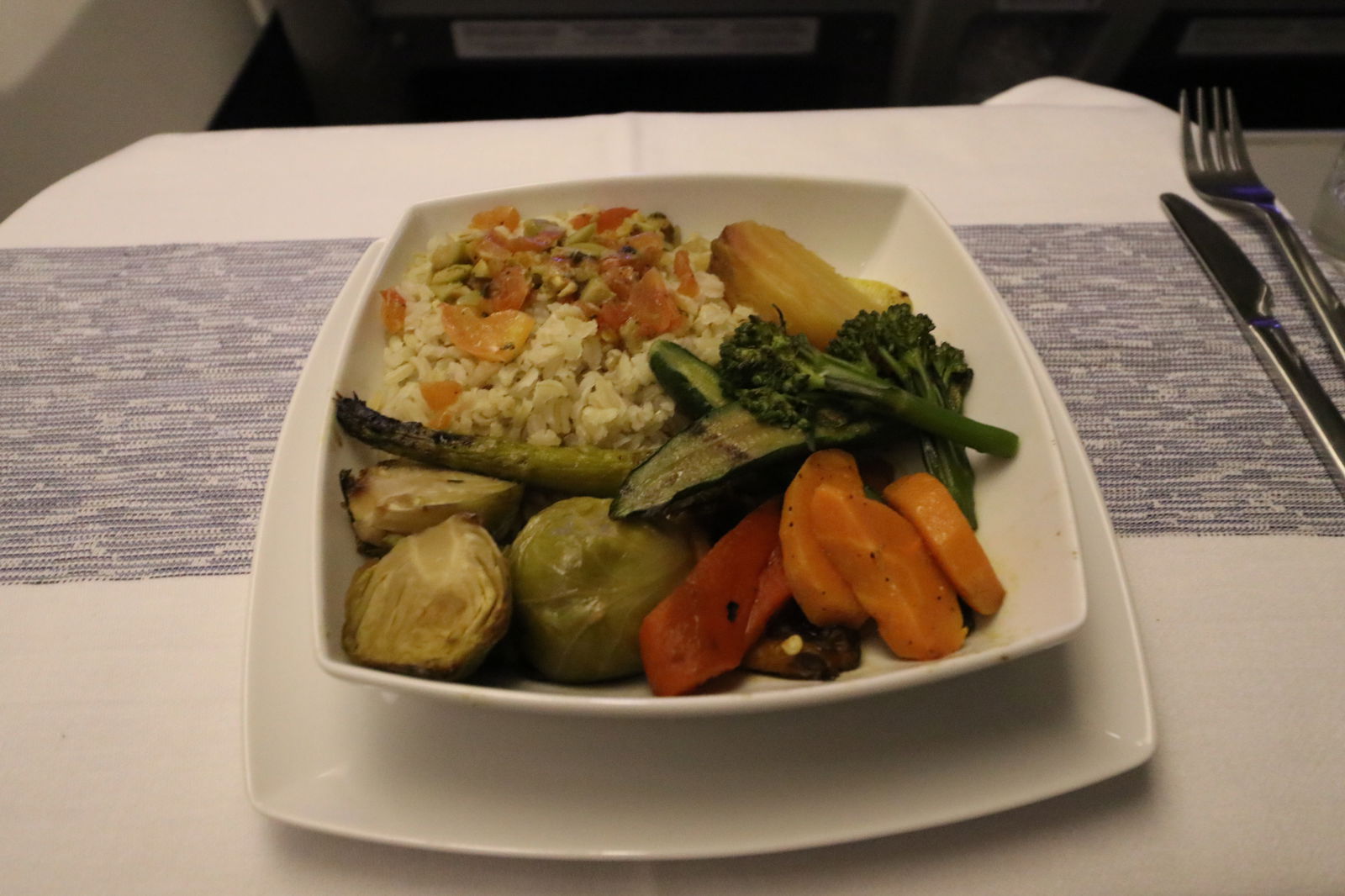 I finished my dessert when we had 6:50h left to Frankfurt.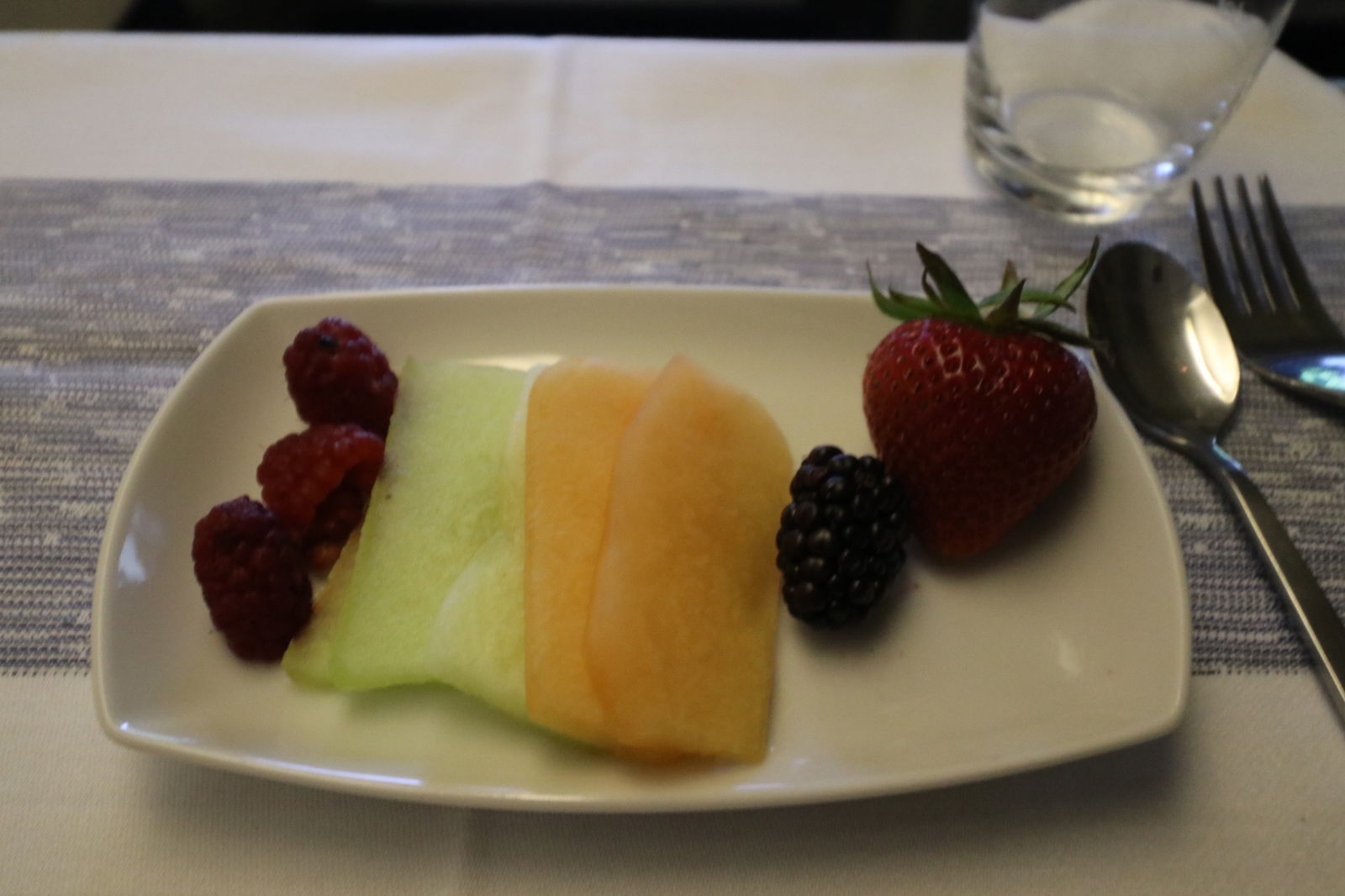 Two and a half hours isn't too bad to complete the meal service, and I guess the slow start can be blamed on the bad weather. Overall, I enjoyed the meal.
The two business class flight attendants were quite a typical German crew in the sense that they were professional and charming, but not overly attentive.
There was only one restroom in the business class cabin, so after a little wait, I brushed my teeth and got ready for bed.
As I mentioned, the seat is angled, and not in the Emirates or EgyptAir way. While the seat is flat, it stays about 25-35 degrees off the floor.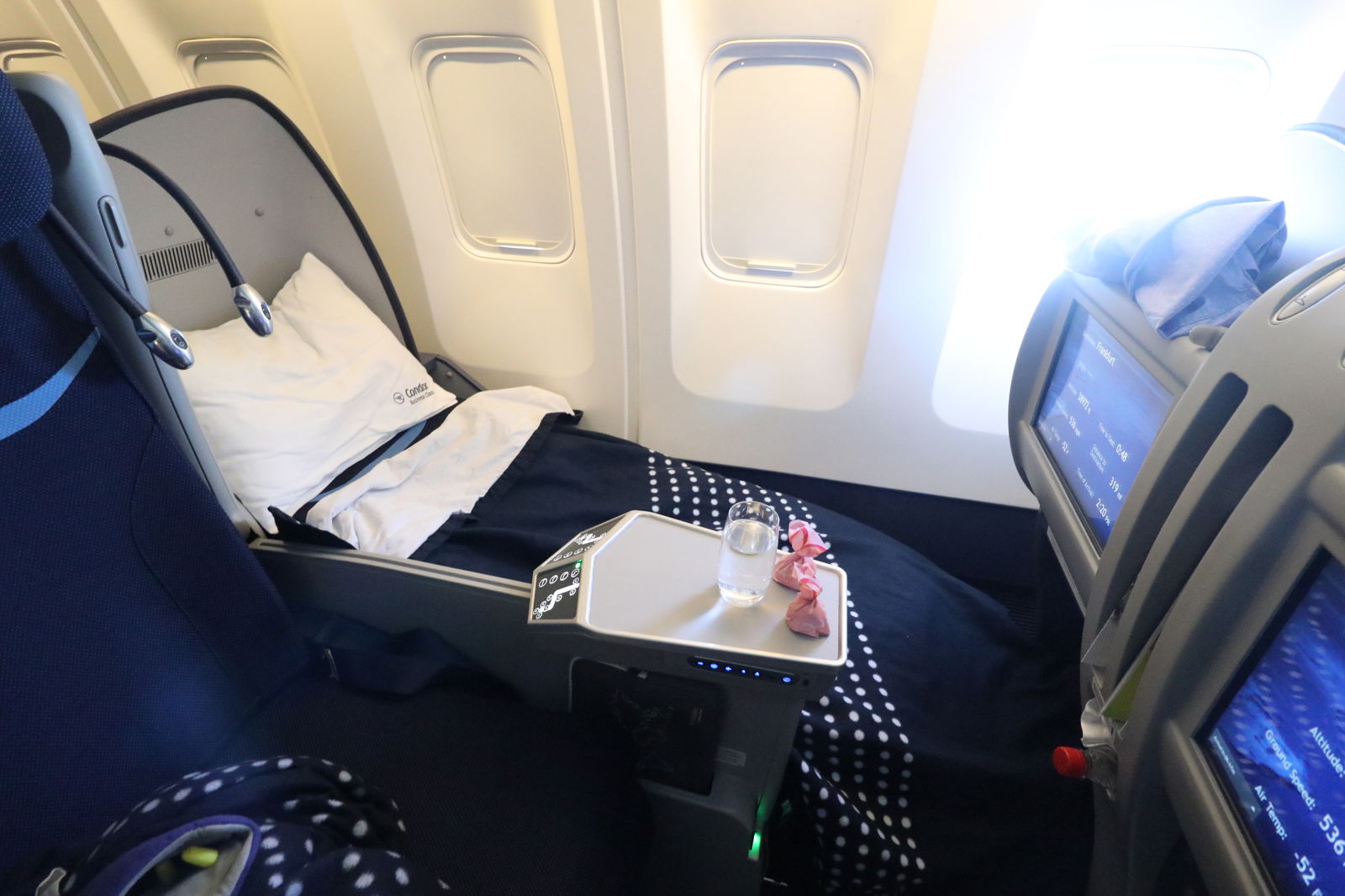 When I first laid down I was a little startled at how steep the angle felt, though it clearly wasn't much of an issue since I fell asleep within minutes. Despite a small-looking footwell, my legs could move freely and the space didn't really restrict me.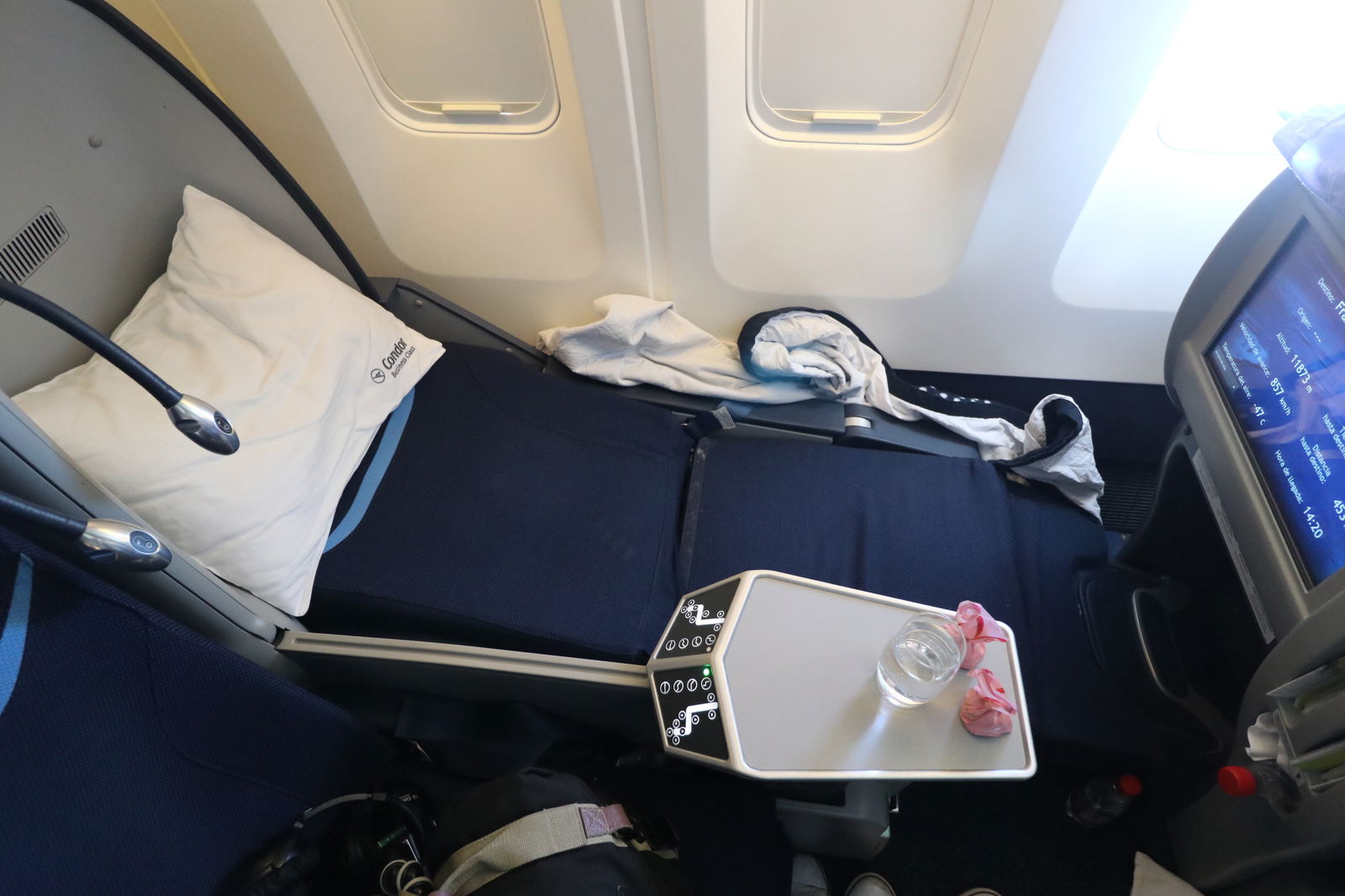 Condor doesn't have individual air vents, but thankfully the crew kept the temperature perfect. Given how much I've been flying the 787 recently, I was expecting to be bothered by the low cabin humidity on the 767. To my surprise, I didn't even notice a difference.
Five hours later I abruptly woke up in the middle of the breakfast service. This meal reminded me a lot of my dinner of Norwegian last autumn, and was fresh-tasting.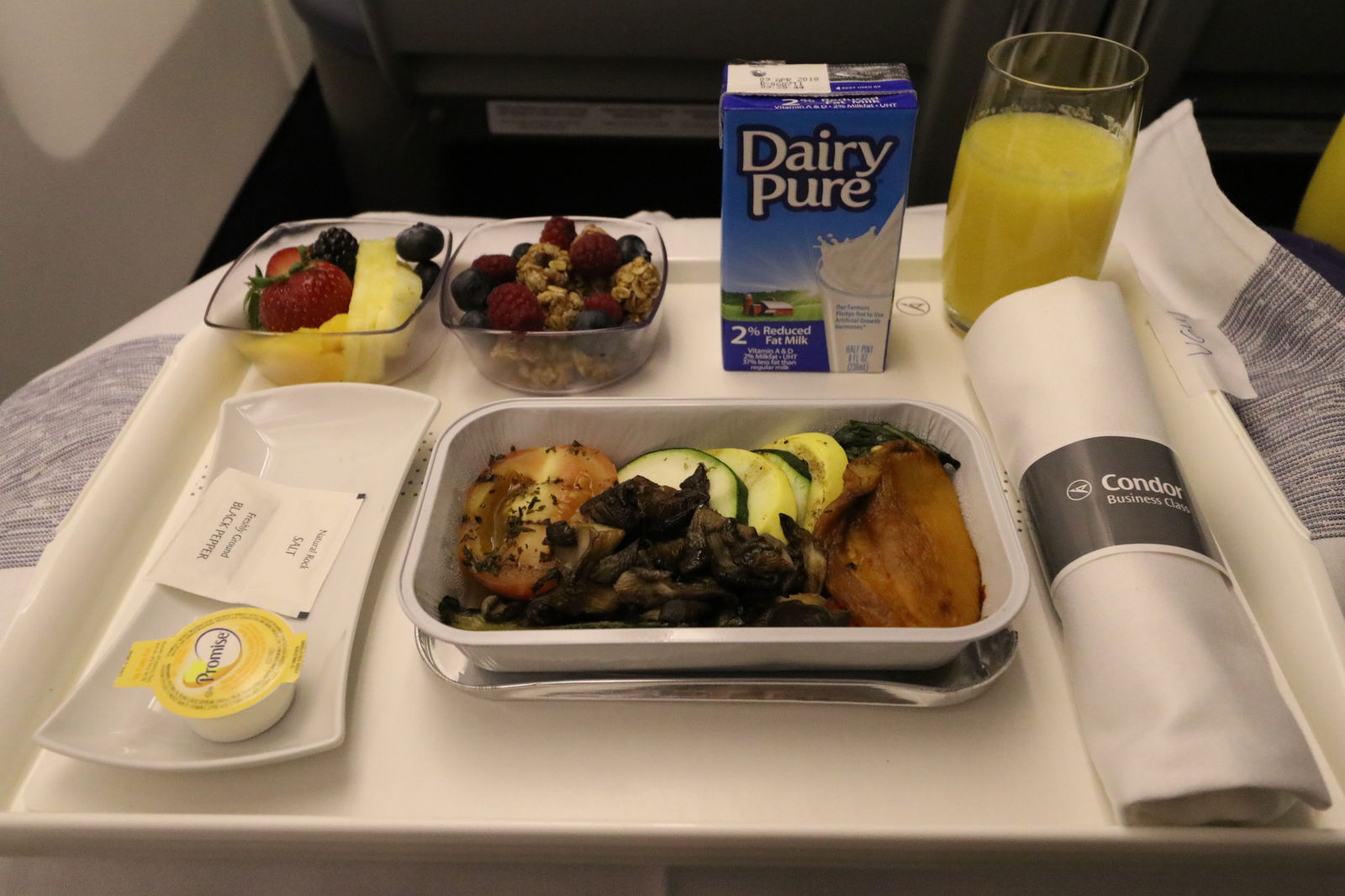 Before I knew it we were descending into Frankfurt.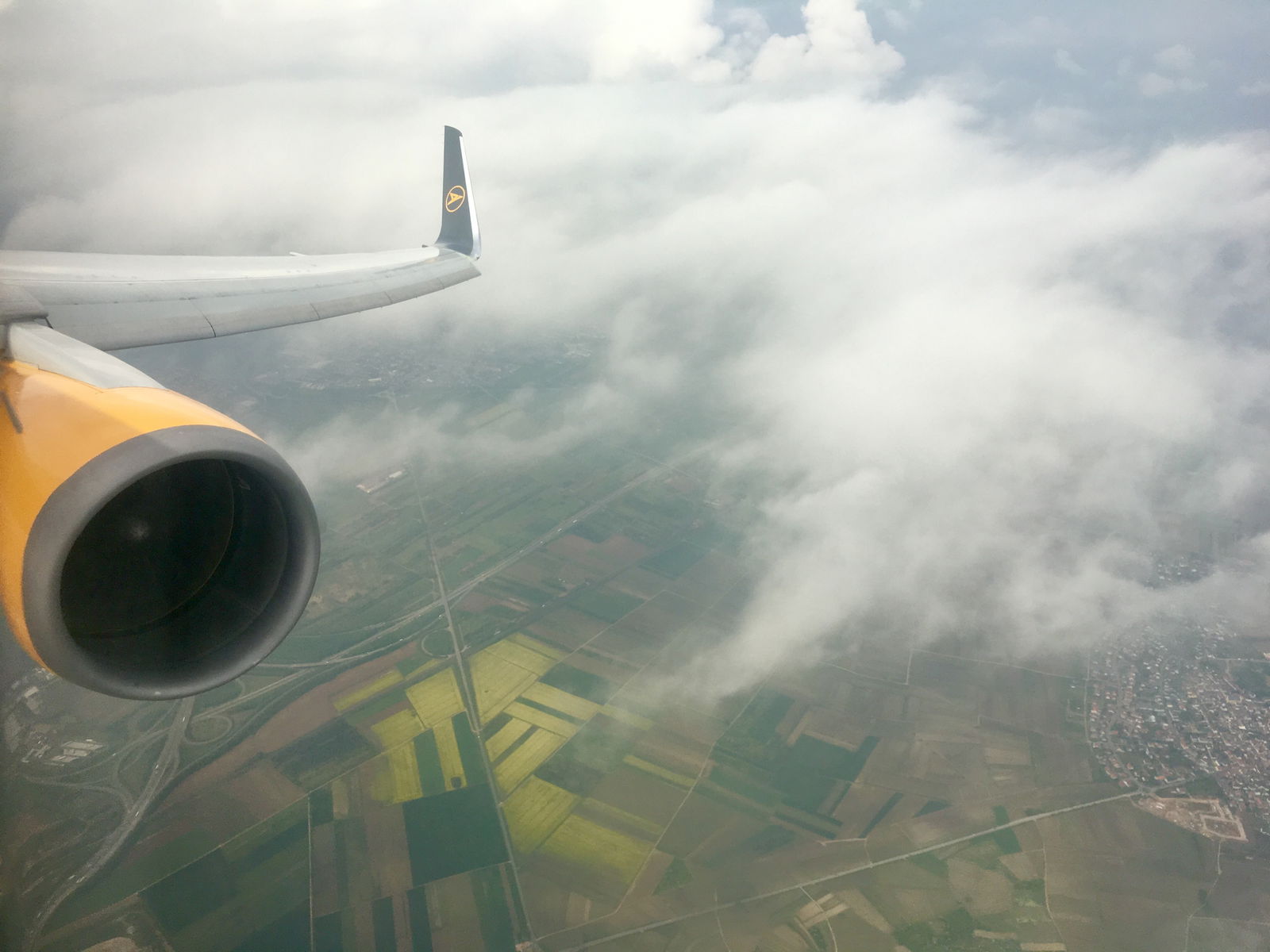 Before taking their seats, the crew handed me a little farewell chocolate.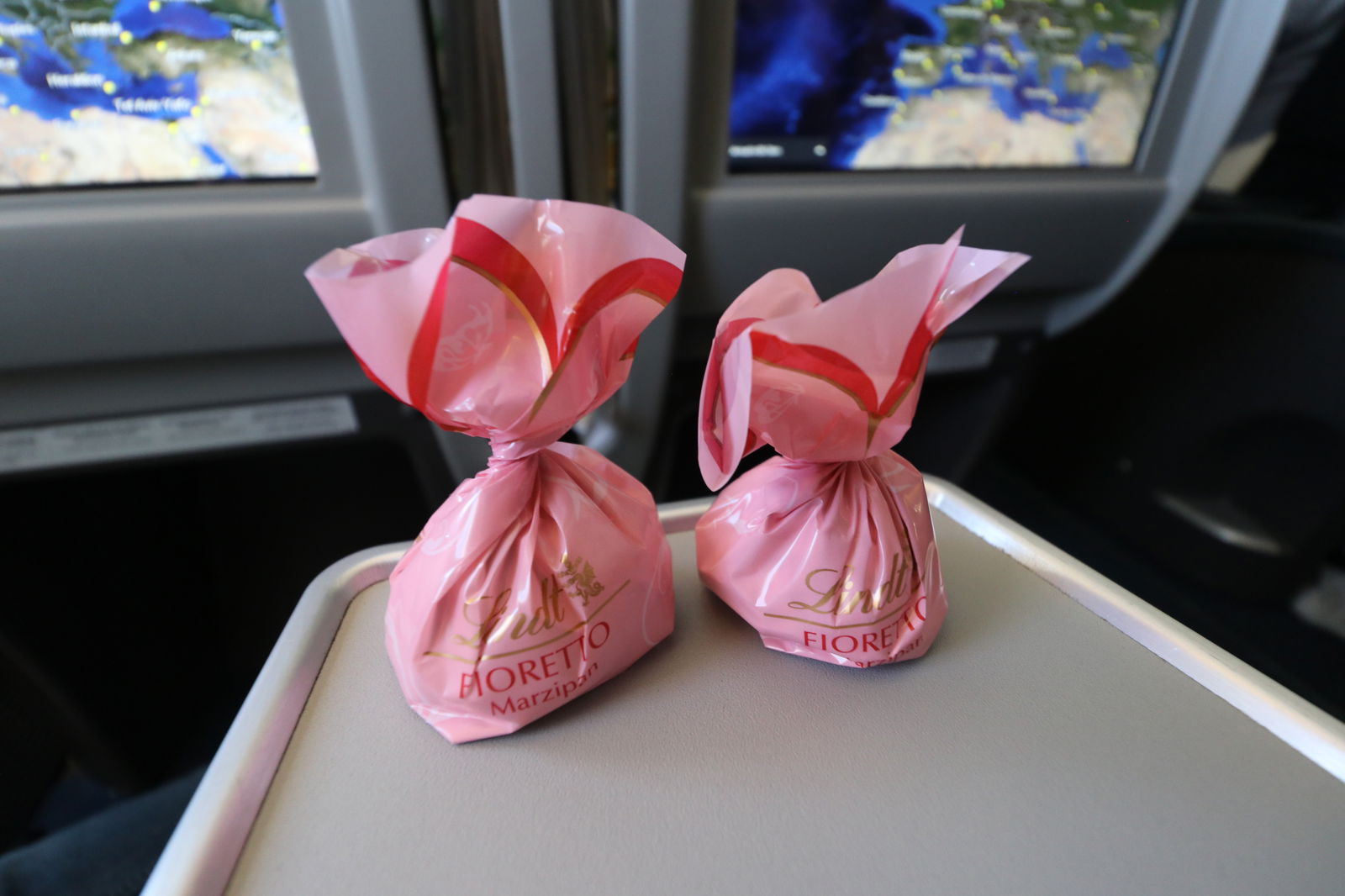 We finally touched down at 2:20pm local time, 1:30h behind schedule.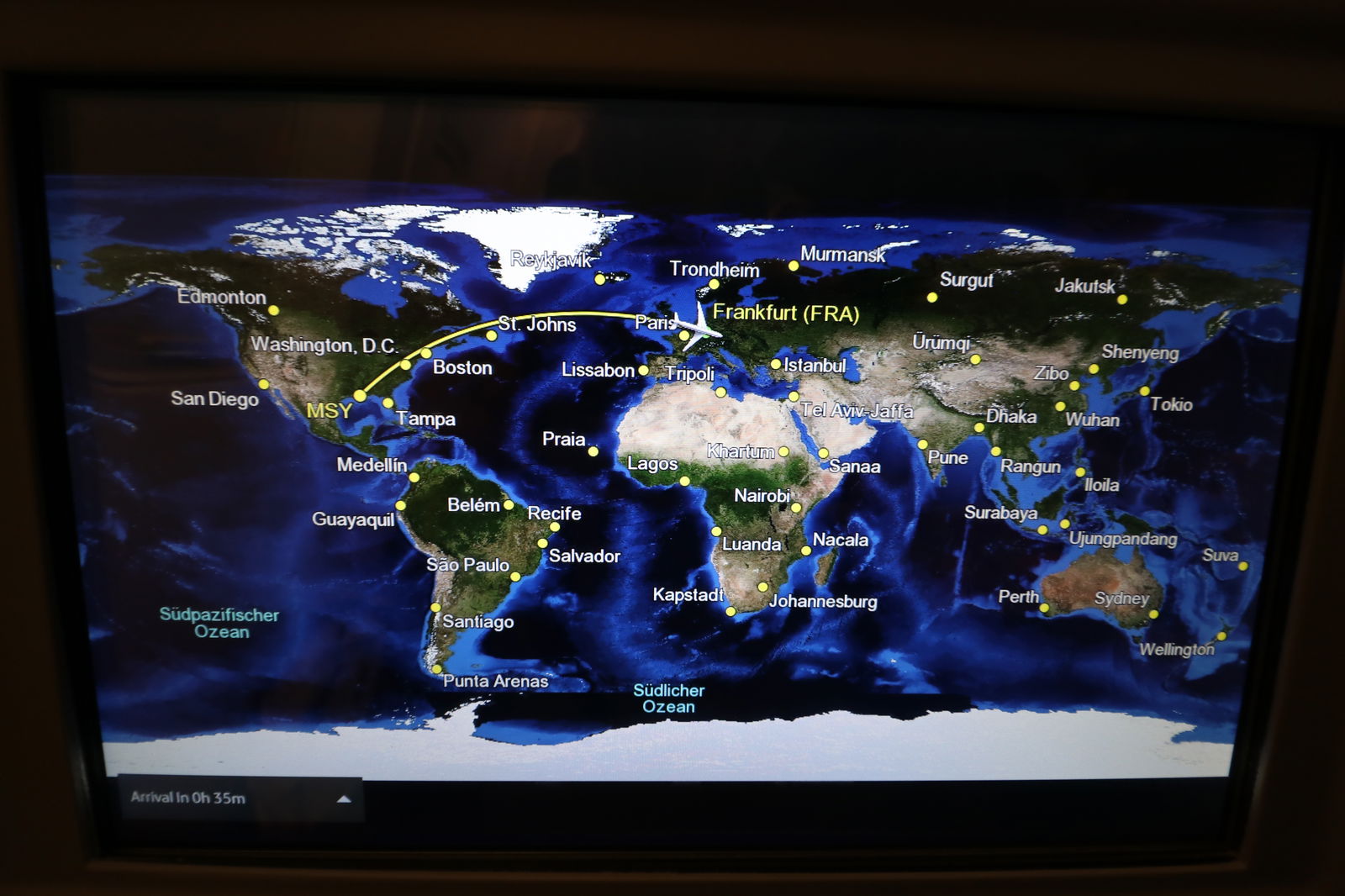 As we were taxiing to the gate, the captain announced that we'd brought the thunderstorms with us from New Orleans, because the entire airport suddenly suspended operations. All outbound aircraft were stopped for a good two hours, at which time we just stood on the tarmac.
It was fascinating as arriving traffic started to pile up. Eventually every taxiway at Frankfurt Airport was occupied by aircraft waiting for parking positions.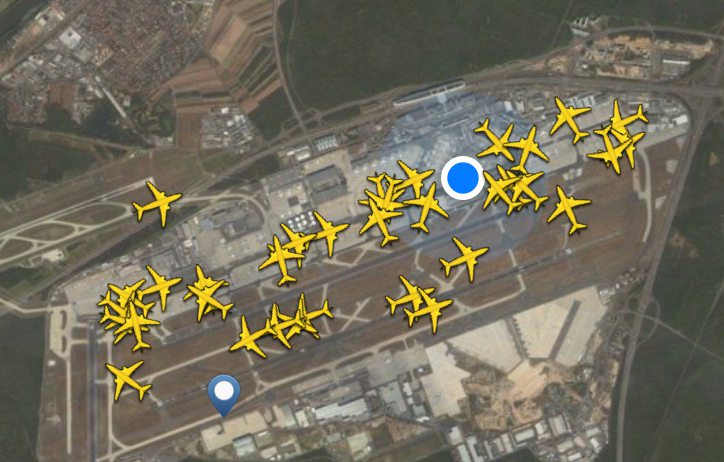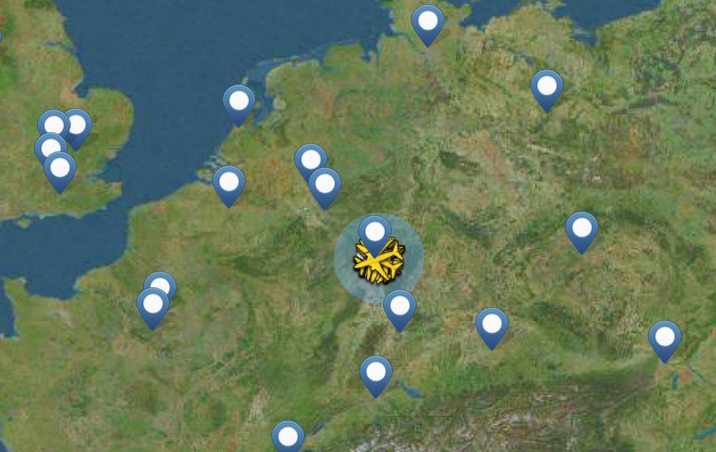 In the meantime, the crew, who were clearly just as frustrated as the passengers, did their best to make it comfortable by letting us move around the cabin. They also served drinks and snacks.
We finally got to our bus gate at 4:30pm.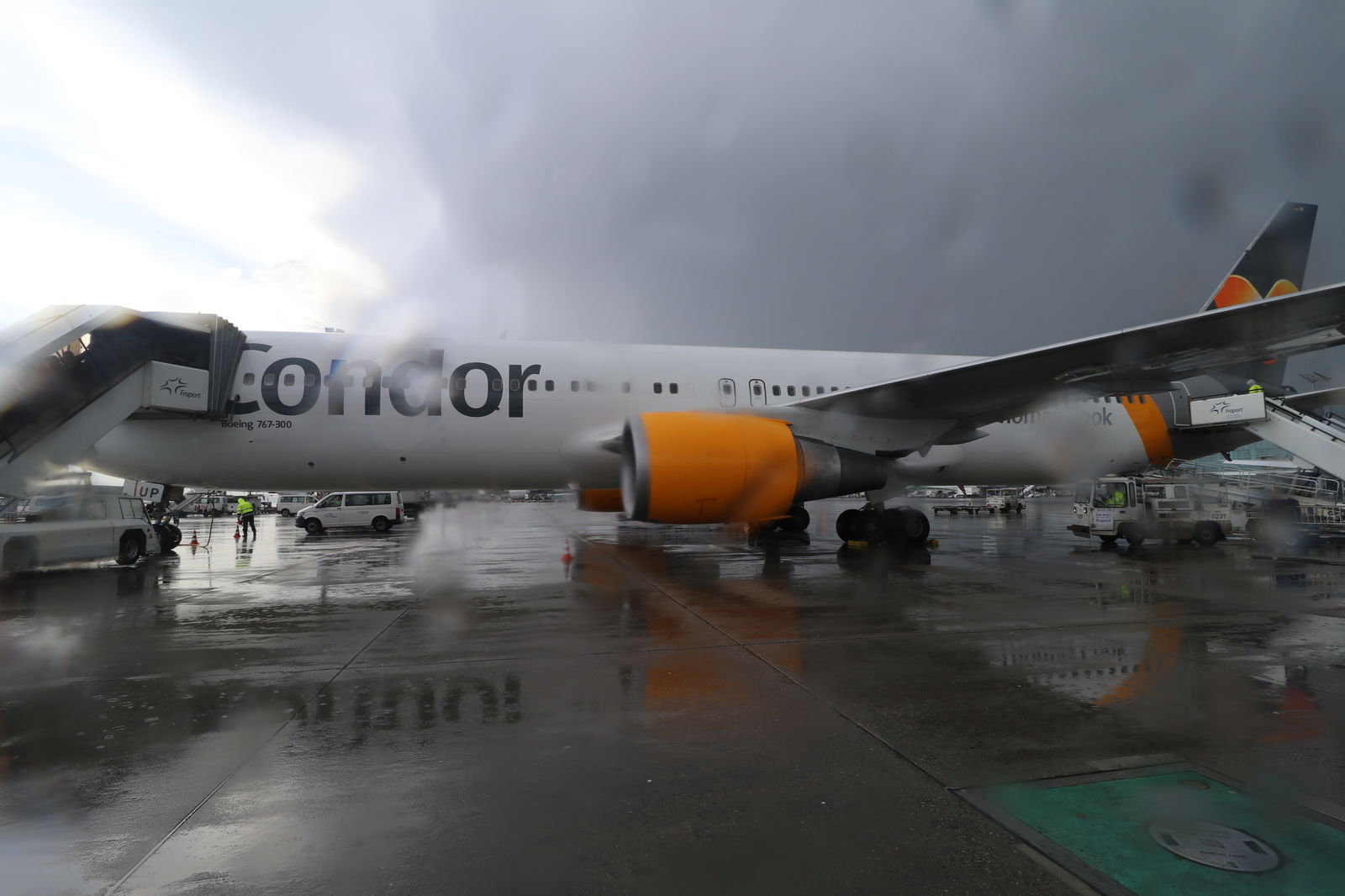 If you're interested, you can watch my YouTube review here:
Bottom Line
In my eyes, Condor Business Class has become 10x more attractive since they partnered with Alaska's Milage Plan. For many of us here at OMAAT, the possibility to earn miles is of utmost importance. With that in mind, I would definitely fly Condor Business Class again. While there are certainly areas for improvement, Condor is a good option if traveling from most of their North American destinations to Europe. They have great fares, (angled) lie flat seats, good service and solid meals. I'm excited to see what the Alaska redemption rates will look like for this product.
Have you ever flown Condor? What did you think?