I just wanted to thank every one of you for the support and for the many kind comments I've received since I joined the OMAAT team. It's been warming to hear all your positive words (and constructive feedback). With each post, I yearn to improve and grow as a writer. Thanks again and I hope you enjoy the review!
---
I touched down in London at 9:30am for my five hour layover before continuing on to Florida. All Norwegian's flights depart from the South terminal at Gatwick, which is decent (in the main departures hall at least). I was excited to fly Norwegian to Fort Lauderdale given that it's a city that is generally not served by large international carriers. This flight is only once weekly right now, but will be increasing to 3x weekly next month thanks to Norwegian's 90% average load factor on flights from Gatwick to the US. Norwegian also fly from Oslo, Copenhagen, Stockholm and Paris to Fort Lauderdale.
As a Premium passenger with Norwegian you get complimentary access to the No1 Lounge at Gatwick South, which would normally cost £28 per person. I'll be posting a full review of the lounge next week, but in short, it was an extremely pleasant place to spend my layover and it made time fly.
At around 2:30pm I left the lounge, since boarding was scheduled for 2:50pm according to my boarding pass. A word of caution – Gatwick uses holding pens for passengers to optimize the boarding process. There are also no toilets or windows, so try to minimize your time in there – as I did not.
It turned out the actual boarding was scheduled for 3:05pm, although it wasn't until 3:38pm that they announced boarding in "10 to 15 minutes". Well, at 4:07pm they said they were rebooting the entire aircraft computer due to an onboard error and that it should take around 30 minutes, in addition to asking everyone to remain in the boarding pen. 30 minutes later they allowed everyone to leave. I went to Boots, returned to the gate, and heard the flight now had an unknown departure time. Given that news, I decided to go back to the lounge where I was warmly greeted (and enjoyed some more food).
Eventually, I nervously headed back to the gate when the flight disappeared from the departures screen and arrived just in time for boarding, which ended up being at 6:20pm.
Norwegian Flight 7045
London (LGW) to Fort Lauderdale (FLL)
14 September 2016
Depart: 3:50PM
Arrive: 8:15PM
Duration: 9hr25min
Aircraft: Boeing 787-9
Seat: 3A (Premium Class)
Norwegian boards their Dreamliners through door L2 at Gatwick. After walking through the small forward section of economy, I entered Premium which was about 2/3 full. Economy was completely sold out (contrary to my images below).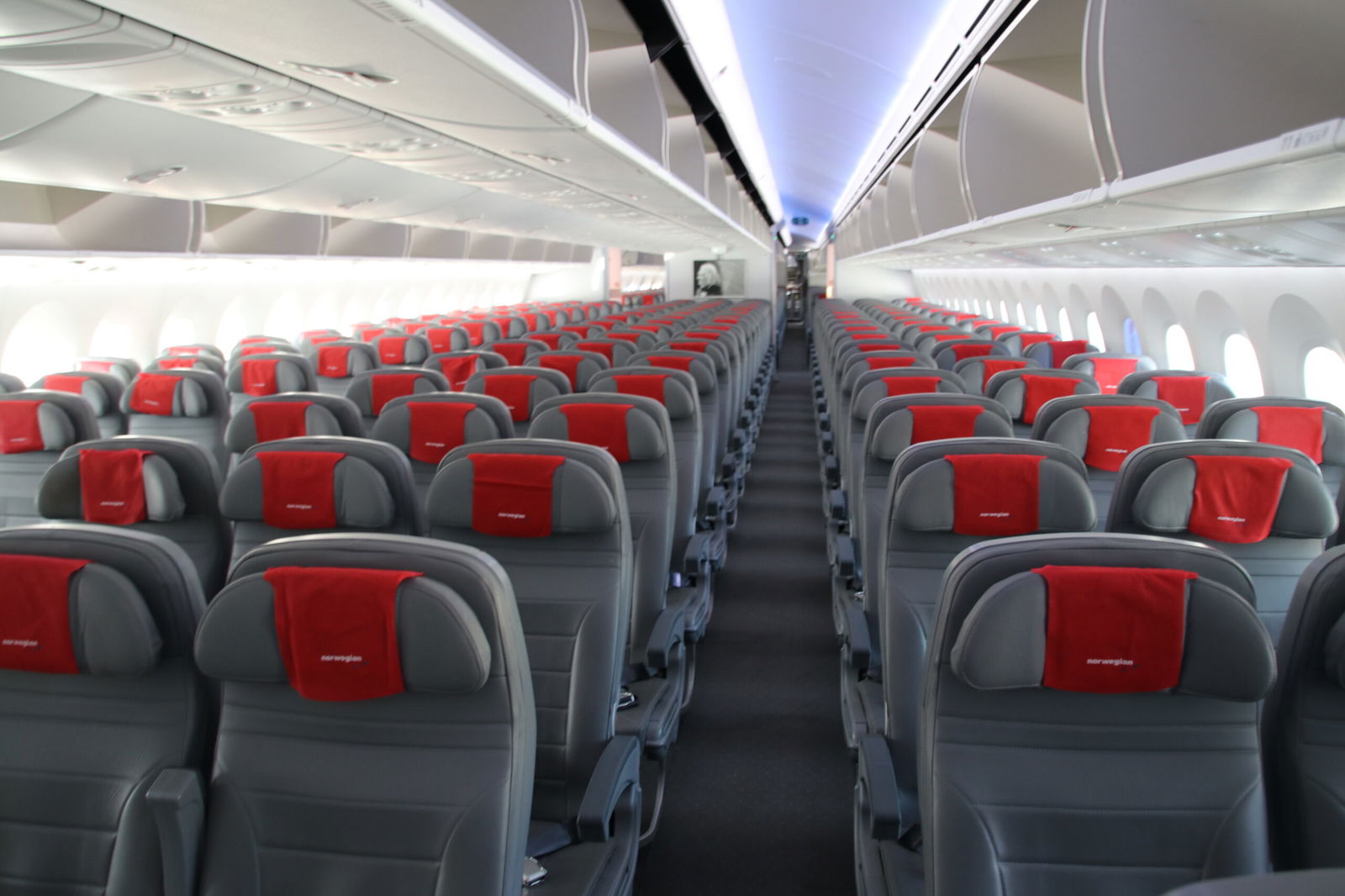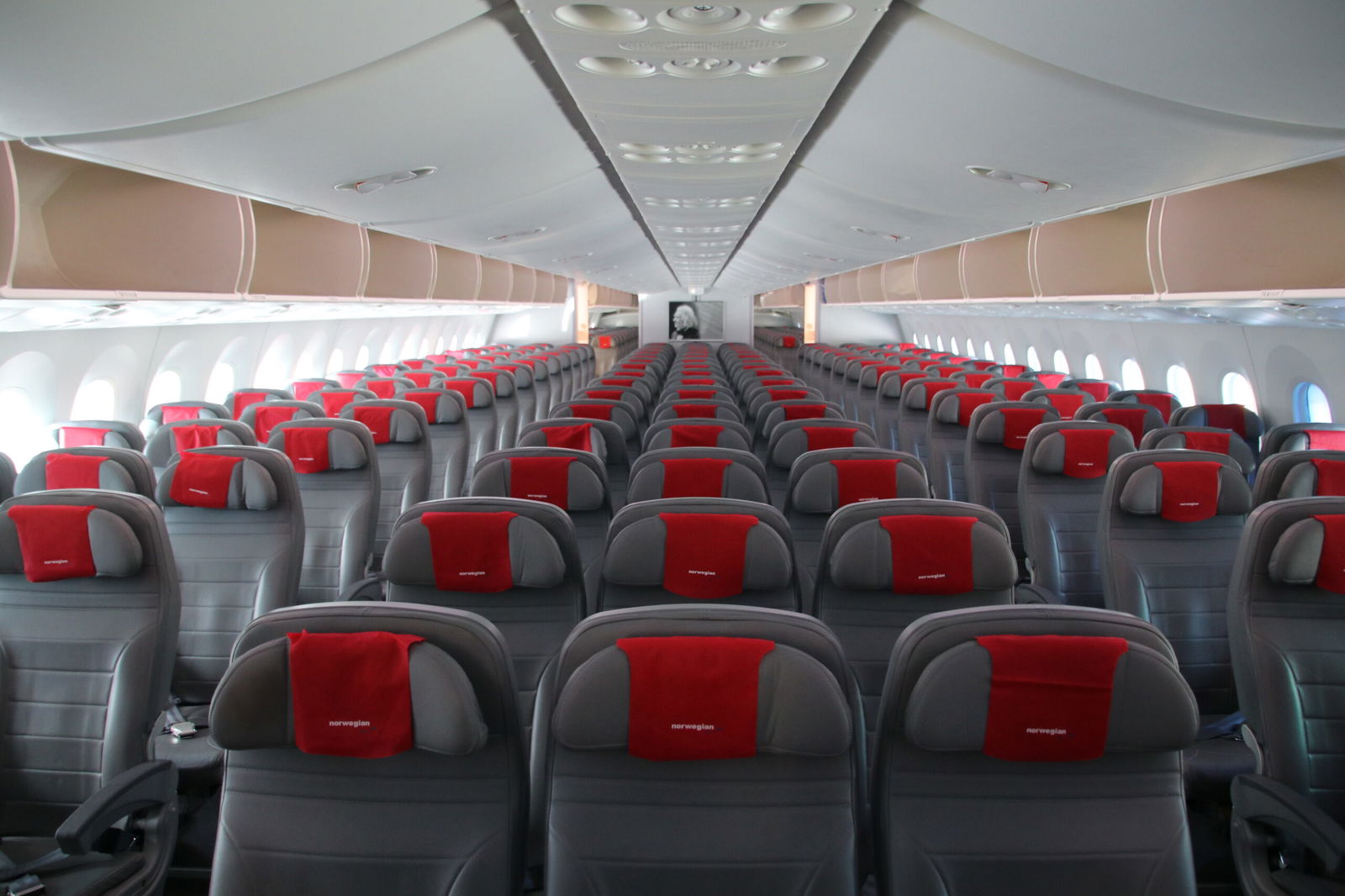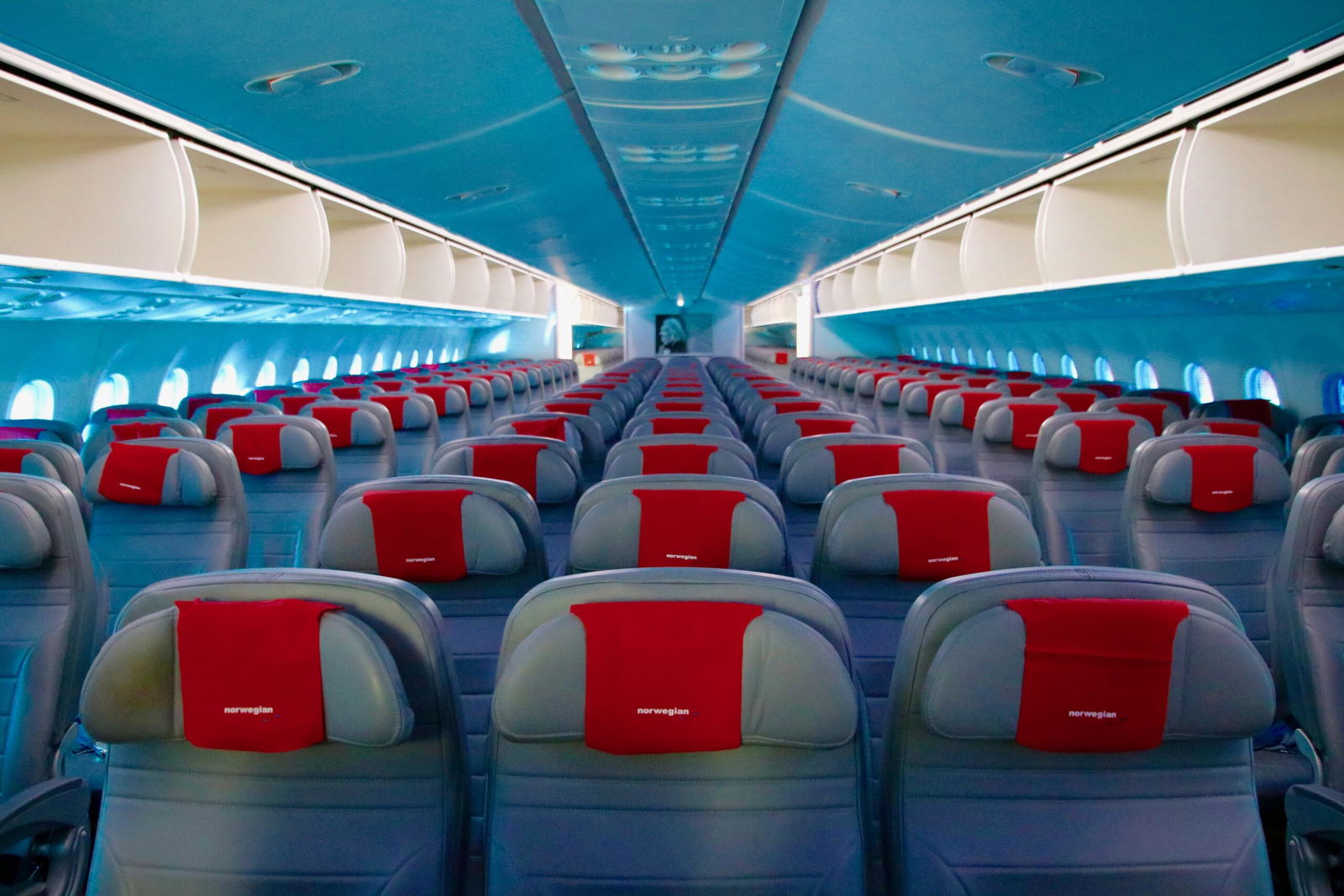 I settled into 3A for the 8 hour 45 minute flight to Fort Lauderdale. The Premium cabin has 35 seats on the 787-9 and consists of five rows in a 2-3-2 layout.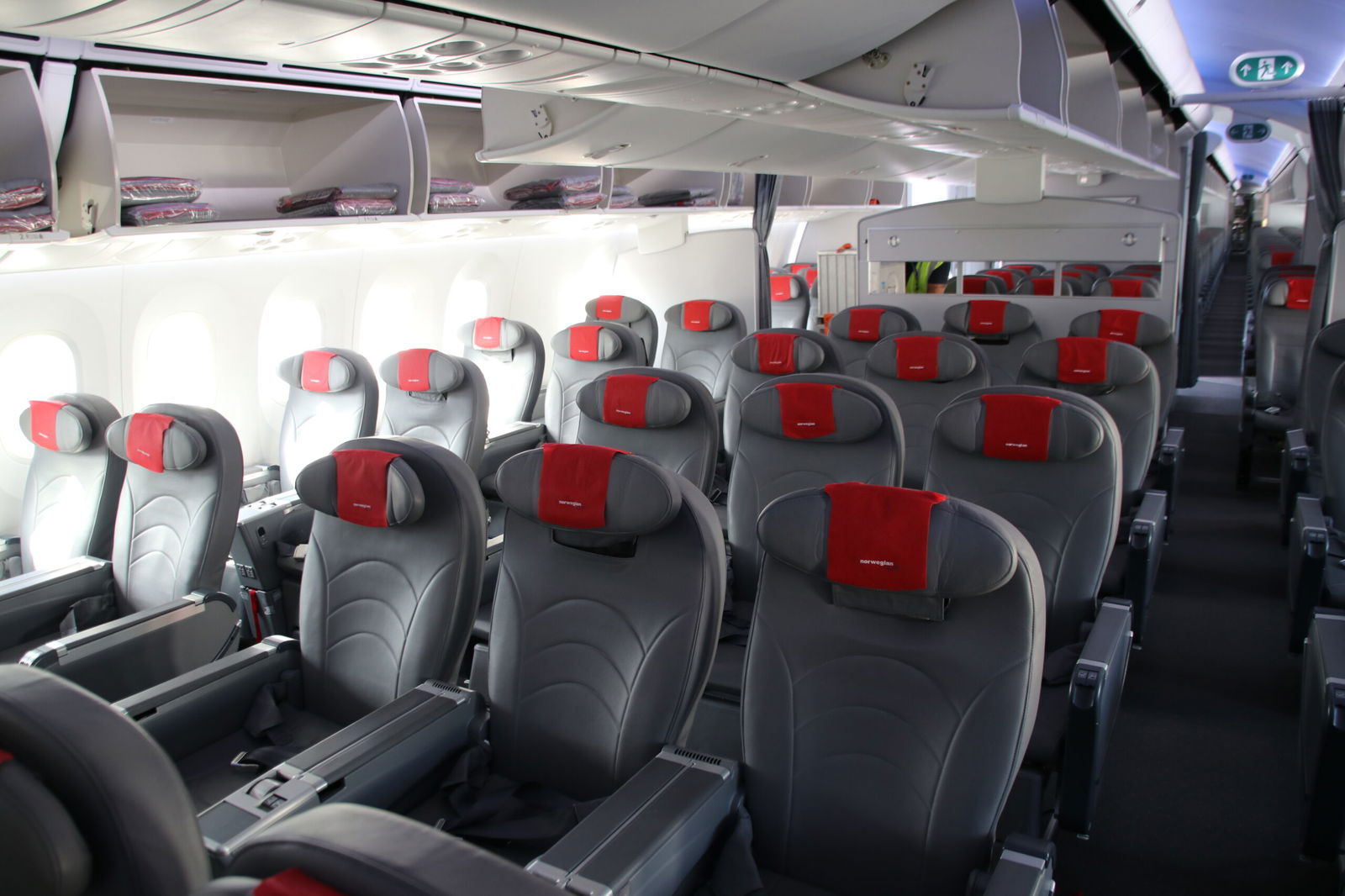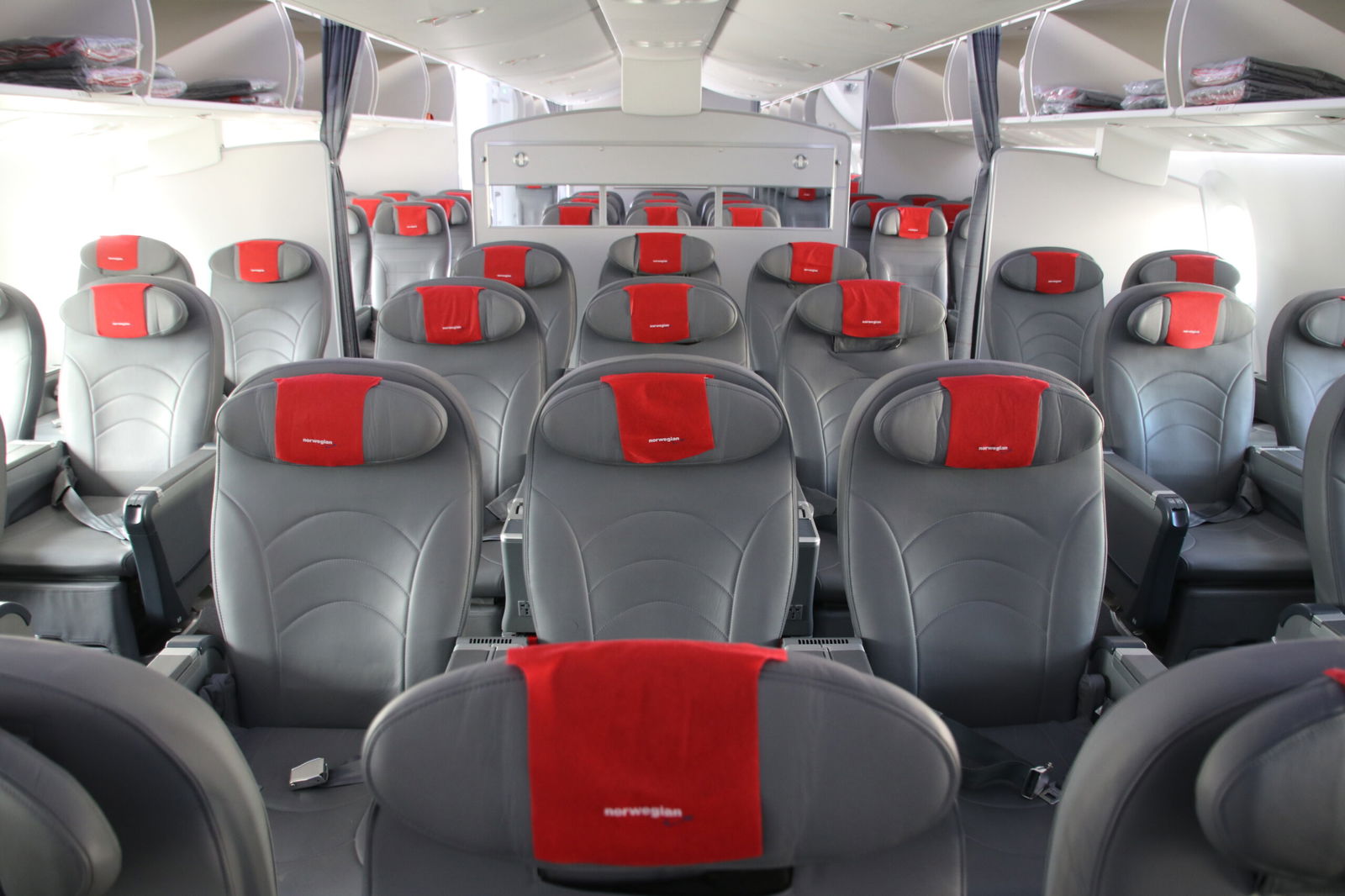 The only seats to avoid are the center seats (although I'm sure they're fine too if you're traveling with company) and row five (which lack windows).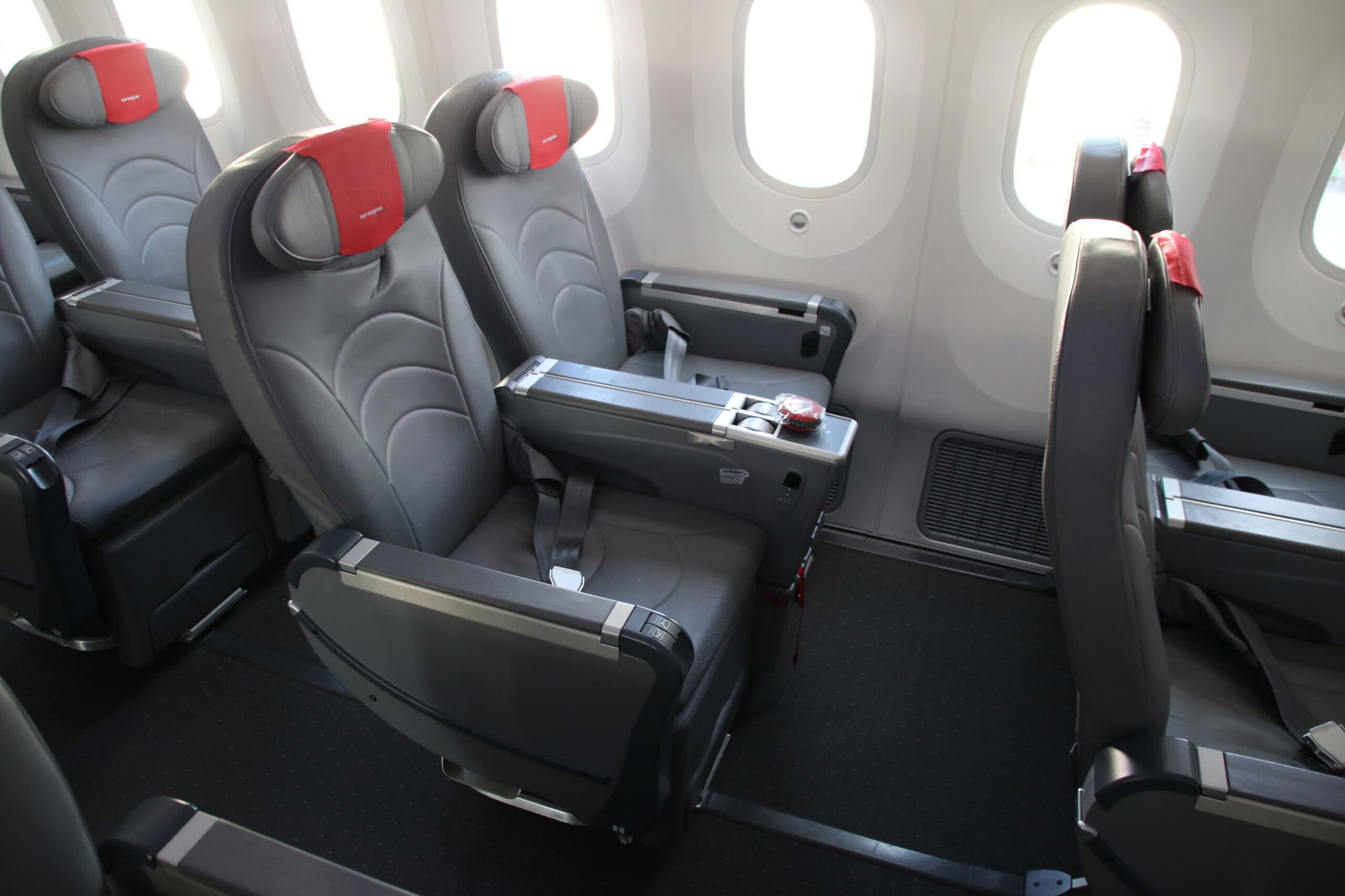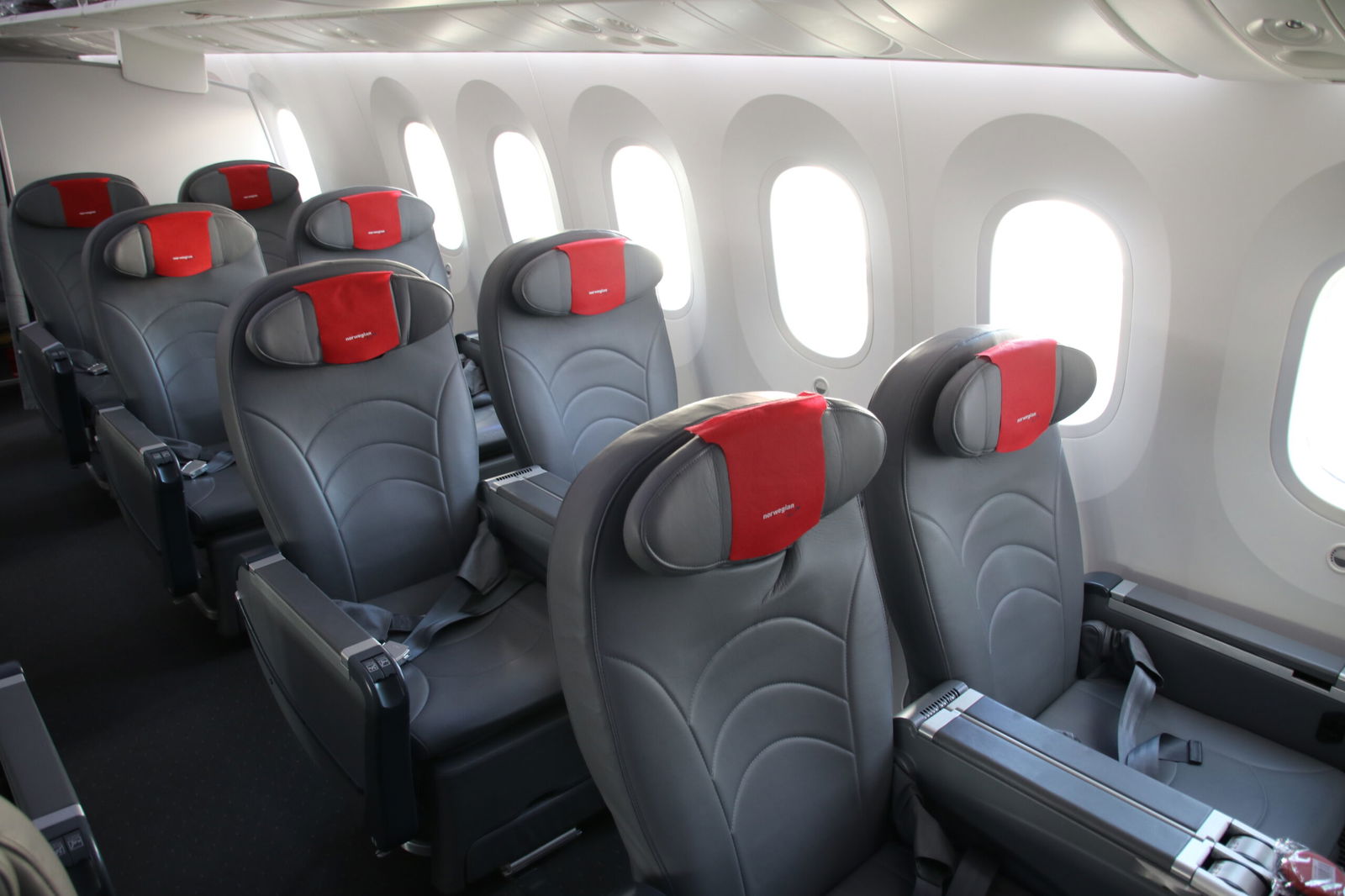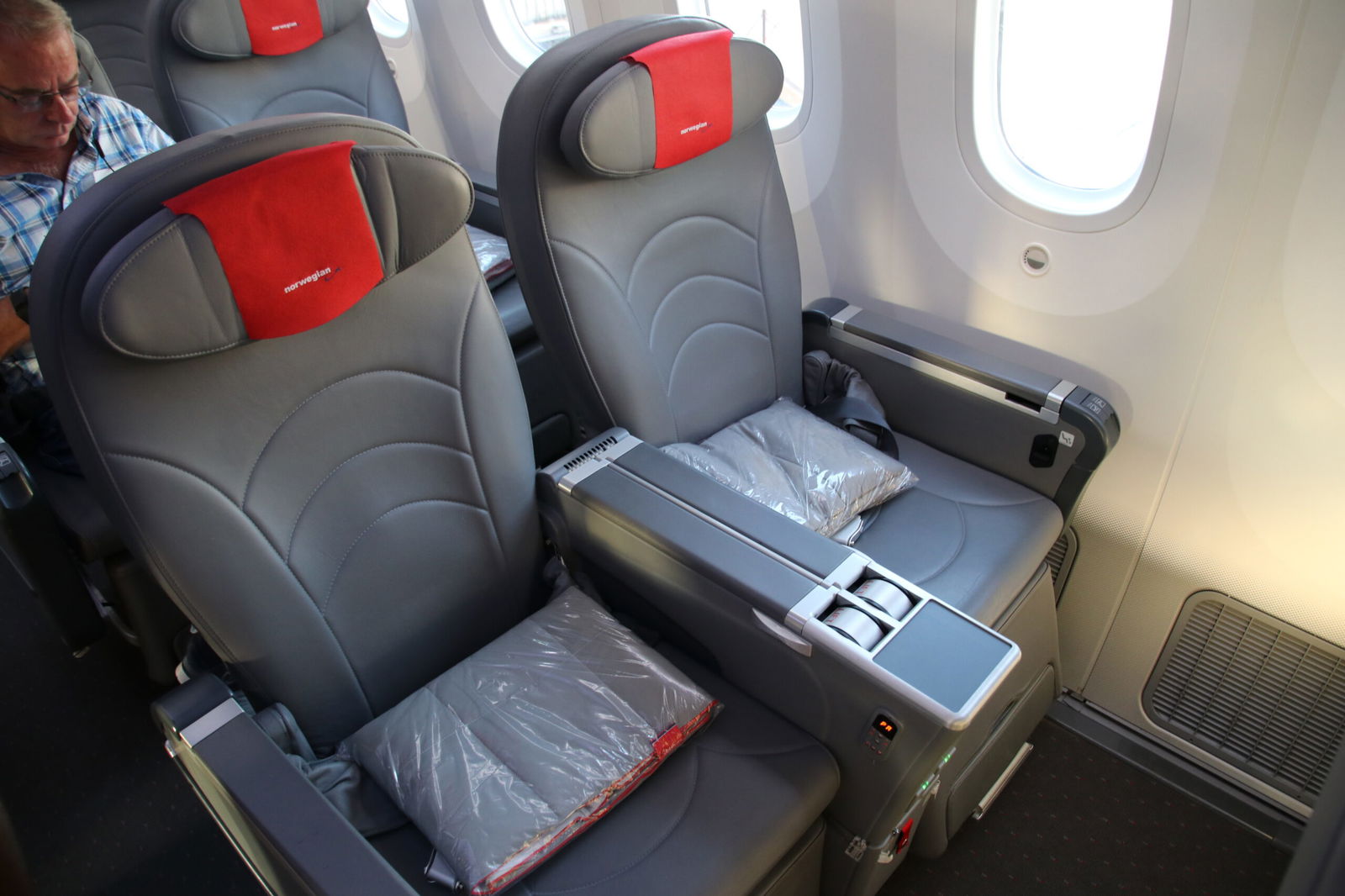 The seats have individual armrests on both sides as well as a little area to place beverages. Interestingly, both the tray table and video monitor extend from the armrests. As a result, there was no obstruction to your work space or entertainment system when the person in front reclined their seat, which was fantastic.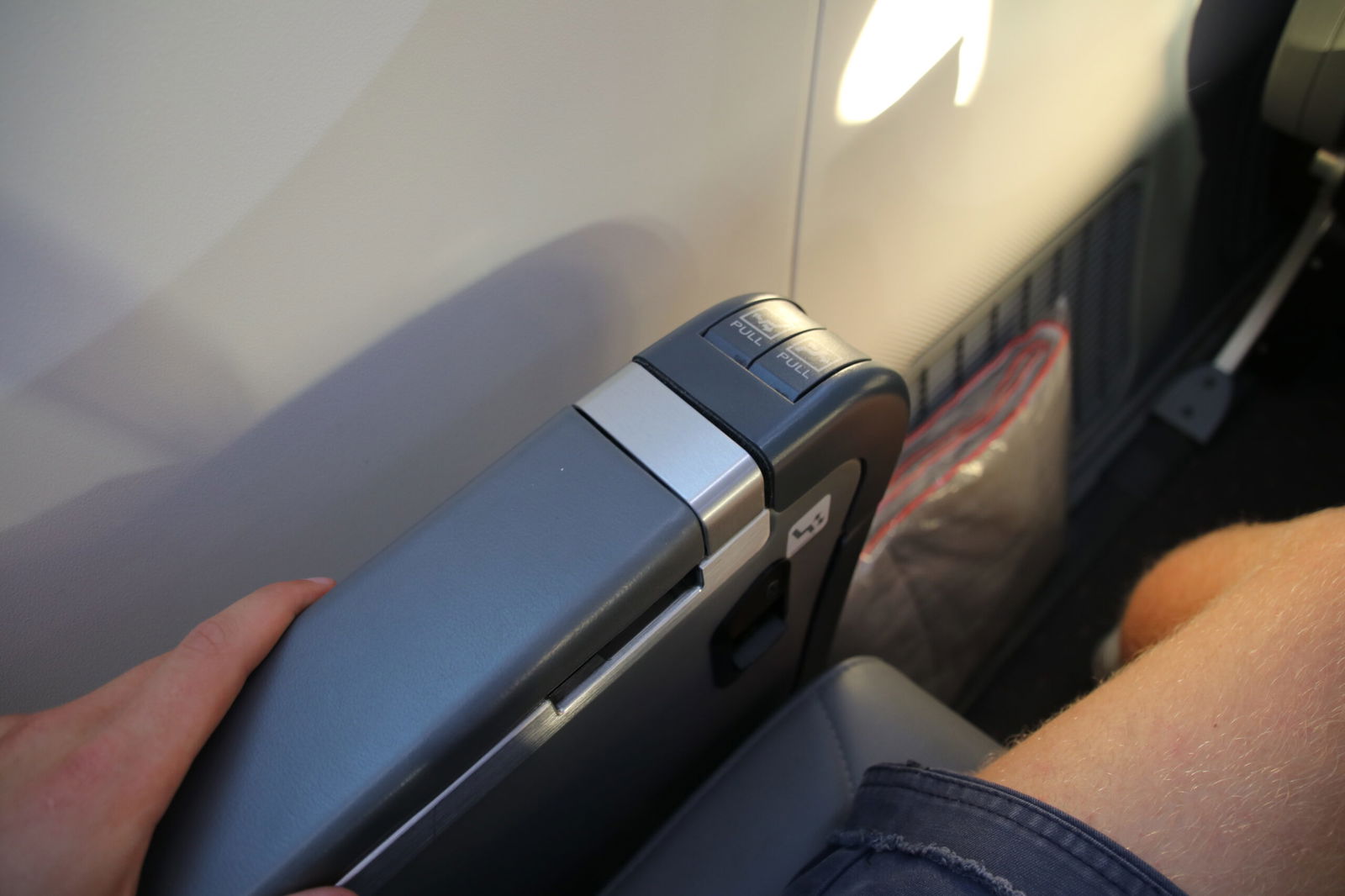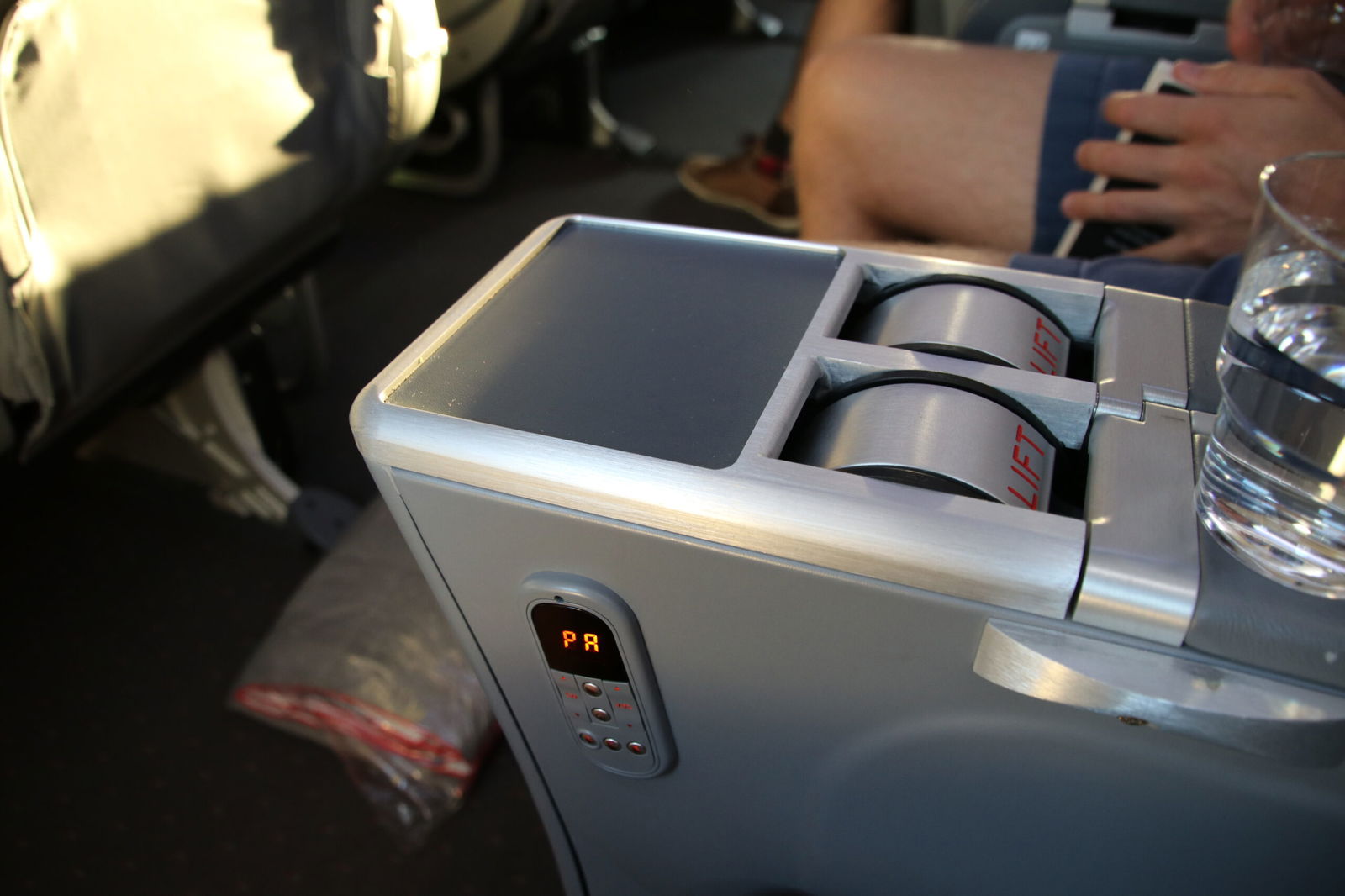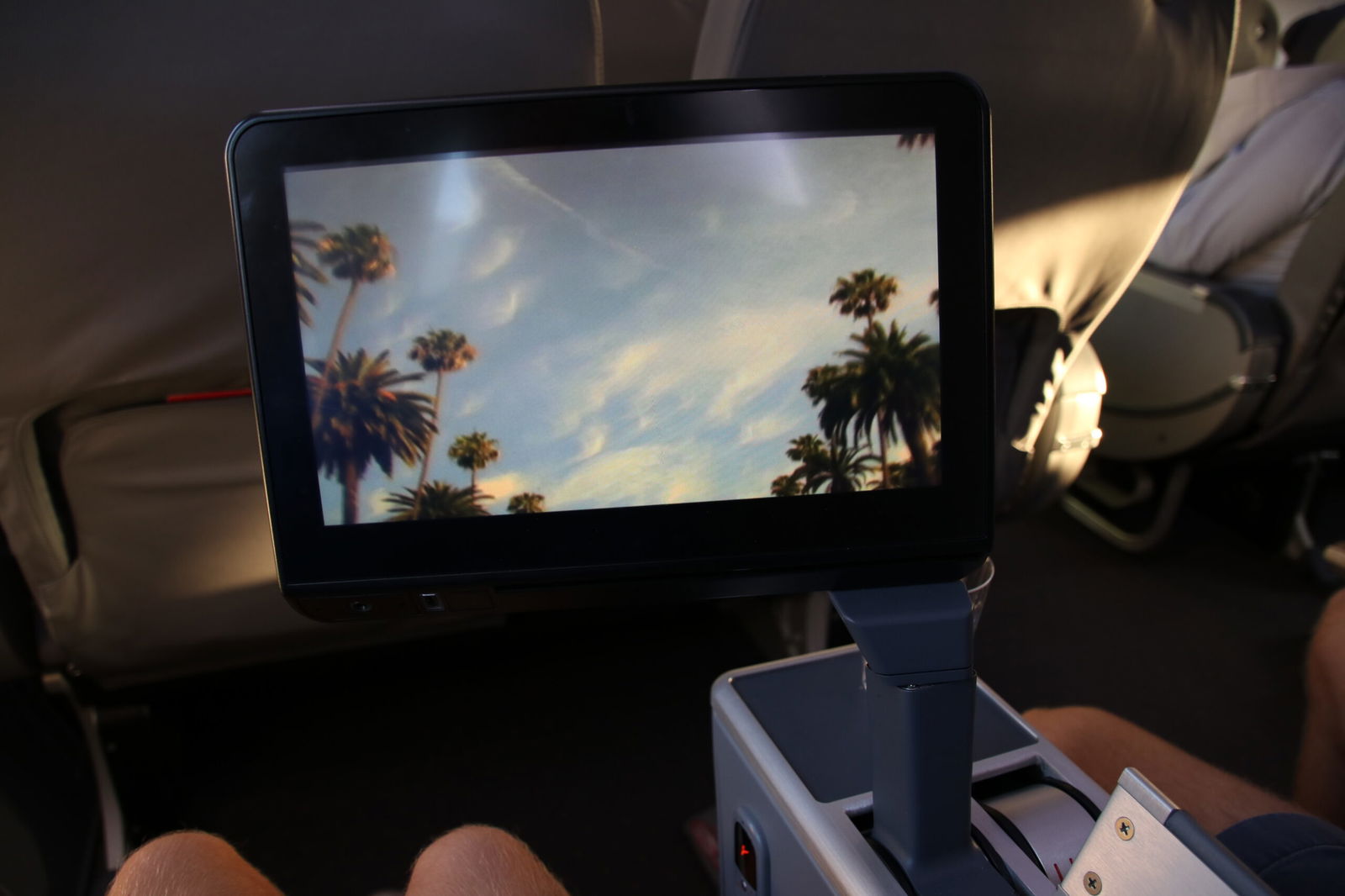 We were greeted with a choice between orange juice and water. It was a nice touch and the crew were charming and relaxed despite the delay.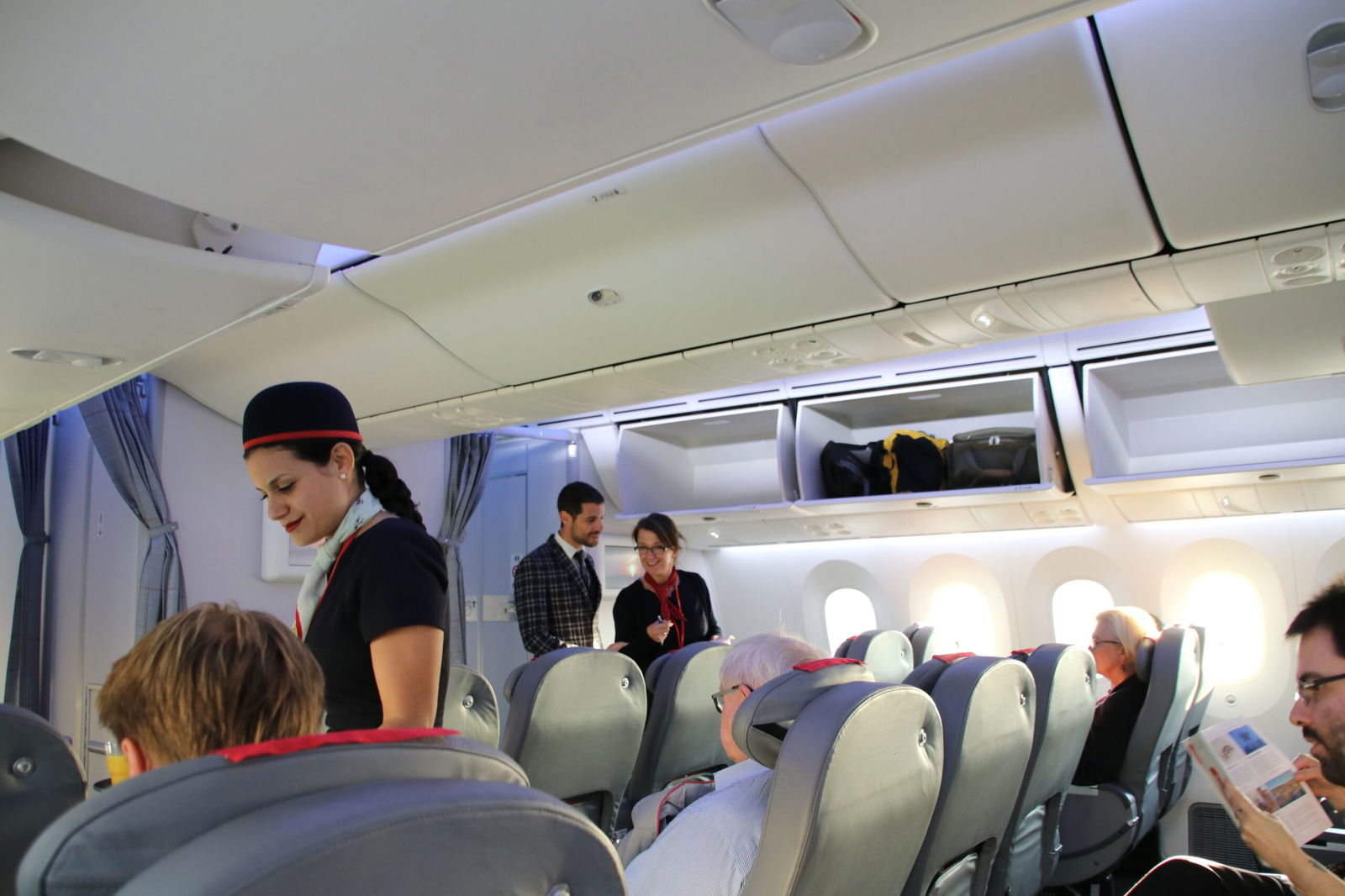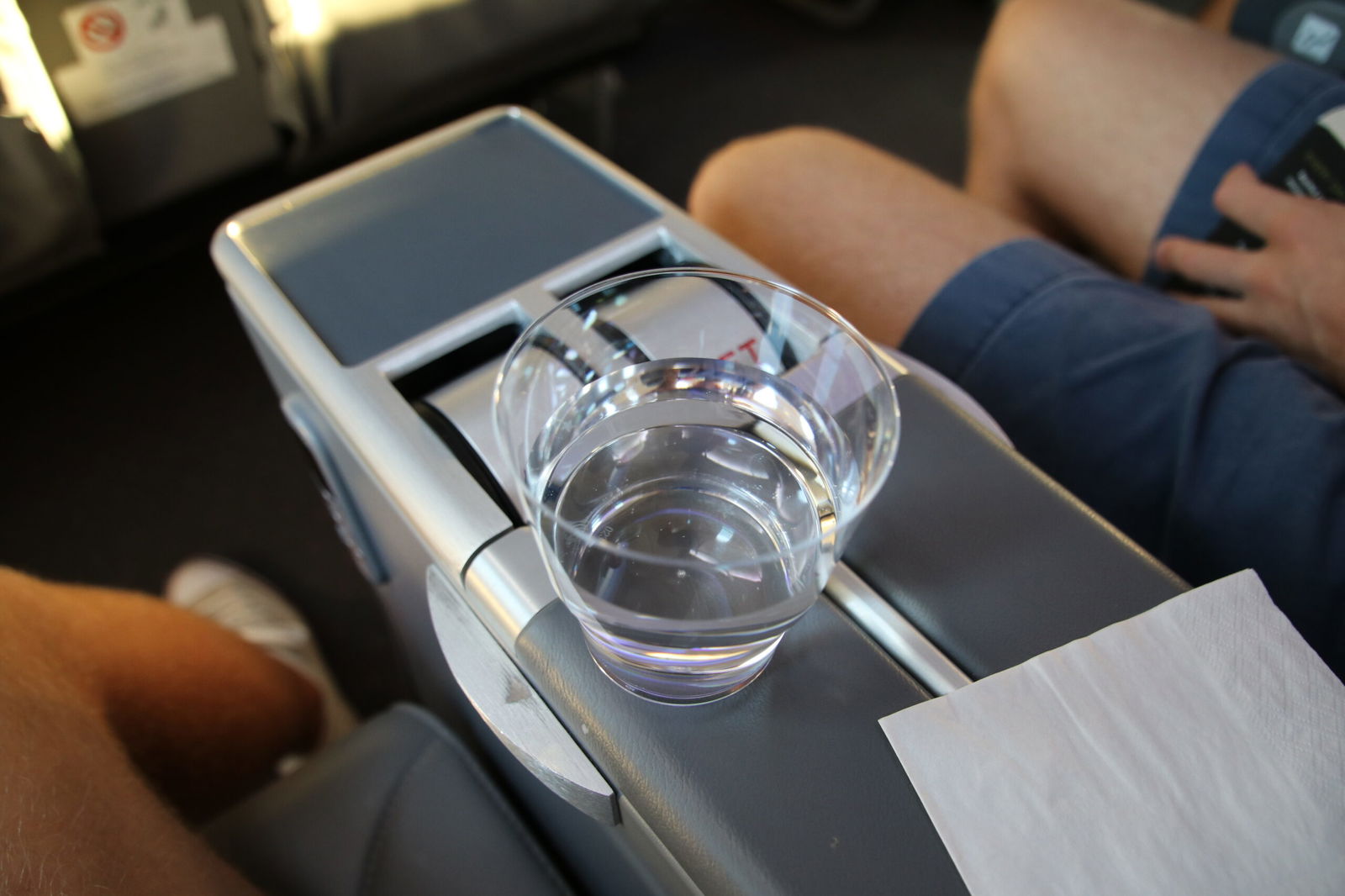 The overhead lockers are enormous on the 787 – I almost had one to myself.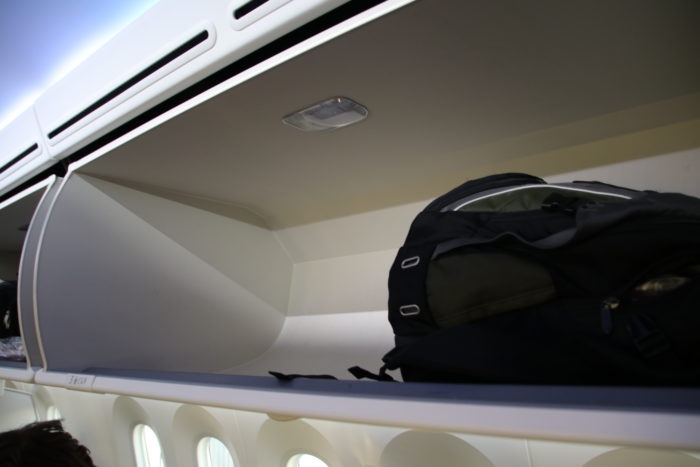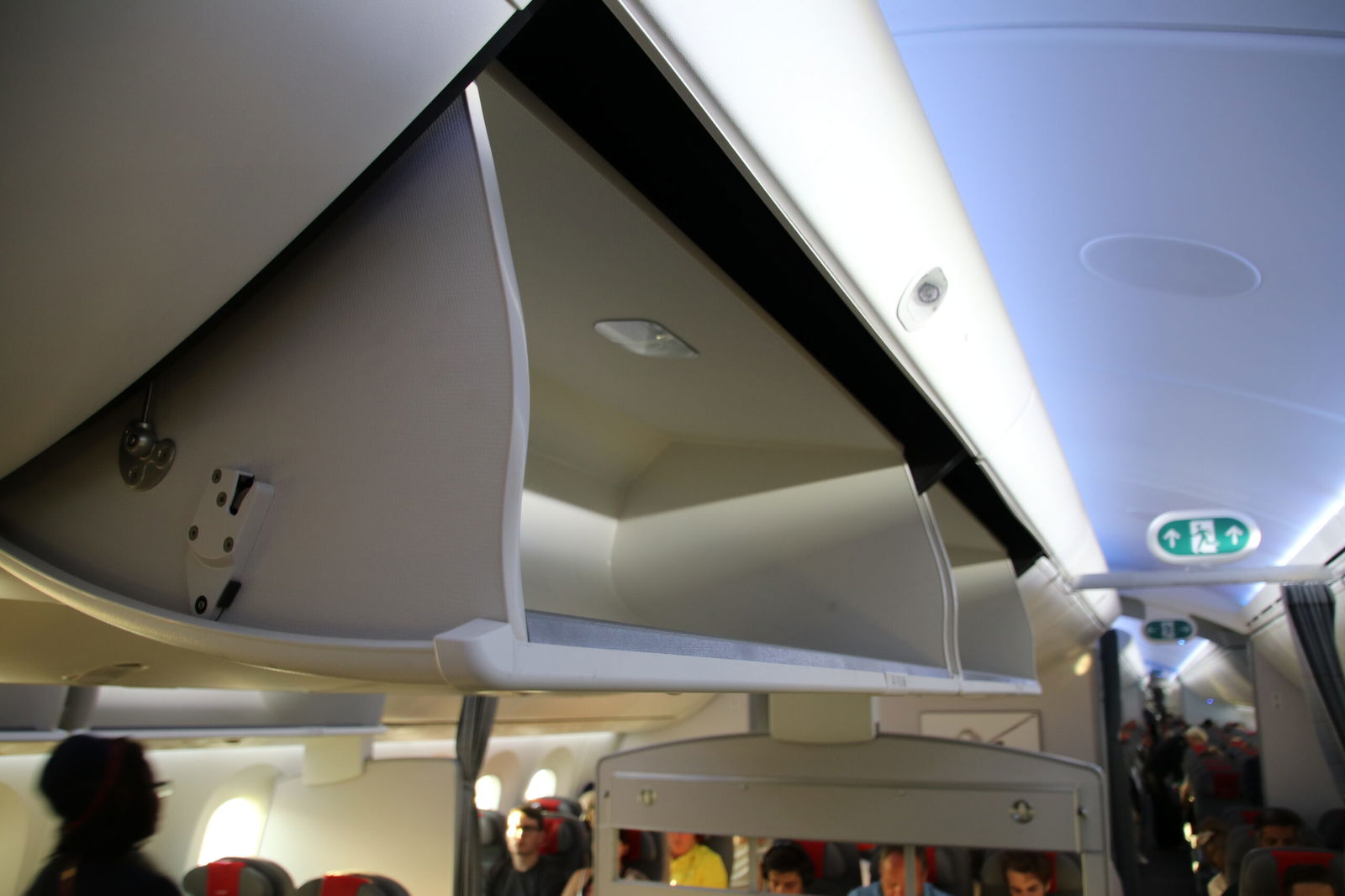 After only a couple of minutes the jetway was removed and we pushed back, 2 hours and 53 minutes behind schedule. The 787 has such a great speaker system – all the announcements sounded crystal clear. The captain informed us we should be on the ground in FLL within two hours of our scheduled arrival, which seemed ambitious, but impressive if true.
Legroom was plentiful, even at 6′ 2". The generous legroom allowed for a lot of room to store things on the floor, if the seat back pocket was not enough. There was also a coat hook on the seat in front.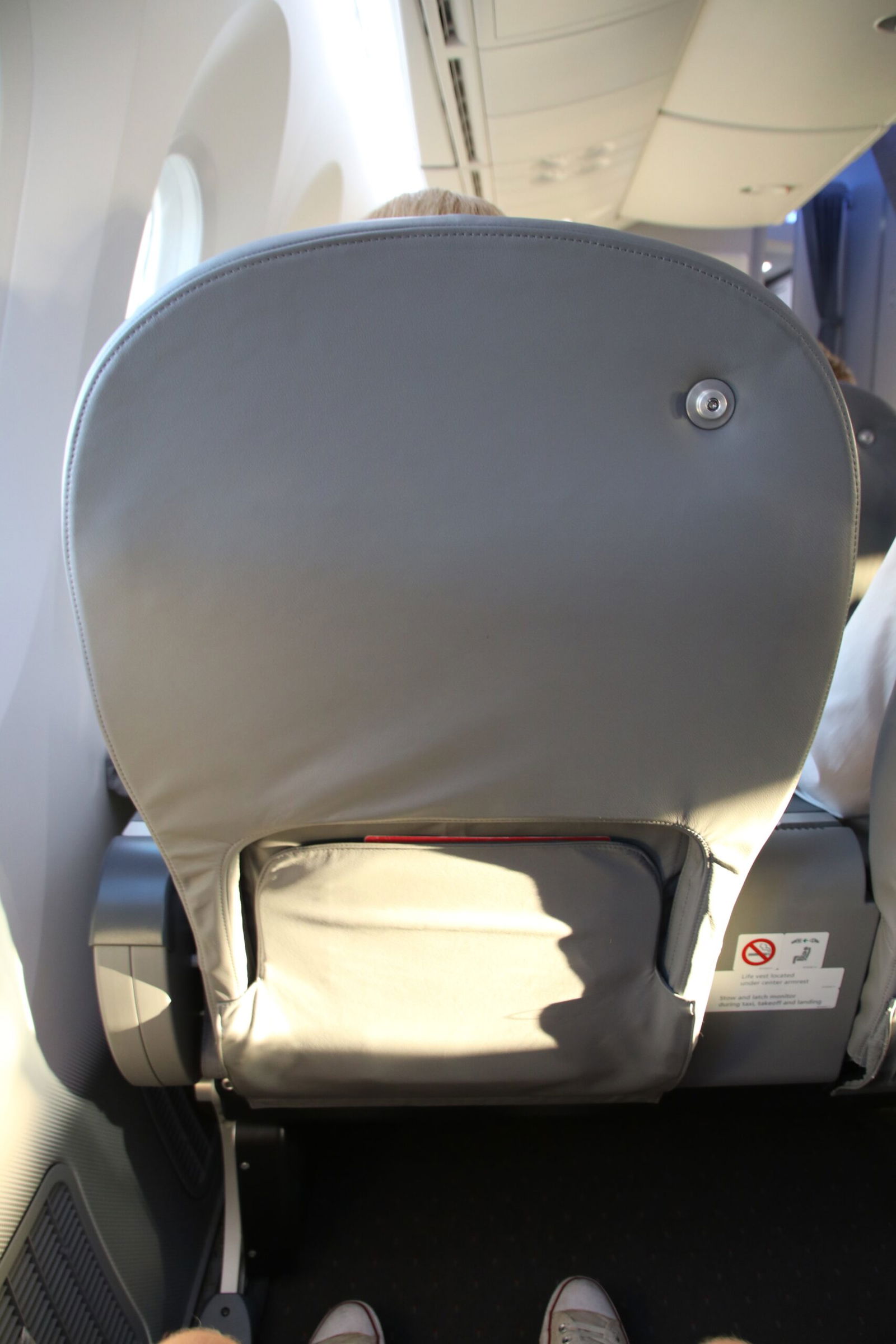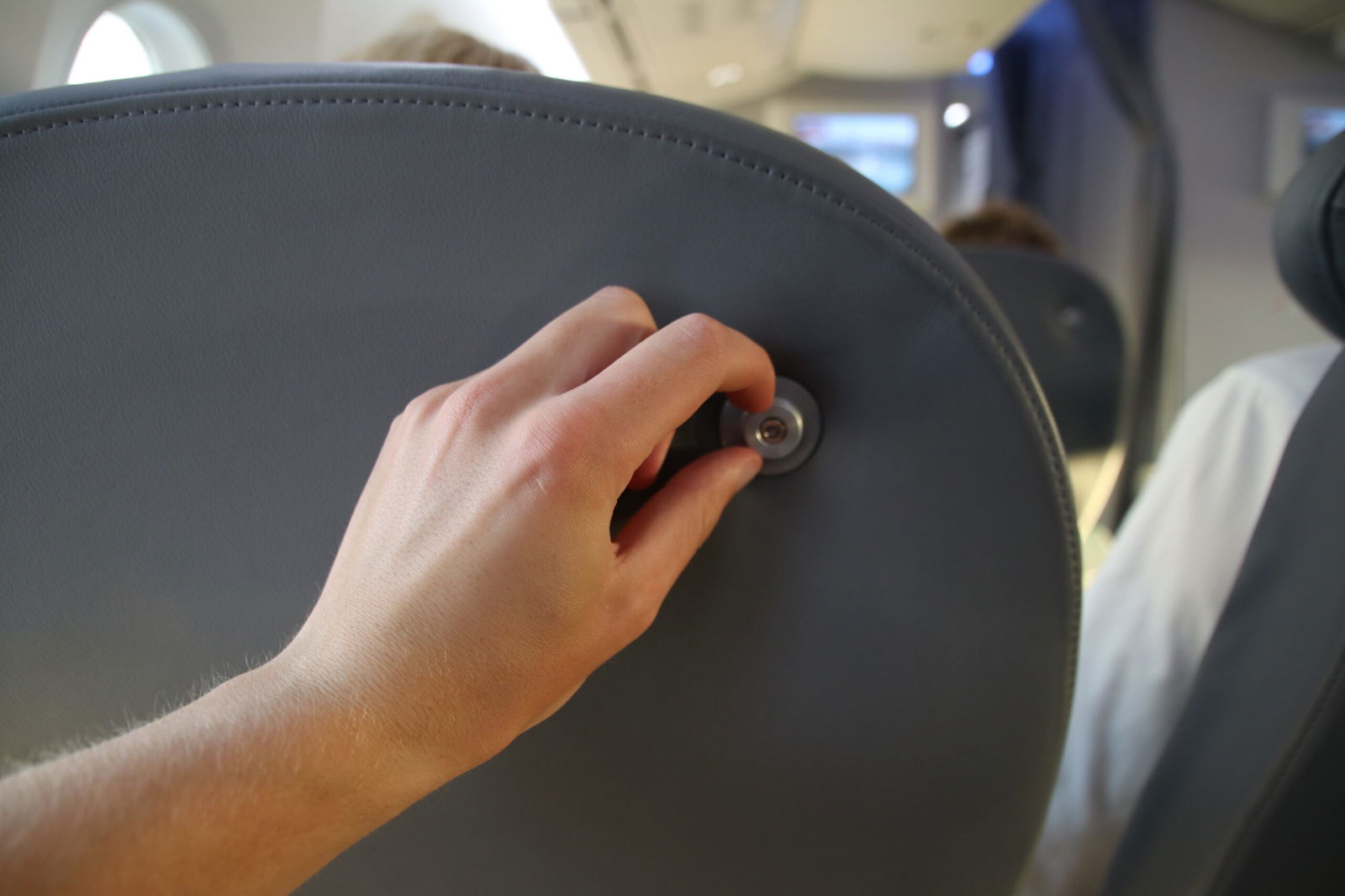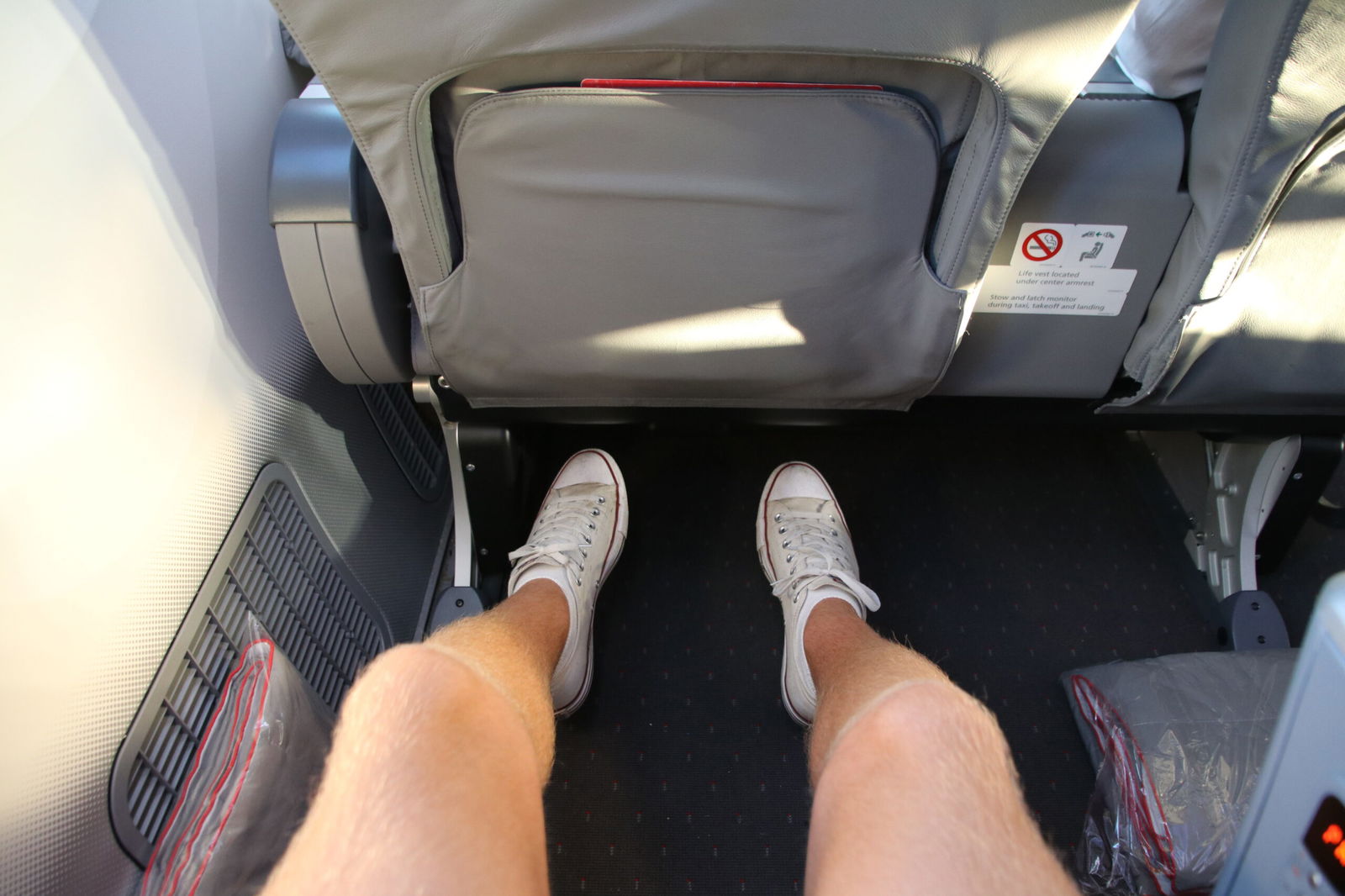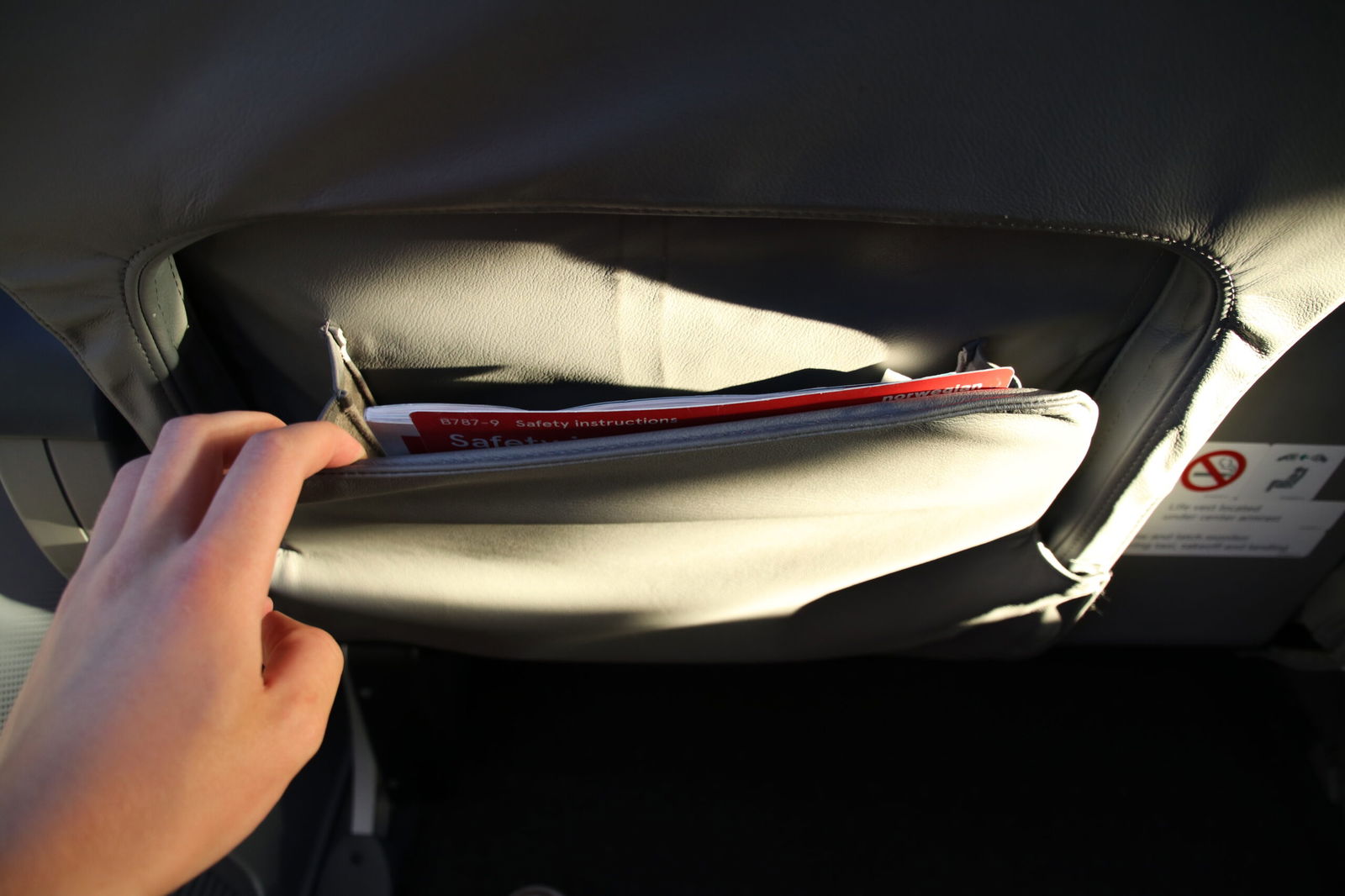 Takeoff was stunning during a golden September sunset.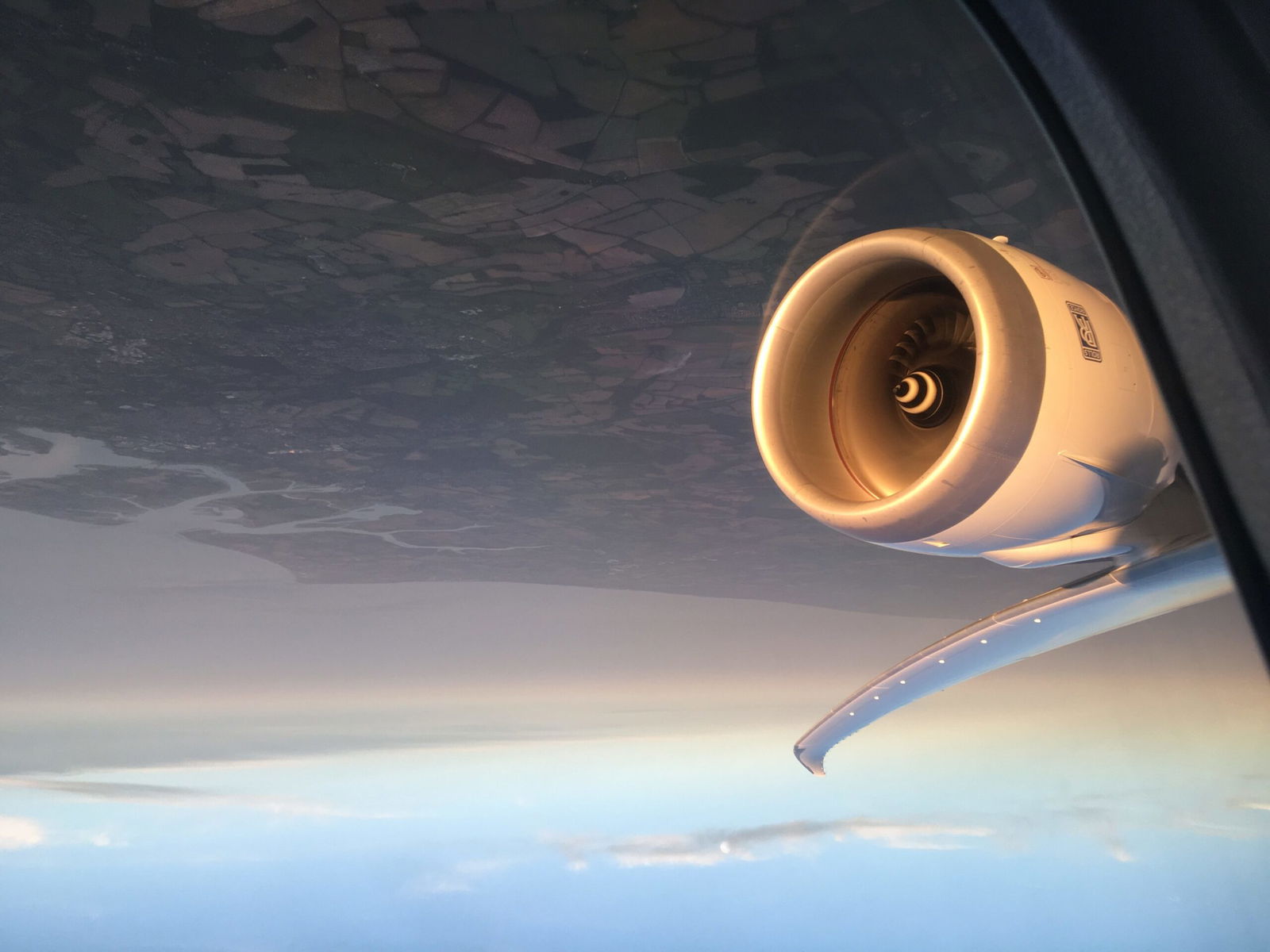 Norwegian provides a cozy blanket and a pair of standard headphones. These are the only amenities provided and while I know it's a low cost product, I think this is the one area that could really benefit from a small additional investment – at least in pillows.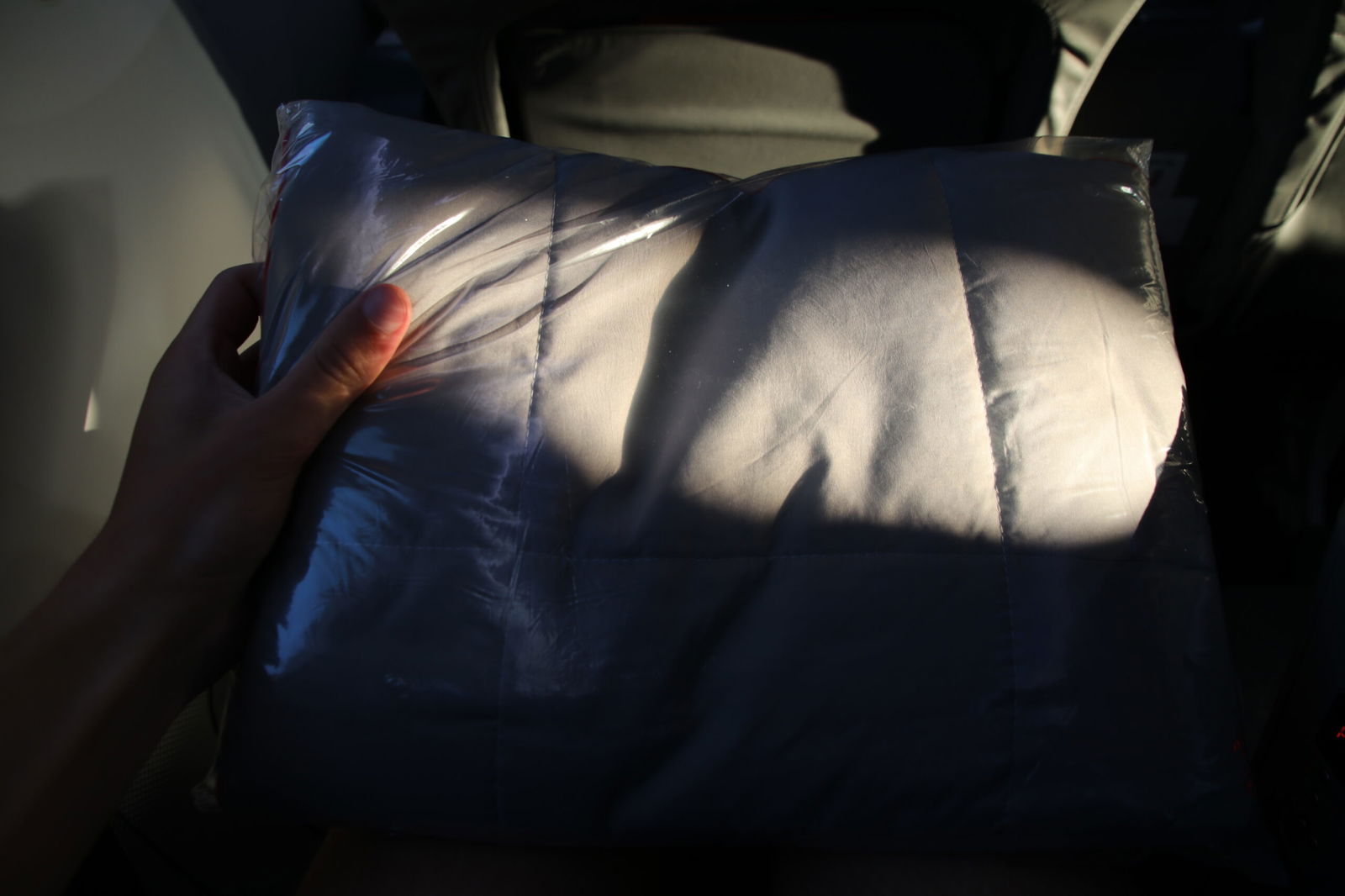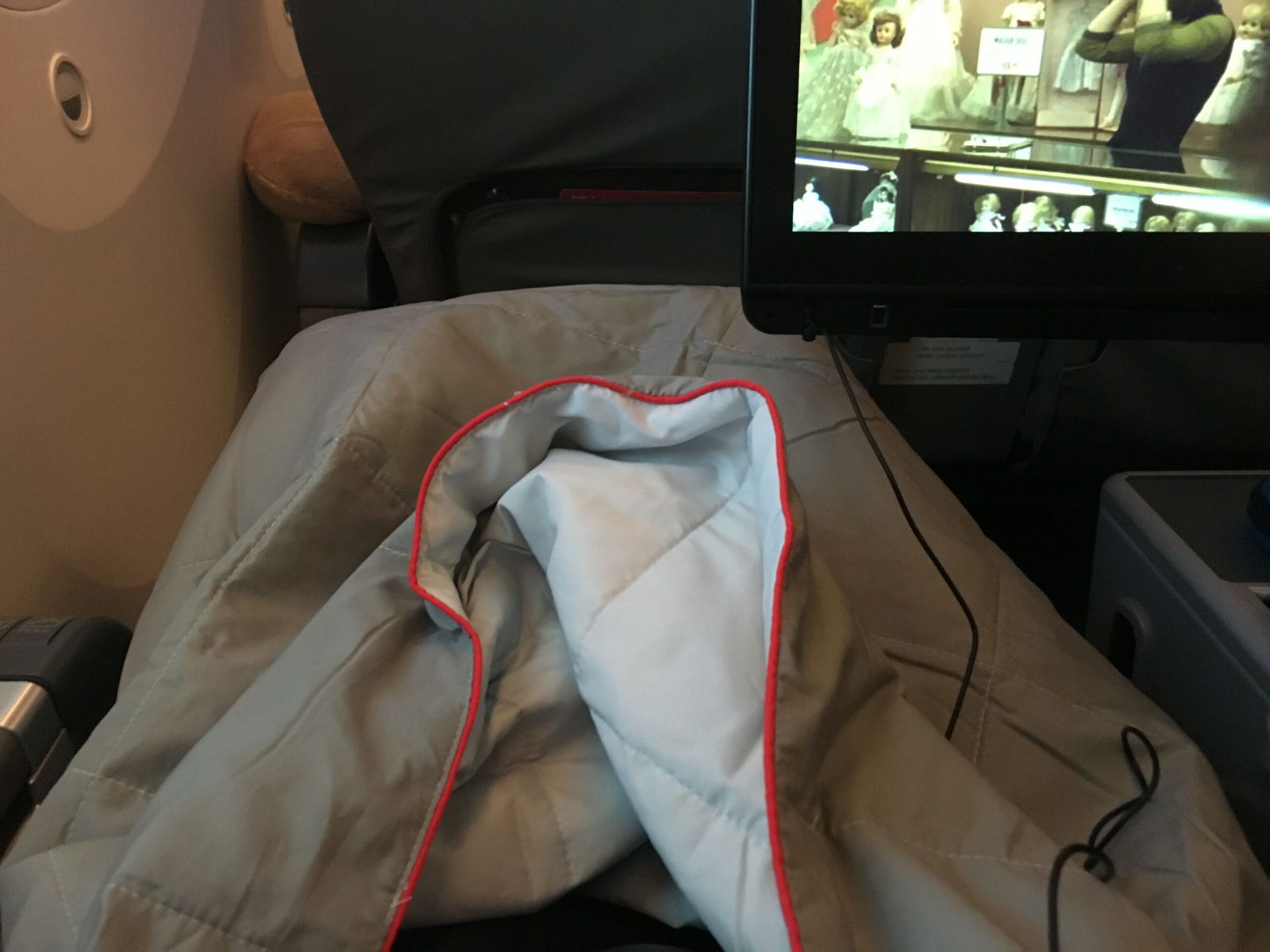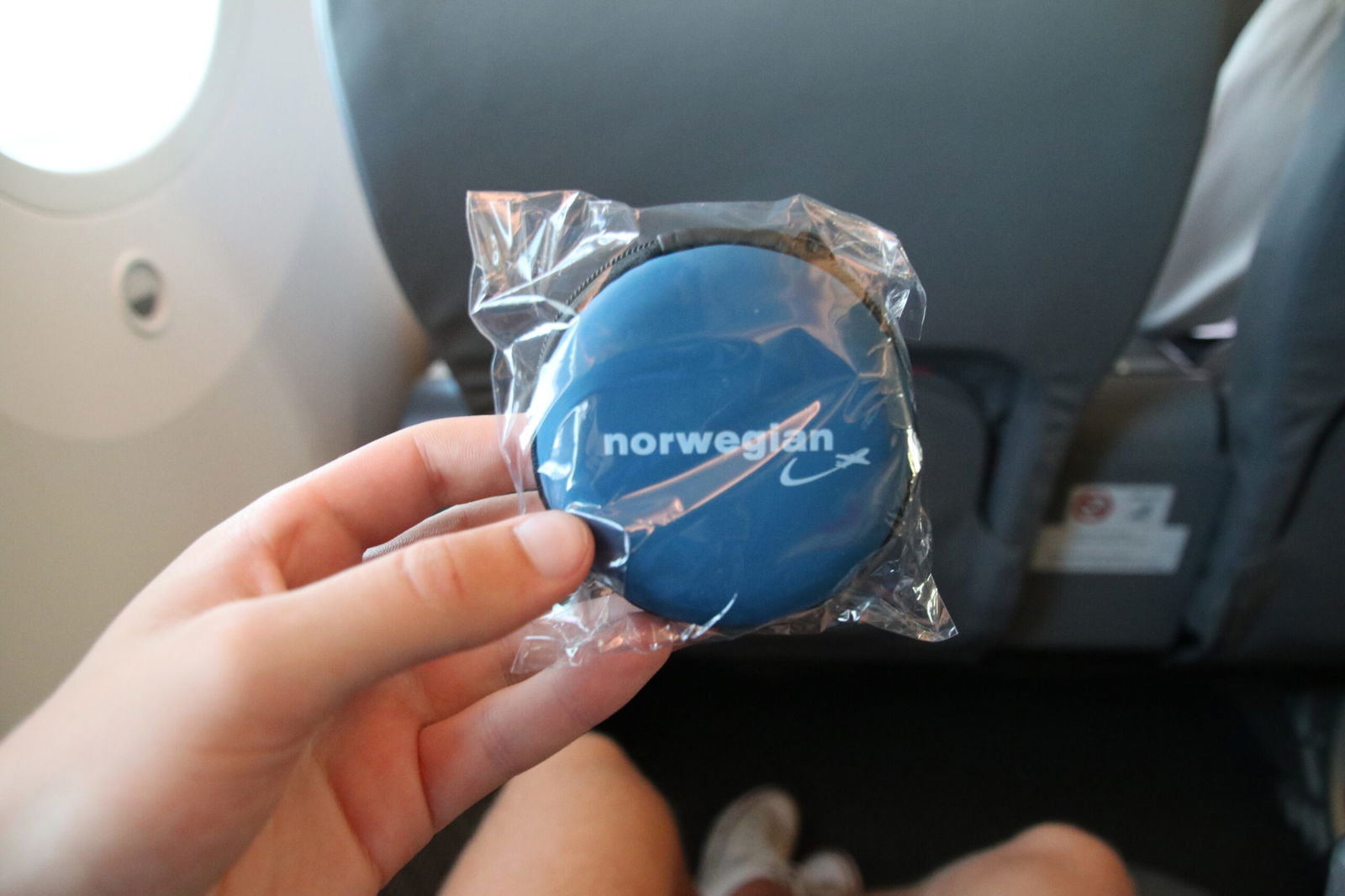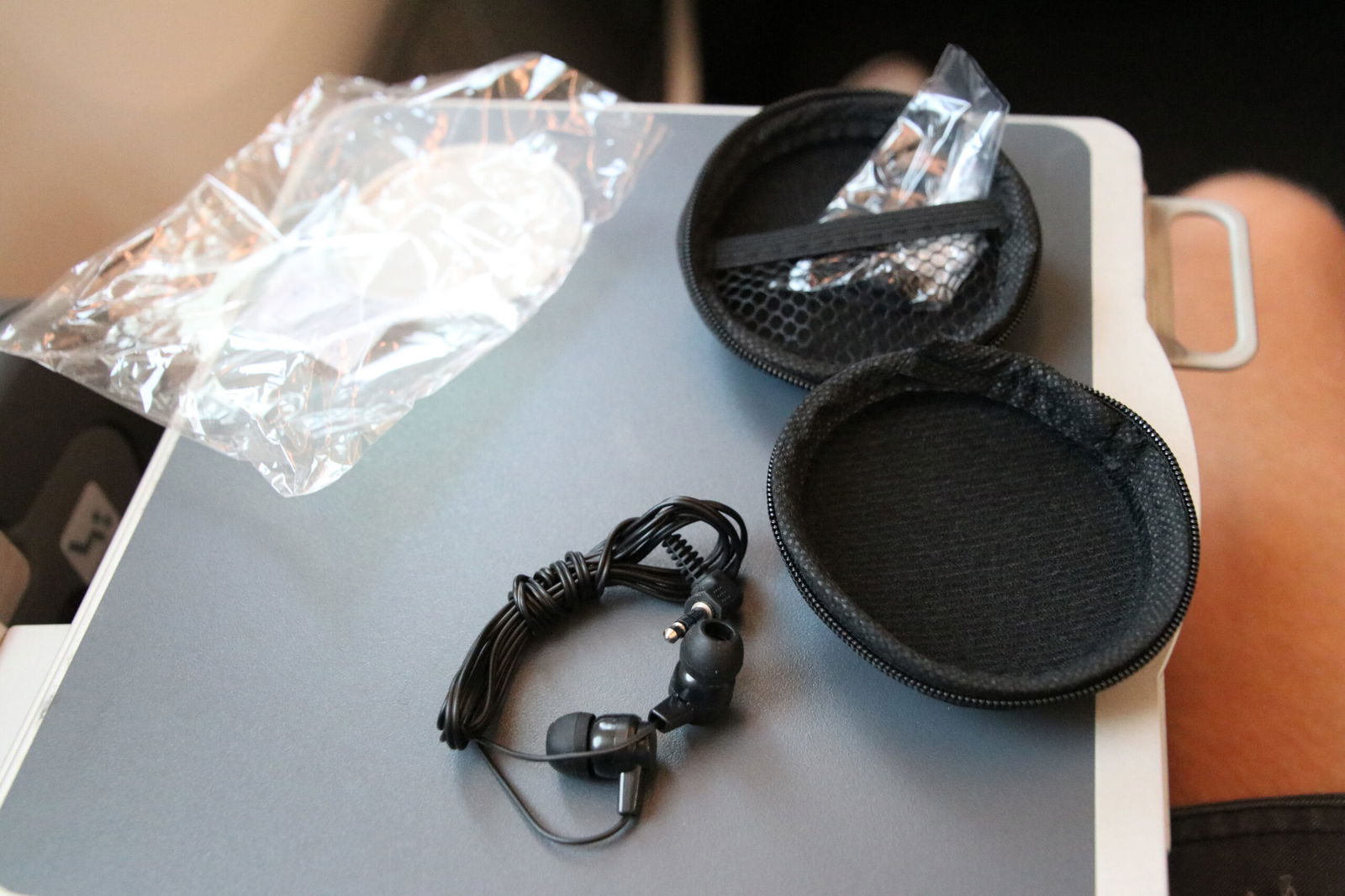 Dinner was served about an hour after takeoff. There are no menus on Norwegian, which is a shame. I asked about the options and was told that the meats are always the same. On this flight we could choose between beef with potato, salmon with white rice, and turkey with gravy.
I would have gone for the salmon, but had preordered my meal online. I really appreciated the speed at which the meals were brought out, and actually liked the little serving boxes.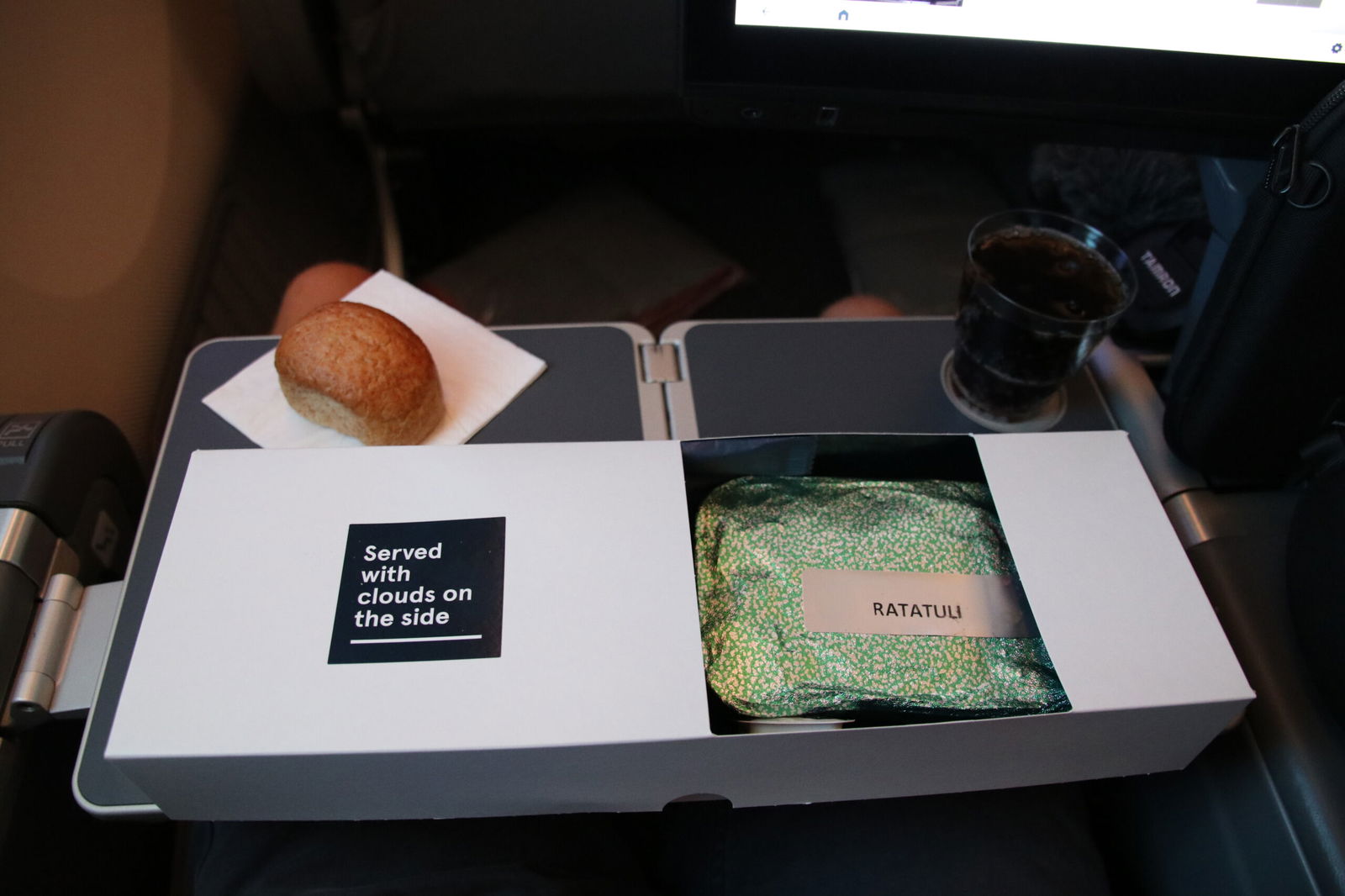 My meal consisted of ratatouille with white rice, cooked carrots and steamed broccoli. Meanwhile, the sides were a fruit salad and a standard salad (a lot of salads, in other words). What struck me was how incredibly fresh all the food tasted. The vegetables and fruit were so juicy and ripe, while the rice and ratatouille was simple, but surprisingly good – and equally fresh.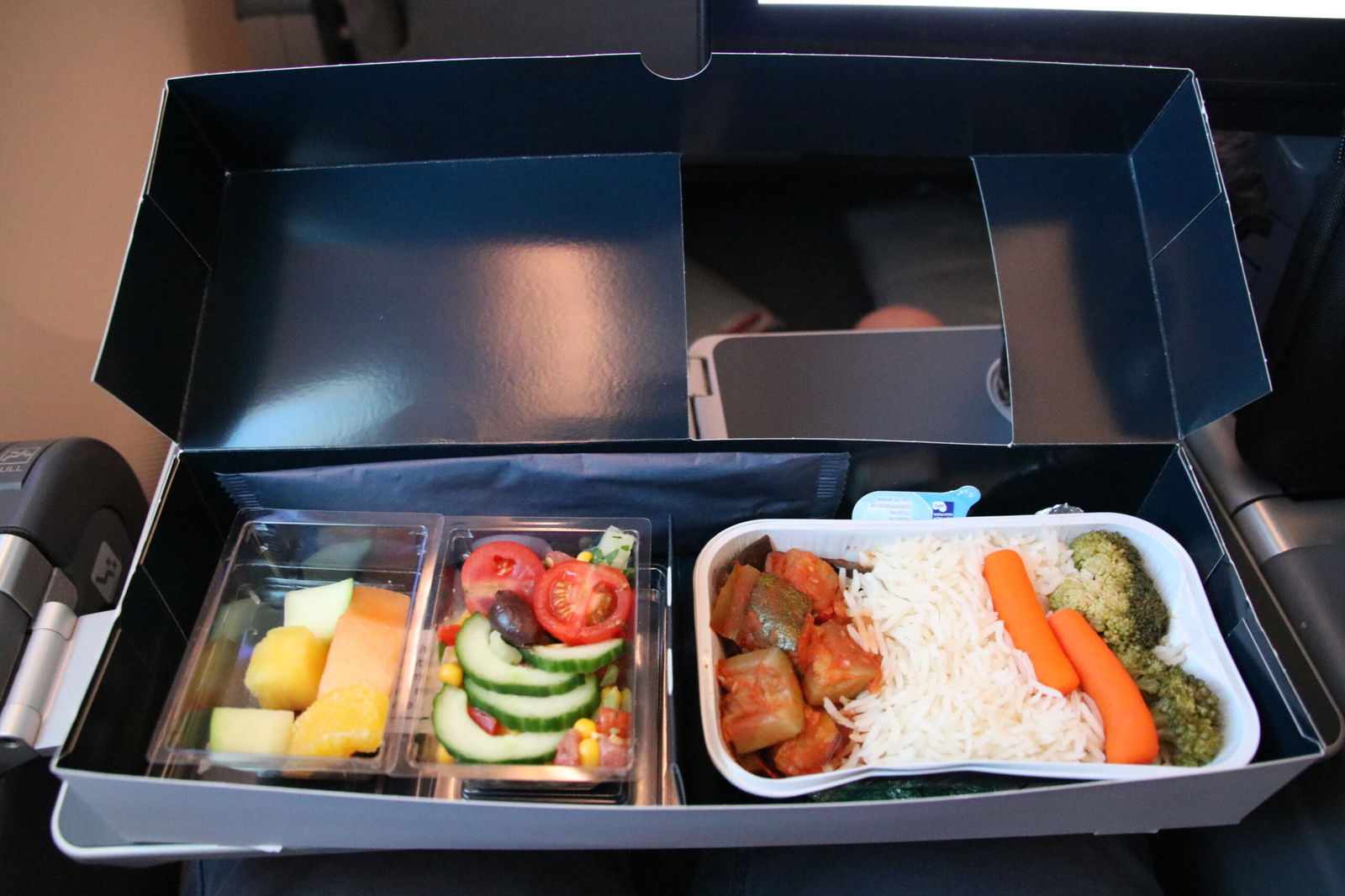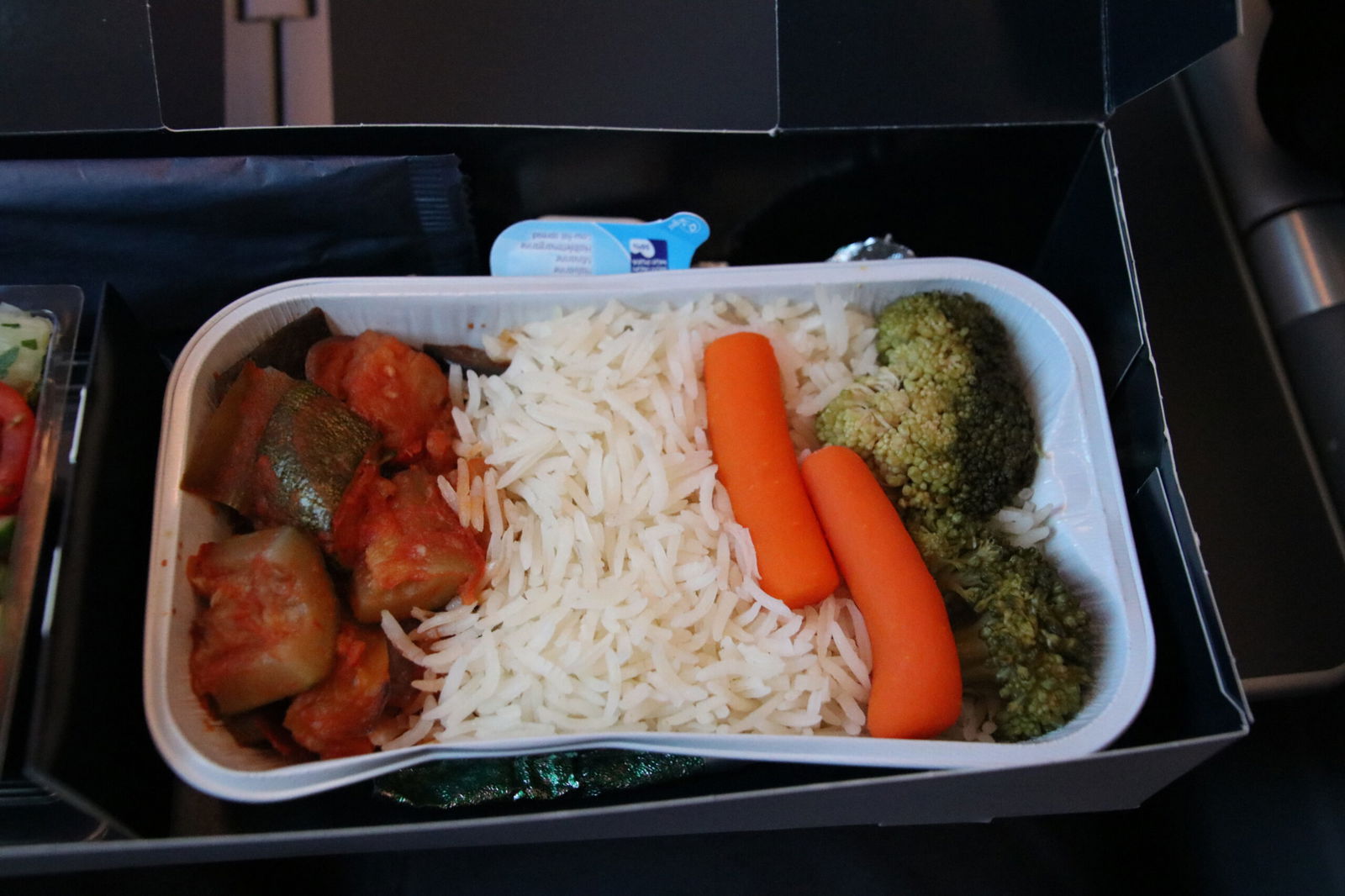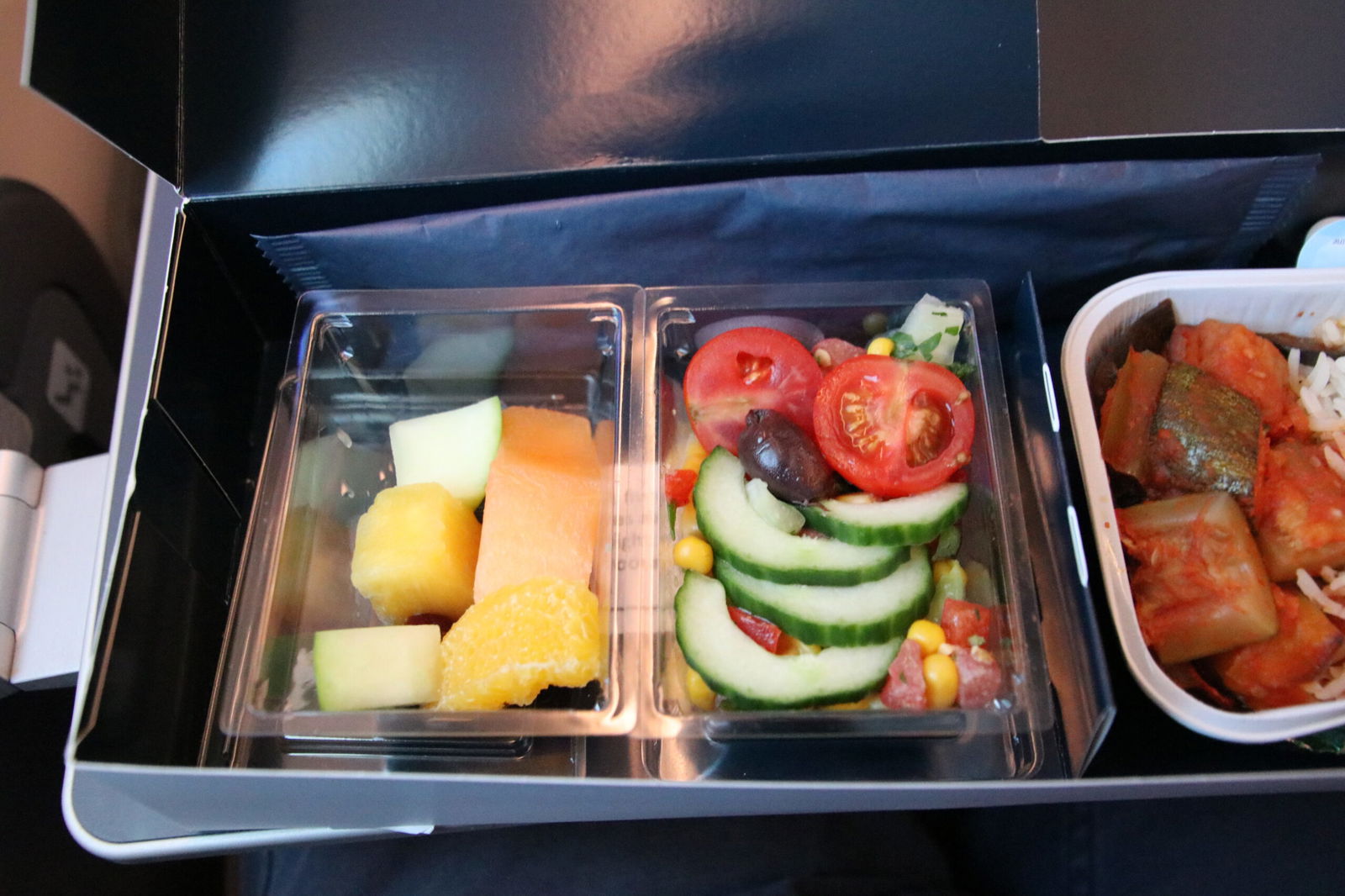 After dinner I played around with the entertainment system for a while. It was by far the most responsive system I've had on an airplane, and there was a plethora of options to choose from.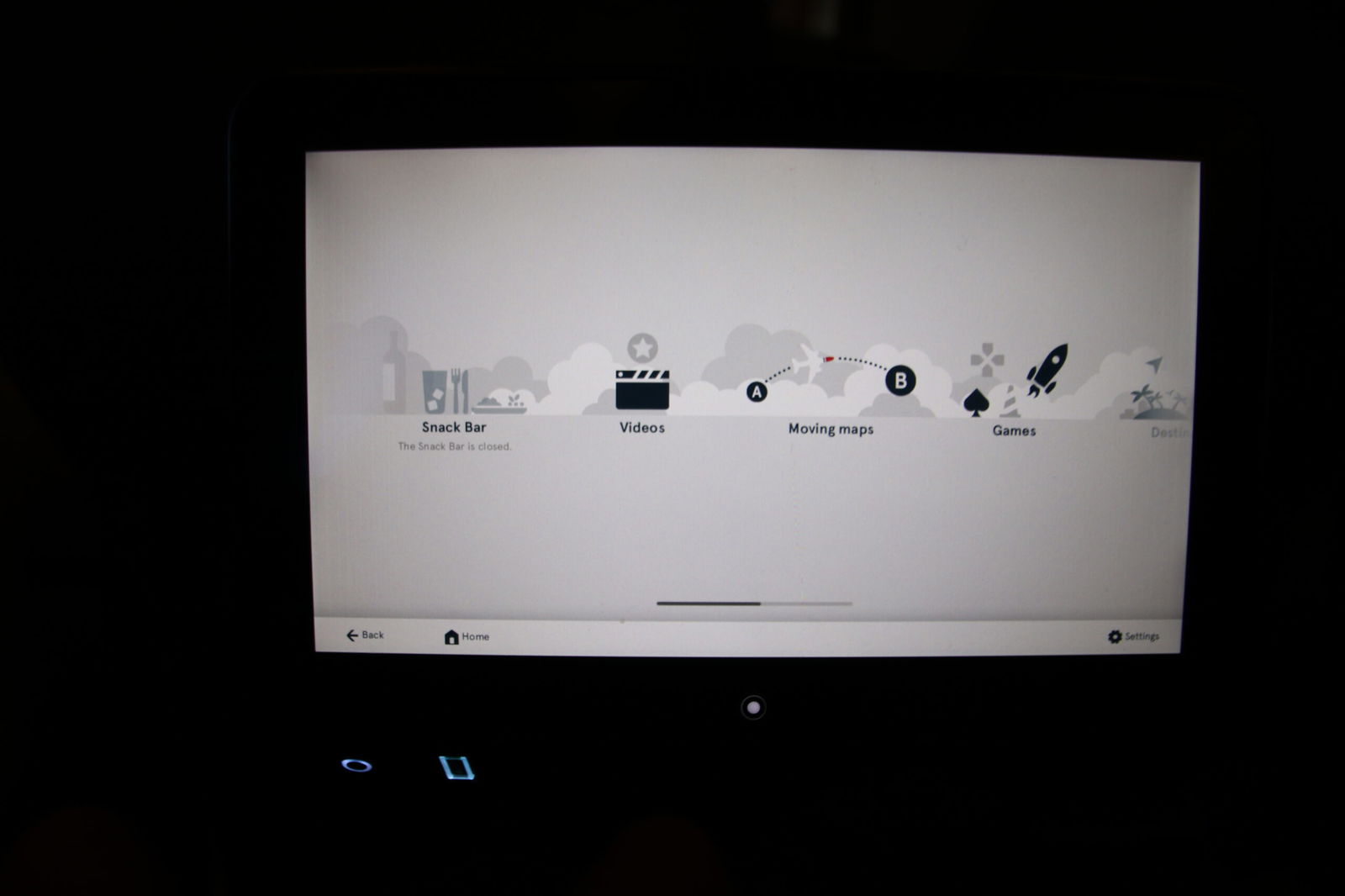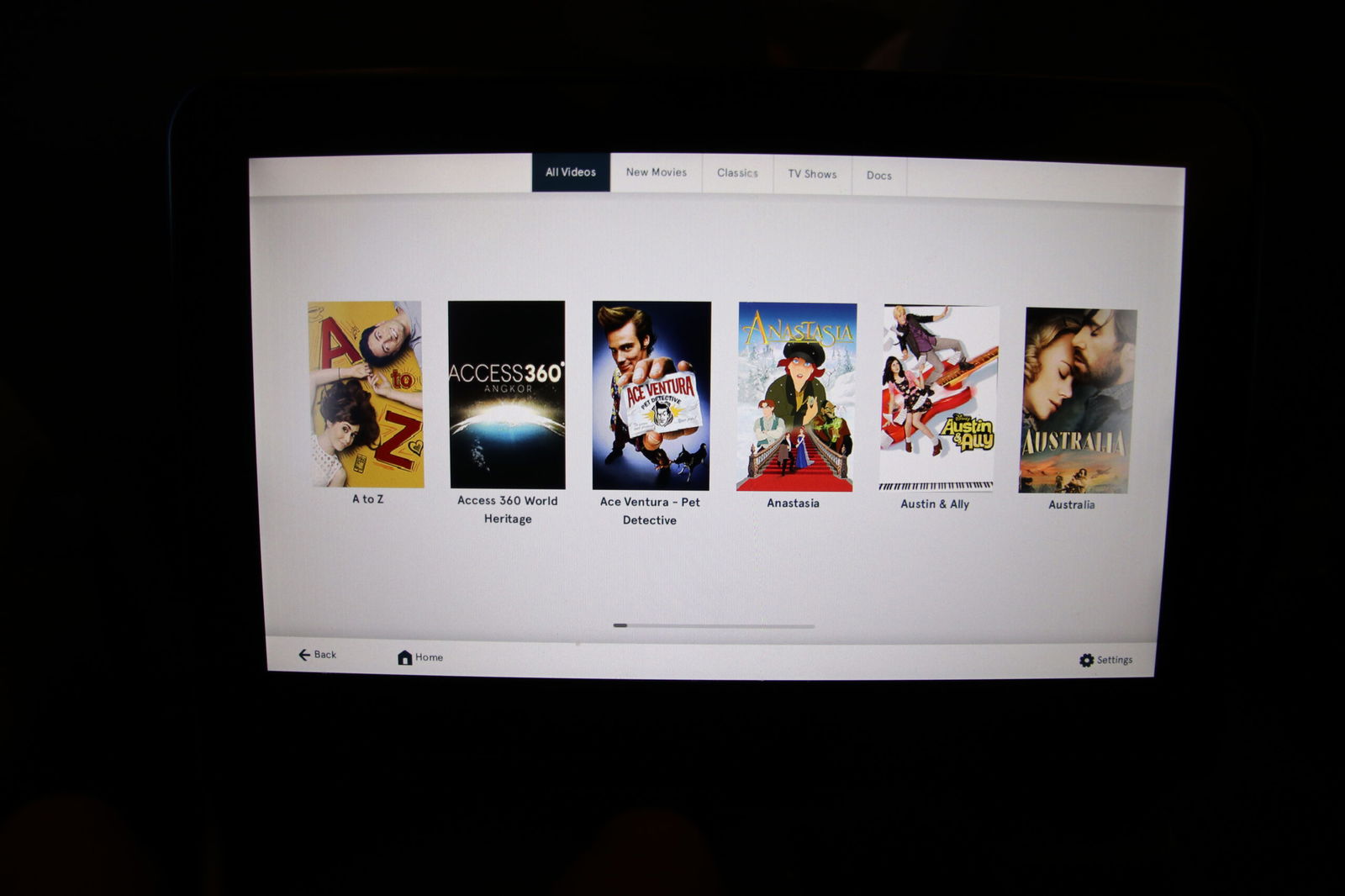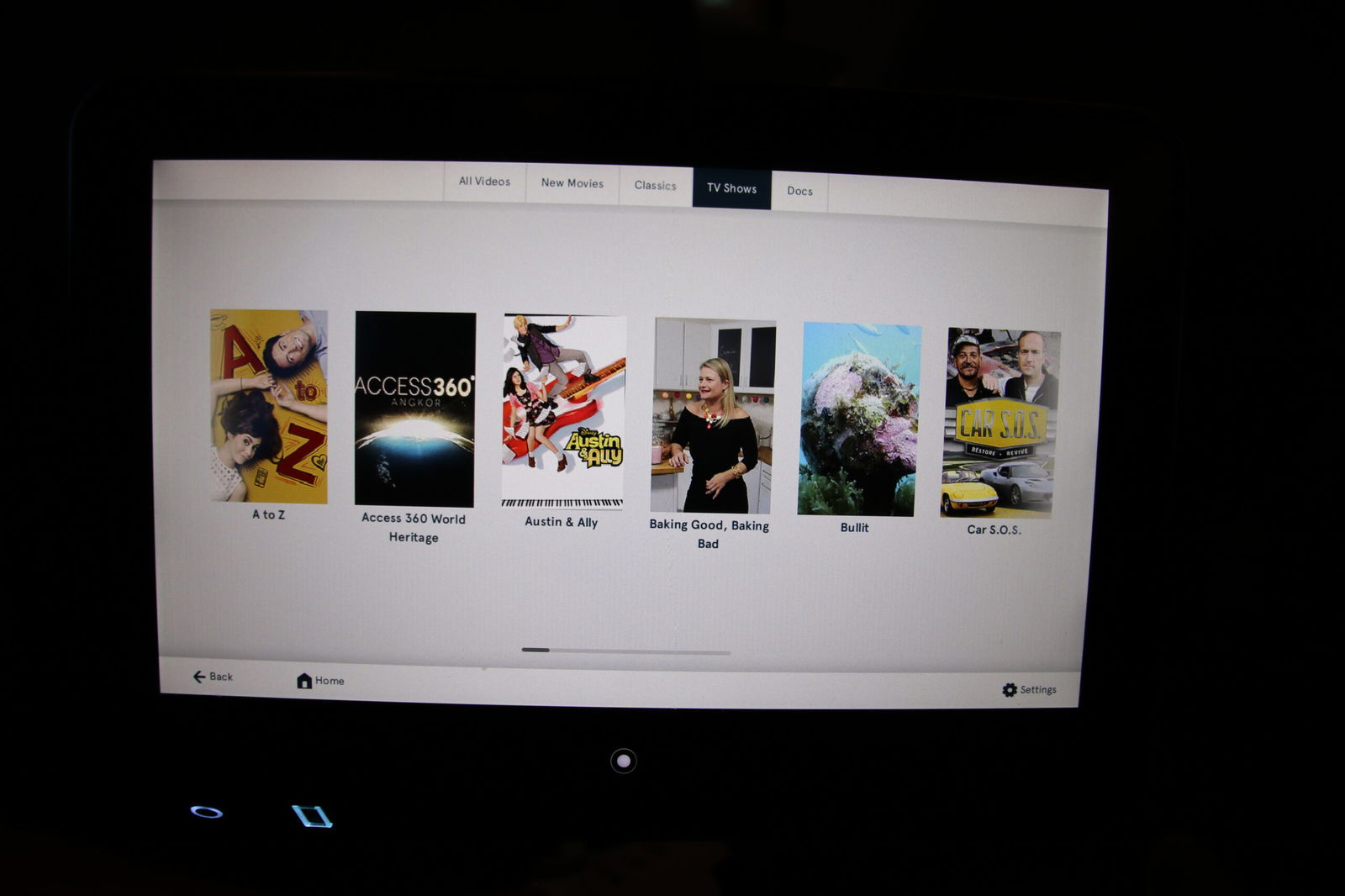 I ended up watching Carol, mostly due to the fact that Cate Blanchett just moved to the tiny town where I grew up, making the movie an especially interesting watch… It was a little underwhelming, but I enjoyed it nonetheless.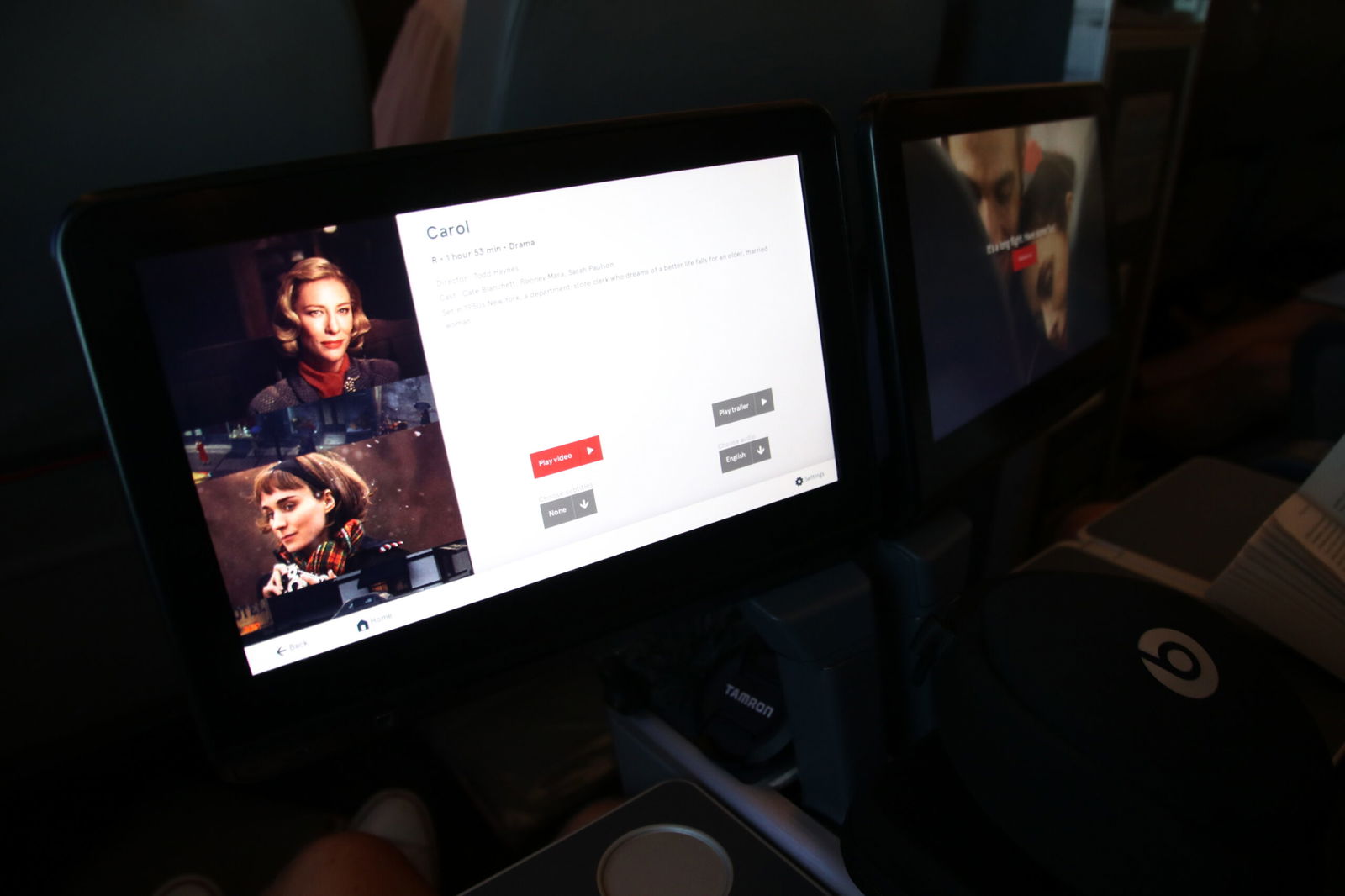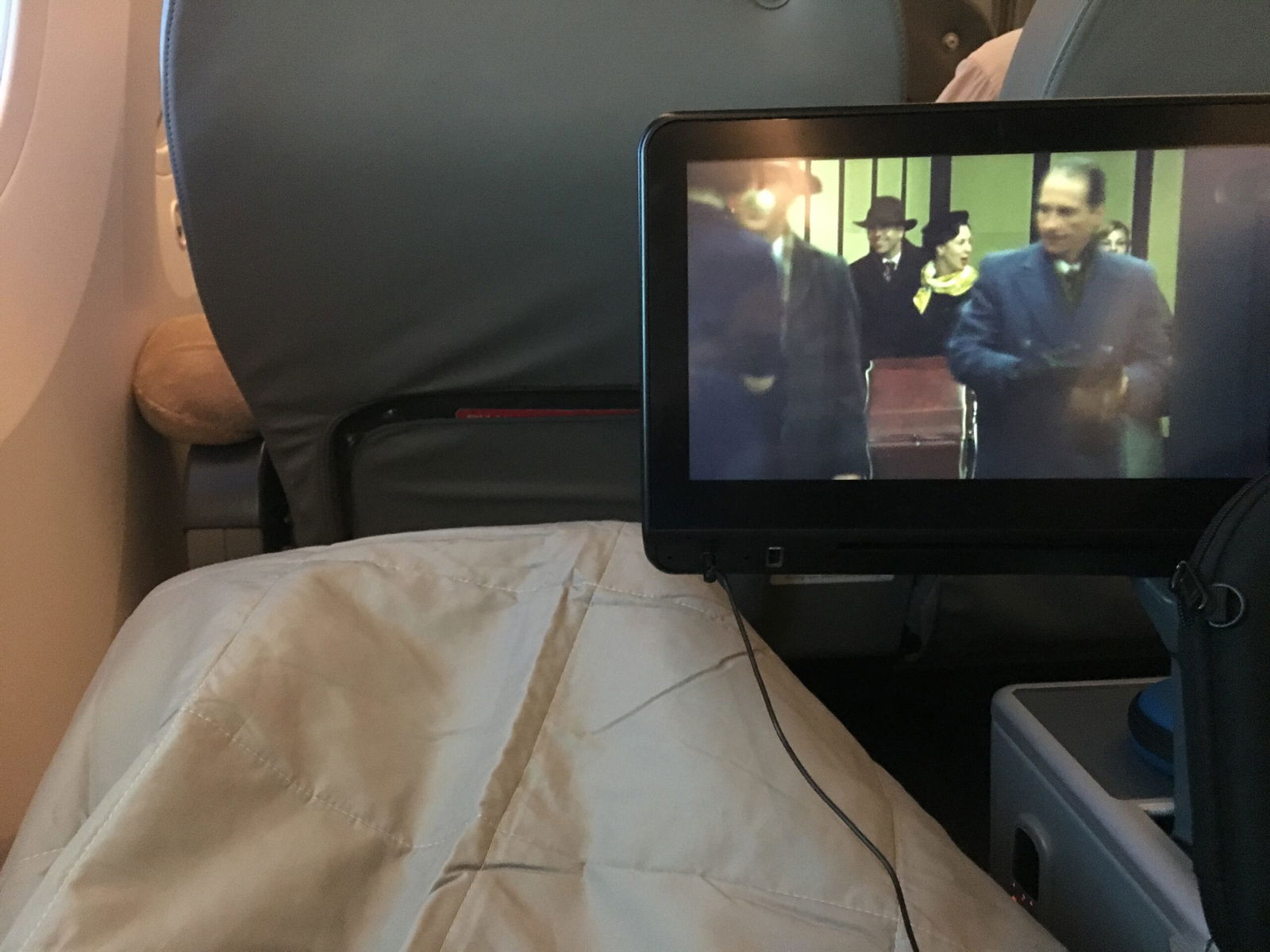 The entertainment screen also features a USB charging port and headphone outlet. There are power ports between the seats for charging larger devices.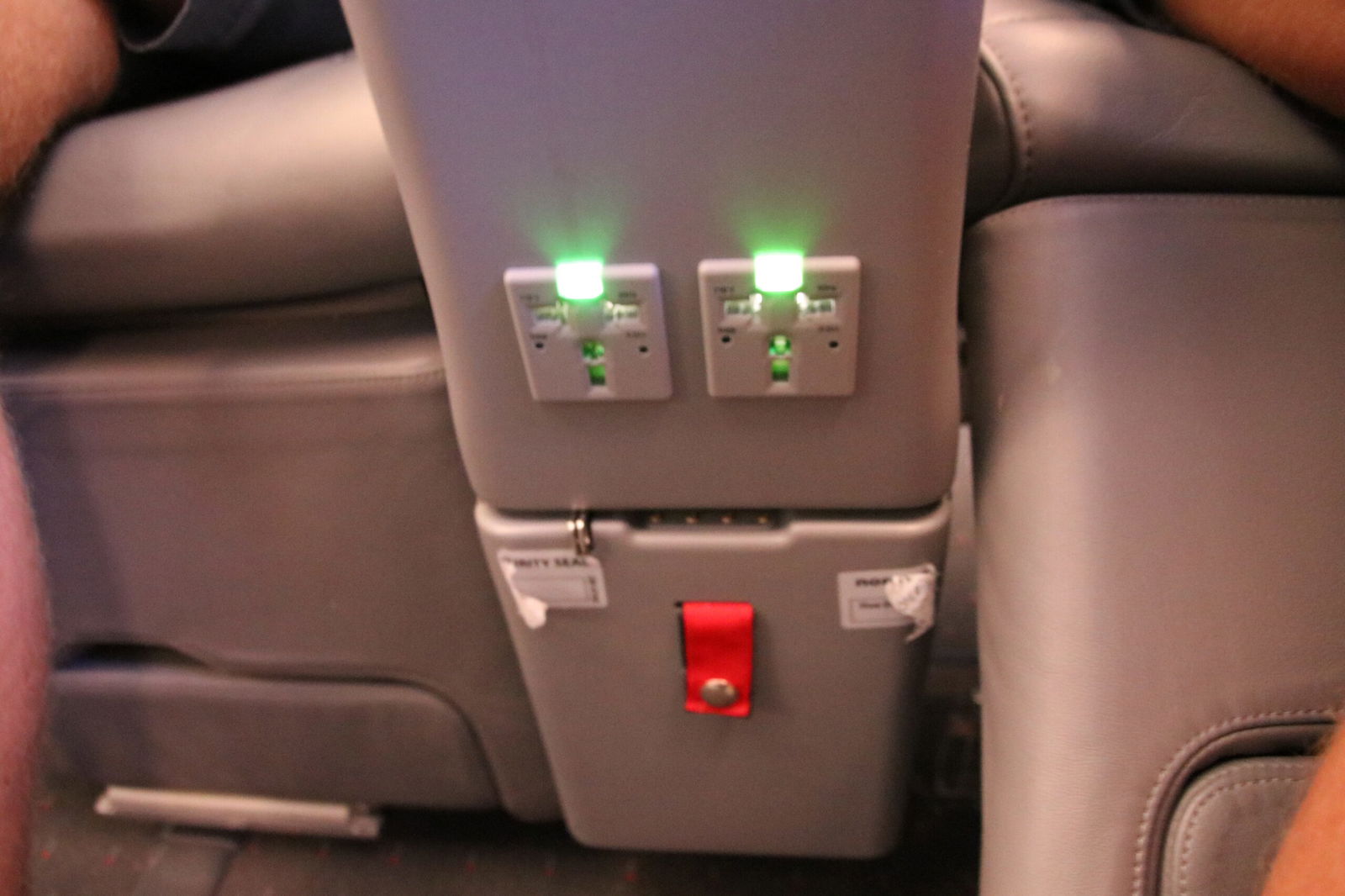 Norwegian has individual air vents to control the temperature, which I'm sure we all appreciate.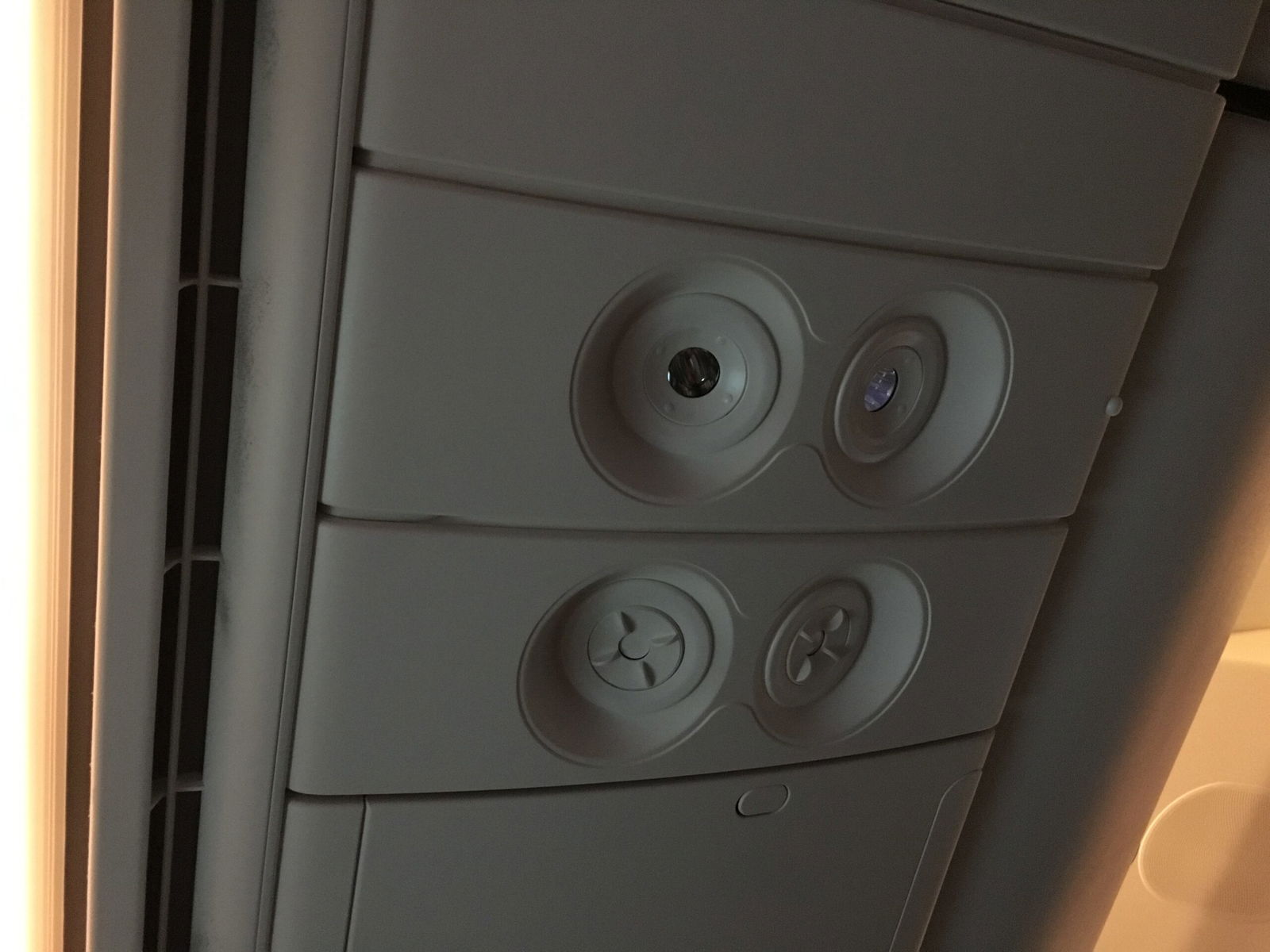 Another great thing for us avgeeks: the inflight map on Norwegian's Dreamliners is one of the most advanced in the world.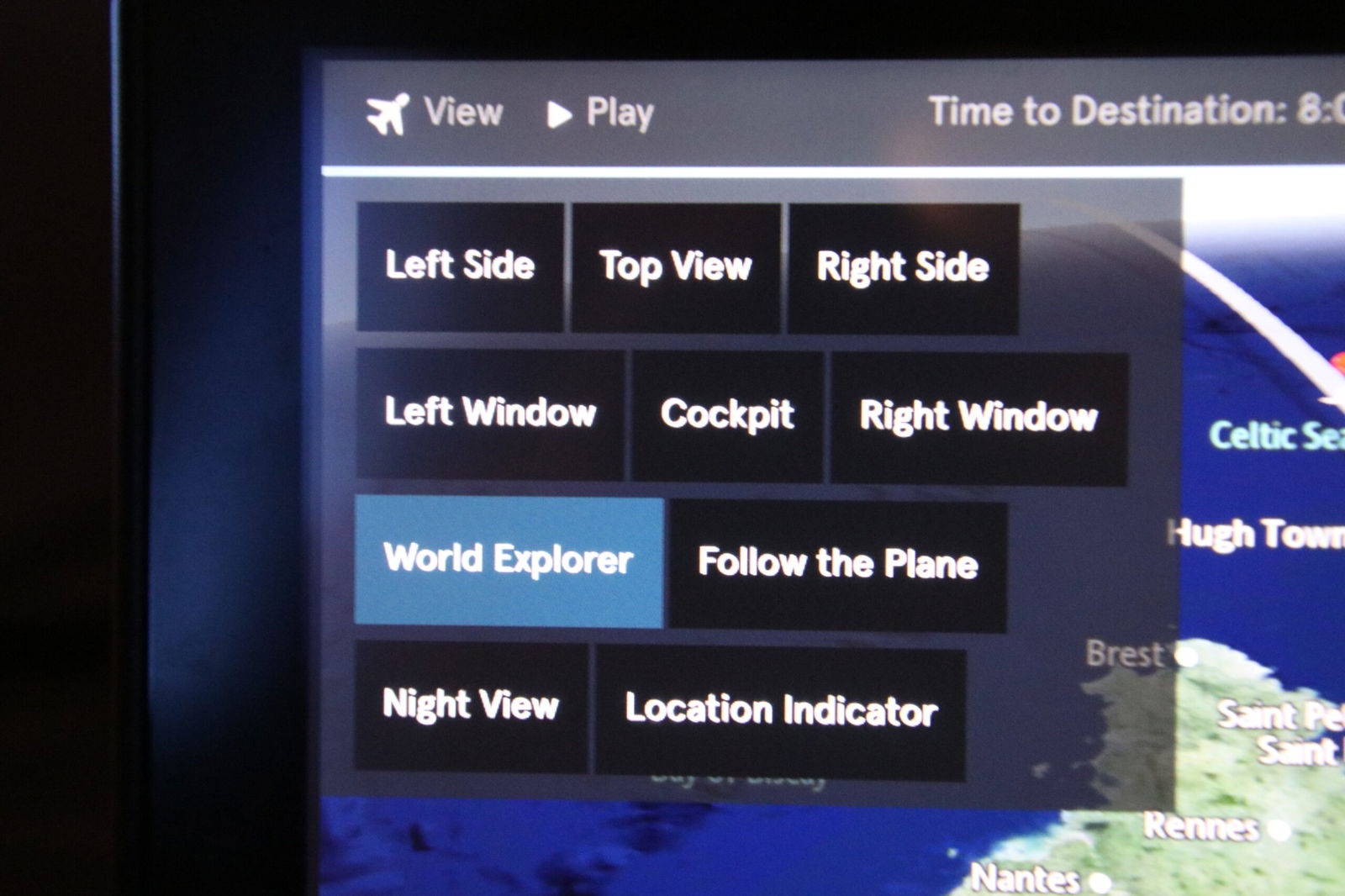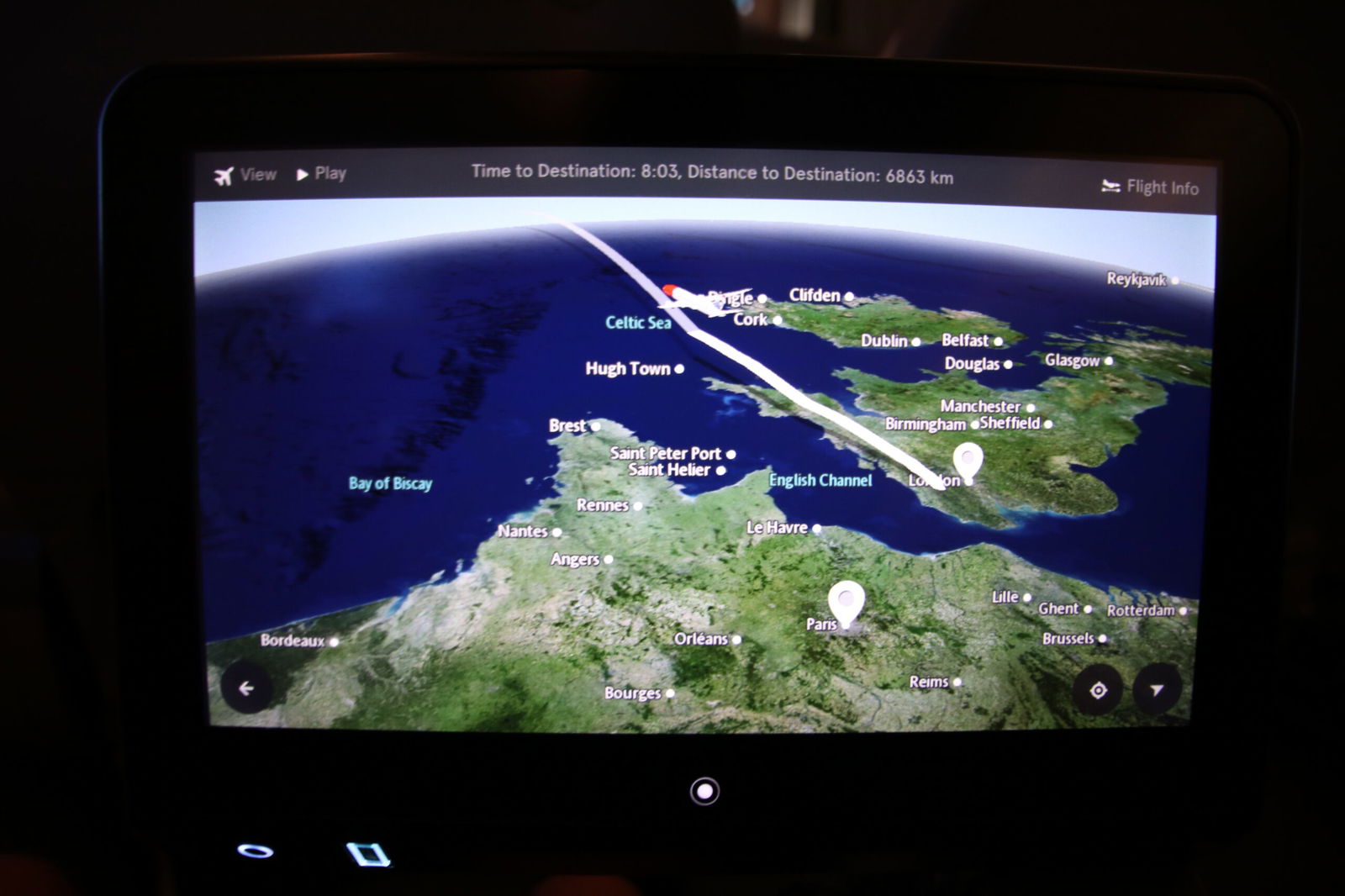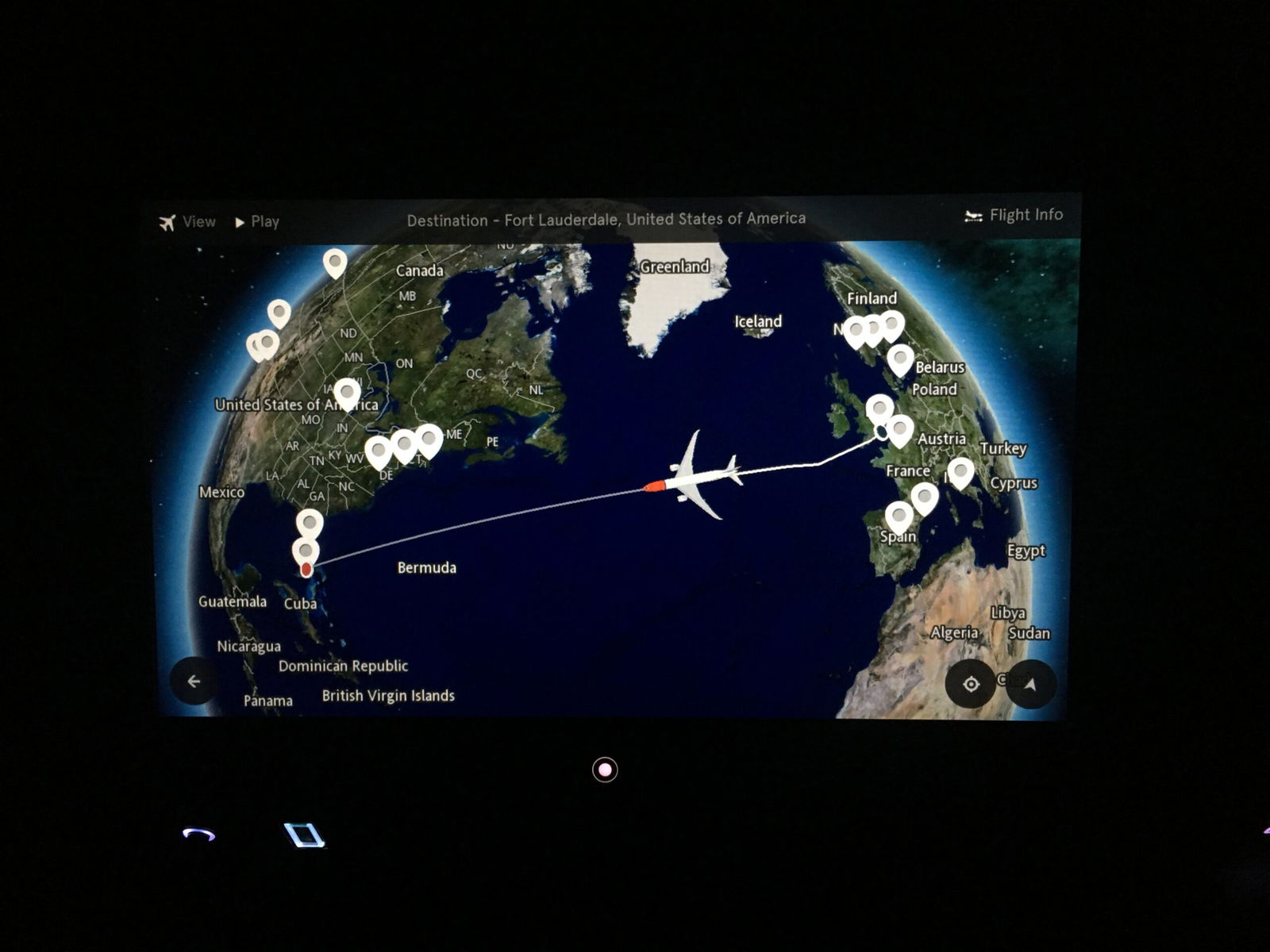 I decided to catch a few hours of sleep after playing around with the maps for a good 15 minutes. I didn't get a picture on this flight (though you can see it in my photos of the seat), but when the seat reclines, the leg rest moves forward and upward. There is an extendable footrest at the bottom of the leg rest, so as you recline, the entire seat flattens out. This is a major advantage over regular premium economy products.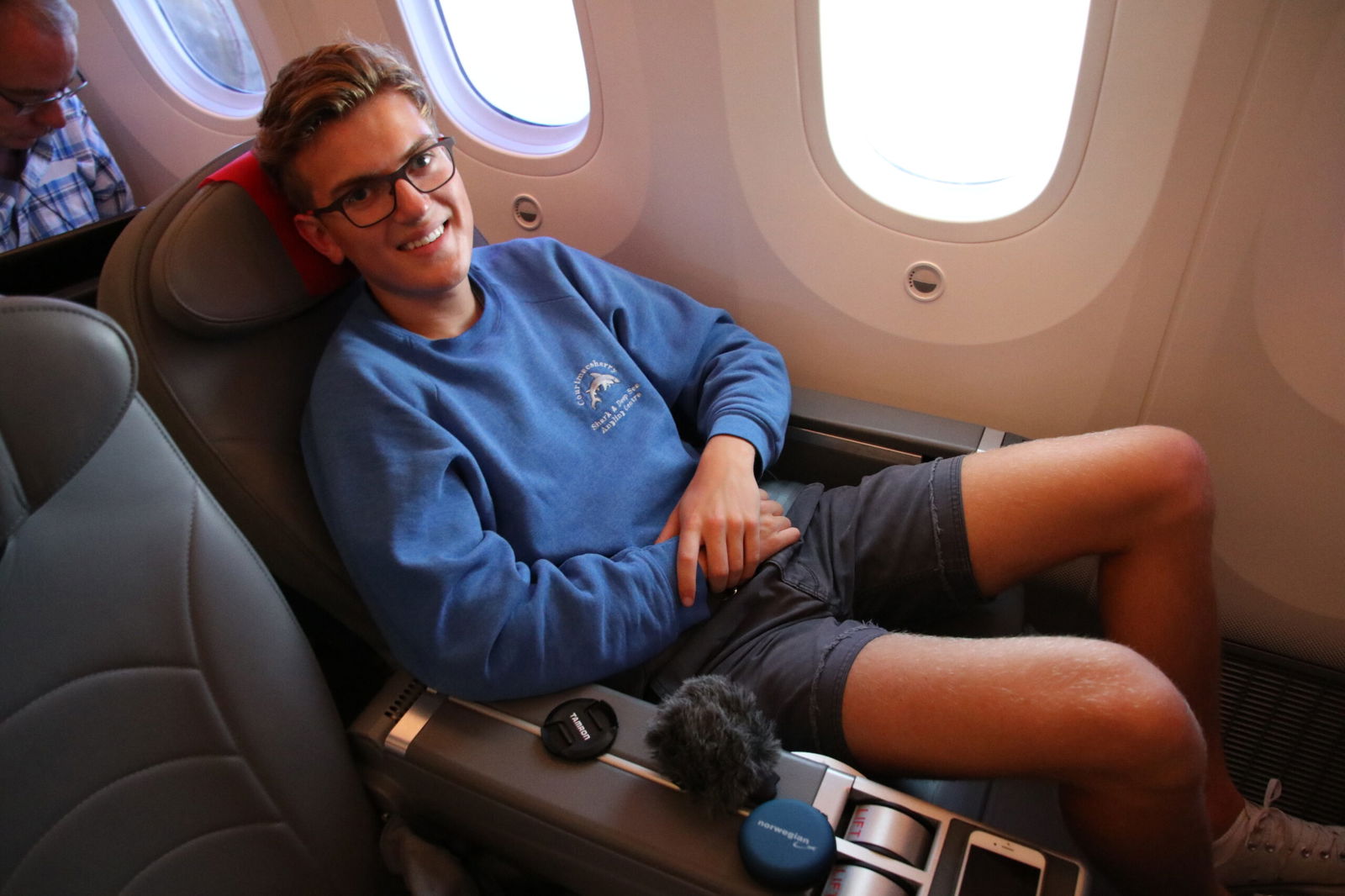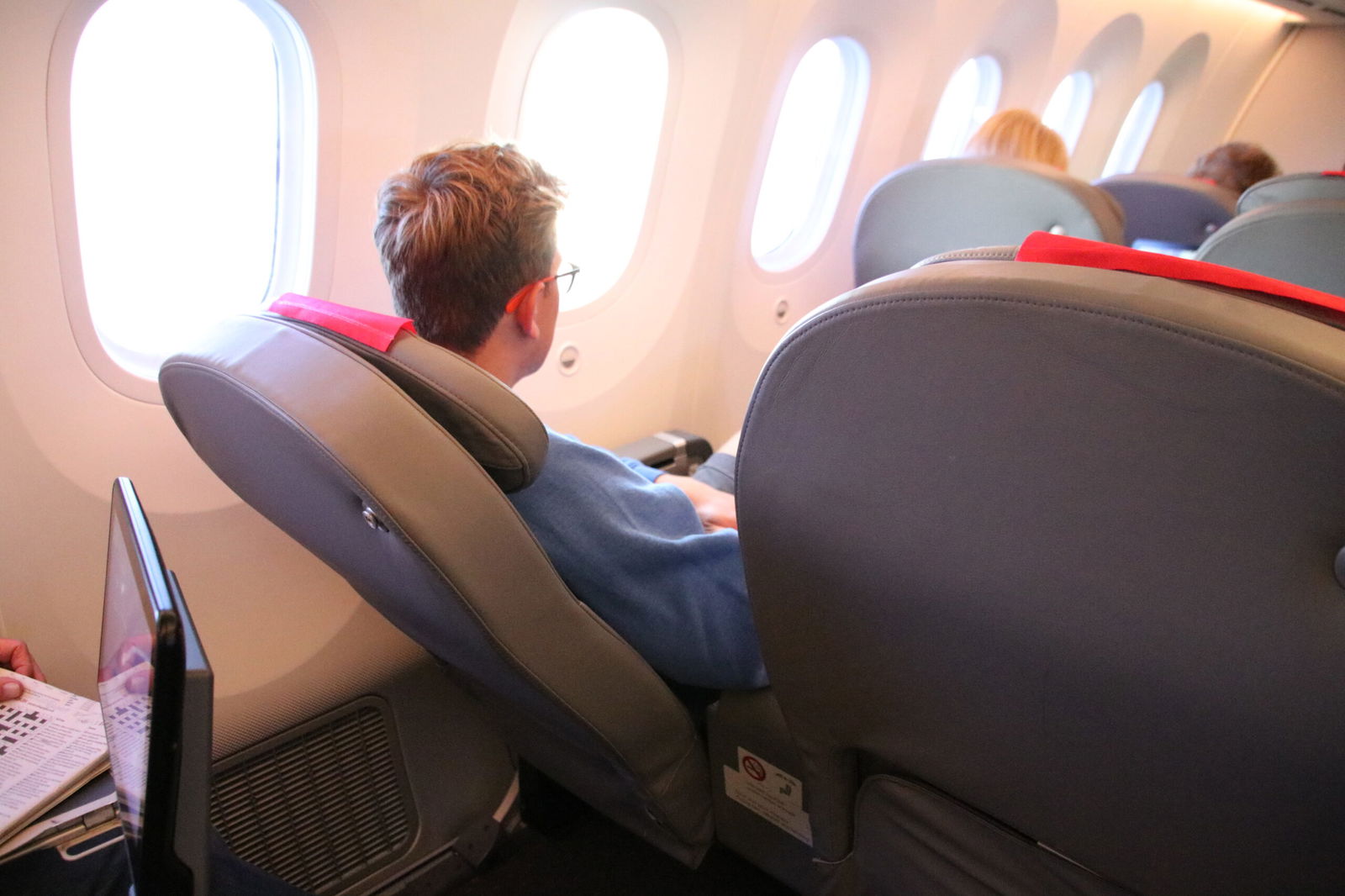 As you can see, the recline is really generous – I'd estimate you get a good 40 degrees. This made it incredibly easy to sleep in the seat. In fact, I slept better in this soft recliner than I have on my last few flatbed flights. This presents the problem that it becomes virtually impossible to leave your seat if both people in front of you are reclined. Then again, that's the reason I appreciate that the video monitor and tray tables are stored in the armrests so that the recline does not hinder you from enjoying your time in your seat.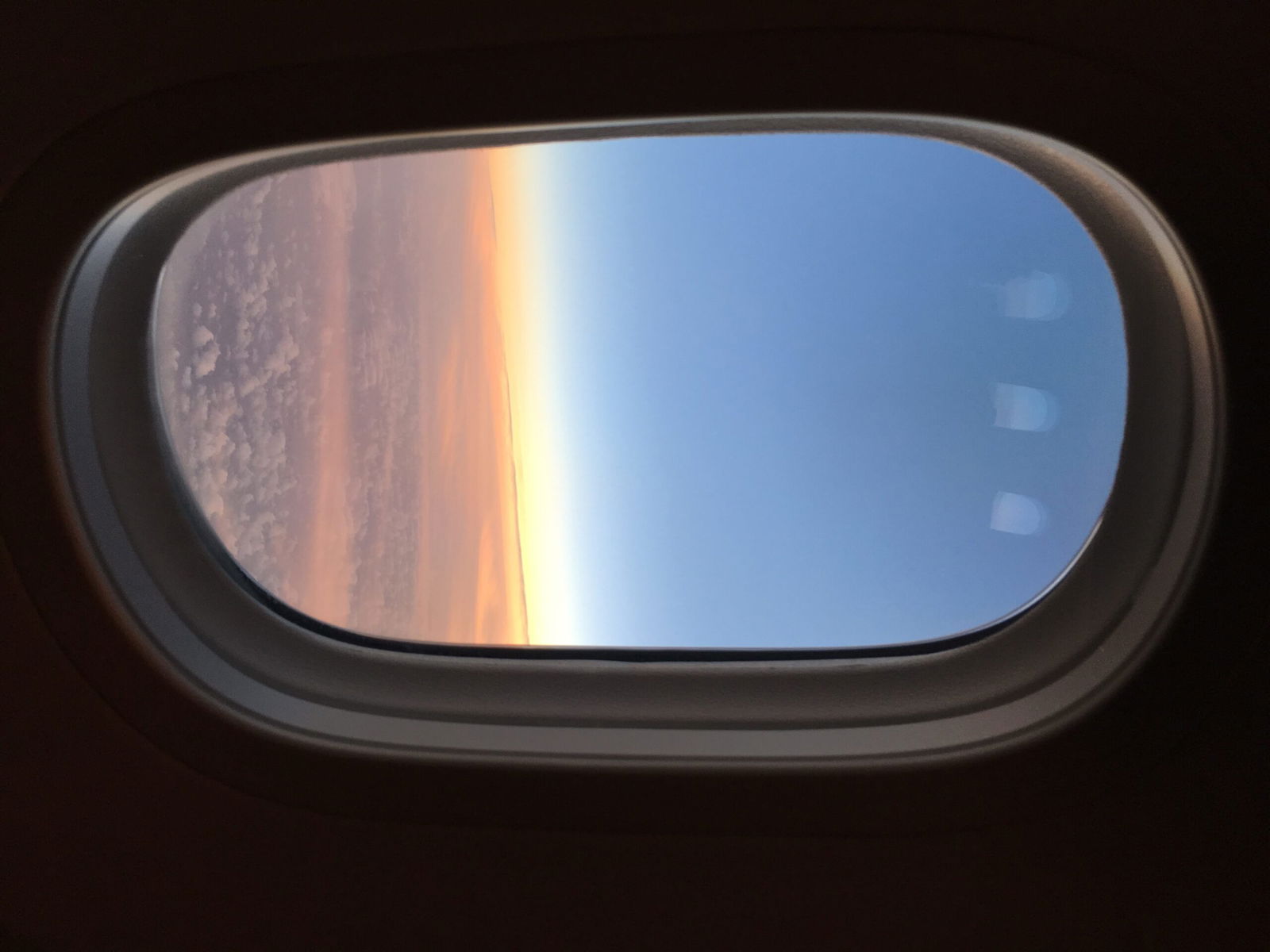 Two and a half hours later I woke up because I needed to use the restroom. The mood lighting was intense in there, though the 787 lavatories are top notch. There were no special toiletries, but I wouldn't expect it in premium economy anyway.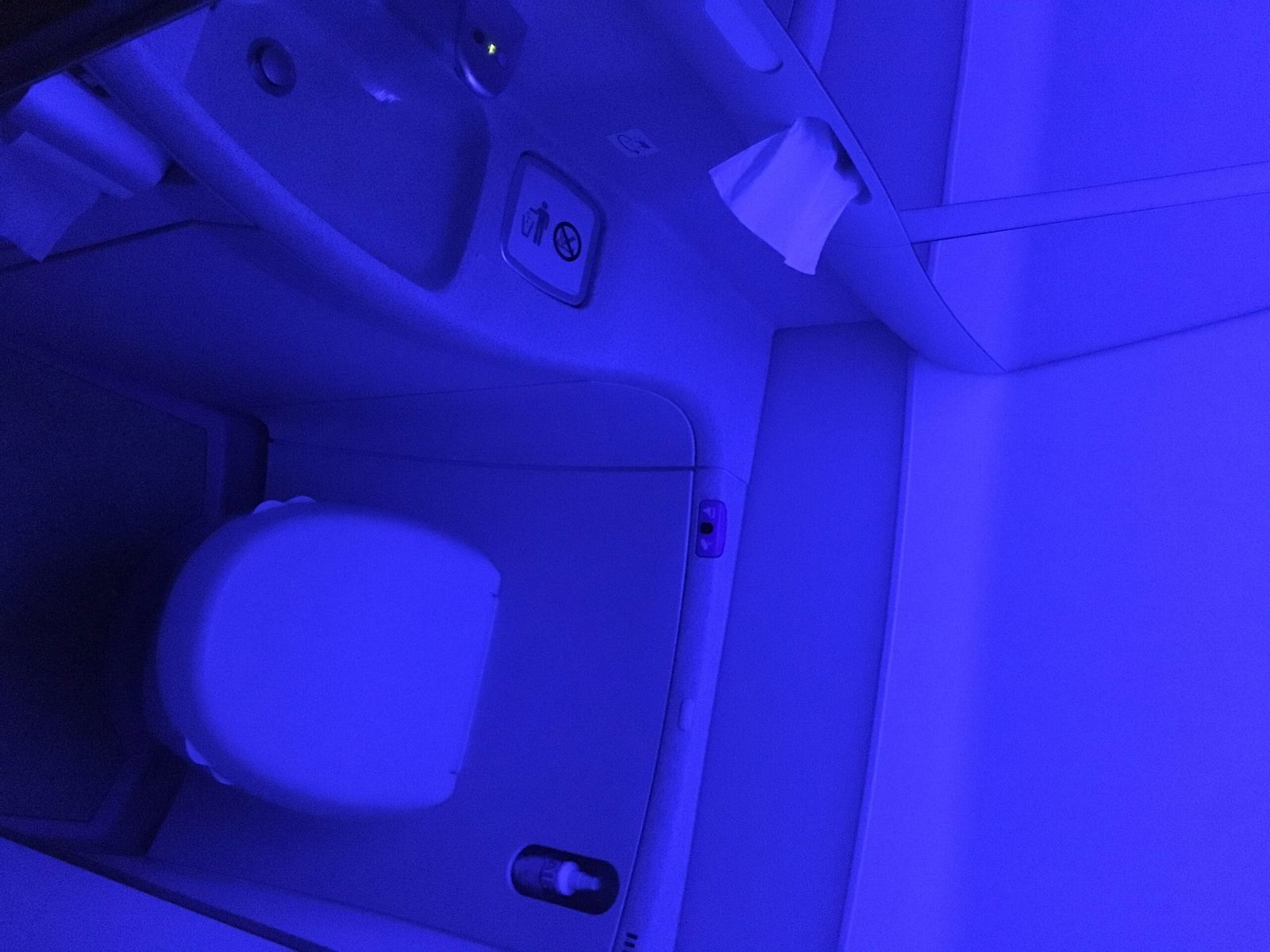 Coincidentally, the crew had just entered the aisle to serve the pre-arrival meal when I left the restroom. Clearly I woke up with perfect timing!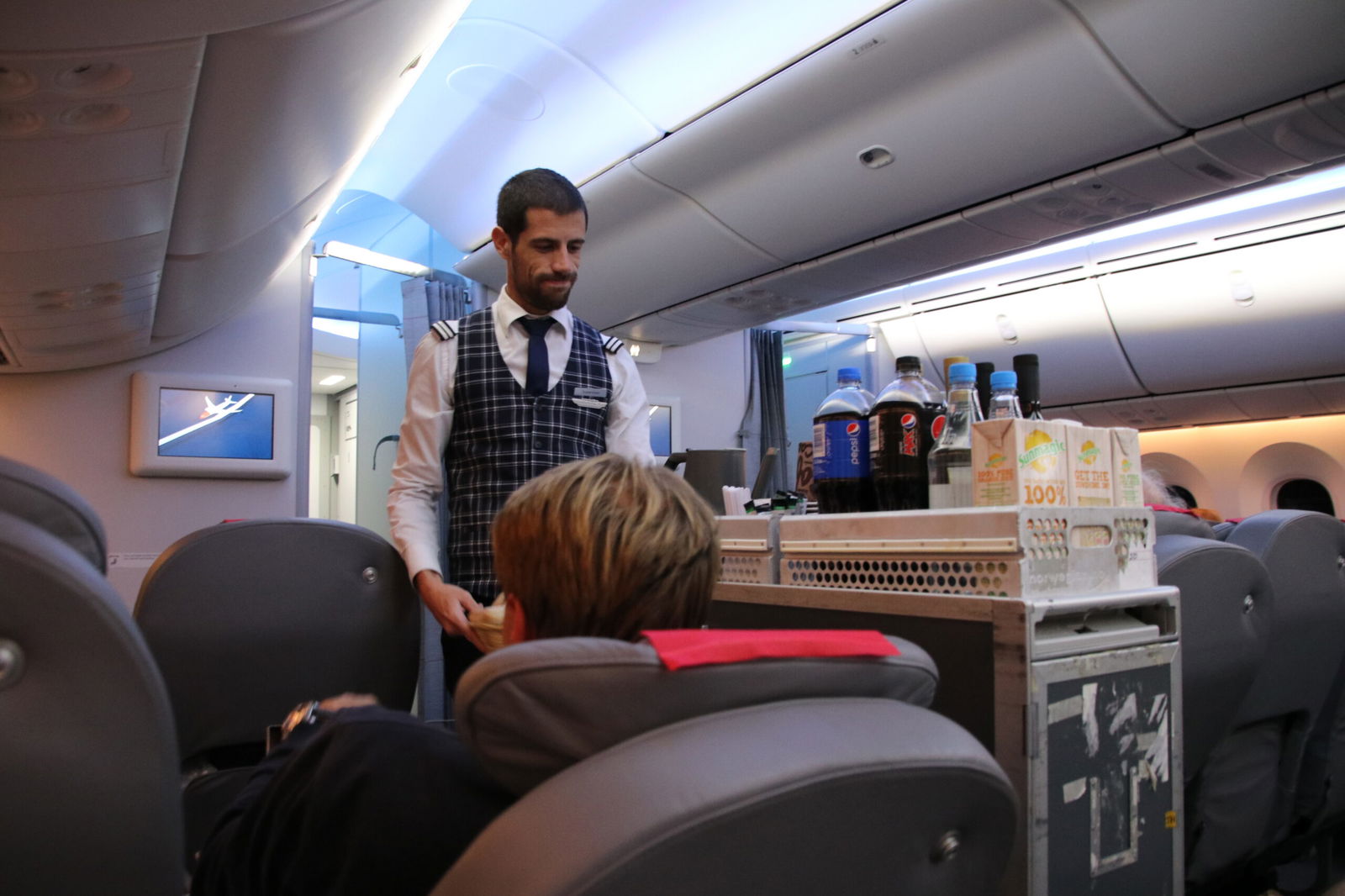 I didn't hear the meal options this time, but was served a cold salad with grilled vegetables and bread, along with a veggie sandwich and another fruit salad. The salad dressing was delicious and I found this meal just as light and fresh tasting as the previous one. In fact, this one was basically the same size as dinner.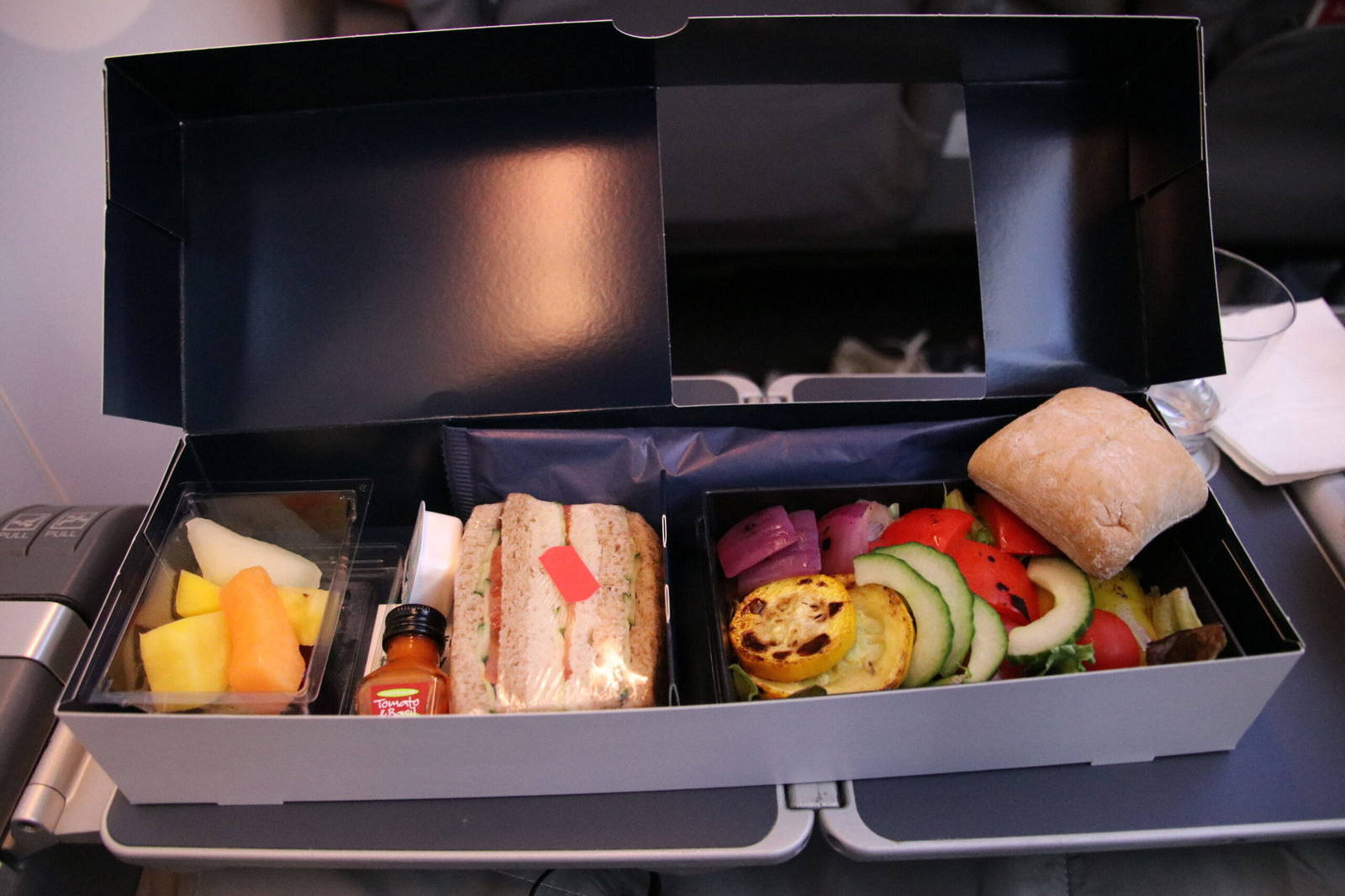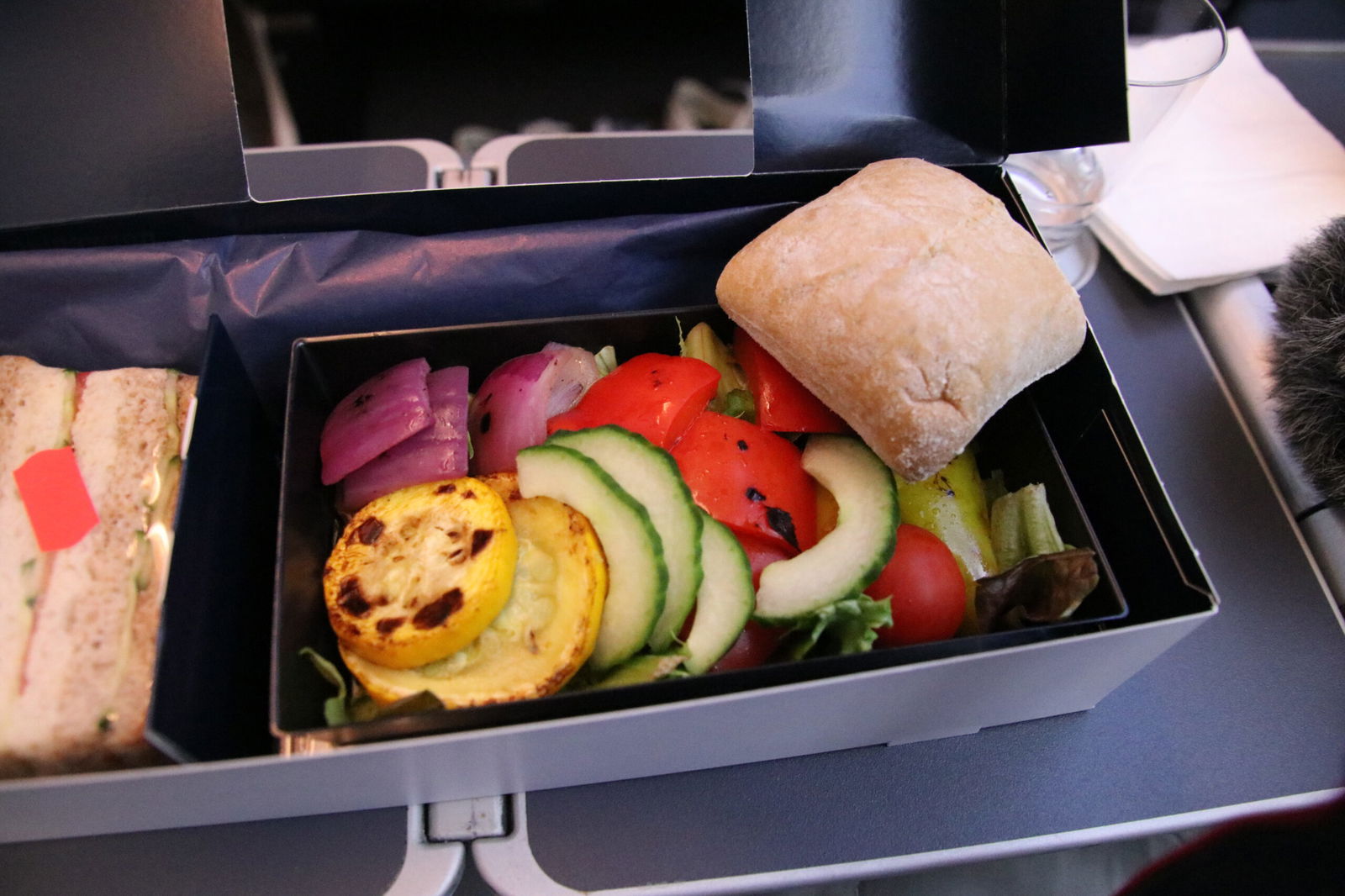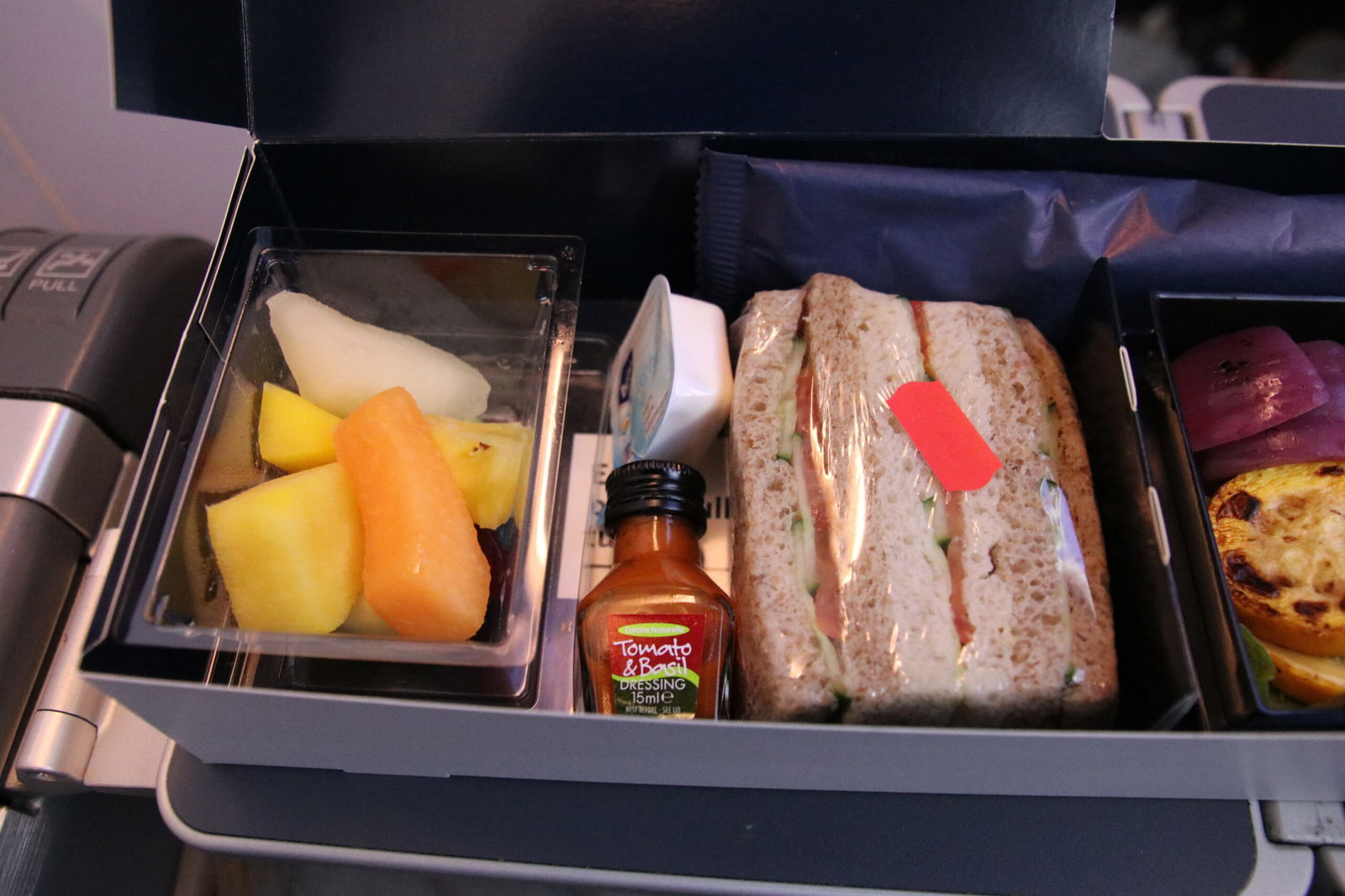 Before I knew it, we were descending toward Fort Lauderdale above The Bahamas.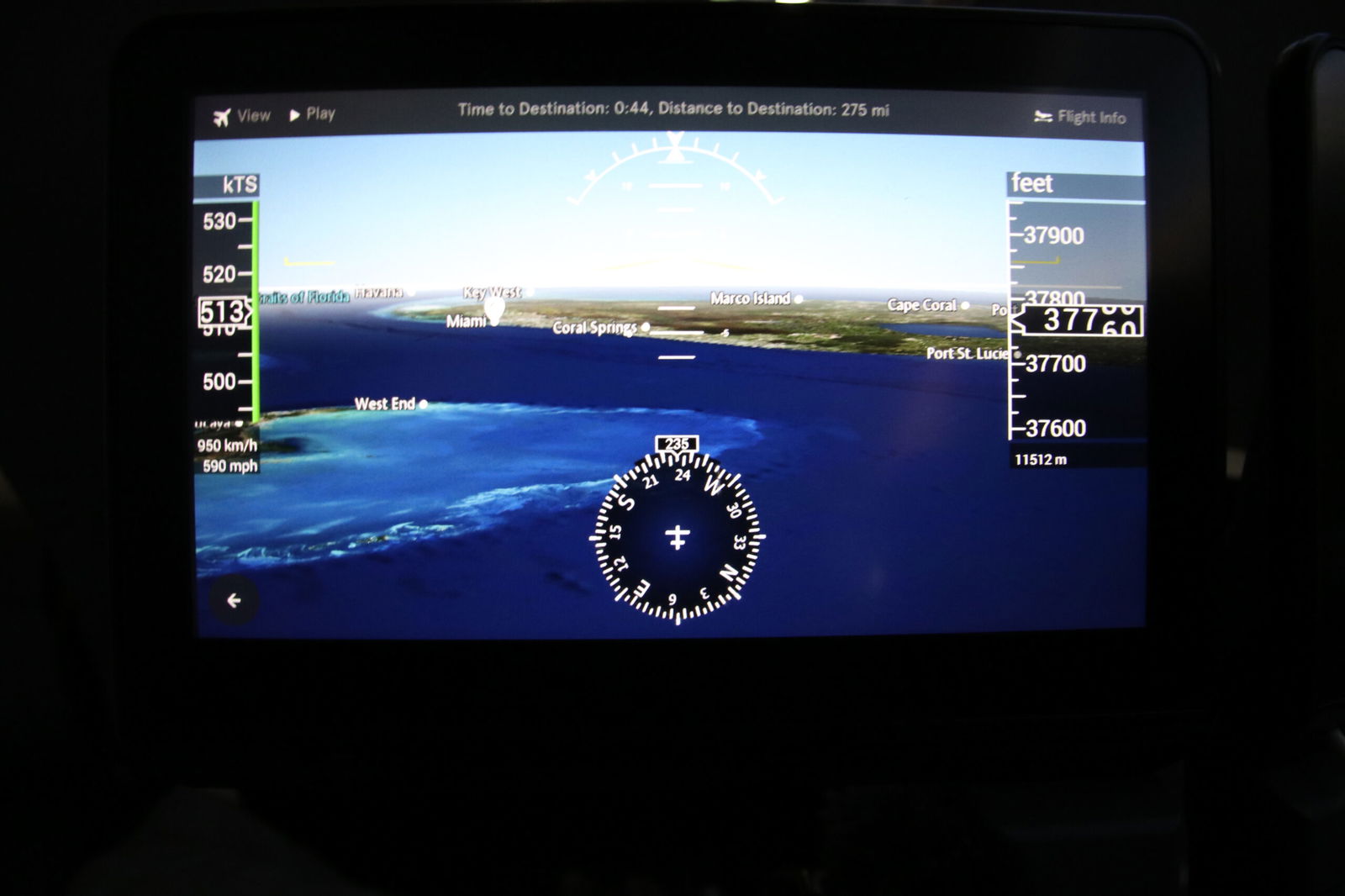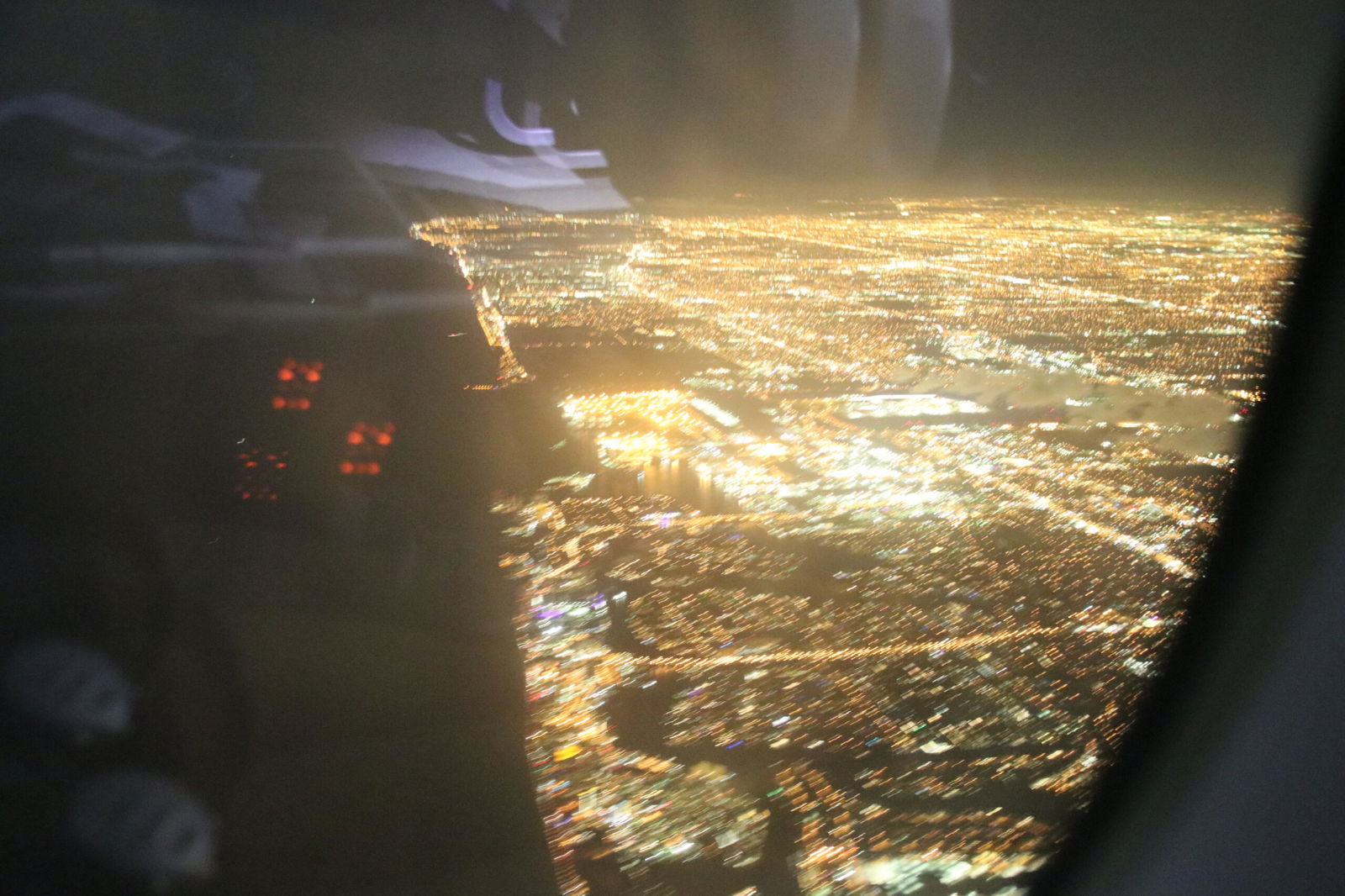 Crossing the Atlantic coast.
We touched down at 10:25pm and had a quick taxi to the gate.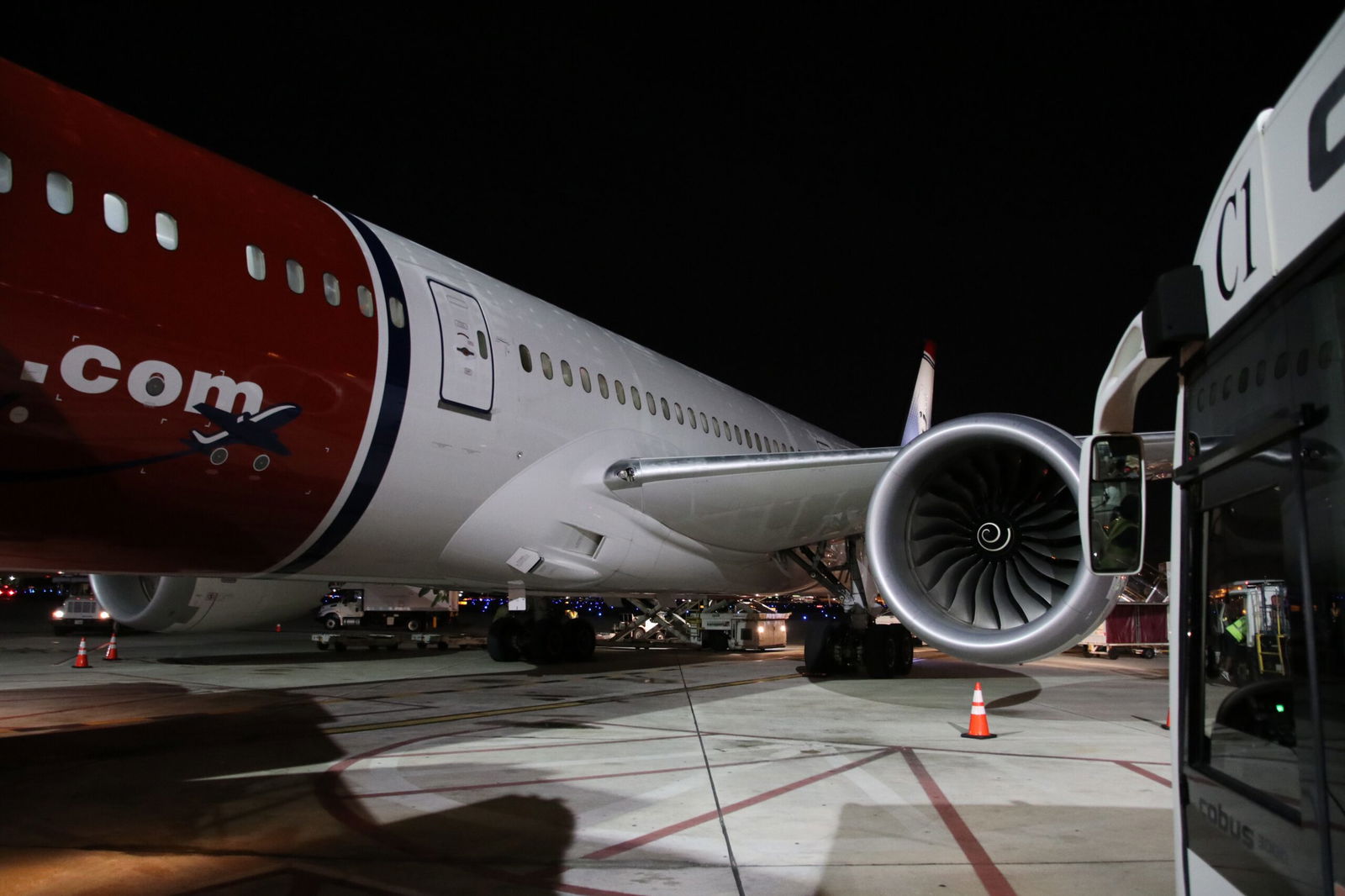 I was actually excited to see we were deplaning by stairs as I'd get great pictures of the aircraft. However, after a near 10 minute bus ride in 80 degree heat and high humidity, I could only wish that Fort Lauderdale had gates that could accommodate wide body aircraft in the international terminal (I assume this was the reason for the bus ride?). At least I sped through immigration once I'd arrived.
Bottom Line
Norwegian Premium exceeded my expectations and I ended up having a wonderful flight despite our late departure. The seat recline was the best I've ever experienced in a premium economy product (miles better than you'd get in a domestic first class). The food was also of surprisingly high quality, the entertainment system was good and the crew were friendly. While it's not the most glamorous way to fly between Europe and Florida, I'd highly recommend Norwegian Premium if you're in the market for a more affordable premium product or looking for a reasonably priced upgrade from economy.