Airline loyalty programs have increasingly been adding opportunities for members to enroll in TSA Pre-Check. Some airlines have given TSA Pre-Check memberships away to elite members for free, while others have been allowing members to redeem points for them. On top of that, several credit cards offer Global Entry and TSA Pre-Check fee credits.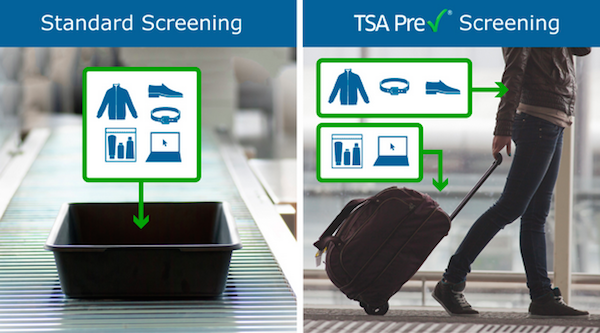 For example, Alaska Airlines now lets you redeem 10,000 points for the $85 TSA Pre-Check enrollment fee. That's a horrible value at 0.85 cents per mile, given that I value Alaska miles at ~1.8 cents each.
However, they have nothing on Club Carlson. I just received an email from Club Carlson saying how points can now be redeemed for the TSA Pre-Check enrollment fee. It's sort of shameless and a bizarre marketing technique, in my opinion. Here's how it's described:
Use your points to enjoy five years of hassle-free travel with TSA Precheck, the program offering expedited security when you fly. Make your whole travel experience more convenient and efficient for just 65,000 Gold Points®.

The TSA Precheck application fee is normally $85, but as a Club Carlson℠member, you can now use your points to cover the application fee.†

Take advantage today!
It's not unusual for loyalty programs to provide horrible redemption values, though typically they try to hide how bad of a value you're getting by not displaying the cash cost of something. In other words, they'll have online malls where you can redeem points for merchandise, but they won't say how much something would otherwise cost.
In the case of Alaska letting you redeem 10,000 points for the $85 TSA Pre-Check fee, they didn't phrase it as if they were giving you an incredible value, but rather just as another way for you to redeem your miles.
But in the case of Club Carlson, they're directly saying you can save $85 for "just 65,000 Gold Points," and to "take advantage today."
To me that seems sort of stupid, since they're trying to create the direct expectation that their points are worth that little, which seems like something they wouldn't want to do.
This doesn't even address the fact that getting TSA Pre-Check as such represents a terrible value for most:
You can instead spend $100 to get Global Entry, which gets you expedited immigration; this comes with TSA Pre-Check, so it's well worth spending the extra $15 and getting it all bundled
The very best value is signing up for NEXUS, which costs just $50, and gets you expedited screening at US and Canadian borders; on top of that it also comes with Global Entry and TSA Pre-Check, so it's the best kept secret, as it's the most comprehensive membership
But hey, if you think Club Carlson points are worth 0.13 cents each and don't value Global Entry, this deal is for you.
Has anyone seen a worse value for redeeming points for TSA Pre-Check?