TSA PreCheck is one of the innovations in the past decade that has made the airport experience significantly better. Maybe this is obvious to some, but in this post I wanted to cover how to easily check whether a TSA PreCheck lane is open or not based on when you're traveling.
TSA PreCheck checkpoint schedule
The TSA's website has a handy tool that will give you the schedule for various PreCheck checkpoints. Using the tool is easy — you just have to select the airport, the day of the week, and the time you're traveling.

As you'll see, when you select the airport, day, and time, you'll see all the TSA PreCheck checkpoints that are open. If a checkpoint isn't listed, you can assume it's closed at that time.
For example, pulling up LAX for 5-6AM on Monday, you'll see that TSA PreCheck checkpoints are available in all terminals, except Tom Bradley International Terminal (TBIT), since it's not listed.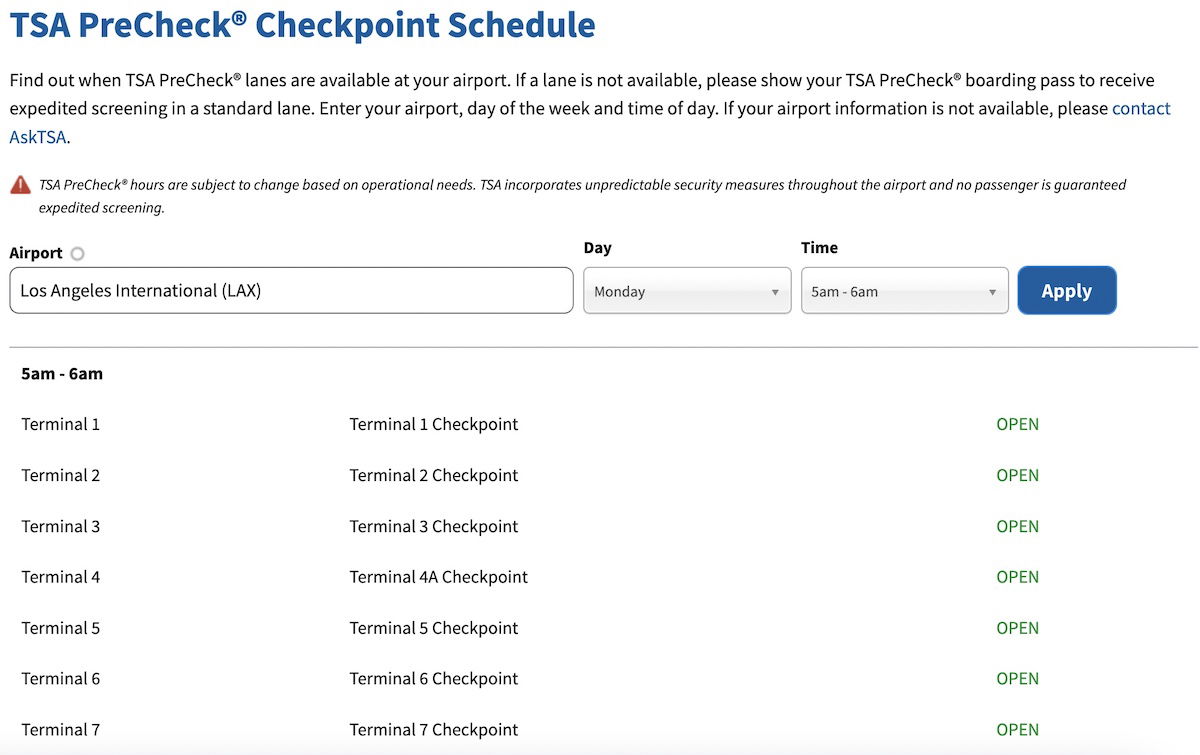 Enrolling in TSA PreCheck is easy, and keep in mind that there are many credit cards that reimburse your TSA PreCheck or Global Entry membership fee.
Is it important to know TSA PreCheck hours in advance?
I find TSA PreCheck to be a huge timesaver, as lanes are almost always shorter than the standard security lines. So I think it's always worth knowing in advance whether a checkpoint will be available, so you can time how early you should get to the airport.
While CLEAR can also save you time at security (and it's a complement to TSA PreCheck, rather than a substitute), I don't find the time savings to be as consistent.
TSA PreCheck has expanded nicely over the years, and nowadays you'll find that there's generally a PreCheck lane when a particular checkpoint is open. However, there are exceptions, especially at smaller airports, and in terminals with quiet periods during certain parts of the day.
A few other things to keep in mind when it comes to using TSA PreCheck:
If a TSA PreCheck lane isn't open but you have TSA PreCheck, you'll generally be given a card that allows you to keep on your shoes and go through the metal detector rather than the full body scanner, while still using the "standard" lane
Even if you have TSA PreCheck, you may not always be eligible to use it; this is especially true if you have "SSSS" on your boarding pass, as you'll then be subjected to additional screening
Bottom line
TSA PreCheck is a fantastic program that can save you a lot of time at the airport. TSA PreCheck is available on a widespread basis nowadays, though not all checkpoints have TSA PreCheck lanes all hours of the day. Therefore it's always useful to know before you head to the airport whether you can expect to have PreCheck or not.
If you have TSA PreCheck, what has your experience been with expedited airport security?