Citi is an advertising partner of OMAAT. The information and associated card details on this page for the Costco Anywhere Visa® Business Card by Citi, and Costco Anywhere Visa® Card by Citi have been collected independently by OMAAT and has not been reviewed or provided by the card issuer.
As we've known since early last year, Costco is replacing American Express with Citi for their exclusive credit card agreement. With Citi taking over the contract, all Visa cards will eventually be accepted at Costco stores.
Citi was supposed to be taking over the Costco contract from American Express on April 1, though in early February we learned that would be delayed, and that American Express cards would continue to be accepted at Costco stores until at least June.
Then in early March we found out the reason for this — American Express is selling their portfolio of Costco cardmembers to Citi in a billion dollar deal, meaning those with the Costco Amex will have their card converted into a Costco Visa in the coming months. This will make the transition easier for cardmembers, since those who want to continue to have a Costco credit card won't have to apply for a new one.
Over the weekend the details of the transition were laid out, including the following:
American Express cards will be accepted at Costco stores through June 19, 2016
Starting June 20, 2016, only Visa credit cards will be accepted at Costco stores
Cardholders should receive account information from Citibank starting in April 2016, and will be mailed their new Citi Visa Costco cards in May or early June 2016
Rewards earned through the Costco American Express will transfer to the Costco Citi Visa
There will be no credit pull as part of the transfer process, and cardholders will maintain their credit line
Now Citi has a website with all the details of the new Costco Anywhere Visa Card by Citi, and it's quite compelling. What I'm really surprised about is that they're changing the rewards structure of the Costco Card.
The Costco American Express Card (being discontinued on June 19, 2016) offers the following return on spend:
3% cash back at US stand-alone gas stations and on gasoline at Costco (up to $4,000 per year), then 1%
2% cash back at US restaurants and on eligible travel purchases, including at Costco
1% cash back on other purchases, including at Costco
However, the new Citi Costco Visa Card (being introduced on June 20, 2016) will have different bonus categories:
4% cash back on eligible gas worldwide, including at Costco (up to $7,000 per year), then 1%
3% cash back on restaurant and eligible travel purchases worldwide
2% cash back on all other purchases from Costco and Costco.com
1% cash back on all other purchases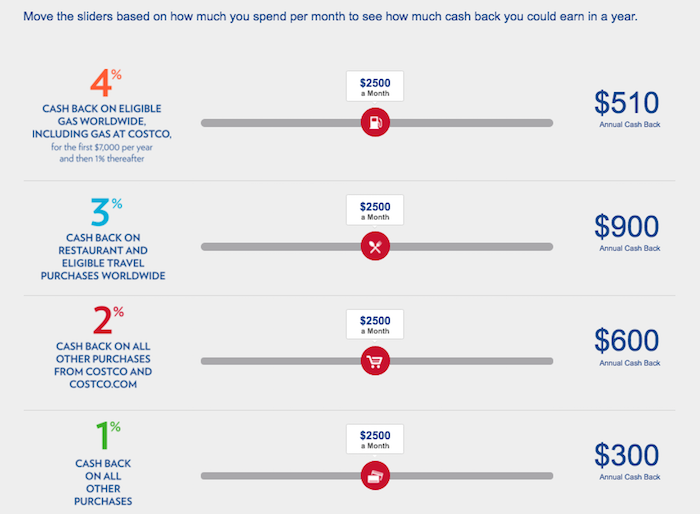 To recap the differences between the old American Express and the new Citi product:
Cash back on Costco spend will be increasing from 1% to 2%
Cash back on gas will be increasing from 3% to 4%, and the cap will be increased from $4,000 to $7,000
Cash back on restaurants and travel purchases will be increasing from 2% to 3%
And the card still won't have an annual fee! That's really, really impressive, given Citi is increasing the cash back in all bonus categories by 1%, and isn't actually taking anything away.
Bottom line
I'm really impressed by what Citi is doing with their new Costco Card. They've first worked out a deal with American Express to take over the portfolio so that people don't have to apply again, and on top of that are significantly improving the rewards structure.
This isn't the card I'd personally use for everyday spend, though part of the reason this portfolio is so profitable is because a bunch of people do use their Costco cards for everyday spend. If you're one of those people, you should be thrilled by this improvement.
Are you also surprised to see Citi improve the bonus categories on the Costco Visa Card?
Links: