Earlier this summer, I wrote about a somewhat harrowing experience getting stuck in Chicago overnight. While delays at O'Hare are probably more snooze-worthy than news-worthy, the unexpected overnight stay in Chicago did present the opportunity to take advantage of Chase's trip delay insurance.
While it would have been nice to use this coverage for a slightly more aspirational property than the Bridgeview Inn (like, say, a Super 8), I was able to get the claim approved and closed. Now that I'm out of the woods, I figured it would be worthwhile to share what the experience was like, and what kind of documentation was required.
Trip Delay Coverage – The Basics
In essence, if you book a flight or train ticket with a credit card that offers trip delay coverage and you are delayed for a substantial amount of time (typically 12 hours, or overnight), you are eligible for reimbursement for up to $500 worth of expenses.
Like with all things insurance, there are plenty of rules and caveats involved, so you can head over here if you want to learn more about which cards offer trip delay coverage, and what the terms are.
Filing a claim with Chase
In this particular case, I was flying on United and booked the trip with my United MileagePlus Explorer Card, in order to be eligible for the free checked bag. Given that United credit cards are issued by Chase, I knew that I would be working with their third-party insurance provider, Card Benefit Services.
[omaat-credit-cards title='Chase cards to consider' cat='chase-card-issuer' count='16' rows='2′ style='light']
Unfortunately (for Chase), I've worked with Card Benefit Services before, after a pretty rough stint with rental cars last year. This time, I figured I would do things a little differently since I wanted to review the process and see what was allowable. I wasn't necessarily in a huge rush to get my whopping $179 reimbursed, so I decided to play things a little more loosely in terms of paperwork, just to see what they would or wouldn't accept.
Needless to say, I learned a few things.
Starting the claims process
While you are required to file the claim within 60 days of the incident, you don't actually need to get all of your paperwork in until 100 days from the incident. All that to say that it's worthwhile to open the claim, even if you're still scrambling to get all of your receipts in one place.
To start the claim, you need your name and credit card number (and to not be a robot):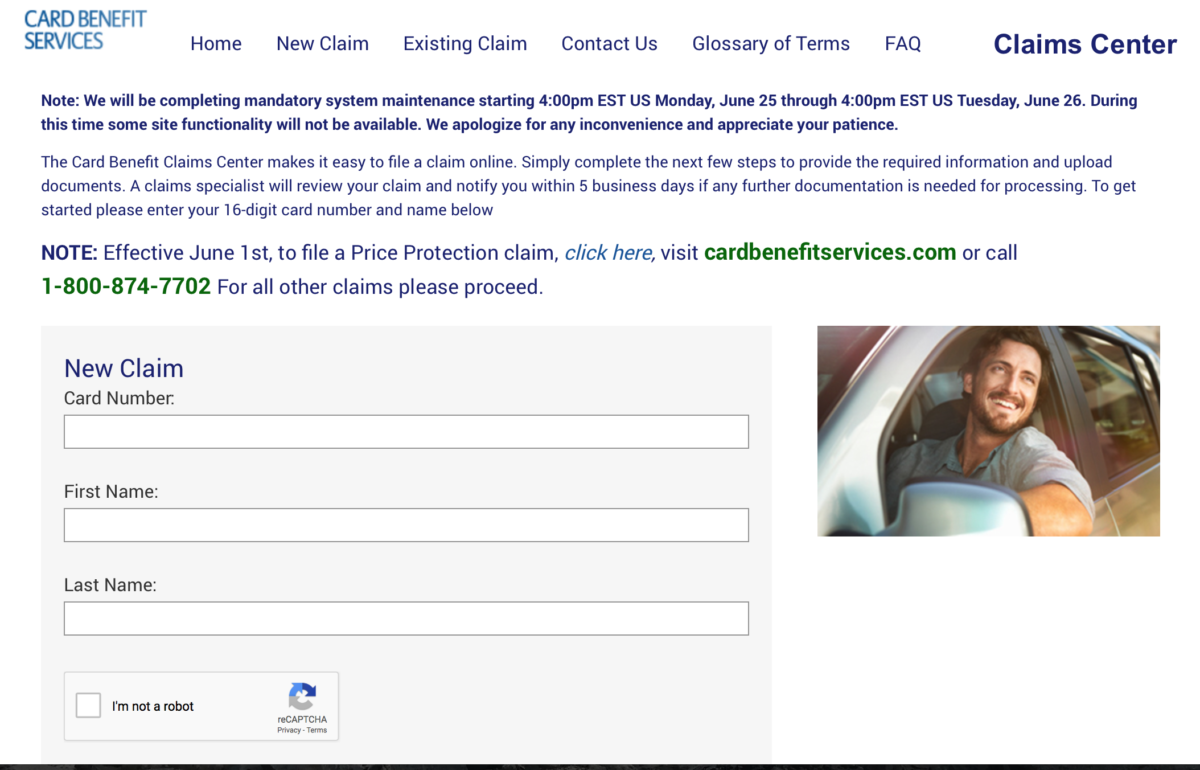 And then you need to select your claim type: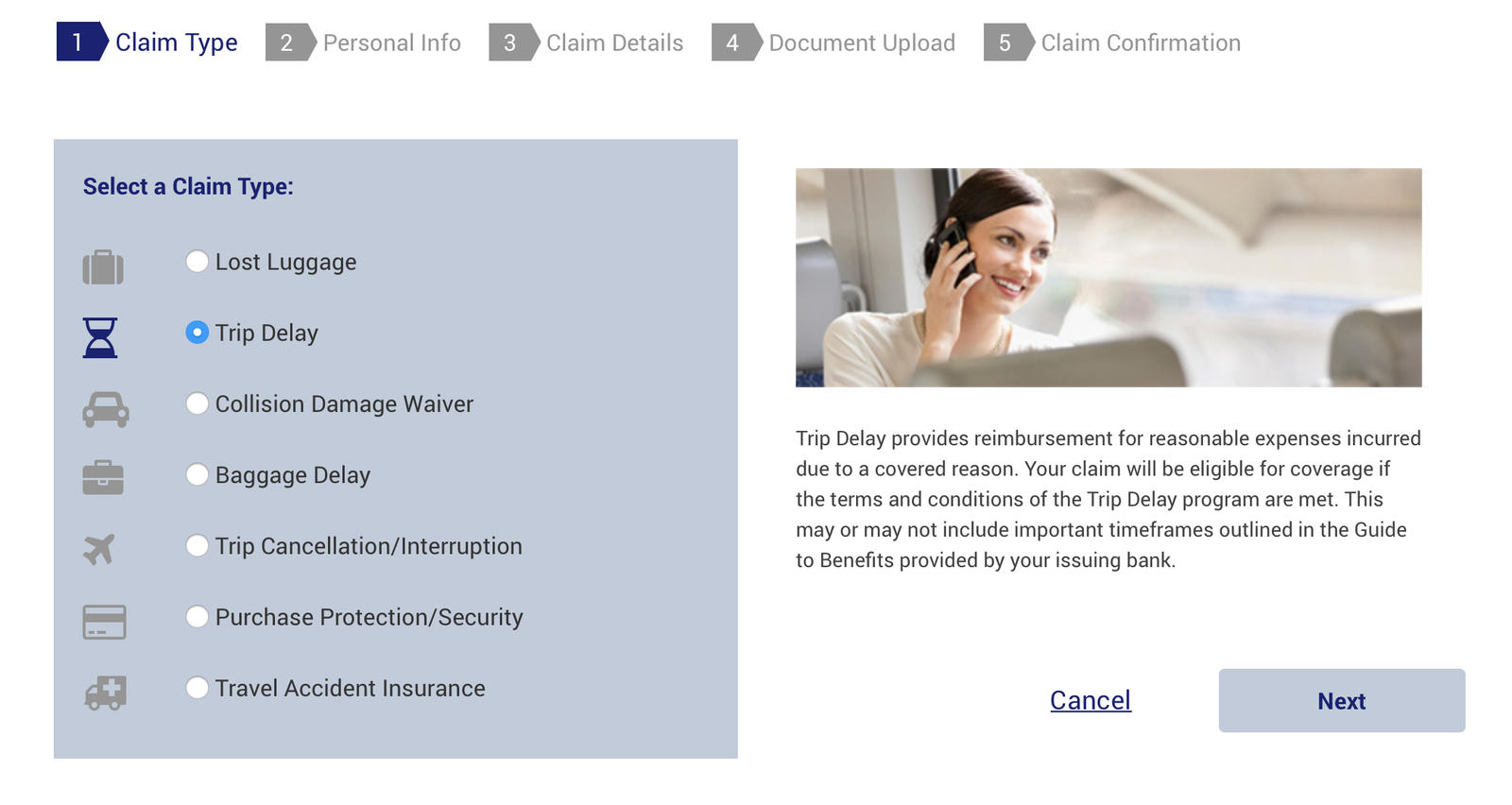 And fill out your contact information: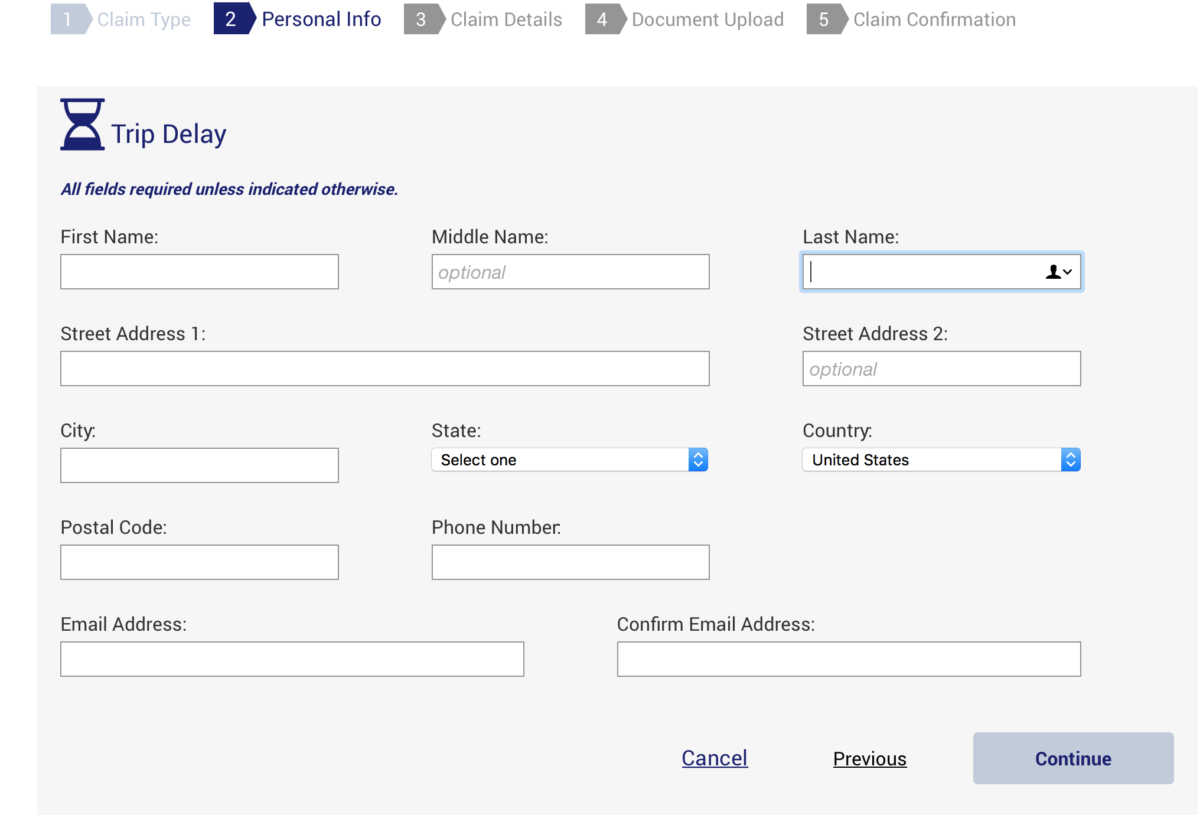 They also require the date of ticket purchase, date of travel, claimed amount (total amount that you spent and are submitting for reimbursement), and the reason for the delay.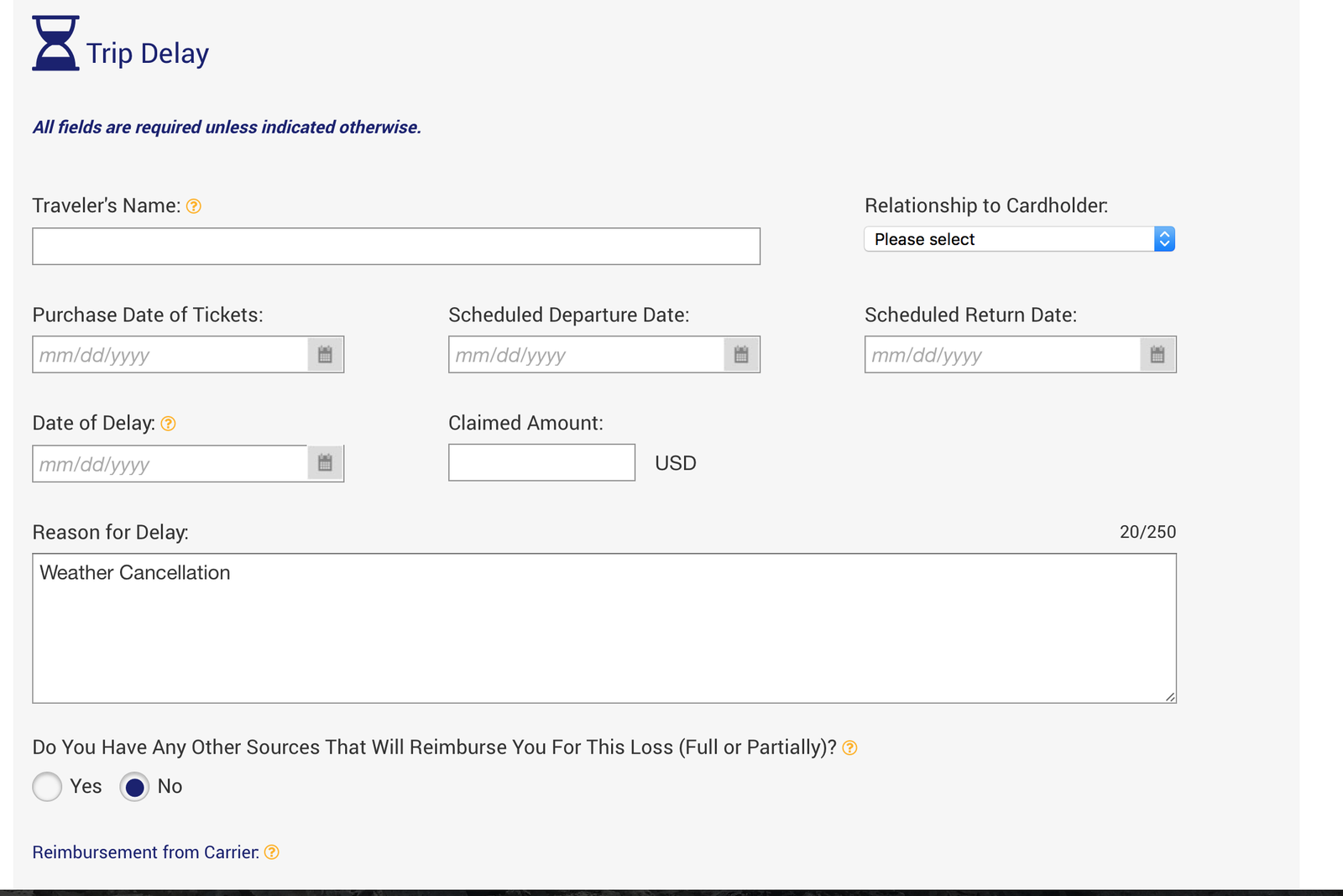 Finally, you're led to a screen where you can submit the necessary paperwork. This is where it's easy to get scared away – or at least have your eyes glaze over. But the good news here is that you don't actually need any of this paperwork in order to submit the initial claim.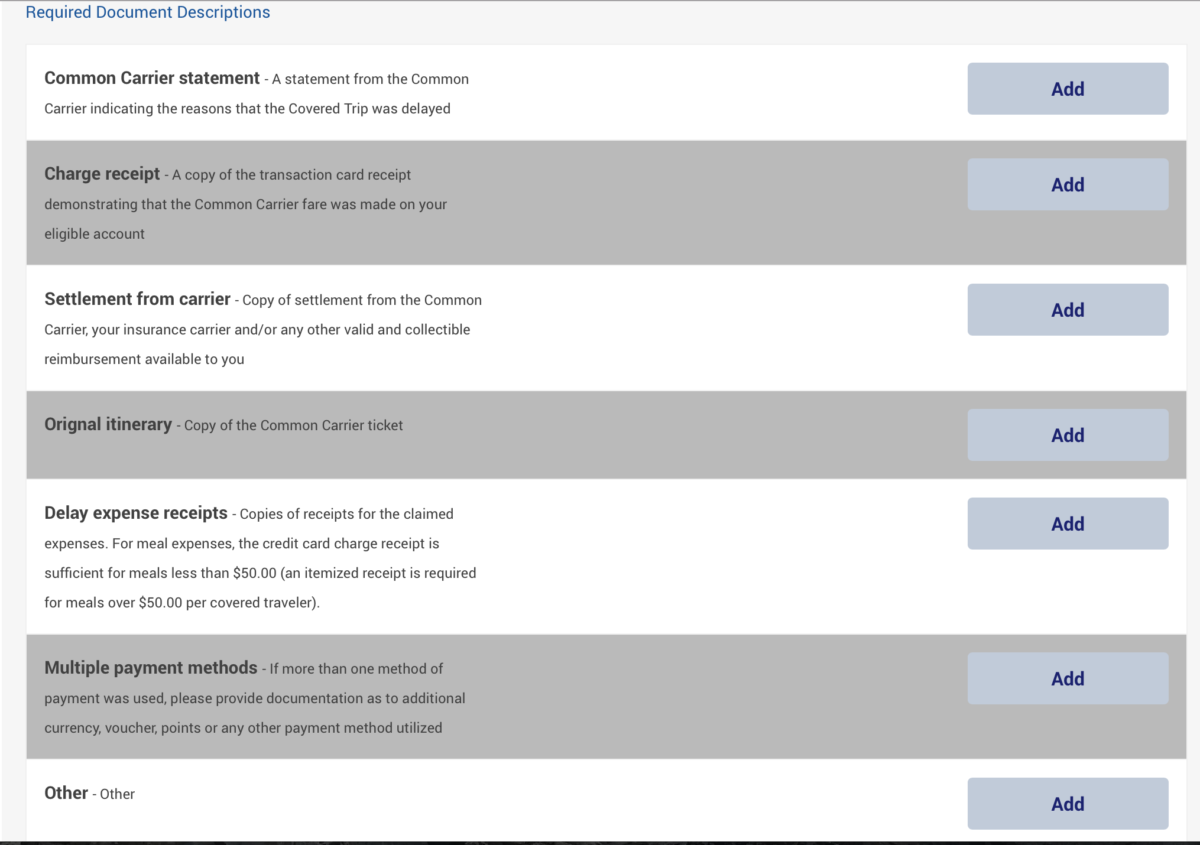 You will eventually need all of these documents in order to get the claim approved, but you can always log back in later to upload additional documents
And boy, did I go back in later.
The necessary paperwork
The crux of this process (or any insurance claim, really), is getting the necessary paperwork in. While you don't necessarily need a law degree to figure it all out, it may appear that way on the surface, and I'm sure that's by design.
So let's take a look at each of these items, what I submitted, and what actually worked.
Common Carrier Statement
This first one was probably the trickiest – and took three tries to get right. In essence, the benefits administrator needs some sort of statement from the carrier (in this case, United), verifying the reason for the delay or cancellation.
The easiest way to get this is to request a "Military Excuse" from the gate agent or ticketing agent at the airport, but in this particular case, I wanted to see what would work if I didn't have a chance to do this.
(Also, Chicago's rush hour traffic got me to the airport later than I would have liked, so I was a little bit preoccupied by the time I got to O'Hare.)
What didn't work
When you initially file the claim, you're only able to upload images through the website, so my first attempt was to simply submit a screen shot of the email stating that the flight was canceled.
Much like me, on the day that I was trying to leave Chicago, that didn't fly.
The second attempt involved forwarding the email from United that stated that the flight was canceled. This is hard to do when you're initially filing the claim, but once you've filed, you can forward emails to the generic email address with your claim number in the subject line.
Unfortunately, that still wasn't enough.
What worked
After several rounds of communication with United, I was able to get them to send a statement outlining why the flight was canceled. My phone call yielded absolutely no results, but I was able to submit a request through the "contact us" button at the top of the united.com homepage.
It took them eleven days (as opposed to the posted 72 hours) to respond to my request, but they did send me a statement of cancellation, without any further questions.
In a Microsoft Word document, in case you're wondering.
Once I got the official document from United on their letterhead and uploaded it on the Card Benefit Services website, that did the trick.
Charge receipt
In order to be eligible for a claim, all or part of the ticket in question must be bought with the card through which you are submitting for reimbursement. Unsurprisingly, they'll want proof of this in some form or another.
What didn't work
When I first filed the claim, I uploaded a screen shot of the credit card statement with the airfare charge. Within a couple of weeks, they came back around and stated that the needed a copy of the monthly billing statement that showed the last four digits of my credit card, as well as the charge for the airfare.
What worked
By the time I received this request, my monthly billing statement had closed, so I was able to download the credit card statement from Chase and upload it to their site. I also forwarded the email documenting the initial purchase of the ticket, just for good measure.
Once I got these documents in, they left me alone on this front.
Settlement from carrier
If you are delayed for reasons that are within the airline's control (mechanical, for example), they may reimburse you for some of your expenses. If that's the case, you are required to provide proof of what was reimbursed, and the insurance will cover the difference.
In practice, I have no idea how this is enforced, and unfortunately for me at the time (but fortunately when I was submitting the claim later), this wasn't the case. All that to say that I had no settlement from the carrier to show.
Original itinerary
Or should I say, "orignal" itinerary, if I'm quoting their website directly (scroll back up and you'll see). I was a little worried about this one, because I had already changed my original flight once due to delays, and my new flight was the one that got canceled.
What worked
My concerns here were unfounded, and in this case, a screen shot of the original itinerary was sufficient.
Delay expense receipts
Naturally, in order to be reimbursed, you have to submit receipts for the expenses incurred. This is probably second nature if you're traveling for business, but if most of your travel is for leisure, you will want to be careful to save everything in order to save yourself from headaches later.
In this particular case, my only reimbursable expenses were the hotel (all $67.19 of it) and my Uber rides. That said, you're also allowed to submit for meals, toiletries, medicine, and other "reasonable expenses."
In hindsight, maybe I missed an opportunity…
What didn't work
Apparently, the screen shots of my Uber receipts did not go over well, because I received the dreaded email indicating that the receipts provided "did not show the charge for the item(s) claimed."
What worked
While some clients require that I submit receipts in PDF form (and you can read all about that here), the photograph of my hotel receipt worked just fine here. I forwarded my Uber receipts – the versions with the tip on them – with the claim number in the subject line, and that was enough for the folks at Card Benefit Services.
Multiple payment methods
If you pay for a ticket with points or another form of currency, you are still eligible for trip delay coverage – provided that you pay for the taxes and fees with the card in question. This line item just means that you have to provide proof of all forms of payment before you can be reimbursed.
In this case, my ticket was paid for outright with my Chase card, so I didn't have to submit anything.
Timeline
Aside from a couple of paperwork submission glitches, which I was expecting, the biggest issue was the amount of time that it took for Card Benefit Services to respond to my requests. While it all eventually got resolved, their promise of being contacted "within five business days" was a little ambitious. Here's what it actually looked like:
I submitted my initial claim on June 25th, and received the request for additional information eight calendar days later.
I submitted the additional paperwork almost immediately, and received the second request for additional information eight calendar days later.
I finally submitted the last paperwork that they needed, and received the final thumbs-up three weeks later.
United's slow response to my request for the statement of cancellation caused some delays as well. While that isn't Card Benefit Services' fault, it is something to keep in mind if you are in a time crunch to get reimbursed.
All in all, I actually wouldn't have thought that the timelines were unreasonable if I hadn't known any better. But their "five business days" statement did feel like a bit of an overpromise.
Final outcome
Once I received the "congrats, we're reimbursing you" email from Card Benefit Services, I had the choice to receive reimbursement via paper check or direct deposit. I choice the latter option, and once I provided my bank information, I had the money in my account less than 48 hours later.
Not too shabby.
Overall impressions
While the process was a bit of a pain and a bit slower than I would have liked, in the end, I got what I wanted and didn't have to jump through any major hoops. I imagine that if I had forwarded my initial receipts right away and shown up with a statement from the common carrier in hand, everything would have gotten processed much faster.
So, while I'm not exactly clamoring to get delayed again, it's nice to know that this is a perk that many cards out there offer – and it's even nicer to know that it actually works.
Has anyone else used Trip Delay Coverage through Chase or another card provider? How did it go?