I recently wrote about some of the paper backup items that I travel with, particularly when traveling to some of the more remote parts of the world. While it may feel a bit arcane to travel with a stack of printed airline reservations, I'll probably keep hanging onto my paper itineraries for the foreseeable future.
That said, there are plenty of higher-tech items that I find equally valuable. Some are specifically designed for travel, others simply make business or personal travel easier, and still others are apps or functions that I have repurposed specifically for travel-related reasons.
So, as a follow-up to my recent piece, I figured I would share some of my favorite — and less obvious — tech tools that I rely on while traveling.
TurboScan
Try as I might to keep my hotel folios and car rental receipts electronic, my wallet still manages to look like it got hit by a receipt confetti bomb after a long business trip. Meal, fuel, and toll receipts add up quickly, and I've often ended up with enough receipts to wallpaper our living room.
To make matters worse, there are two of us in my household traveling for business, so I'm lucky to even find our couch on days when I'm doing expense reports.
Enter TurboScan. While I love taking pictures of receipts and calling it a day, there are plenty of clients who still require PDF or JPEG copies. TurboScan allows the user to photograph receipts or other paper documents, and converts them into the file format of choice – right on the app. I can then email my documents in a single bundle, to my email address of choice and from my email address of choice.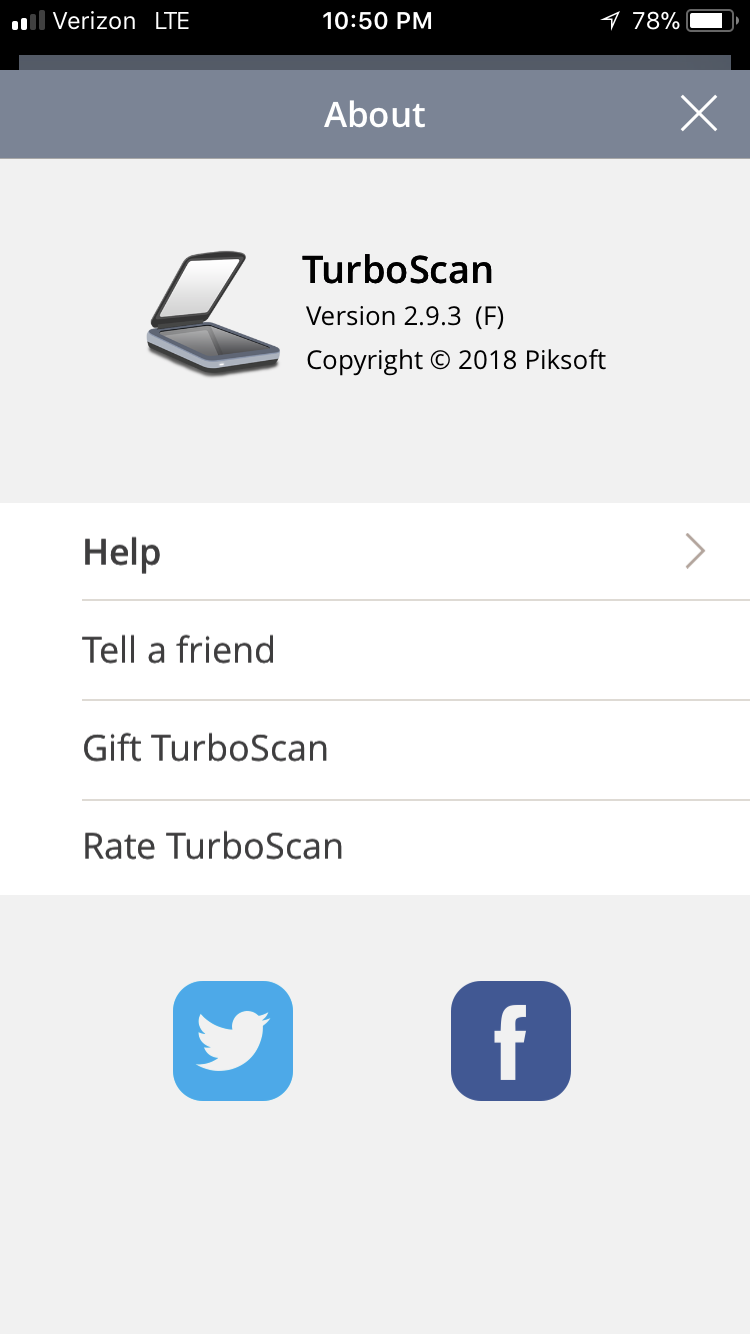 Not only has this saved my expense reports (and my living room!) but I've been able to send many a last-minute document while traveling, without having to rely on a hotel business center or some friendly front desk staff to scan and send something for me. Even my accountant was impressed with my turnaround time during tax season, which is never something I thought I would say.
The app currently retails for $6 and is available for both the iPhone and Android. You can do a free download to test it out on a limited amount of scans before purchasing the full version – but I've found the investment to be more than worth it.
Honestly, it almost feels like cheating.
TripIt
I'll admit – I'm a new adopter. The app has actually been on my radar for years, but until some of you suggested it as an alternate way to store itineraries, I hadn't really taken the time to follow through and set up an account. But your recommendations couldn't have come at a better time.
My memory for general itineraries is usually pretty good, and I typically back-fill any gaps with hotel and airline apps when I'm traveling domestically. But a recent business trip threatened to stump me. I was on tour with a client and was traveling to three separate cities over the course of three days, two of which I'm not too familiar with. And I was capping off my week with some personal travel over a long weekend. During this seven-day stretch, I had:
Three separate Sheraton (work) reservations in three separate cities
One (personal) Aloft reservation
Two separate Hertz (work) reservations
A third (worksonal) Budget reservation
Four separate flight itineraries with six individual segments spanning all three major U.S. carriers
In addition to this:
Two out of the three Sheraton reservations were located in similar parts of town in their respective cities, and had almost identical names
Two of the three cities that I was traveling to are serviced by two different major airports
I was traveling to three new client sites
My memory is good, but it's not that good.
What TripIt allows you to do is to store all of your itineraries in a single location – kind of like if the airline and hotel apps all talked to each other. You simply set up an account, forward your itineraries to a dedicated email address, and voila! There they are.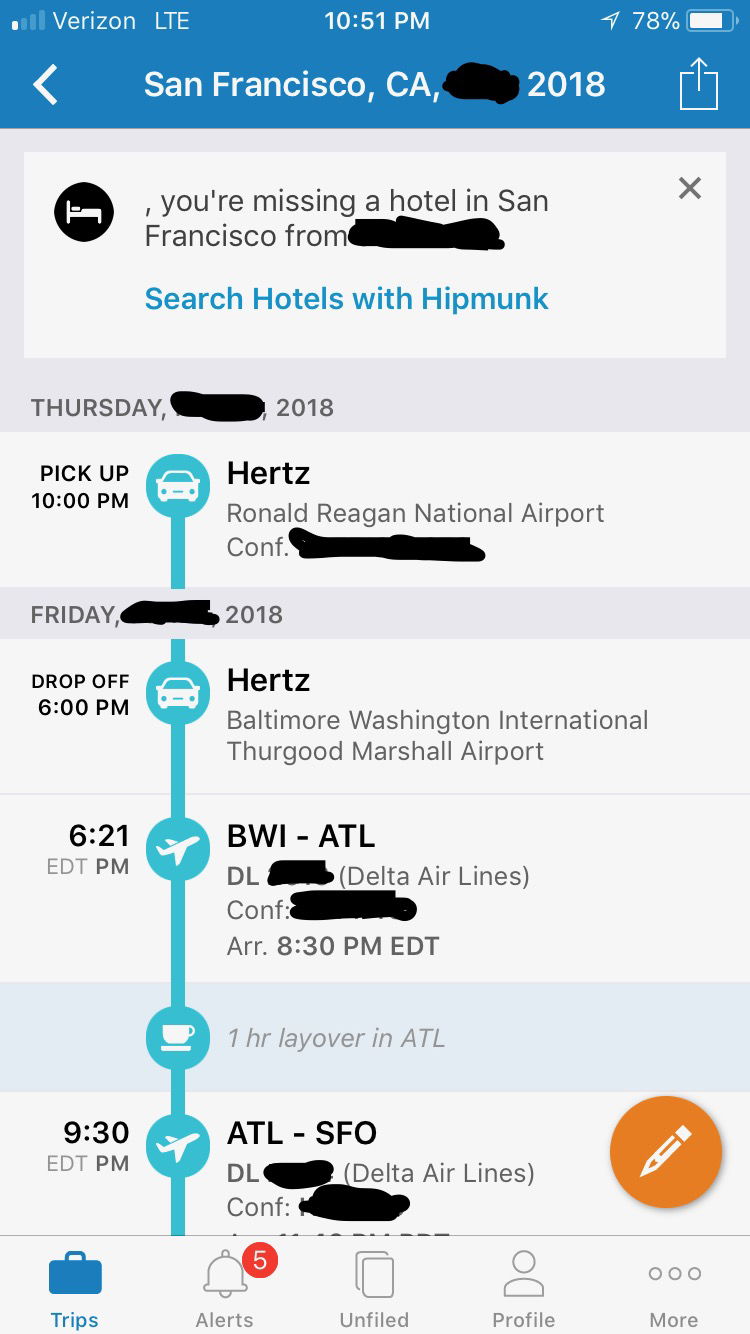 There are a couple of minor annoyances to be aware of. The primary one is that the platform sends you a confirmation email every time you forward an itinerary, which gets old pretty fast, but you should be able to set up an Outlook rule or Gmail filter to get around this.
Additionally, the app gets confused if you skip a hotel night, and treats your return itinerary as its own dedicated trip.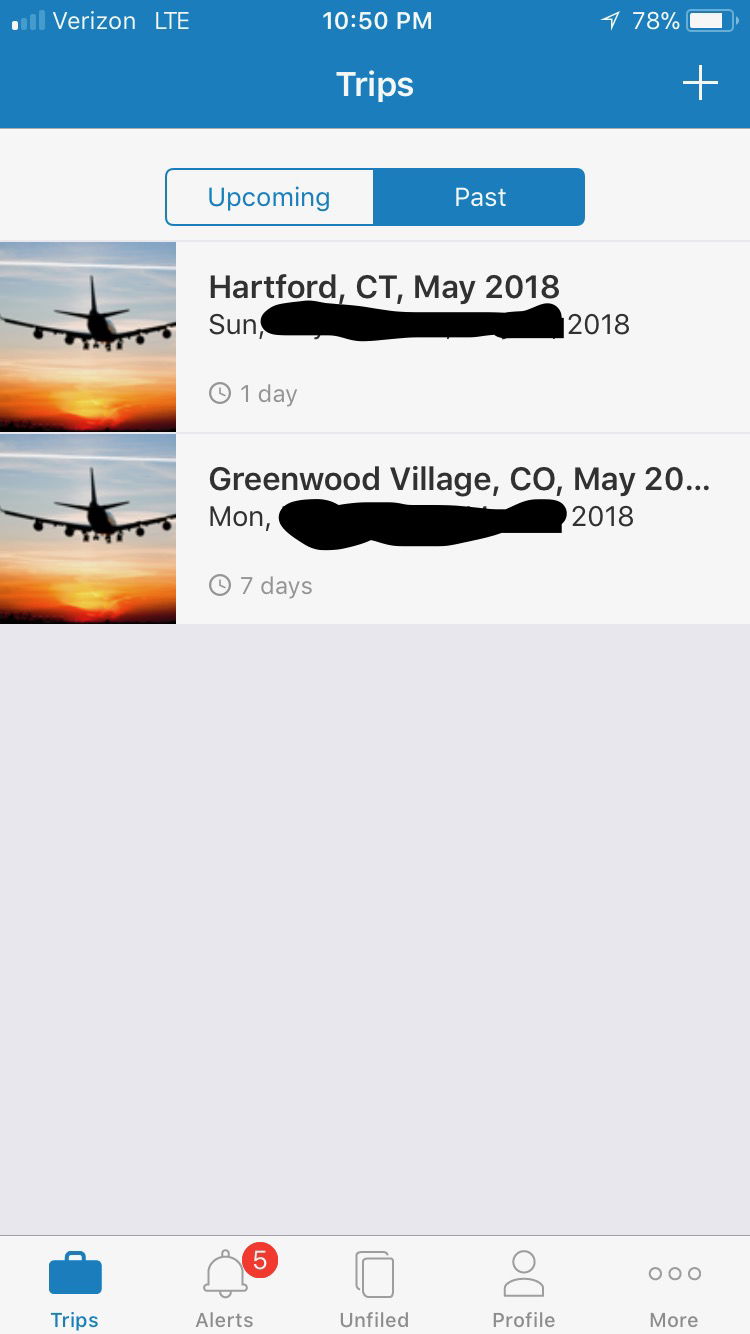 Overall, though, it's nothing but love on my end. If anyone has any additional tips or tools, have at it! I'm still the new kid on the block with this one.
Parallels Desktop
I'll admit, this one is pretty niche to business travel, but it's been great. Once upon a time, I had three laptops in my possession, and regularly traveled with any combination of two of them. As you can imagine, it was a real joy to have me in the TSA line, particularly when PreCheck wasn't available. (If you were ever stuck behind me in 2016, I'm sorry, and I'll buy you a premium drink if I ever run into you in a lounge.)
As an avowed Mac user, I'll probably never make the shift over, but there are certain client projects that I need a PC interface for. No single application has been more helpful to me while traveling than Parallels Desktop.
Essentially, it allows my Mac to run on a PC interface when I want it to – all while preserving my existing data and documents. I have the full Microsoft suite for when I need it – and the full array of Mac applications for the rest of the time.
I know that many of us are secured to work PCs for client security reasons, but if you have any flexibility in this arena whatsoever, this has been a lifesaver. For me, and for the people standing in line behind me.
Portable Phone Charger
"Gosh, this room just has too many outlets," – no one, ever. I'm sure most of us use our phones as alarm clocks (wake-up calls mean well, but, come on) and my biggest hotel pet peeve is probably the inability to have my phone plugged in nearby.
I'm sure there are plenty of cord-heavy solutions out there, but last year I received a portable charger as a gift, and it's done the trick and then some. Here are just a few instances where I've either found it useful, or wish I'd had one in hindsight (I'll let you guess which items fall into which category!):
Uber rides where there is no charging option available in the vehicle
Delayed New York City subway rides on a Friday afternoon when I fear I might miss my flight
Multi-day trips into the backcountry when my phone is my only camera
Plane rides with no outlets or non-functioning outlets
Any time I'm at the end of a two-year contract with an iPhone, and it starts, well, doing its iPhone battery thing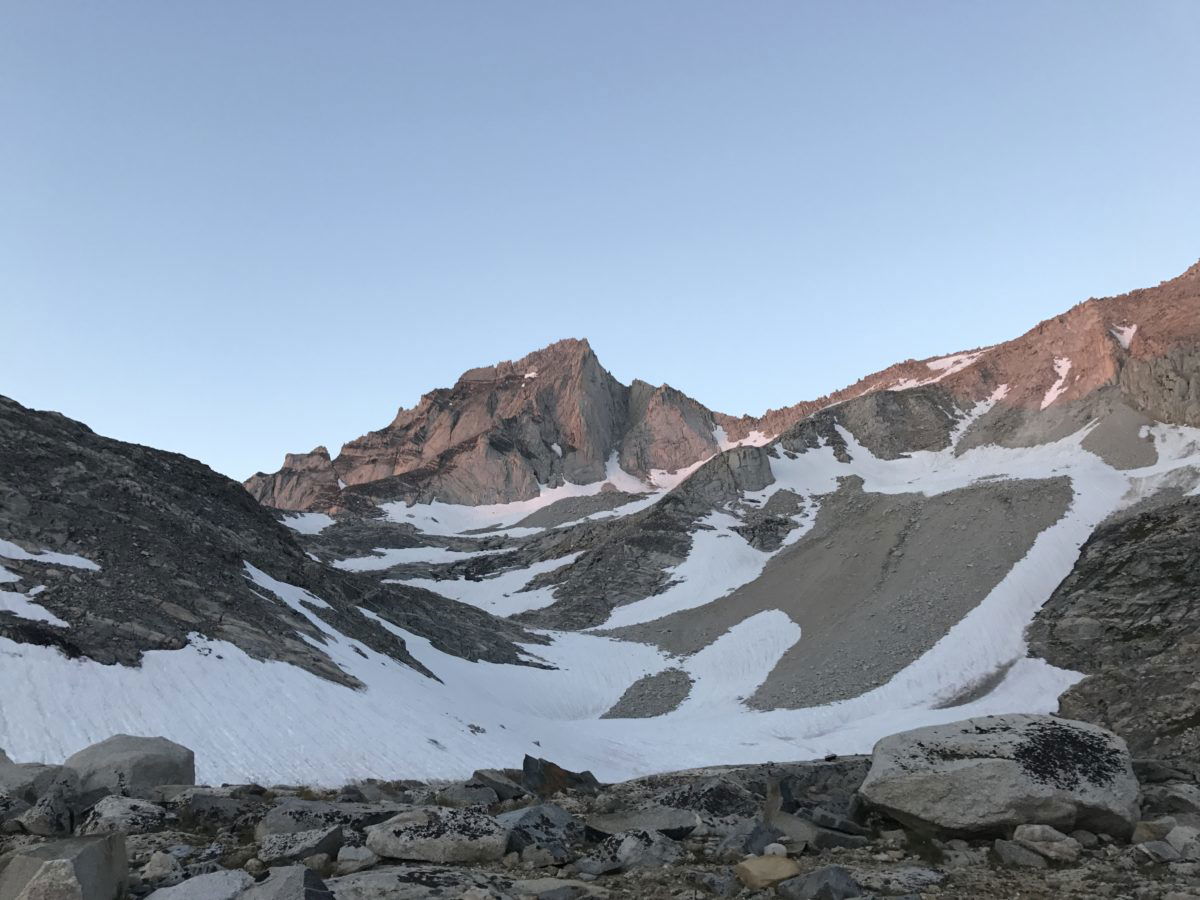 As far as the brand, I'm sure there are many out there, but I happen to use a Tzumi Pocket Juice, which seems to do the trick just fine. I've seen versions that retail anywhere from $10-$30, depending on the capacity, but the smaller ones should do the trick for an Android or an iPhone.
Speaking of mobile devices…
iPhone Reminders
I can't tell you how many times a day I remember something that I know I need to get to, but won't be able to do until later. Pay bill. Book flight before two-week window runs out. Write blog post for OMAAT (okay, I usually remember that one pretty well 😉 ). If you're anything like me and spend any time on the road, you know that your brain will probably remind you of this stuff at the worst possible time.
So what do I do? I make reminders for myself.
Unlike notes, which tend to fade into oblivion, and calendar items, which come and go when time elapses, reminders do exactly what they say they will do and remind you of said task. If you've never used it before, here is what it looks like: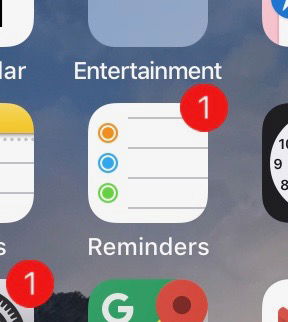 Start by adding a new reminder, and make sure to select the "i" icon: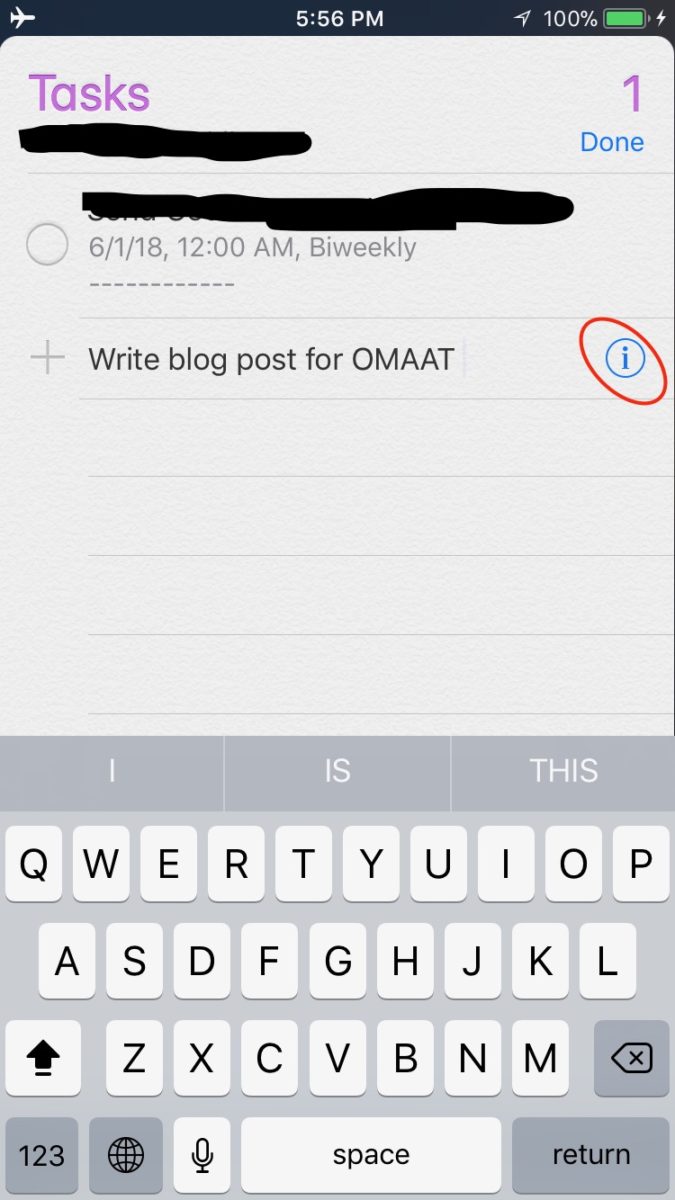 Then set it to remind you on a date and specific time: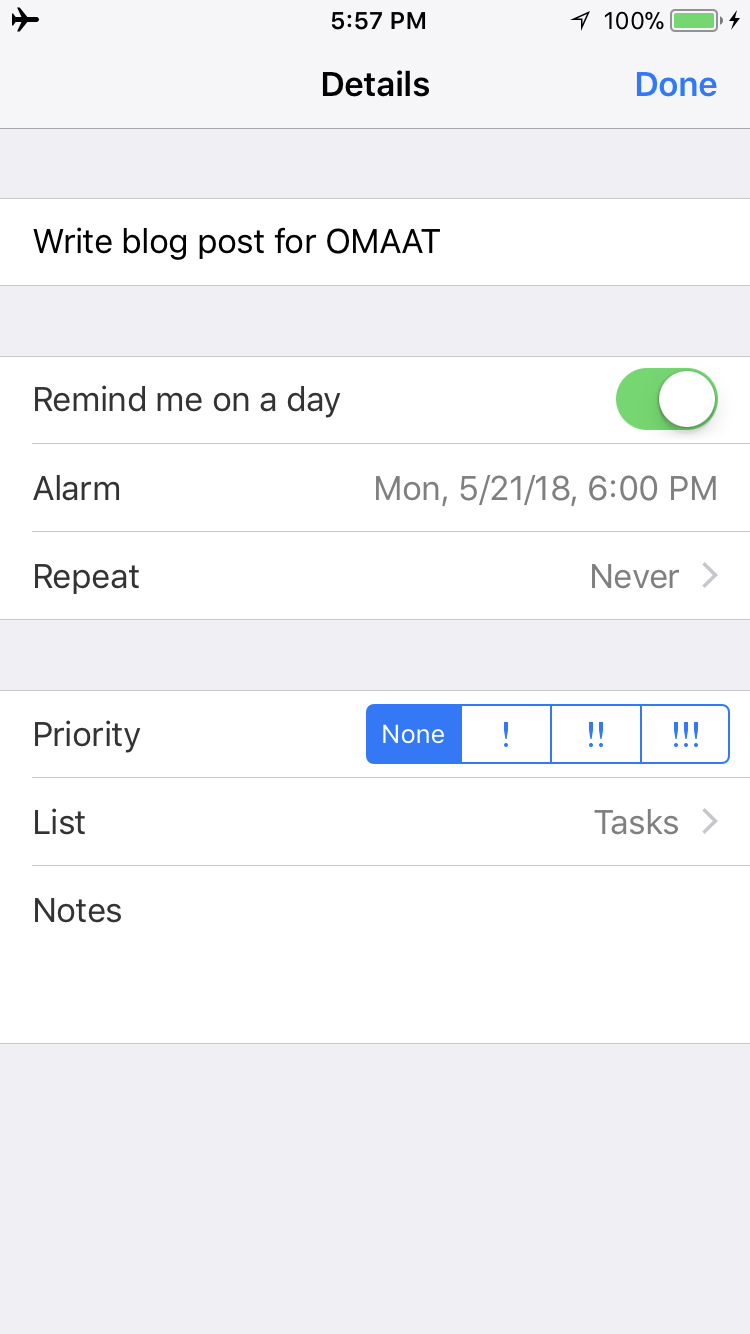 And then, when that time comes, it will haunt you show up on your lock screen until you check it off.
For the record, if you're an Android user, I don't have as much experience here, but here is a handy article that may help you out.
So simple, but it's gotten me out of hot water more than once.
Screenshots
Okay, I know we're moving into captain obviousville here for some of us, but of all of the functions that are built into my phone, this is probably the one that I use the most often. It's still my go-to catch-all if I'm trying to quickly capture a specific piece of information – like a flight number or a specific client location – and there are plenty of travel-specific times when I'll use it as well.
I've started to (finally) convert to Apple Wallet for my boarding passes, but there are still rare instances where I'll fly an "off" airline, and this is where these come in handy. For example, I fly JetBlue about once a year – which isn't necessarily enough to warrant downloading the app – so I'll take a screen shot of the boarding pass when it's emailed to me.
Just be careful that you don't confuse the screenshot with your actual screen – I've given myself a scare once or twice when I thought that I was late for my flight.
I'll also use this if my Uber driver starts to take the scenic route to get to my location. I try not to make a habit of canceling rides, but if the driver starts suddenly going the in the opposite direction and the number of minutes to arrival starts to go up, it's usually time to pull the plug. I've never had to dispute one of these charges, but I like to grab a couple of screen shots with time stamps, just in case.
Airplane Mode
Yes, I said it, I mean it, and it's actually my favorite. I'm (admittedly) the weirdo who actually likes it when I can disconnect from Wi-Fi at 30,000 feet – it's pretty much the only time I can dig into project work, free of electronic interruptions.
More importantly, I would say that the same holds true if I'm traveling internationally, particularly on vacation. I'm as glued to my phone as the rest of the world, and disconnecting myself intentionally really is the only way that I know I can stay truly present wherever I am.
And avoiding the $10/day Verizon surcharge doesn't hurt, either.
Bottom line
I know that there's a ton of stuff out there – and I really can't wait to hear what the rest of you are using – but each of these tools has helped me with one specific travel-related problem or another. I'll still hold onto my paper itineraries – even with a portable charger in hand – but these tools all continue to treat me well.
I know I'm probably opening Pandora's Box here – but what are your favorite go-to travel-related tech tools? Please weigh in below – this is where I get my best ideas! 😉