I need to spend a night in Frankfurt early next week, and am trying to decide where to stay. I've stayed at the InterContinental, Westin Grand, and Sheraton Airport, so I was tempted to try the Le Meridien (and back off grammar police, we've been through this before). 😉
The rate was surprisingly low at 99 Euros and I was about to make a booking until I saw the size of their entry level room: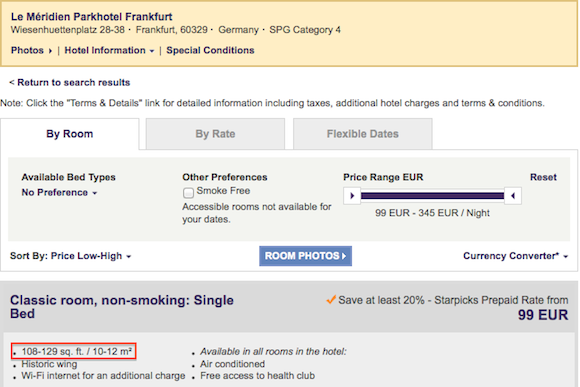 108 square feet? Given that part of that is a bathroom, that's tiny. I realize there are plenty of local hotels in Europe and Asia with rooms that size, though has anyone ever seen a room that small at one of the major hotel chains? Prior to this I don't think I've ever seen a room at a Starwood hotel of under 180 square feet, so this is a further huge drop.
Can anyone do better than 108 square feet? There's a Diet Coke with lime and hot nuts on the line…