Cathay Pacific has been progressively retiring their 747s over the past couple of years, and for quite a while now their only remaining 747 service to the US has been on one of the two daily flights between San Francisco and Hong Kong. I've taken this exact flight on the 747 many times, including last November and this June, and have always enjoyed it.
It's especially nice to snag seats 1A & 1K in the nose of the 747 when traveling with a companion.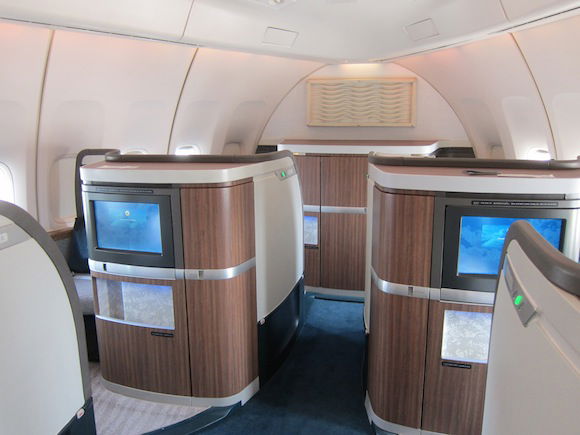 Cathay Pacific 747 first class
We've all known the service would eventually end, and it looks like that date is now in sight. Per Cathay Pacific's schedule, October 25, 2014, will be the last day of 747 service between San Francisco and Hong Kong. After that the flight that's currently operated by a 747 will instead be operated by a 777-300ER in a three class configuration (business, premium economy, and economy).
That's right, the 777-300ER replacing the 747 won't have a first class cabin, which is especially disappointing since the 747s have nine first class seats, the most in Cathay Pacific's fleet. To go from nine to six first class seats sucks, but to go from nine to zero is even worse. That represents a 60% reduction in first class seats in the market for Cathay Pacific.
For business class passengers this represents an upgrade, since the 747 was the only longhaul aircraft in Cathay Pacific's fleet that didn't feature the new business class product. That being said, the three cabin 777-300ERs are high density and only have 40 business class seats, while the four cabin 777-300ERs have 53 business class seats plus six first class seats, so this represents a huge capacity reduction as well.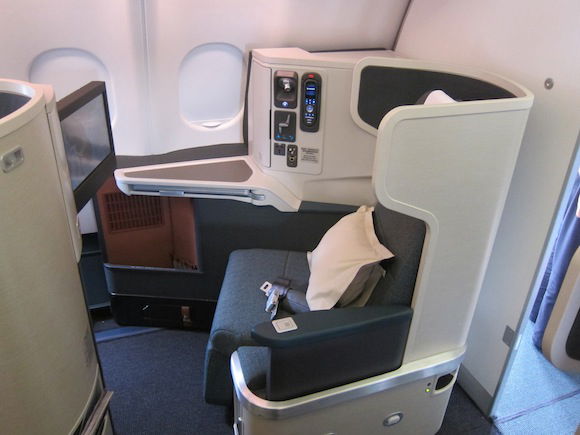 Cathay Pacific's new business class
As I wrote about in October, Cathay Pacific is getting progressively stingier with releasing first class award space. Up until earlier this year they'd usually release two first class award seats on most flights as soon as the booking window opened up, which is especially generous given that most of their first class cabins have just six seats. Unfortunately they've started opening up much less award space, and in most cases when they do release award space on the 777s it's just one first class seat.
That was the one nice thing about the 747 — because it has nine first class seats they've continued to usually release two first class seats on the flight.


Two first class award seats on 747
So if you still want to sit in the nose of a Cathay Pacific 747 to/from the US, this is a good time to book!
(Tip of the hat to altimetr)