Cathay Pacific has started regularly scheduled service to Pittsburgh for the next 12 weeks… but we're not invited.
Cathay Pacific's new Pittsburgh cargo flights
Cathay Pacific has this week launched a new 12-week cargo service to Pittsburgh International Airport (PIT). The service originates in Ho Chi Minh City (SGN), and then stops in Hong Kong (HKG) before continuing the long haul flight.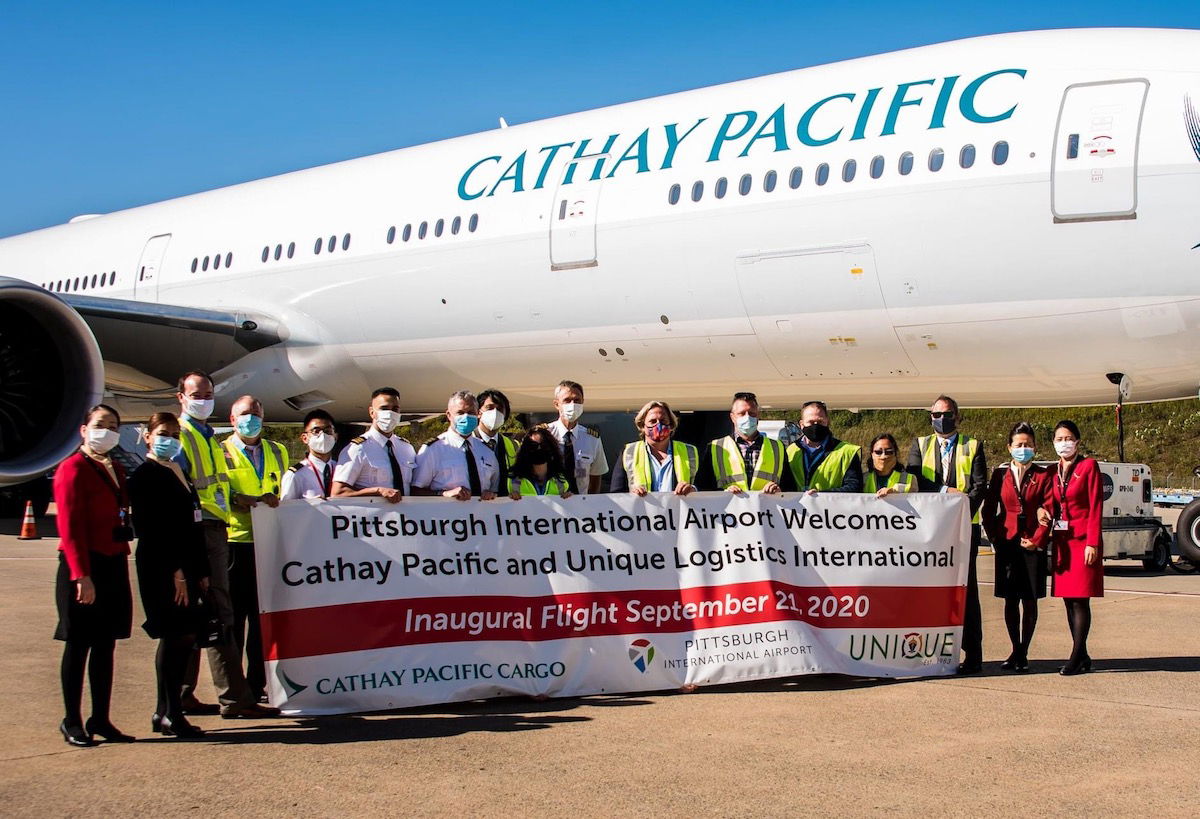 The twice weekly service will operate on Mondays and Thursdays through November 26, 2020, with the flight number CX8800. For example, the first flight took 2hr2min from Ho Chi Minh City to Hong Kong, and 14hr30min from Hong Kong to Pittsburgh.
As Fred Ruggiero, Cathay Pacific's VP of Cargo in the Americas, describes this service:
"Cathay Pacific is excited to link Hong Kong, one of the world's key intermodal airfreight hubs, to Pittsburgh. The city is ideally placed between the Eastern Seaboard and the Midwest, home to more than 50% of the population of the United States. Cargo remains a bright spot for the airline during this challenging time. This temporary expansion underscores Cathay Pacific's commitment to our freight forwarder partners, who requested an expanded cargo service to meet heightened demand. We are pleased to join forces with Pittsburgh International Airport and Unique Logistics and look forward to assisting with future freight needs."
What makes this flight unique?
Cathay Pacific has a separate cargo division, with a fleet of 14 Boeing 747-8s. These planes already serve 19 destinations in the Americas. For example, I see Cathay Pacific 747-8s overhead several times per week in Miami, typically flying to/from Anchorage, Atlanta, or Houston.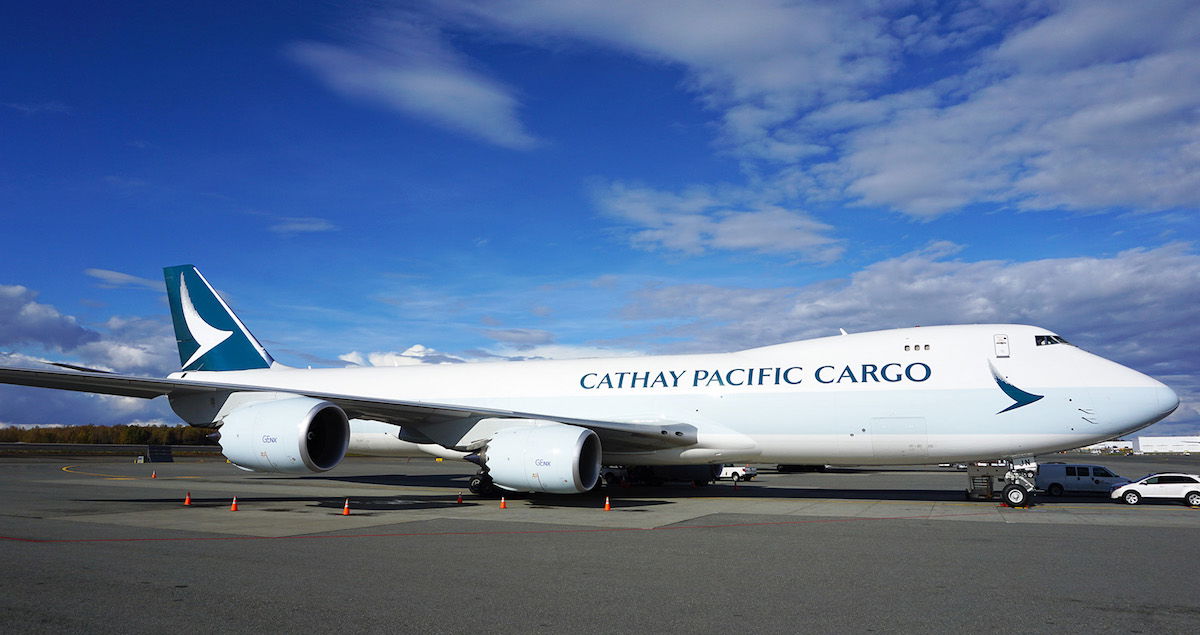 What makes this Pittsburgh service unique is that Cathay Pacific is using a passenger version of the Boeing 777-300ER for the flight, which has been reconfigured to remove economy and premium economy seats in order to maximize cargo capacity.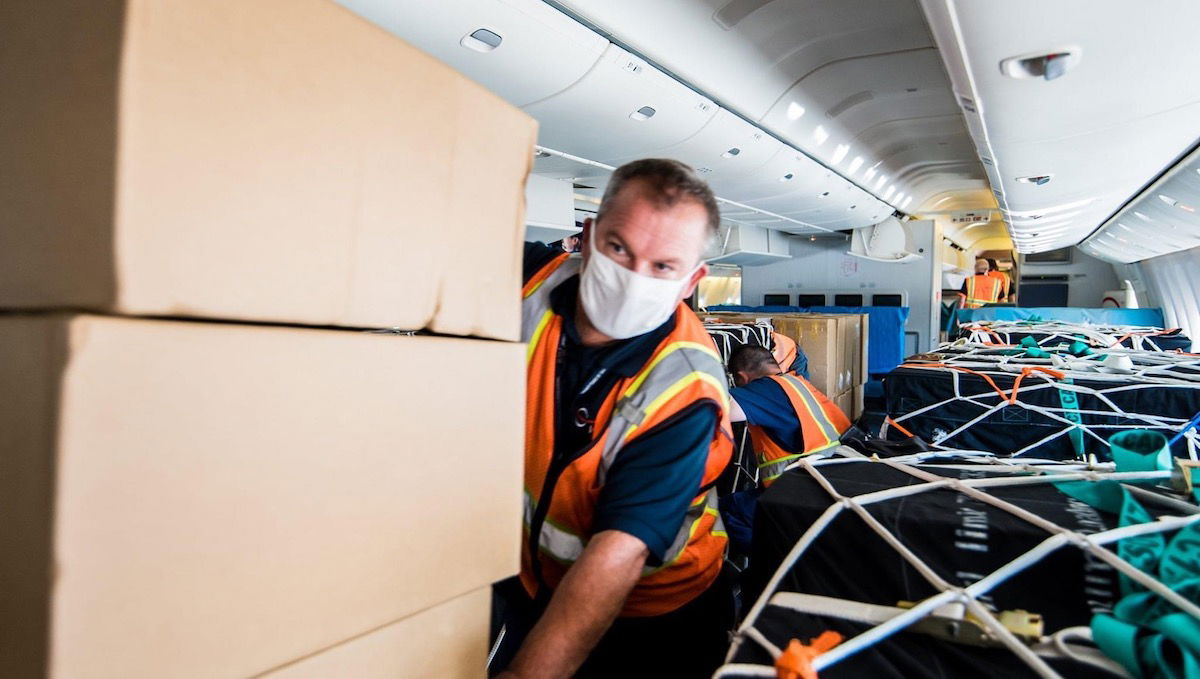 This reconfiguration enables Cathay Pacific to carry 12 additional tons of cargo with enhanced safety and security measures. The airline has so far only reconfigured two 777-300ERs this way, to respond to the growing demand for cargo.
While Cathay Pacific's 747-8s are "obviously" cargo aircraft, some may be shocked to see a passenger version of a Cathay Pacific 777-300ER in Pittsburgh.
As you may expect, cargo is currently performing better for Cathay Pacific than passenger service. The airline operated over 436 pairs of cargo-only passenger flights carrying over 102,000 tons of cargo and mail in August 2020 alone. And again, that doesn't even include the normal cargo operation.
Speaking of Cathay Pacific Cargo, if you're not following @pilot_obet on Instagram, you really should be. He's a Cathay Pacific 747-8 check captain from Zimbabwe, and he posts all kinds of awesome videos about the day-to-day life of cargo pilots. I love his enthusiasm, as he really seems to enjoy his job, and seems like a kid in a candy store.
https://www.instagram.com/p/CD8UfzzB5-u/
Pittsburgh's Asia aspirations
Unrelated to this situation, this story reminded me of how Pittsburgh Airport was really trying to attract a nonstop flight from Asia pre-pandemic. In August 2018, China Eastern operated two nonstop roundtrip flights between Shanghai and Pittsburgh.
The flights received nearly a million dollars of subsidies, as the city and airport authorities were trying to use this as a pitch to get an airline to add long-term nonstop service between Asia and Pittsburgh.
Suffice to say that two flights with nearly a million dollars in subsidies being "successful" wasn't enough to get any airline to permanently add service between Pittsburgh and Asia.
Bottom line
If you're at Pittsburgh International Airport and see a Cathay Pacific 777, you're not hallucinating. Rather Cathay Pacific is operating cargo flights between Ho Chi Minh City and Pittsburgh (via Hong Kong) for a period of 12 weeks.
While Cathay Pacific has a dedicated fleet of 747-8 freighters, this route will be operated by a modified passenger 777.
Pretty cool, eh?