Cathay Pacific likes to have some fun with announcing new routes. They just posted on Twitter asking people to guess what their next destination will be. They do this by sharing a crossword puzzle with the name of nine US cities.
— Cathay Pacific US (@cathaypacificUS) July 18, 2018
They name the following nine cities:
Austin
Dallas
Denver
Honolulu
Houston
Las Vegas
Miami
Salt Lake City
Seattle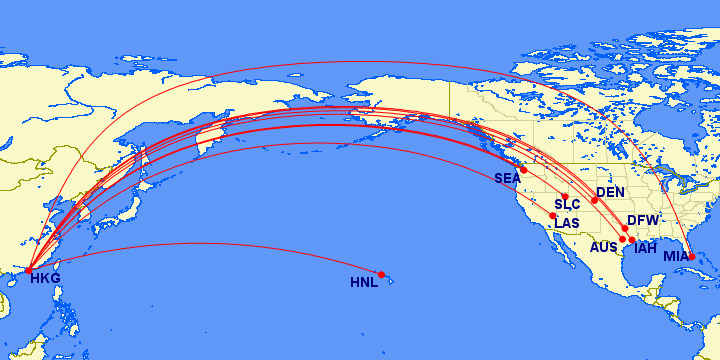 As an airline geek I love the games Cathay Pacific plays prior to announcing new routes. So, which route is Cathay Pacific most likely to start service to? I feel confident in my guess, so first let me share the reasons I don't think they're starting service to eight of these cities:
Austin — while this is a growing market that has been getting new longhaul service, Cathay Pacific would be the first Asian airline to fly there, and I don't think they'd do that given how conservative they are with their US growth; I do think an Asian airline will eventually fly to Austin, but I don't think Cathay Pacific will be the first
Dallas — American already operates this route, and given that American and Cathay Pacific don't have a transpacific joint venture, this seems unlikely
Denver — While Denver is quite sizable, it's also a United hub, so Cathay Pacific would have virtually no connectivity there
Honolulu — While some other Asian carriers are incredibly successful with flights to Hawaii, generally Hawaii has the most tourists from Japan and Korea, so I think this is unlikely to be Cathay Pacific's next destination
Houston — Much like Denver, Houston is a large market, but it's a United hub, so Cathay Pacific would have little connectivity here
Las Vegas — While there's significant demand for Las Vegas, this is a pretty low yield destination, so I just don't see this happening
Miami — Miami Airport has been trying to get service from an Asian airline for years; airport officials recently revealed that a flight from Tokyo on Japan Airlines is most likely, suggesting to me that a Cathay Pacific flight isn't happening anytime soon
Salt Lake City — This is a Delta hub, so it just seems unlikely to me that Cathay Pacific would fly here
I feel confident that Cathay Pacific will announce flights to Seattle. Maybe that's just partly be doubling down on having speculated this a few weeks ago, when I said that I think Cathay Pacific will announce service to Seattle within the coming months.
Why is Seattle an obvious choice?
Seattle is a growing US market that has seen a ton of longhaul expansion
Seattle is the closest lower 48 US city to Asia, meaning the flight time is shortest, and therefore operating costs are lowest
Cathay Pacific has a partnership with Alaska Airlines, so they'd have a ton of connectivity
Delta just announced that they're discontinuing their flight between Seattle and Hong Kong, so Cathay Pacific would have a monopoly (and unlike Delta I think they could make the route work, given that they'd have connectivity from all kinds of other points in Asia, and beyond)
In the past when Cathay Pacific hinted at their next US destination they also mentioned Seattle, which suggests to me that this is a destination that has been on their radar
So my money is on Cathay Pacific shortly announcing flights to Seattle. I'd give it 90% odds. But I could also be wrong…
What destination do you think Cathay Pacific will announce flights to?