A few days ago I sorta kinda stayed at the Aloft Abu Dhabi. Due to a series of unfortunate events, I ended up just spending a few hours there (and lemme say I didn't seem to be the only person using a room on an hourly basis).
While I generally love Aloft properties, I was not a fan of the Abu Dhabi property.
Anyway, here's something I've never been able to figure out. I redeemed 3,000 Starpoints for my one night stay, which is a hell of a deal [update: the hotel can now be booked for 17,500 Marriott points, which is less of a hell of a deal]. The paid rate was reasonable at ~90USD, but since I earn stay credits even for award stays, I figured I was best off saving the cash.
Here's where it gets confusing. The forfeiture amount if I cancelled my stay within a day of arrival was… 2,200AED (~600USD)?!?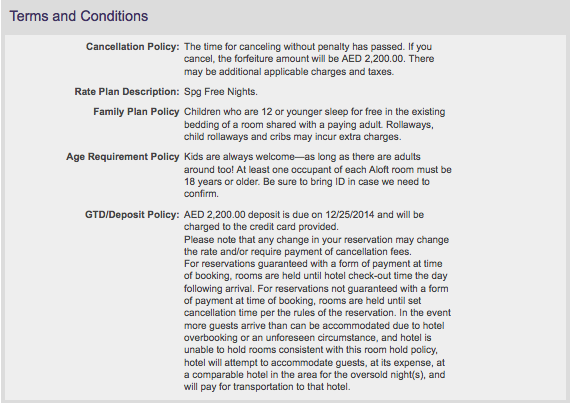 Now, not that I'd ever cancel an award stay within a day of arrival (I'd be better off just no showing), but why would the forfeiture amount be more than six times the cost of a revenue stay?
More generally, does anyone understand how forfeiture amounts on award stays actually work in the hotel industry?