Yesterday was a rough day for me, to put it mildly. For those of you that weren't online and did something crazy on Christmas (like spend time with your family 😉 ), check out my previous post: I Missed My Flight… By A Day… F*CK!
So let me pick up where I left off.
Chinese food yum!
I took a taxi from the airport to the Sheraton in Bahrain to try and sort things out and collect my thoughts. There I sat down in the cafe and had a cappuccino. It was oddly crunchy… because it had a bug in it!
I hadn't eaten all day (well, other than perhaps part of that bug) and realized that was probably contributing to my unhappiness with life at the moment. Good thing the Sheraton has a pretty good Chinese restaurant, so I set up central command there. I had my laptop, iPad, and iPhone out, and headphones in. I was the only one not having a family dinner.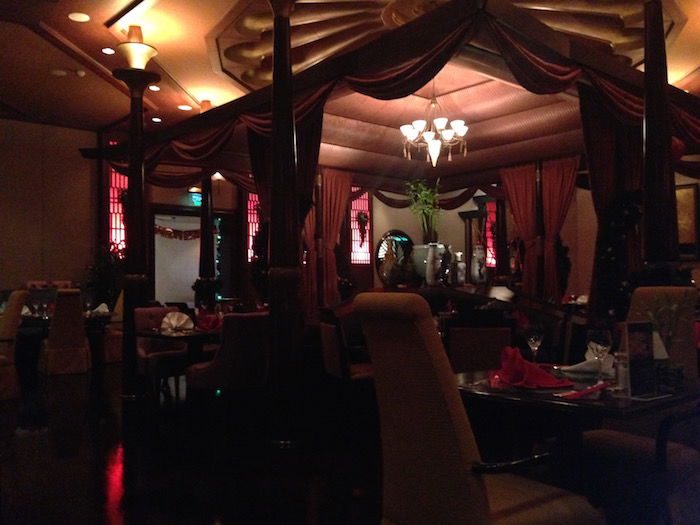 On second thought I realized that maybe garlic prawns and hot and sour soup before trying to negotiate/beg wasn't the best technique. But I digress…
Evaluating the options
At this point I realized I had to get to Abu Dhabi. There was no way to get to Colombo in time for my original flight, and I figured my best chance of negotiation would be in Abu Dhabi at the airport.
The way I saw it, I had three possibilities:
Find someone that was willing to drop the first segment so that I could just fly Abu Dhabi to London
Have them rebook me on the late night Colombo to Abu Dhabi flight the following day, which would leave me 90 minutes on the ground in Abu Dhabi, and book a separate paid ticket to Colombo
Just cancel my flight on the inaugural and call it a day
Obviously the first choice was the ideal scenario. My issue with the second option was that the Colombo to Abu Dhabi flight is consistently delayed, and if I flew to Colombo and missed the inaugural flight, I'd cut a bitch be quite sad. Beyond that, I'd miss all the pre-departure festivities.
Regardless, I realized my best bet of getting this sorted would be in Abu Dhabi rather than Bahrain.
Off to Abu Dhabi!
So I booked an award ticket from Bahrain to Abu Dhabi on Etihad, departing at 10:50PM and arriving at 1AM. It was a perfectly pleasant flight on Etihad's oldest A320.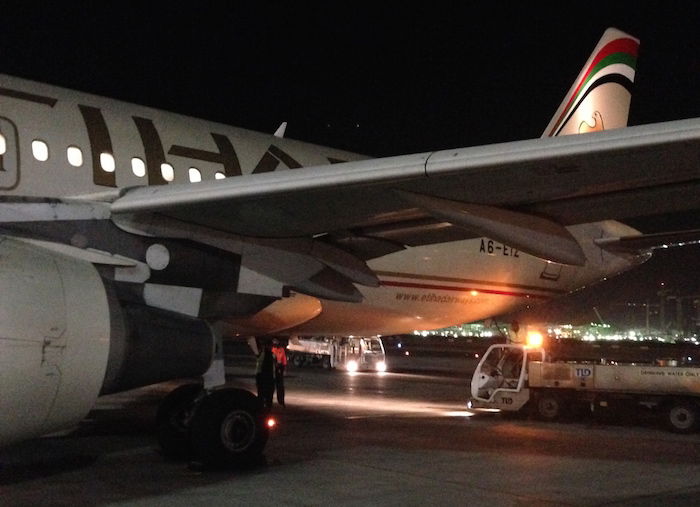 On the plus side, their snack service was pretty decent (not that I was hungry at this point).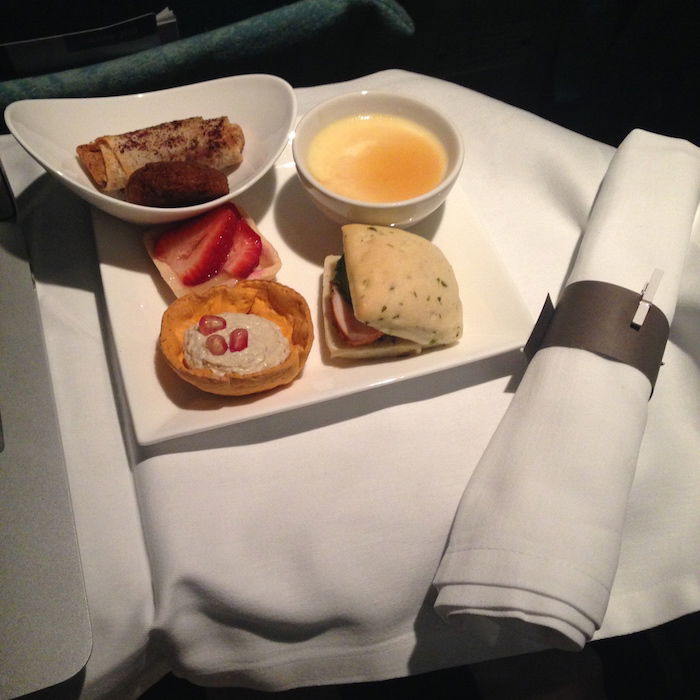 And in trying to find a silver lining, at least I wasn't on the flight from Bahrain to Lahore…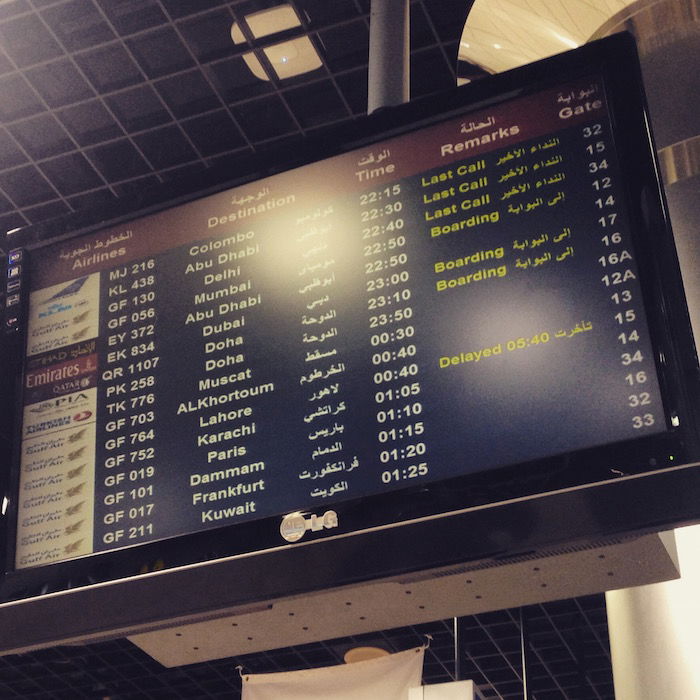 Our flight was a bit delayed, so we ended up getting to the gate at around 1:30AM. The inaugural flight to London left 25 hours after I arrived, so I had a bit of time to get things sorted. But not much, because my flight from Colombo was leaving an hour after I arrived, and I was scared my itinerary would almost immediately be cancelled if I no showed.
Off to the transit desk
The transit desk was an absolute mess due to a few cancellations, so I had to wait almost 30 minutes before I was helped. Obviously the situation was really complex, so I took the straightforward approach. I explained to the agent I was on the inaugural A380 flight from Abu Dhabi to London and wanted to check-in. She had heard all about the plane, so was quite excited about me being on the inaugural.
Within a minute a boarding pass popped out for the inaugural flight from Abu Dhabi to London. Hmmmm.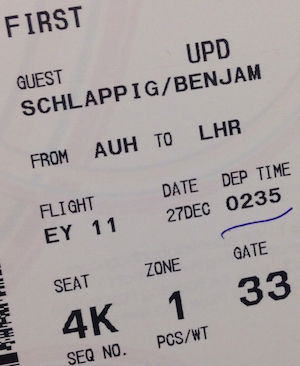 I said "to clarify, I'm good to go? I had a separate segment on this itinerary I couldn't make, but I'm fine with this Abu Dhabi to London flight on EY11?"
"Yes sir."
Obviously it wasn't that straightforward, though at least I had a boarding pass for the flight I wanted, without her acknowledging I was supposed to be in Colombo. I figured maybe an angel at Etihad had been hard at work and somehow removed the first segment from the itinerary already.
Trying to get a second opinion
I decided I'd go to another transit desk for a second opinion. I didn't want to jinx my luck, but was also concerned my flight would be canceled after I no showed for the Colombo to Abu Dhabi flight, despite the agent suggesting otherwise. The queue at the other transit desk was so long that I didn't even bother.
Instead I decided to clear security and go to the business class lounge, figuring I could get more help there.
The real adventure begins
This was my first time in Etihad's new Abu Dhabi lounge, which was quite nice.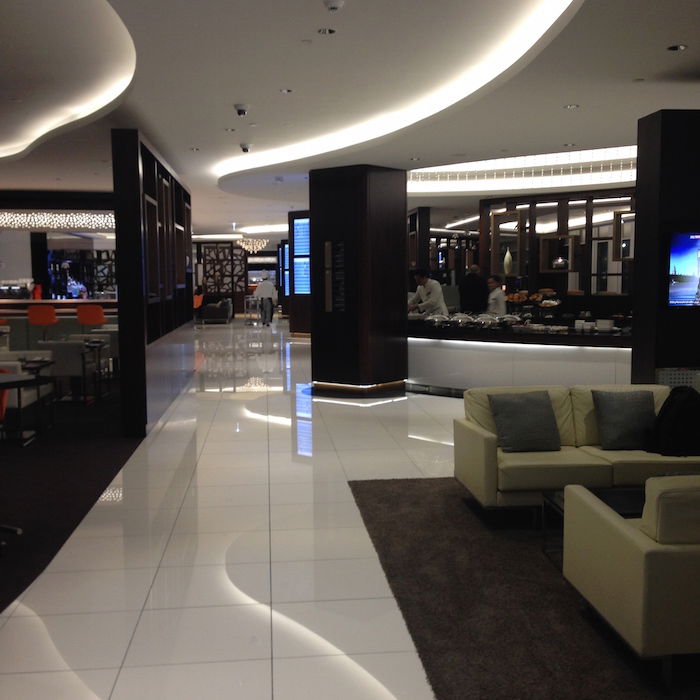 Lounge supervisor Amal welcomed me and was super friendly, and I explained to him the situation in as much detail as I could. He and his colleagues actually seemed to "get" the situation, and I provided them with "documentation" of the other itineraries I had booked.
Amal gave me a tour of the lounge while his colleagues worked on my ticket, and then invited me to sit down and have a drink (said cappuccino was some of the only love I felt this Christmas). 😉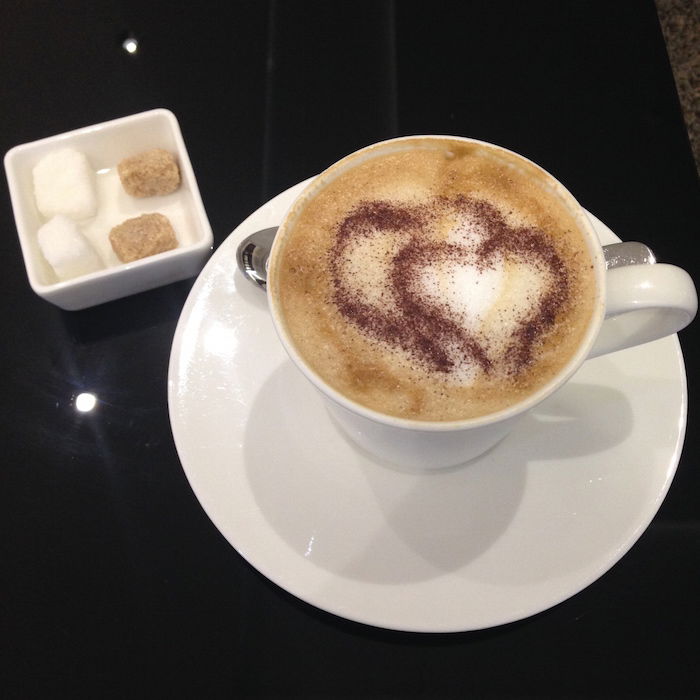 I figured it would maybe be a 15 minute wait and then we would have an update one way or another.
An hour later they were still working on it.
Two hours later they were still working on it.
Three hours later they were still working on it.
I should note I had gotten up at 4AM the previous day, and it was now 5AM.
At this point I became impatient. Not with the agents, because they were doing their best, but rather at the situation, and was starting to think I was just best off cancelling and calling it a day. I was so sleep deprived and frustrated I didn't know what to do.
At this point I asked if they could just book me on the SriLankan codeshare from Colombo to Abu Dhabi, since the fare allowed that. The benefit was that it left a few hours before the late night Etihad flight, meaning I'd have more time to make my connection in Abu Dhabi on the return, and also witness the pre-flight festivities.
I was about to pull the trigger on an Emirates nonstop flight from Dubai to Colombo, which would get in just in time to make the return flight. They claimed that the fare didn't allow for codeshares, which wasn't my understanding based on the fare rules.
Things take a turn for the better
Well after 5AM there was a shimmer of hope. The lounge supervisor said "I promise we're working on it and we're have the duty manager see if we can somehow void the first segment for you." They had been trying to do this for hours (or figure out a solution in general), but it seemed they were about ready to take some sort of action. He also explained that they were "starting to get emails from higher ups" at this point.
The suits show up…
It's always a bit intimidating when two managers in suits show up at once. "Have a seat," they said. It was the Terminal Operations Manager, Mohammed, and the Duty Operations Manager, Osama.
They apologized for the wait and said that it wasn't because they weren't aware of the situation, but rather because they had been working on it for a while to figure out a solution. As travel agents and ticket agents can attest to, "voiding out" the first segment of an itinerary isn't something that can easily be done (it's easier when it's not the first segment you're trying to cancel).
Since I had booked so many different tickets to/from Abu Dhabi (one from Bahrain to Abu Dhabi and two from Bahrain to Abu Dhabi to Colomb0), they seemed to think I was genuinely confused about ticketing rules. They seemed to be under the impression that I thought it was okay to just skip the first segment by choice, and I explained that was never my intention and that I realized the challenge it presents.
"Do you know the price difference between a nonstop Abu Dhabi to London flight and what you booked?"
"No, not exactly."
"It's more than double."
I explained again that it was never my intention to skip the first segment and that I'm well aware of ticketing rules and the challenge this poses.
But then he said "we're managers, and one of the things that means is that we can waive that fare difference. So we'll go ahead and just confirm you on the Abu Dhabi to London flight tomorrow."
Yay!
"Do you have a hotel booked for tonight yet?"
"Multiple, actually… don't ask."
"Well how about we at least get you a chauffeur there? Let me walk you through immigration."
I got to my hotel at around 7AM, and slept for most of the day (which is perfect, since I want to be wide awake for the redeye inaugural flight).
Bottom line
Amal, Mohammed, and Osama: thank you!
Was the process an absolute pain in the rear? Of course it was. I literally sat in that lounge for nearly five hours in the middle of the night. But I know that wasn't because they were slacking off, but rather because this was logistically a very difficult change to make.
Humans are supposed to run computers as opposed to the other way around, but with airline ticketing systems that's sometimes not how it works out. So it's lovely when you can find an agent that can apply logic to a situation and have some compassion, as opposed to just doing what their computer allows them to.
I asked a couple of travel agent friends about the situation and they basically said something along the lines of "even if they wanted to they couldn't really void out the first segment."
So thank you, thank you, thank you, Amal, Mohammed, and Osama… you guys made my Christmas!
Why I don't mind this stuff
I've been doing this for close to a decade and have flown about four million miles, but I feel like I learn something new in this hobby every day.
And I'm not afraid of sharing when I screw up, because I know for every mistake I write about, a million similar mistakes are made without anyone admitting it.
This has been an awesome learning experience for me, even if it took away a year of my life expectancy.
Follow along!
I've been told that Etihad has a lot planned around tonight's inaugural flight. Be sure you're following along, as I'll be posting updates to social media nonstop:
The flight should have Wi-Fi as well, so you can expect more live updates than you'll know what to do with.