In the interest of full disclosure, One Mile at a Time earns a referral bonus for purchases made through some of the below links. These are products and services we use ourselves and are the best offers we know of. Check out our
Advertising Policy
for further details. Thanks for your support!
Southwest Airlines Rapid Rewards has just rolled out its latest promotion on purchased points. The concept of a revenue based frequent flyer program selling points has always been strange to me, so let's take a look at the details (but I'll say up front that this is an offer you probably shouldn't take advantage of).
Southwest Rapid Rewards selling points at a discount
Through Tuesday, September 21, 2021, Southwest is offering a discount when you purchase Rapid Rewards points. While different accounts may have access to different offers, the accounts I manage show a tiered discount of up to 40%, as follows:
Buy 3,000-9,000 points, receive a 30% discount
Buy 10,000-14,000 points, receive a 35% discount
Buy 15,000+ points, receive a 40% discount

Southwest lets you buy at most 60,000 Rapid Rewards points per day, though there's no annual limit on how many points you can buy. Southwest ordinarily charges 2.75 cents per purchased Rapid Rewards point.
If you were to buy 60,000 points with a 40% discount, you'd be looking at paying $990, which is a cost of 1.65 cents per Rapid Rewards point.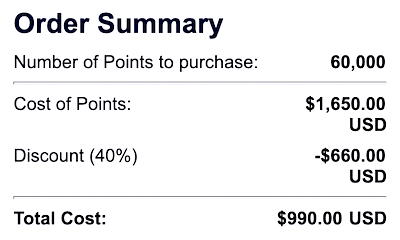 As far as Southwest's promotions on purchased Rapid Rewards points go, this one is pretty average. We've seen better offers, though in reality none of them actually represent a good deal, as I'll explain below.
How much are Southwest points worth?
Southwest Rapid Rewards is a revenue based frequent flyer program, and the number of points required for a flight is directly correlated to the revenue cost of a flight. Back in April, Southwest devalued Rapid Rewards points, and now you need to redeem roughly 83 Rapid Rewards points for each dollar of airfare on Southwest.
In other words, each Rapid Rewards point is worth somewhere around 1.2 cents towards the cost of a ticket on Southwest Airlines.
Is buying Southwest Airlines points worth it?
Let me cut to the chase — there are few situations where it makes sense to purchase Rapid Rewards points. Even at the discounted cost, there's not usually value in buying points for ~1.65 cents each when you can only redeem them for ~1.2 cents each.
There are three potential scenarios I'd like to address, including the main scenario where I think it could make sense (but not really), which is to build up a balance of Southwest points, given the flexibility this provides.
Buying points to top off for an award
Some might buy points in order to top off their account so they have enough points for a Rapid Rewards award ticket. I guess this might be worth it to some if you need a small number of points, though personally I'd just keep collecting points and then redeem with your next ticket.
Buying points with Southwest Companion Pass
The Southwest Airlines Companion Pass is one of the best values in domestic travel. It ordinarily requires earning 125,000 qualifying points in a year, and if you get this, you can always have a companion travel with you for just the standard taxes, regardless of whether you're booking a cash ticket or redeeming points.
For those with a Companion Pass, buying Southwest points could get you outsized value:
You could buy points for 1.65 cents each
You could then redeem them for 1.2 cents each towards travel and have a companion fly with you, meaning you'd get 2.4 cents of value
However, there's still absolutely zero reason to do that. You'd be better off just booking a paid ticket and then having a companion fly with you.
For what it's worth, buying Southwest Rapid Rewards points doesn't count towards Companion Pass qualification.
There is value in having a stash of Southwest points
There is one major benefit in general to paying for a ticket with Southwest Rapid Rewards points rather than cash. While Southwest Airlines has no change fees on both revenue and award tickets:
If you cancel a revenue ticket then you need to reuse that travel credit within a certain amount of time, and also the same passenger has to travel
If you cancel an award ticket then the Rapid Rewards points go back into your account and can be used for anyone at any future point in time
I do think there's big value in having a stash of Rapid Rewards points. I use this when I speculatively want to book travel (including for friends and family), since there's no downside. Meanwhile if you cancel a revenue ticket, the same passenger still has to use the credit within a limited period of time.
Which credit card should you buy Southwest points with?
If you'd like to buy Southwest Airlines points, note that purchases are processed by points.com, meaning they don't count as an airfare purchase for the purposes of credit card spending.
Therefore I'd recommend using a card on which you're trying to reach minimum spending, or otherwise, a credit card that maximizes your return on everyday spending.
See this post for more on which credit cards are best for buying points.
Other ways to earn Rapid Rewards points
If you're looking to earn Southwest Airlines points, there are a couple of best ways to do so:
Bottom line
Southwest is selling Rapid Rewards points with up to a 40% discount, which brings the cost down to 1.65 cents per point.
Personally the only circumstance under which I think it makes sense to buy Southwest points is if you're trying to build up a future stash so you have flexibility for booking speculative tickets. But short of that, there's not much value, in my opinion. On the plus side, at least this is a better value than Southwest Airlines' new Rapid Rewards points subscription.
Under what circumstances do you think it's worth buying Southwest Airlines points?