Yesterday British Airways had a media flight from London Gatwick to London Heathrow to unveil some changes they're making to their product. I was invited, though unfortunately couldn't make it. Today British Airways has outlined these changes to the public. They're calling it "a new BA," and these changes have the tagline "new thinking, new flying."
So, what's changing at British Airways? Here are the bullet points they use to describe these changes:
£400m in Club World (long-haul business class)
Introducing Club Europe on UK domestic services
New lounges
First Wing direct security and lounge access at Heathrow
Latest generation Wi-Fi fitted on long-haul and short-haul fleets over the next two years
Self-service check-in and biometric boarding gates to speed up the airport journey
Here's a video outlining some of the changes:
British Airways Club World is getting new food and bedding
British Airways has the worst fully flat business class product I've flown on any airline. That's not to say it's the worst out there, but I don't know of a fully flat business class product I like less. So it's nice to see that they're making some investments to improve the sleep and dining experience for passengers. Specifically:
Starting in July, Club World passengers will get fresh new linens, bigger pillows, and a soft mattress topper and duvet
Starting in September, a new premium dining service will be rolled out in Club World, with display trolleys that allow passengers to select starters and desserts, along with a "revamped service approach that will be delivered to customers with a new culinary boutique experience" (whatever that means)
I'm very excited about the new bedding. Presently British Airways' business class pillow is about as thick as a magazine, and their blanket is scratchy. So I think that change is awesome.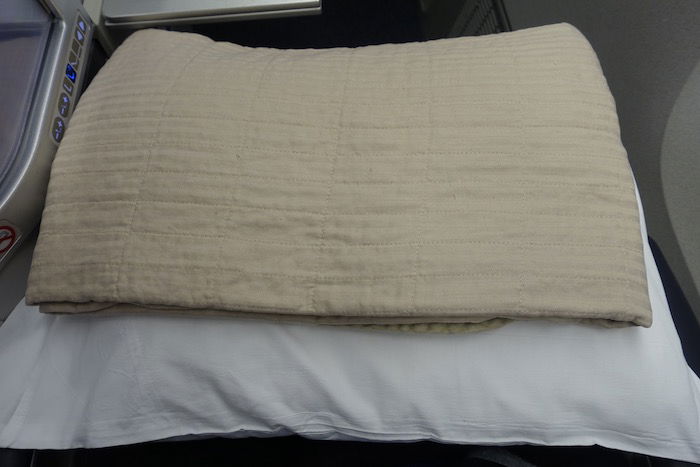 As far as the food goes, I'll reserve judgment until I try it myself, though it sure sounds like most of the changes are being made to how food is presented, rather than what's served.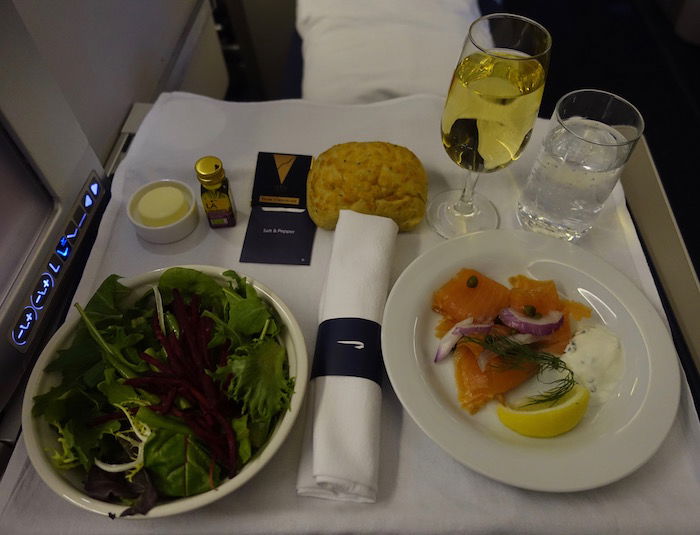 However, do note that this is only being rolled out on flights between London Heathrow and New York JFK as of the above dates, while it will be rolled out on other routes throughout 2018. So it's going to be over a year until most flights have this improved service.
A new Club World seat is coming in 2019
British Airways also plans to introduce a new Club World seat in 2019, though the details of that aren't yet officially available. Apparently they're hoping to have direct aisle access from every seat. I've written in the past about the seat that British Airways is rumored to be introducing. With the seat only being introduced in 2019, I suspect Heathrow's third runway will be open before the entire fleet has the new seat. 😉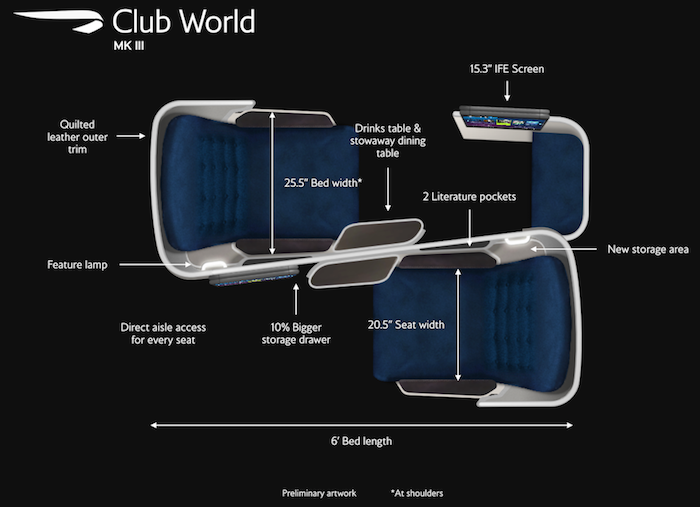 Better ground services
British Airways will be investing a lot of money in their lounges, and their new First Wing also just opened at Heathrow. This is essentially a fast track security for first class passengers and oneworld Emerald members to get through security faster, and the checkpoint lets out directly into the lounge.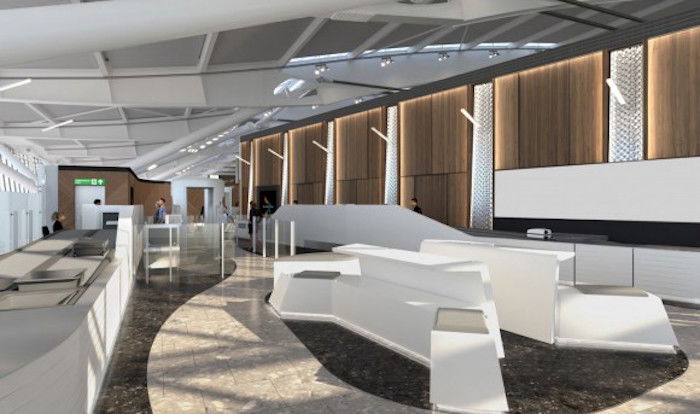 British Airways is adding inflight Wi-Fi
Here's how British Airways describes their new Wi-Fi offerings:
Shortly customers in all cabins will start to enjoy the latest generation of Wi-Fi as it's rolled out across British Airways' long-haul network. Short-haul Wi-Fi will commence later in the year when British Airways becomes the first airline to offer connectivity using Europe's first ever 4G high-speed inflight network with the aim of having 90 per cent of its total fleet connected by 2019.

Customers will be able to use their own devices to browse the internet, access email and check social media. In addition, they will have the ability to stream video content from popular sites such as Netflix and YouTube.

There will be a choice of two options: Simply Connect or Connect Plus. Customers can choose whether they connect for one hour, four hours or the full flight. Simply Connect supports basic web browsing, email and instant messaging with prices from £4.99 while Connect Plus provides a faster connection speed supporting video streaming services from £7.99.
My thoughts on British Airways' changes
Of course it's hard to take British Airways seriously when they use a tagline like "new thinking, new flying" to describe these changes. All of these changes come just a couple of months after British Airways cut free food and drinks on intra-Europe flights.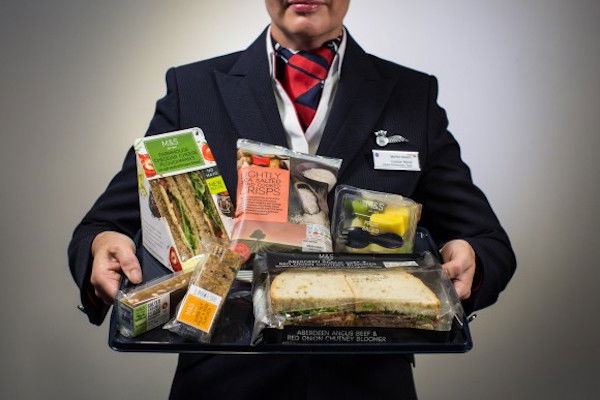 They're anything but a premium airline, though clearly they're strategically investing. Even so, these investments will at best make them a mediocre airline, and that's being generous.
But here's the thing — I think their strategy is exactly right. Do I like flying with British Airways? Not really. But the reality is that they don't care if I do. They don't care if most of us like flying with them. They own the most slots at one of the most coveted airports in the world. The question isn't whether you want to fly British Airways, but rather whether you want to travel to London. That's what British Airways has going for them.
So I think their strategy here is smart, as much as I don't like it as a customer. They know where they're getting a return on investment. It's not by offering free food and drinks on intra-Europe flights. It's not by offering an industry leading first or business class product. As long as British Airways doesn't suck so much that people book away from them when traveling to London (which is tough to do, given their route network), they're golden.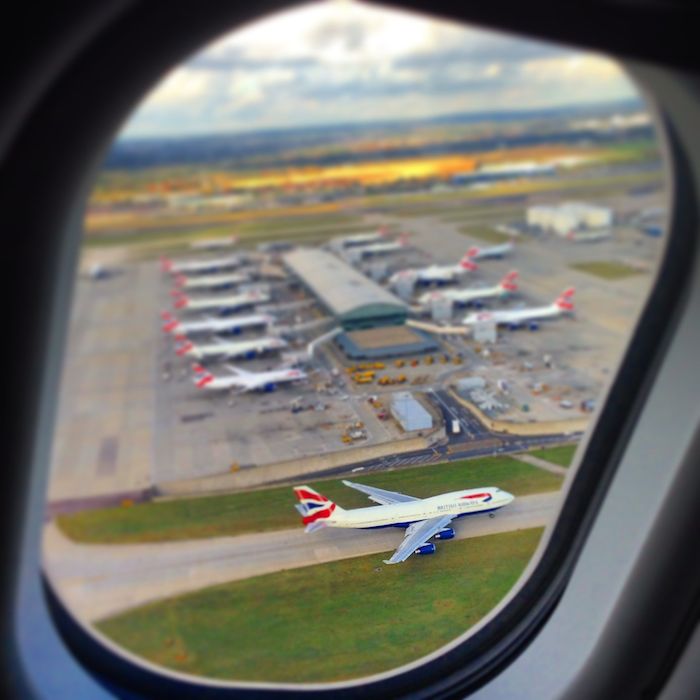 I think that's exactly what British Airways' CEO, Alex Cruz, says in a much more diplomatic way in the press release:
"It's simple really – we need to deliver what our customers value most, where they value it most. We need to focus on enhancing premium – offering contemporary service, improved catering and lounges and a consistent experience. In economy, where we know that price is the driver, we need to focus our efforts on delivering more seats at the lowest fares and giving customers choices."
What do you make of British Airways' upcoming investments?