Back in September, a British Airways 777 flying from Las Vegas to London Gatwick caught on fire while it was taking off. The footage of the incident was dramatic, with huge flames erupting from the engine and even engulfing the fuselage of the plane.
Fortunately everyone got out alive, and there were just some minor injuries (mostly from the evacuation process). That's quite incredible, when you see the extent of damage there was to the plane.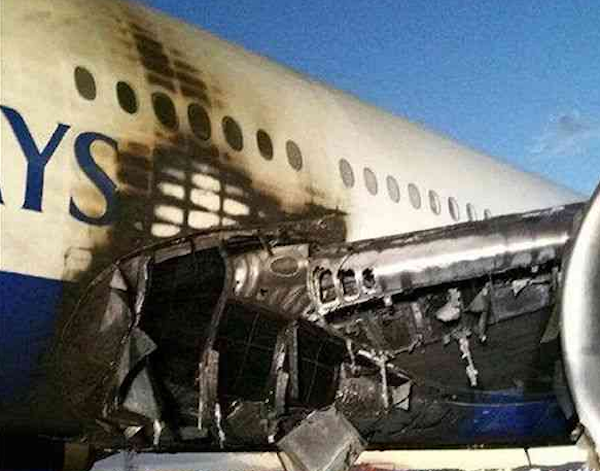 At the time, most assumed the plane would be written off and never fly again, given the extent of the damage to the fuselage.
After the plane has been sitting on the ground at Las Vegas McCarran Airport for a few months (which has cost $375 per day to park — that doesn't strike me as much at all), it has been decided that the plane will be repaired and returned to service.
Via the Las Vegas Review-Journal:
A representative of the London-based airline said Wednesday that crews would be dispatched to McCarran and that work would begin "shortly" to repair the aircraft's hull to make it airworthy.

Noting that "safety is always British Airways' top priority," a company spokeswoman said in an email, "The airframe was inspected by a team of highly experienced engineers from Boeing who concluded that the damage was limited and suitable for repair.

"A team from Boeing will carry out the repair work, which will be certified to the same high standards as if the aircraft was brand new," she said.

She did not give a timetable for repairs or when the plane would be flown, but the work is expected to begin next month.
The announcement of this repair comes around the same time that Delta's CEO said the airline signed a letter of intent to buy a 777 for $7.7 million (after his previously controversial statements about there be using used 777s on the market for $10 million).
CEO: I was wrong when I said used 777s were on market for $10M. It was actually $7.7M. We just signed a letter of intent to buy one.

— Delta News Hub (@DeltaNewsHub) December 17, 2015
Hmmm, I wonder where Delta is finding such a good deal on a used 777? 😉
Bottom line
I'm quite surprised British Airways is repairing this one rather than writing it off. Does anyone know of an instance where a plane damaged to this extent returned to service?
Regardless, I trust that if they do repair it, they'll have very high standards and it will be "good as new," so there should be no qualms with flying it. British Airways does have one of the very best safety records out there, after all. My guess is some passengers would be uneasy if they knew they were flying the plane involved in that incident, though. But I guess what people don't know can't hurt them. 😉