Airlines seem to love advertising how young their fleets are, which I'll never understand:
From a safety perspective, as long as a plane is well maintained, it doesn't matter whether it's 40 days or 40 years old; one could even argue older planes are safer than brand new models, as they've been tested longer (we saw the issue 787s had a while back, whereby they were grounded globally)
From a passenger comfort perspective, planes go through "checks" every few years whereby everything is taken out and then put back in; if old planes have old interiors, that's simply because the airline is being cheap
Along similar lines (in terms of advertising things which are entirely insignificant), Virgin Atlantic used to write "4 Engines 4 Long Haul" on the side of all their planes, inferring that planes with four engines are better than planes with two engines. That was convenient when their fleet had just A340s and 747s, but as not surprisingly they changed their mind and removed that after they started taking delivery of A330s and 787s, realizing that these planes had lower operating costs.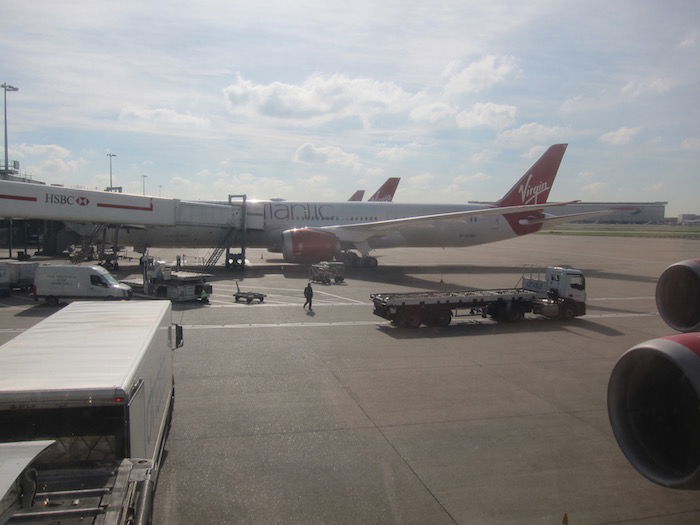 Virgin Atlantic 787
Speaking of aircraft age, there's an interesting story quoting Delta's CEO, Richard Anderson, regarding the future of the second-hand jet market. While US carriers have mostly been purchasing new planes, Anderson sees value in buying used jets, and thinks the prices will fall even further over the next 12 to 36 months.
Via Bloomberg:
Anderson, whose airline has recently ordered both second-hand and new planes, told a conference call on Wednesday that the used wide-body market was a "bubble" and "ripe" for purchases by Delta over the next 12 to 36 months.

Old planes from the likes of Singapore Airlines Ltd are expected to be available soon, Anderson said.

"We get calls all the time," Anderson said about used widebody planes, adding that no deal is in the works. "Prices are going to get lower. You wouldn't strike a deal now."

"We think that weakness in that aircraft bubble in widebodies is going to spread to narrowbodies, and that there will be some huge buying opportunities," he said.
Just how much cheaper are these jets used? Anderson thinks decade-old 777s will go for just $10 million, while the sticker price for new ones is 30x that:
Anderson said leases of used Airbus A330-200 aircraft would be five times cheaper than new ones and that decade-old 777-200 aircraft from Boeing would cost $10 million, versus around $300 million at list prices for new ones.
Bottom line
As much as I criticize the SkyMiles program and think Richard Anderson says some ridiculous things, they're the world's most profitable airline for a reason. Assuming fuel prices stay fairly low, there's a lot more value for the airlines in getting amazing deals on used planes rather than buying new ones which are slightly more fuel efficient, like the A350 or 787.
Delta is pretty good about refreshing the interiors even on their older planes, not that a 777 would by any means be considered an outdated plane.
Do you care about the age of the plane you're flying on, or just that it's well maintained?