I'm sure most of us saw the absolutely insane footage of a British Airways 777-200 on fire at Las Vegas McCarran Airport earlier in the week. The plane was carrying 170 passengers, and thanks to the great work of the crew, everyone was evacuated reasonably safely.
While I'm sure we'll soon find out more about what happened, perhaps the craziest part of the story was that it was the 63 year old captain's second to last trip before retirement, and the first time he encountered a life threatening emergency in his 42 year flying career. And I guess this put him into retirement early, since he says he's done flying after that incident.
The footage is dramatic, especially since you can see the slides deployed and cabin being evacuated while the plane is still on fire.
When you see what the plane looked like after it was finished burning, it's even more apparent how crazy the incident was, and how lucky everyone is that it ended so well.
But there's one thing about the incident that's incredibly frustrating and selfish, and which can't be emphasized enough. In March of this year I wrote a post entitled "In An Emergency Evacuation LEAVE ALL CARRY-ONS BEHIND."
This is in every safety video, and along with not inflating your life vest until you've left the plane, is probably the most important part of the safety demonstration.
In the event of an emergency evacuation, leave all your carry-ons behind.
Yet we repeatedly see people take all their belongings with them, even in extreme emergencies. And that includes on this flight, where you see people walking across the tarmac with all their bags:
Again, this is after they got off a 777 which was literally engulfed in flames as they were evacuating.
Now I'm sure this is obvious to most, but let's recap why it's important to leave your carry-on items behind in the event of an emergency evacuation:
In an emergency — especially one as severe as this one — we have no way of knowing just how life threatening the situation is; I would assume that the passengers and crew were scared for their lives here, given that they were evacuating a plane which was actively on fire.
Taking your carry-ons can slow down the evacuation process. The more things people take, the longer it takes for everyone to get off the plane. When the plane could in theory blow up any minute, those seconds can be the difference between life and death.
Taking your carry-ons can rip the escape slide, and prevent other passengers from evacuating.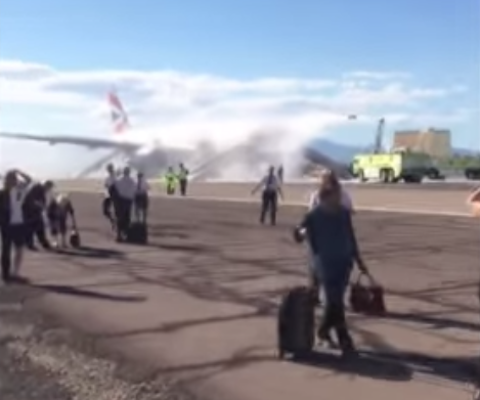 Why do a vast majority of people seem to still take their carry-ons, even in a severe emergency like the British Airways one?
Some people probably genuinely don't know they're supposed to leave their bags behind.
Some people are probably so startled that they forget they're not supposed to.
Some people probably know they're not supposed to, but don't care.
There's probably some amount of social influence, whereby you assume it's okay when you see other people do it.
Further to the third point above, even when I raised this discussion last time, plenty of people said they'd probably take their belongings with them in an emergency evacuation.
Like this person:
Some people actually travel the world and make memories, take pictures, visit places on unique once in a lifetime vacation. It's hard to part ways with a laptop or camera after a trip like that. I always pack a portable backup drive which I can grab in an emergency and it won't get in anyone's way…along with camera and small laptop.
Or this person:
Whenever I hear the safety briefing on the plane, my mind somehow goes to my laptop in the overhead bin. I'm a researcher, and losing my laptop could mean the loss of YEARS of hard work and data. Yes, it's all backed up. But so many analysis ideas come to me on-the-fly (I crunch numbers in airport lounges, airplanes, hotels, etc. – so that I don't forget the cool idea I just had). If I was in an emergency evacuation situation, I don't know what I would do – I would be torn! Chances are, I would get my computer.

All of this to say – please don't judge someone so easily…try living in someone else's shoes for a moment.
I think reader greg99 summed it up pretty accurately in a comment he left on that post:
There is one and only one solution. It's the same solution that the FAA, the NTSB (and all of their regulatory counterparts around the world), the airline pre-flight briefing, the safety card sitting in front of you, and the instructions SHOUTED at the passengers during an evacuation (failure to comply with which is is a federal offense).

That solution is to leave your carry-on luggage behind. Any other conduct, aside from being stupid, dangerous and selfish, is against the law. I get to ride my high horse here because I'm right – the law says I'm right, and common sense should tell you that I'm right.

If you think this is gray, how do you feel about DUI?

Lots of different cases there, too. Maybe just driving around the corner, maybe only one beer too many? If you happened to be pulled over, maybe you only blow a 0.09? I'm sure nobody has ever been hurt or killed in that situation, either.
So c'mon folks, if you ever find yourself in an emergency evacuation, leave all carry-on items behind. Anything else is beyond selfish.
Why does this have to be so complicated?