About a year ago huge sanctions began to be lifted between the US and Cuba, following the embargo which was in place for decades. This was huge news for those looking to travel to Cuba, since it created more circumstances under which US tourists could visit.
What is far from instant, however, is actually restoring commercial flights between the two countries. Air treaties between countries are complicated matters even under normal circumstances, let alone a situation like this, where they're making up for decades of non-diplomacy.
While both American Airlines and United Airlines immediately began the process of applying for rights to fly to Cuba, we knew from the beginning it wouldn't happen overnight, and that the process could take upwards of 12 months.
Well, it has now been over a year, and it looks like some real progress has finally been made. Apparently the US and Cuba will sign an agreement next week to restore commercial service between the two countries.
Via the Associated Press:
Under the deal U.S. airlines can start bidding on routes for as many as 110 U.S.-Cuba flights a day – more than five times the current number. All flights operating today are charters.

Officials hope to parcel the routes out among carriers by this summer, allowing flights to begin by the time Obama leaves office.

The agreement allows 20 regular daily U.S. flights to Havana, in addition to the current 10-15 charter flights a day. The rest would be to other Cuban airports, most of which have far less demand than the capital.

Tuesday's announcement will open a 15-day window for U.S. airlines to request rights to the new Cuba routes. U.S. carriers would then have to strike deals with Cuban aviation officials, a process the U.S. hopes will be complete by the fall.
As you can see, even with this upcoming announcement, we still won't see flights to Cuba overnight. Realistically the earliest we'll see these flights is later this year. Lots of airlines have expressed interest in starting this service, so I'm curious to see what ends up happening.
Keep in mind that technically "strict" tourism still isn't allowed (and still won't be allowed), though that's loosely enforced, and won't really be a barrier once commercial flights are restarted:
U.S. visitors to Cuba will still have to qualify under one of the travel categories legally authorized by the U.S. government. Tourism is still barred by law, but the number of legal reasons to go to Cuba – from organizing professional meetings to distributing information to Cubans – has grown so large and loosely enforced that the distinction from tourism has blurred significantly.

Commercial travel will give travelers the ability to simply check an online box on a long list of authorized categories.
Just about anyone can easily claim to fit into one of those categories, so it's not exactly a huge barrier to entry.
Copa seems to want to beat US airlines with selling tickets to Cuba, as I received an email yesterday explaining the "incredible fares" they're offering between the US and Cuba.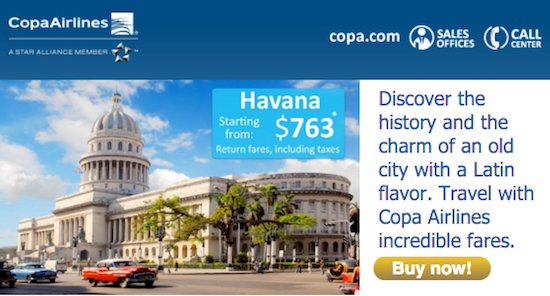 You can fly from Miami to Havana for the "incredible fare" of $730 roundtrip!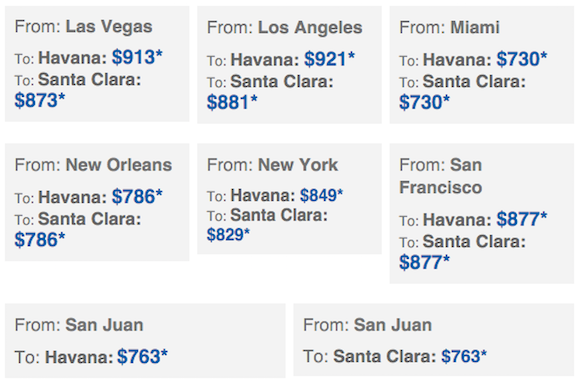 Given that the direct air distance is 235 miles, that's almost two dollars per mile. I think they're using the other definition of "incredible."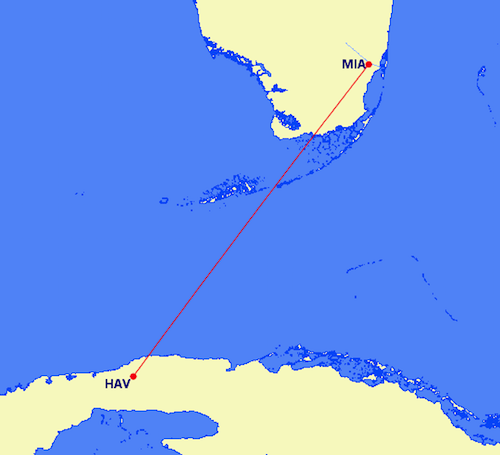 Regardless, with the number of flights which will suddenly become available to Cuba, I suspect fares will be very reasonable.
When I travel to Cuba I'm still tempted to fly via Canada on Air China…
Bottom line
While it will likely be several months before commercial flights between the US and Cuba actually launch, it's exciting to see there will be as many as 110 flights per day.
I wouldn't be surprised if we see an interesting swing when it comes to demand for travel to Cuba. I suspect lots of people will travel there shortly after these flights launch, and then I wouldn't be surprised if demand dies off a bit after that, since Cuba is still lacking when it comes to infrastructure. That's a blessing and a curse, but I suspect it also means it's not a place many Americans will be planning beach vacations to in the near future. But like other parts of the world, I suspect it will develop quickly.
In other words, I think the charm of a country with lacking infrastructure is both a good and bad thing for encouraging tourism.
Do you plan on visiting Cuba once nonstop commercial flights between the two countries launch?