Just under a month ago Iberia ran a promotion offering 9,000 bonus Avios for every ticket booked, up to 90,000 bonus Avios. Even cheap domestic tickets qualified, so many of us booked 10 one-way tickets from Malaga to Madrid for under $300, in hopes of getting 90,000 Avios.
What truly made this promotion crazy is that they awarded miles shortly after booking rather than after flying, and told people that they didn't have to take the flights to earn the bonus.
Not surprisingly, they had quite a situation on their hands. I speculated that they'd honor the promotion but would make it difficult on people, and that's exactly what they did.
Existing Iberia Plus members (mostly) got Avios quickly
Those of us who were existing Iberia Plus members did quite well in this promotion. For the most part, the bonus Avios posted within a couple of weeks, which is just slightly longer than the promised timeline. Tiffany and I both had existing Iberia Plus accounts, and our Avios posted within a couple of weeks.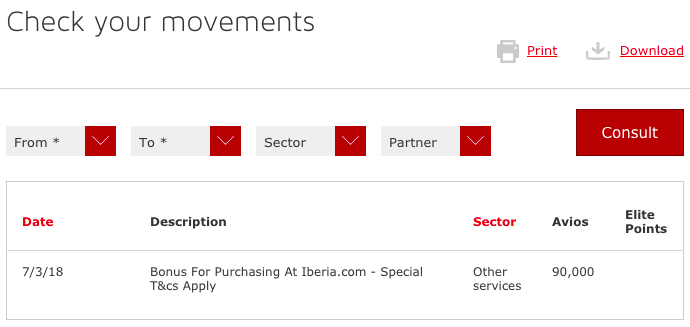 New Iberia Plus members (mostly) had issues
While those of us with existing accounts did pretty well, the same can't be said for those with new accounts.
Iberia Plus claimed there was a lot of fraud with the promotion, with people setting up multiple accounts in the names of people who don't exist. So they locked new accounts, and emailed those members asking them to send copies of their identity documents. I actually think that's fair on their part, since I do believe this was a major issue. The terms of the promotion were very generous, and we can't blame them for enforcing them.
They also said that those new members who took advantage of the promotion should attach copies of any tickets purchased during the promotion period. James wrote about his experience trying to get his account unlocked.
Ford was in the same situation, as he had just signed up for Iberia Plus for the promotion (or let's be honest, I signed him up). 😉
So I figured I'd provide an update on Ford's situation, since I imagine many of you are in a similar situation:
On June 22 he bought 10 tickets
On July 5 he received an email asking him to send in a copy of his passport and tickets in order to unlock his account; he responded to that immediately with the requested documentation
On July 16 (yesterday) he received an email from Iberia informing him that his account was unlocked, and saying that in regards to the Iberia Plus promotion they have "sent the information to the relevant department for the awarding of the promotional Avios," and that if the promotion is correct he should see the Avios credited to his account in "the following week"
On July 17 (today) all the bonus Avios posted correctly
He actually only received 81,000 Avios rather than 90,000 Avios, but that's because one ticket accidentally wasn't issued, so Iberia did everything correctly here.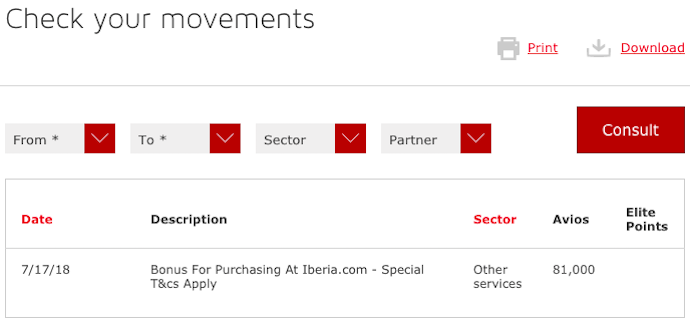 While we've heard stories of Iberia trying to deny the bonus Avios to some members for all kinds of reasons (including "booking inconsistencies"), our experience has been positive. I got my Avios without doing anything, and Ford got his Avios by sending them just a single email.
Try to be patient
A lot of people still ask me every day what they should do since they haven't received their Avios yet. Assuming you're going through a similar process to Ford, I'd recommend just being patient. I totally agree Iberia isn't living up to their end of the bargain in terms of the timeline, though they are honoring the promotion for many, and I'm sure they have way more demand than they can handle right now. So I highly recommend just being patient and letting them process things.
You'll drive yourself crazy trying to contact them since you're unlikely to get through to anyone, and if you do get through to someone, chances are they won't be empowered to actually help with your situation. So if you don't mind holding off a bit, I'd give it a few more days, or even another week or two, as I imagine they're dealing with a lot of people.
Again, ideally it wouldn't be that way, but that's my advice based on minimizing the amount of time you spend on this, as well as minimizing frustration.
In Ford's case, he was dealing with the same situation as most new members, and we spent a total of five minutes sending a single email, and more or less forgot about it, since we figured there was no benefit to being actively involved. Fortunately his Avios have now posted.
To those who are new Iberia Plus members, what is your experience with getting promotional Avios to post?