Yesterday my trip to Israel came to an end, and I flew EL AL first class from Tel Aviv to London. I'll have more on that very interesting flight shortly, but in the meantime I wanted to share my experience with security at Ben Gurion Airport, which is known for having the tightest security in the world.
I shared my experience with security at Newark Airport before boarding an EL AL flight, though I knew that security is tightest for flights when you're departing Tel Aviv, rather than flying to it (that seems a bit backwards to me, but I guess they want to be 100% sure nothing happens under their watch).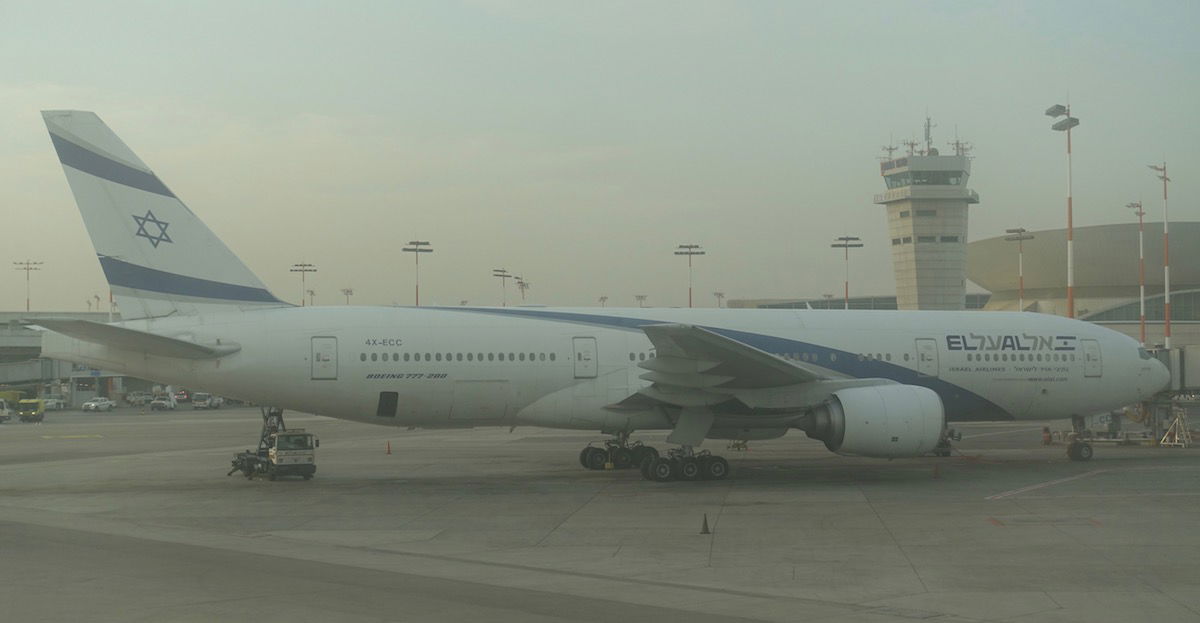 Let me say going in that based on everything I've heard, the security questioning here is all about behavior detection. They don't really care what you say in response to the questions, they just want to see your behaviors as you answer. At least that's what I've been told.
Before even being allowed to check-in, all passengers have to go through an interview. I handed the lady interviewing me both my US and German passport (since before my flight to Israel they asked if I had any other passports).
"Which one do you want me to use?"
"I entered with my US passport, but on the way out they asked if I had any other passports, so I figured I'd give them both to you."
She quickly looked through my German passport, and then started thumbing through my US passport.
"Is your name Hebrew?"
"I think it's Prussian, or something."
"Do you speak Hebrew?"
"Unfortunately not, other than 'shalom.'"
"What was the purpose of your trip?"
"Sightseeing. I spent a week here with my parents, and they flew out this morning back to Orlando."
"What are your parents' names?"
"Why did you go to Indonesia?"
"Bali is one of my favorite relaxation places in the world."
"Do you know anyone there?"
"No, not really."
"Do you know anyone in the United Arab Emirates?"
"I have some friends there. None of them are actually Emirati, but rather they live and work there."
"Why did you go to Tajikistan and Uzbekistan?"
"I'm trying to visit as many countries as I can, and those were ones I hadn't visited that were pretty easy to reach."
"Do you know anyone there?"
"No."
"Do you know anyone in Qatar?"
"No, not well."
As you can imagine, the line of questioning continued in a repetitive way for almost every country I've been to.
"Do you know anyone in any of these countries?"
"I mean, I don't want to lie. I can't say I don't know anyone in any of these countries. I do know some people in some of these countries."
"Please wait here."
She left me alone for about 10 minutes and walked away. I'm not sure if this is true or not, but someone suggested that they leave you alone and then watch you on camera to see if you act nervous, etc. It's entirely possible that's not true, as I guess she could have also been calling someone to look me up in a database, or something.
After that I was given a sticker and I headed to EL AL first class check-in. In retrospect, I should have paid more attention to the sticker on my passport. This ultimately made a trip to Lebanon more interesting than it needed to be, so I recommend checking over your passport after leaving Israel.
The lady at the counter got on the phone, and said "we're going to try to make this as easy as possible, just have a seat there for a few minutes and we'll have someone from security come over."
I sat there for a few minutes, at which point an American guy in a sharp-looking suit introduced himself.
"Okay, let's get you on your way as quickly as possible."
He asked me a few questions about my trip. Not "do you have a bomb?" or "why have you been to so many weird countries?" but rather it came across as genuine interest in what I did while In Israel (though I suspect this was behavior detection). While this was all going on he kept scrolling on his phone. I don't know what he was scrolling through, but he just kept reading and scrolling.
After a few minutes he said "follow me." I figured every millimeter of me and my belongings was about to be searched.
We walked towards a security checkpoint, and then we went to a lane that wasn't otherwise staffed, so we really got to skip the queue even. I was expecting this would be like getting secondary security in the US, where they hand search all your belongings.
"Do you have a laptop?"
"Yes, and an iPad. I can take them out."
"Nah, leave them in there, that's fine."
My bag had tons of cords, liquids, etc., and there was no extra search (even under normal circumstances it's sometimes pulled aside). On the other side of security he said "you're good to go, let me just update something quickly. I'm happy you enjoyed Israel."
I found the whole process to be fascinating. I get that the lady who did the first round of questioning was probably more focused on my behavior than anything, and probably couldn't in good conscience not send me to some sort of secondary given all the countries I've been to. But it's the second guy I was fascinated by. I wonder if he just did some sort of a quick behavior detection "test" on me, and what he was looking at on his phone. I don't know if he Googled me or if they have some sort of database and he used that to determine I wasn't a threat, or what.
At a minimum I was expecting I'd get a really intense search of my bags, and that didn't happen.
Truly fascinating (at least to me)!