---
American 66
New York (JFK) – Barcelona (BCN)
Sunday, February 5
Depart: 5:30PM
Arrive: 7:10AM (+1 day)
Duration: 7hr40min
Aircraft: Boeing 767-300
Seat: 4H (Business Class)
We got to our departure gate (38) around 4:45PM for our 5:30PM departure, and within a few minutes business class boarding was announced.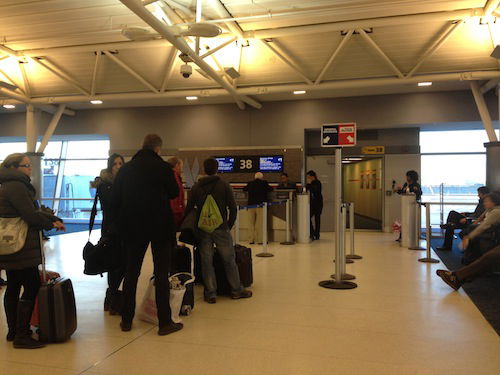 Gate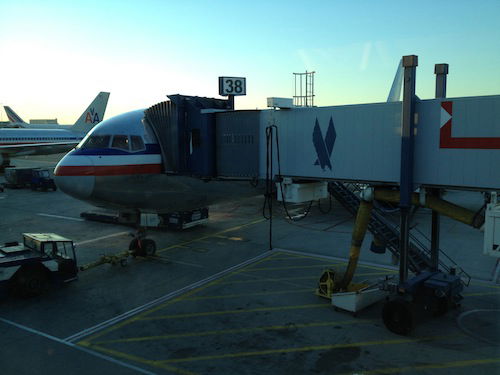 Our plane
Once onboard we were greeted by the purser and I crossed to the far aisle to take my seat in row four.
I could tell almost immediately that we lucked out with a great crew. There were three flight attendants working business class, and all of them complemented each other perfectly, despite having completely different personalities.
The purser, Maurilio, couldn't get a sentence out without trying to crack a joke or say something sarcastic or mildly offensive (though in a positive way… if there is such a thing). The flight attendant working the other aisle, AJ, was a bit more serious yet still willing to joke around. And then the flight attendant working my aisle, John, was the most "traditionally" professional flight attendant, given that he addressed me by name at every interaction. Together they were just awesome.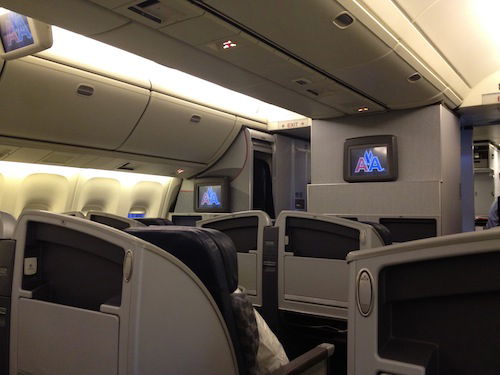 Business class cabin
The flight was fairly empty so within a few minutes of settling in we were offered pre-departure beverages. The guy seated in the row in front of me backed up into the flight attendant's drink tray as he was doing the pre-departure beverage service and literally knocked all the drinks over. It was completely the passenger's fault, though the flight attendant was incredibly gracious about it despite his button up being drenched. Kudos.
Maurilio offered me a pre-departure beverage, and I asked for a mimosa. You see, there's good reason I ask for it — American's orange juice and champagne are both hardly drinkable individually, though together are quite good.
Instead of making one for me he looked at me in pure horror as if I made an outrageous request and said "what do you think this is, a bar?" Of course he quickly followed it with a smile and suggested I take both and mix them on my own so I can have double the portion.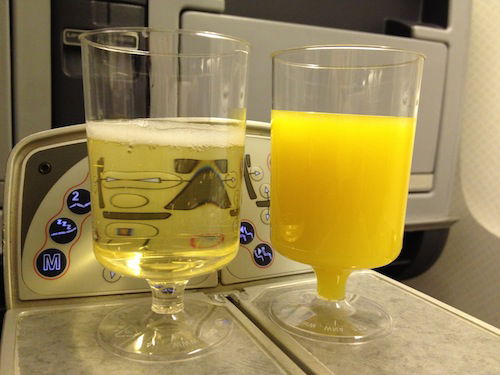 Pre-departure beverages
Boarding was complete within about 15 minutes, and business class was less than half full, meaning I could have a set of two seats to myself (the more personal space, the better!).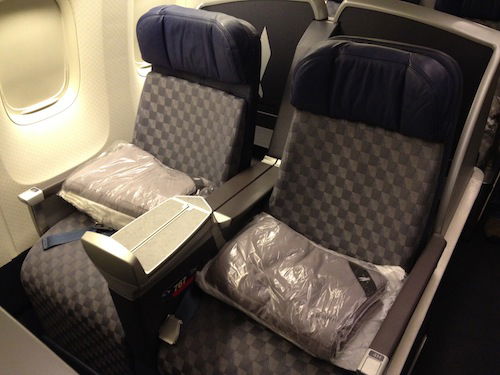 Before the door closed I went into the lav to change into sweats, and when I came out of the lavatory Maurilio commented to me "what do you think you're wearing? That's not business class attire." I couldn't help myself, and said "what a coincidence, this isn't a real business class product." He chuckled and responded with "I don't know what you're talking about, I'm from a fourth world country where we think this product is great."
Once settled in again menus were distributed, and within minutes meal orders were taken.
Shortly before pushback the captain came on the PA to advise us of our flight time of 7hr20min, anticipating an on-time arrival in Barcelona.
We pushed back a few minutes early and had a quick taxi to the runway, so were airborne just shortly after our scheduled departure time.
As soon as we leveled off personal entertainment systems were distributed. While American has built in entertainment systems in business class on the 777, they don't on the 767. So instead the flight attendants distribute Samsung Galaxy Tabs with Bose Quiet Comfort 15 headphones. It's a bit of a pain given how clunky the system is, though the entertainment selection is more or less the same as on the 777.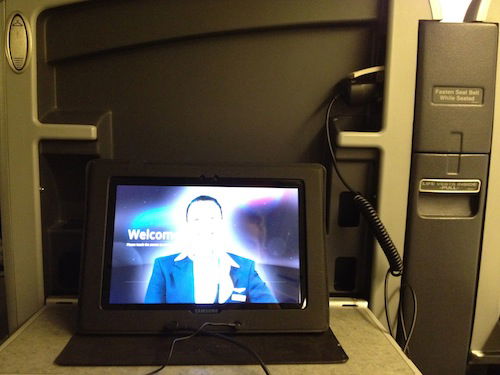 Shortly after that the meal service began. The menu read as follows: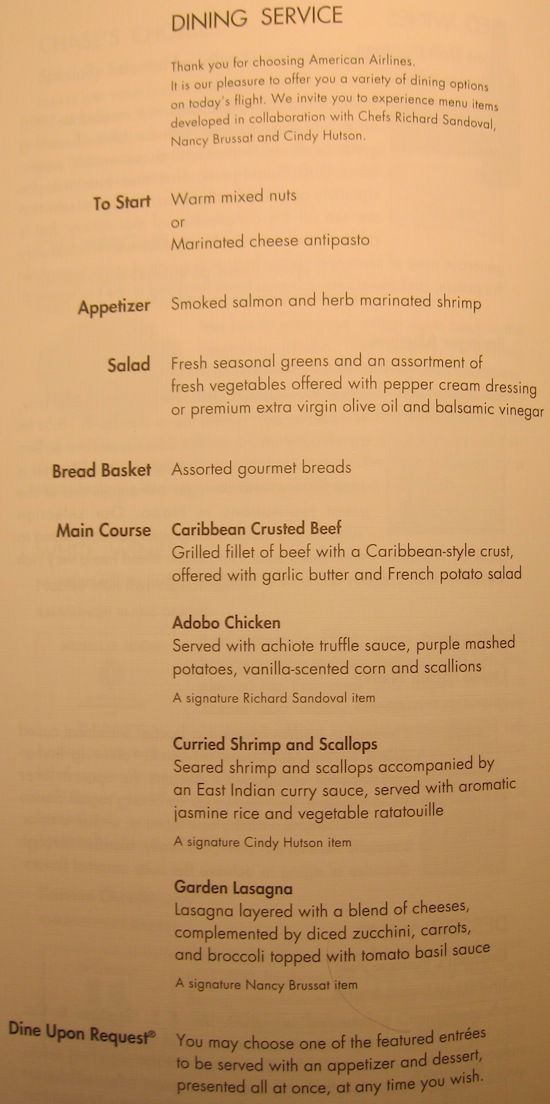 And for my resident sommelier (AUSTEX, I'm looking at you), here's the wine list: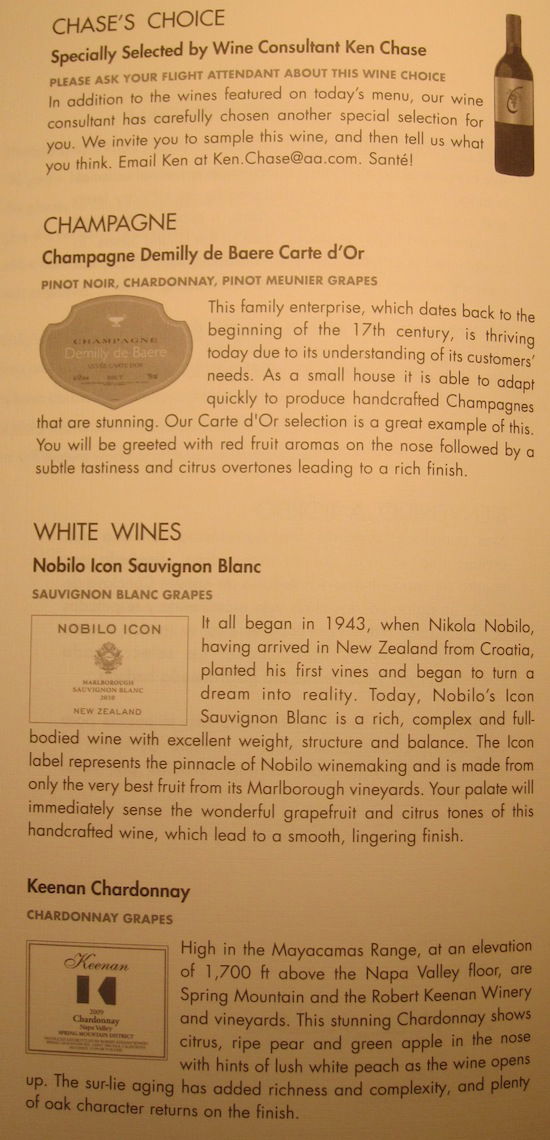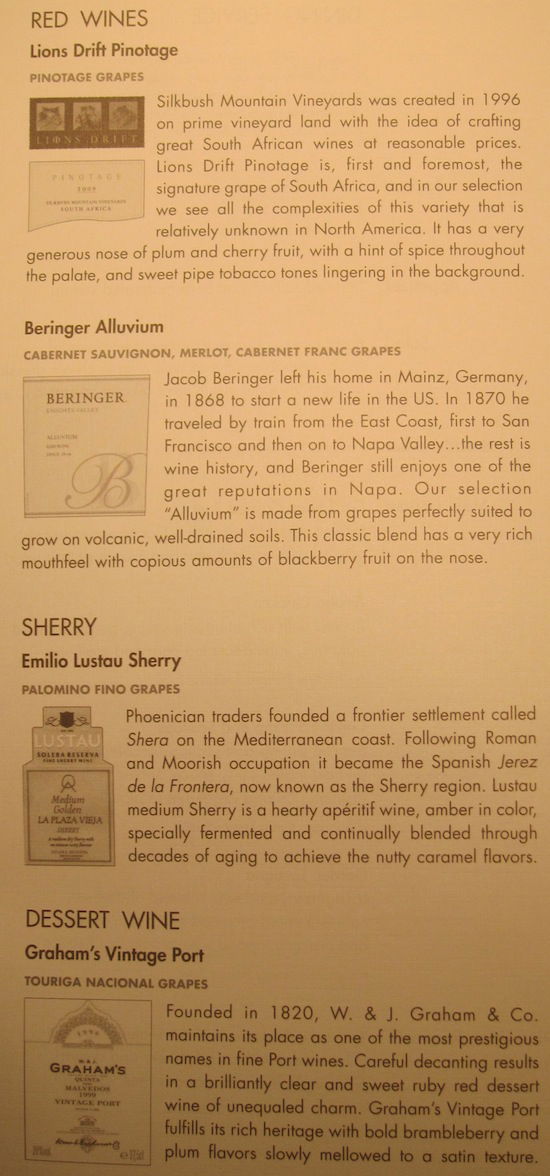 It's worth noting that American's business class meal service on the 767 is substantially better than on the 777. As a matter of fact, the business class meal service on the 767 is closer to the 777 first class meal service than the 777 business class meal service.
Why? Well, apparently it's because there's no first class, so it's "compensation" of sorts. Though I'm not sure that makes any sense, since everyone is only paying for business class. I suspect it also has something to do with the portable entertainment system and narrower seats. Whatever the reason is, I'm not complaining, since the meal service really is quite nice on the 767.
Meal service started with drinks. While they're only accompanied by warm nuts on the 777, on the 767 they're served with both warm nuts and marinated cheese.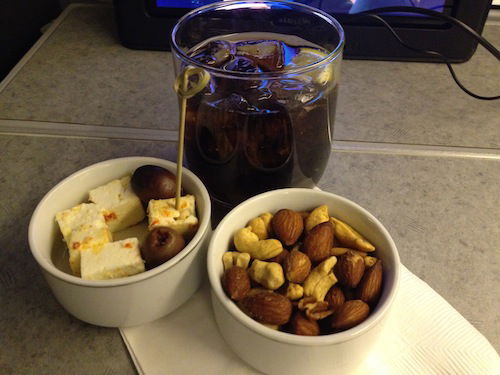 Warm mixed nuts and marinated cheese antipasto
Service was quick given how empty the cabin was, so within a few minutes tablecloths were distributed.
The first course consisted of shrimp and salmon with a lemon wedge and tartar sauce. It was delicious, and accompanied by the breadbasket, from which I took a sourdough roll.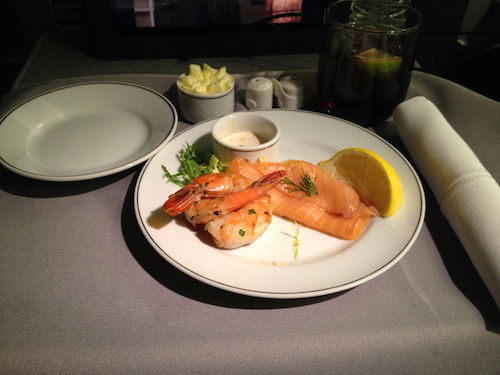 Smoked salmon and herb marinated shrimp
After that salad was served, which was a generous portion.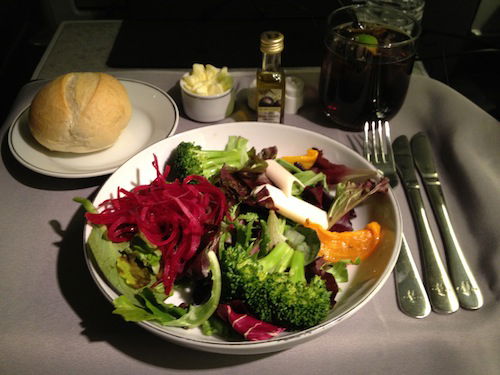 Fresh seasonal greens
It's worth noting that on the 777 the appetizer and salad are served on the same tray, and both are substantially smaller. Furthermore, on the 767 the courses are all plated onboard, while on the 777 they're pre-plated (so the presentation is usually a bit nicer too, assuming you get a decent crew).
The main course was Caribbean crusted beef. It was delicious, and served with potato wedges with a blue cheese sauce.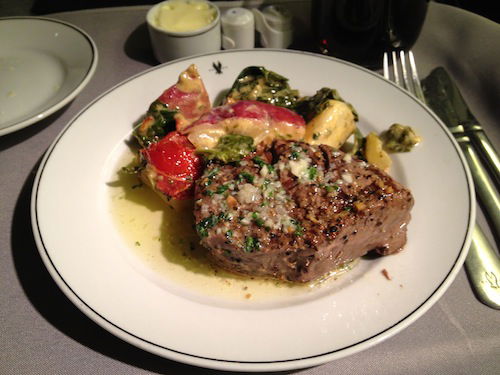 Caribbean crusted beef
For dessert I had the ice cream sundae. This crew certainly wasn't stingy with the toppings (compare that to the 777, where you get a cup of ice cream instead of a sundae).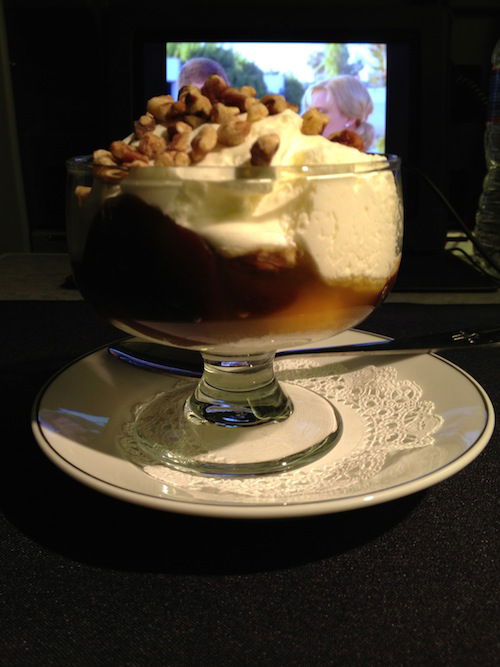 Ice cream sundae
After dinner water bottles were distributed, and I headed to the lav to get ready for "bed." I briefly spoke with the crew, and they really were all awesome. We talked about the state of American, and it was refreshing to see their approach – they were pissed about what was going on with the bankruptcy (understandably so), but all agreed that the second they step on the plane they leave those opinions behind, because as they explained, it's not the passengers that are at fault, and at the end of the day passengers pay their salary. A refreshing attitude…
I managed to get a few hours of sleep and actually skipped the breakfast service. While the seats aren't especially comfortable for sleeping, American does have pretty good duvets and pillows, which help a bit. Besides, since the flight was so empty I managed to snag some extra pillows and duvets from the seats around me, which helped make the "bed" a bit more comfortable.
I woke up about 30 minutes out as we were beginning our descent. I changed back into my jeans and restowed all my carry-ons in anticipation of landing.
Even though it was still dark outside the views of Barcelona were quite nice, since we came in over the water.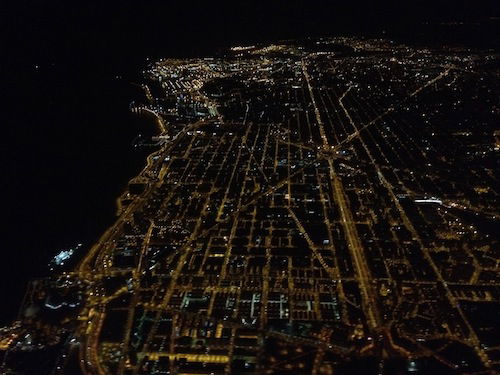 View on approach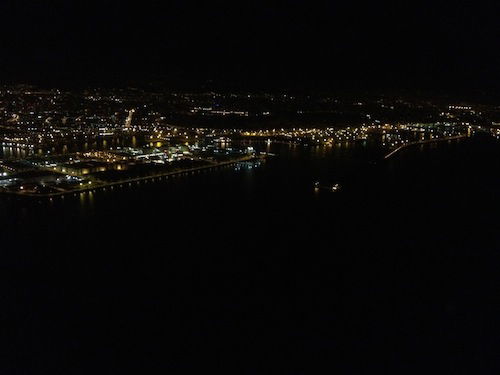 View on approach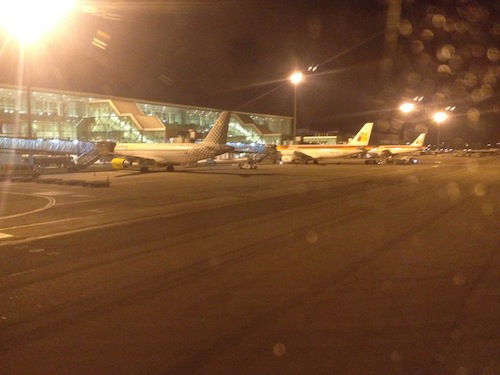 Approaching the terminal
There were no queues at immigration and Barcelona airport is very easy to navigate, so within 10 minutes of landing we were in a taxi to the Le Meridien.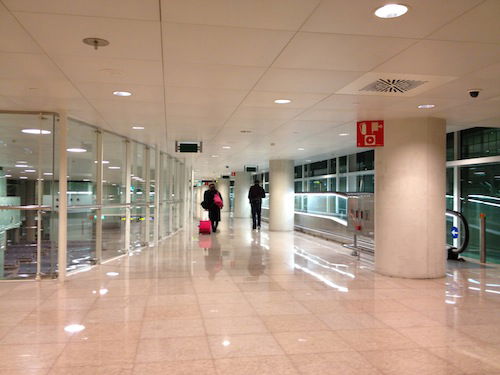 Terminal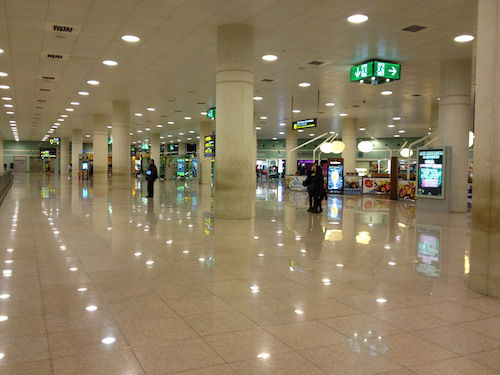 Terminal
On the whole I had one of my best flights on American. The service was phenomenal and the food was very good. While the seat wasn't especially comfortable compared to the business class products offered by some other airlines, the value can't be beat when upgrading from coach.