---
After an all too quick three nights in Barcelona we grabbed a cab to the airport at around 8AM for our 10:15AM flight. We made it to the airport shortly before 8:30AM and proceeded straight for American check-in, which we found to be deserted.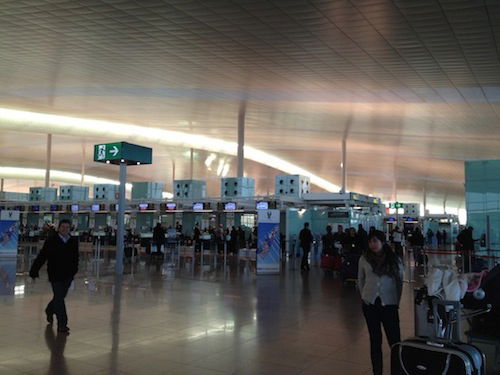 Check-in
My friend and I checked in with separate agents. My agent spoke flawless English, though could only be described as a wannabe 2o-something-year-old Snooki, from her orange tan to her attitude. She asked me how many bags I wanted to check, and I said I just had carry-ons. I'll be the first to admit when my bag is overweight (which it usually is), but in this instance it was actually "legal."
After I said I had just carry-ons she laughed, looked at my bag, and started screaming at the other agent in Spanish. All I heard was "muy grande." I explained it was the standard size, and she said it was way too big, and continued laughing and talking to her colleague in Spanish. Once she realized I was actually in business class, she said "oh, you're in primera clase, that's completely different." The attitude really wasn't necessary…
The security queues were short, and we headed straight for the shared lounge that many airlines use in Barcelona, simply named the "VIP Lounge."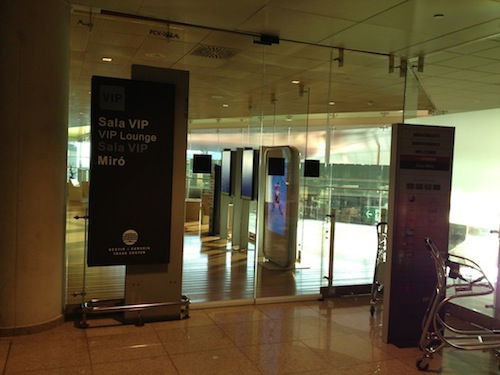 Lounge
The lounge was reasonably nice with plenty of seating and a modest buffet consisting of croissants, muffins, etc. It was perfectly nice, though my only frustration is that Wi-Fi wasn't free. They had a few PCs in the lounge, though they were constantly occupied. I just find it disappointing that in 2012 there are still airline lounges that don't have free Wi-Fi. As far as I'm concerned get rid of the champagne and food and give me Wi-Fi instead!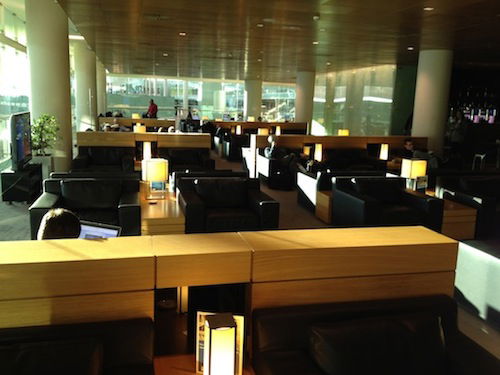 Lounge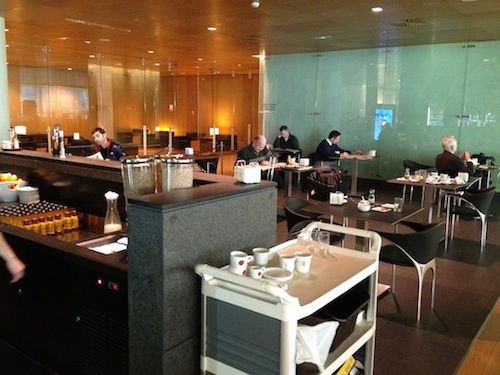 Lounge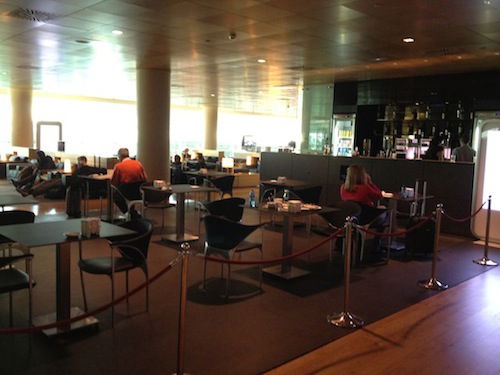 Lounge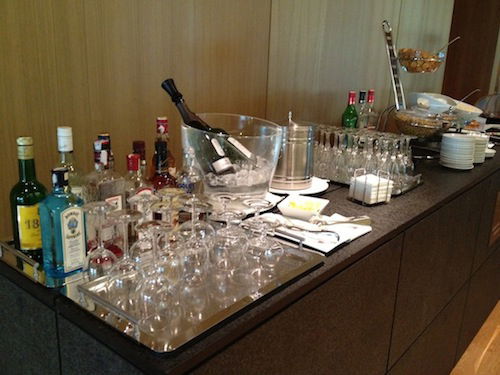 Lounge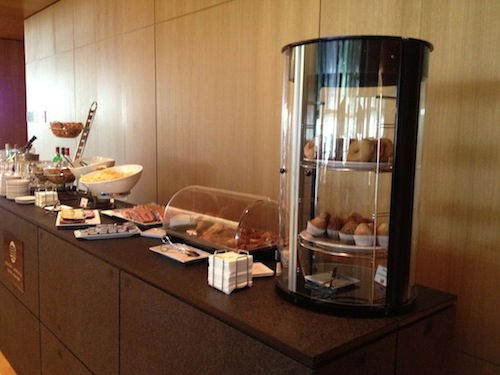 Lounge
At around 9:30AM we headed for our departure gate, D10, which was quite a haul from the lounge.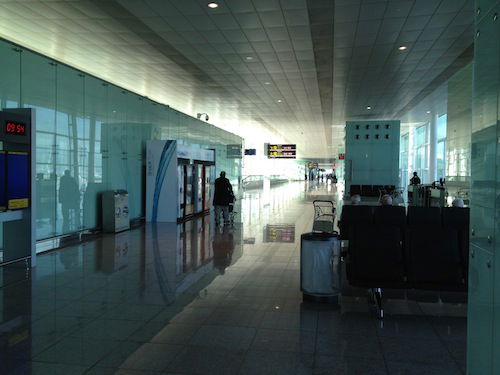 Terminal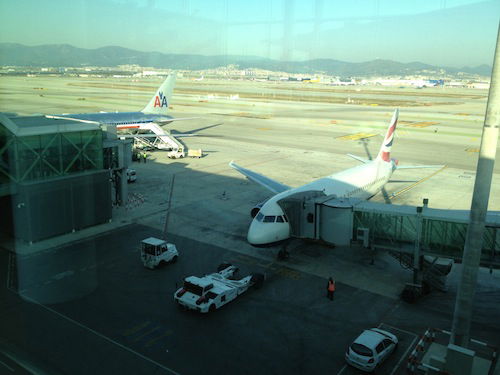 Tarmac
At around 10AM boarding still hadn't started, so my friend went up to ask when boarding was supposed to begin. There he was once again "greeted" by Snooki. She saw I was using my iPhone to snap pictures of the gate, so she interrupted her conversation with him to tell me not to take pictures of the gate area for "security reasons."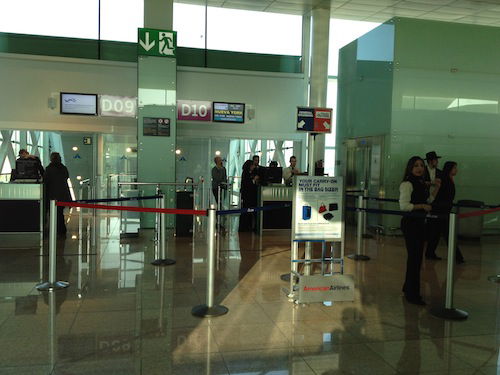 Gate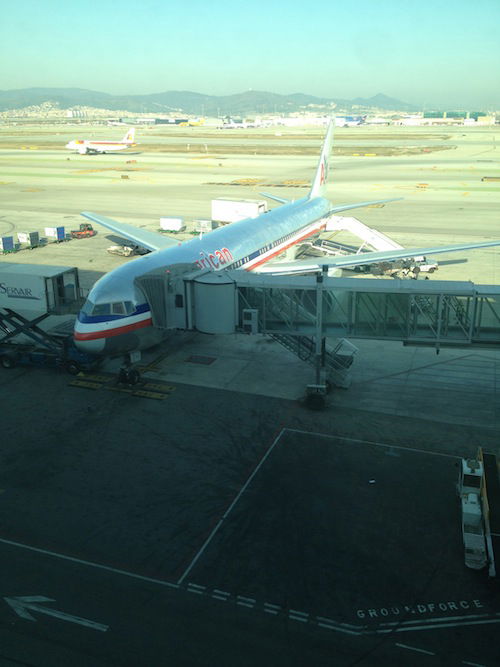 Our plane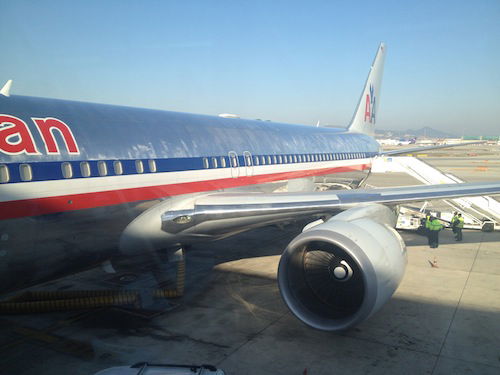 Our plane
At around 10AM boarding started with business class.
American 67
Barcelona (BCN) – New York (JFK)
Thursday, February 9
Depart: 10:15AM
Arrive: 1:20PM
Duration: 8hr5min
Aircraft: Boeing 767-300
Seat: 5D (Business Class)
I initially settled into 5D, where I already found a pillow, blanket, slippers, amenity kit, and entertainment system.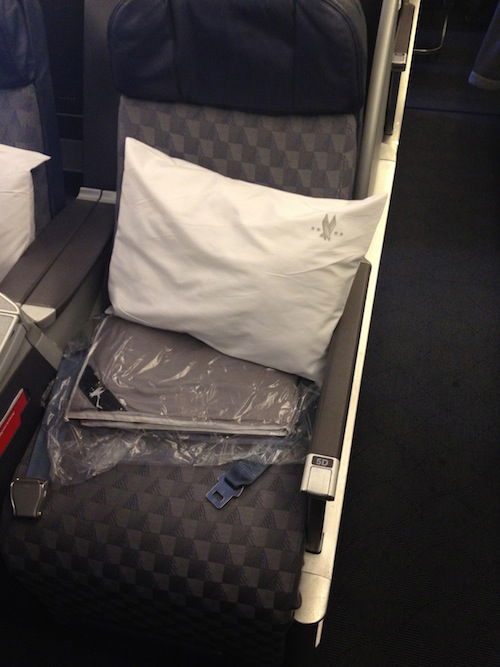 My seat, 5D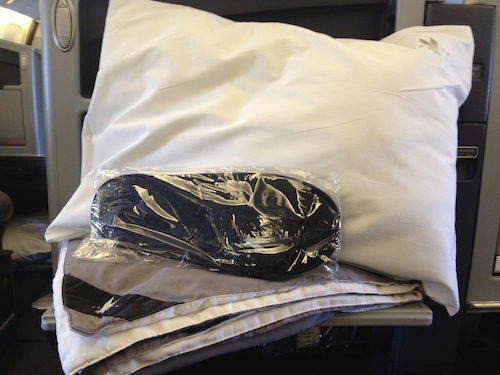 Amenities
Within a few minutes of settling in the friendly crew offered us pre-departure beverages, and I selected OJ.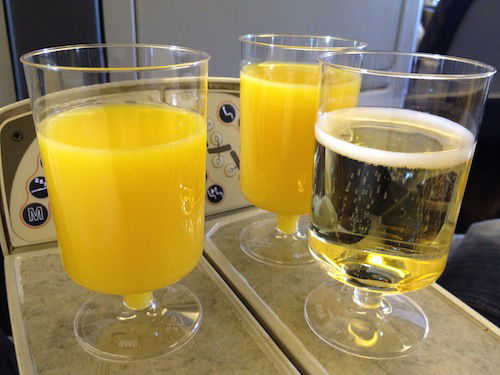 Pre-departure beverages
As boarding finished up business class was still half empty, so I switched to 6J so I'd have a pair of seats to myself.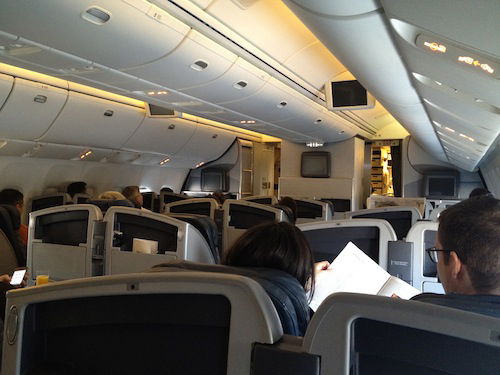 View from 6J
Before pushback the captain came on the PA to advise us of our flight time of 7hr45min, anticipating a slightly delayed arrival due to our late departure.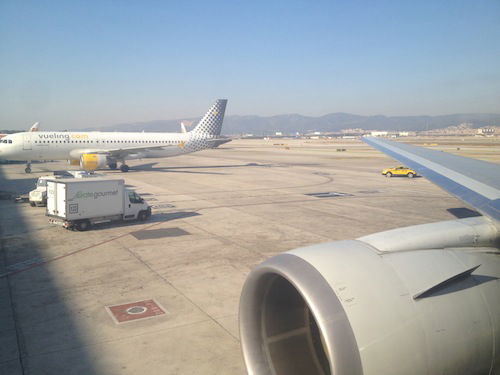 Before pusback
Our late departure sure wasn't helped by the fact that I've seen snails move faster than our captain was taxiing, so it was another 20 or so minutes before we were airborne.
As we were taxiing out one of the business class flight attendants started talking to us, and she asked what we do. I always have a hard time explaining to people that don't know me what I do. I can say I'm a travel blogger, though to most people that creates an image of me sitting in my mother's basement all day in pajamas surfing the web (hey, not saying it's that far off). 😉
I could say I'm a "travel consultant," but nowadays everyone is a "consultant," so that doesn't really mean anything. So before I had the chance to answer, my friend jumped in and said I was a travel blogger. The flight attendant had a look of pure horror on her face, and then asked what I write about. I jokingly said "I mostly compare service in business class across various airlines," which she seemed to take far too seriously, because service was beyond flawless for the rest of the flight. After takeoff the same flight attendant came up to me and said "well you'll just have to evaluate my service at the end of the flight, then."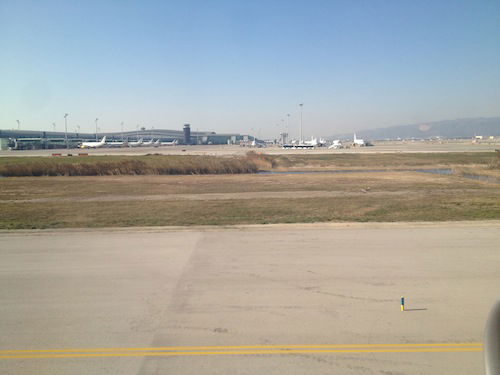 Taxiing out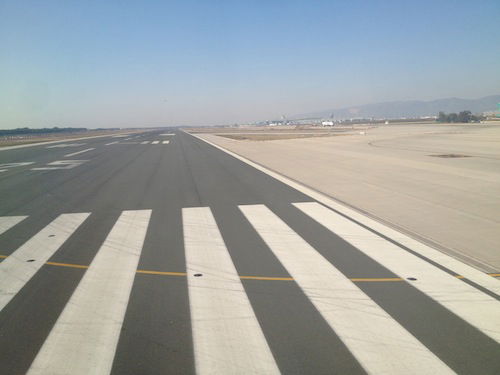 Taxiing out
The views were beautiful as we climbed out, and I was quite looking forward to my trip to Spain a couple of weeks later where we'd have the opportunity to explore the coast.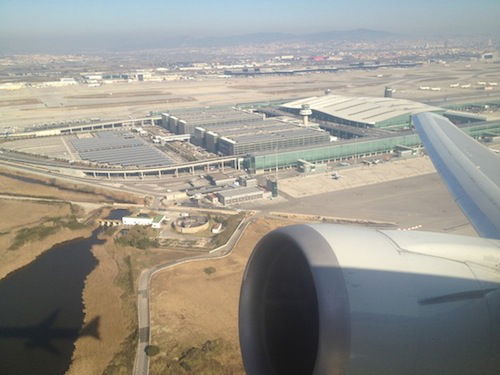 View on climb out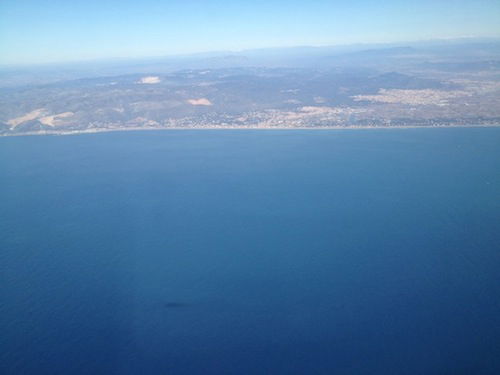 Beautiful coast views
About 30 minutes after takeoff the menus were distributed and meal orders were taken. The lunch menu read as follows: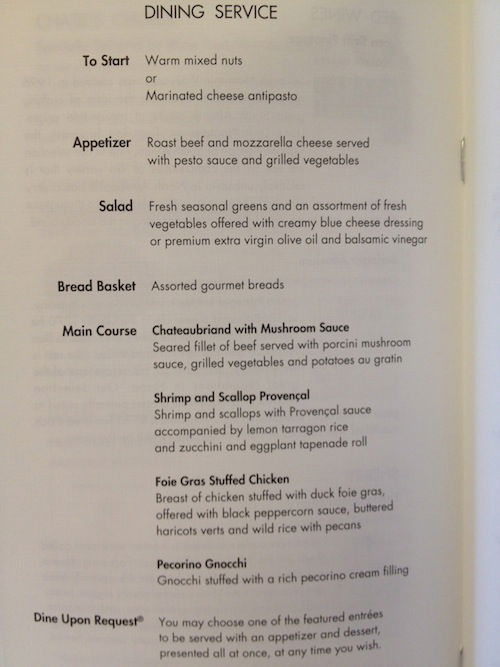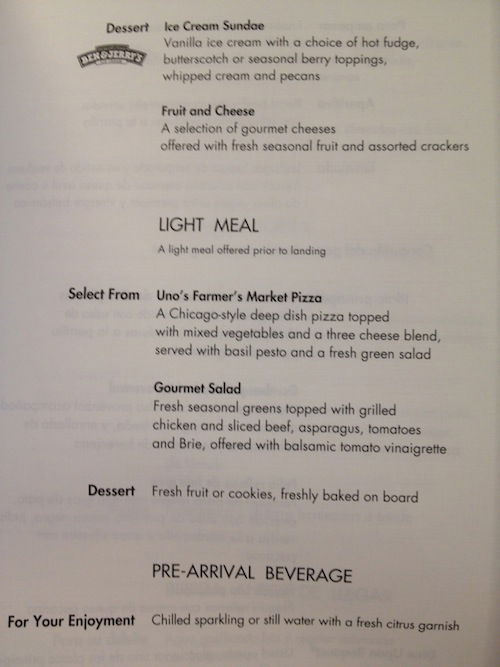 Service began as usual with drinks, hot nuts, and marinated cheese.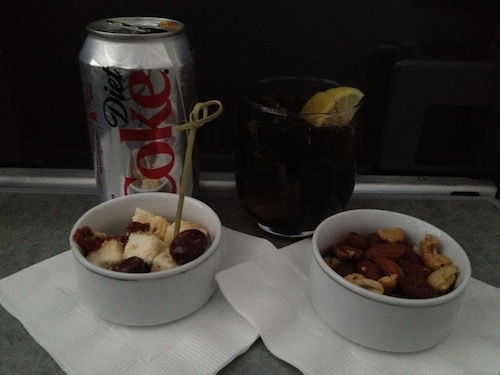 Diet Coke, hot nuts, and cheese
That was followed quickly by the appetizer, which was a delicious roast beef and mozzarella cheese dish.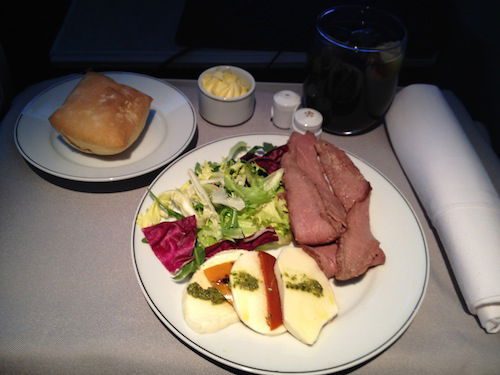 Starter
Next the salad was served, which was equally delicious.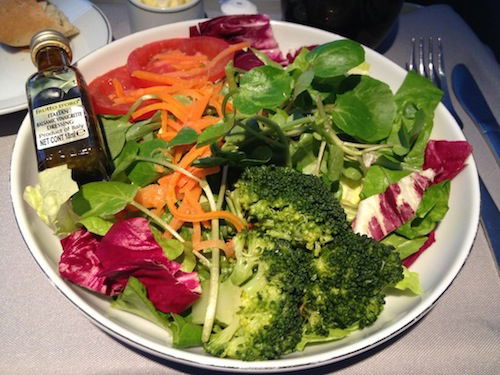 Salad
For the main course I went with the gnocchi. It's not often that a pasta dish on a plane is excellent, though the gnocchi was.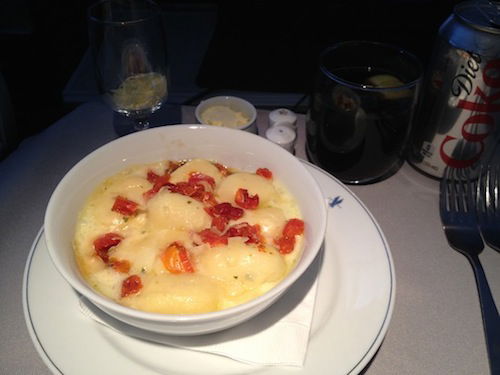 Gnocchi
For dessert was the signature ice cream sundae, which as usual I had with chocolate sauce, butterscotch, nuts, and whipped cream.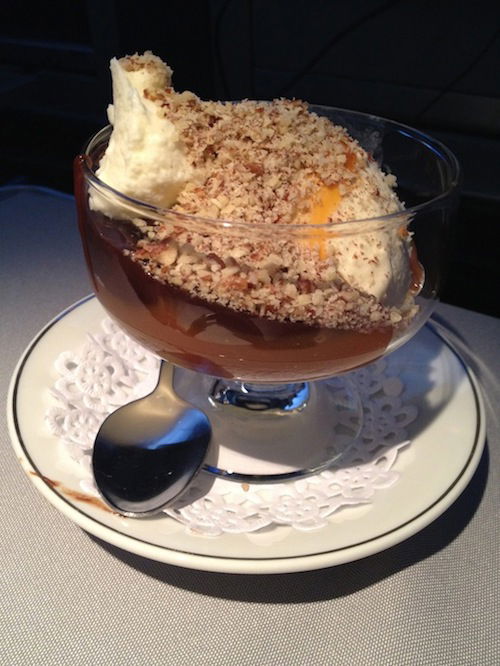 Ice cream sundae
After the meal service water bottles were distributed.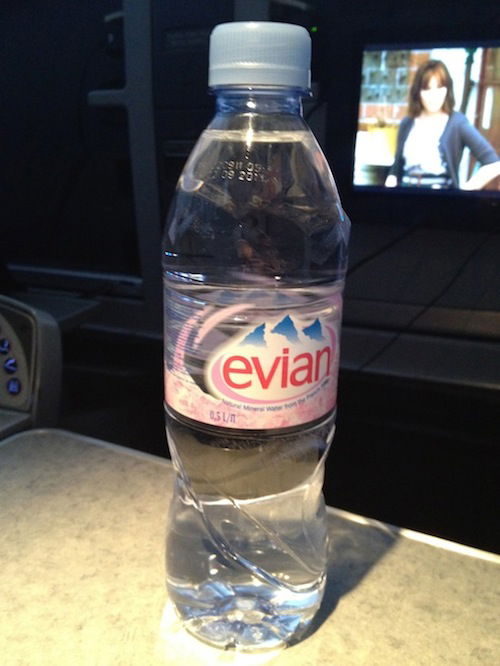 Water bottle
I was pretty exhausted at this point, so decided to take a nap, which lasted for about four hours. While I don't find American's current generation business class seats to be especially comfortable given that they're angled flat, with enough pillows and blankets I can sleep just about anywhere.
About two hours before landing the crew served fresh fruit, which is usually served as dessert during the pre-arrival meal, though I appreciated the crew's creativity in serving it as a "snack."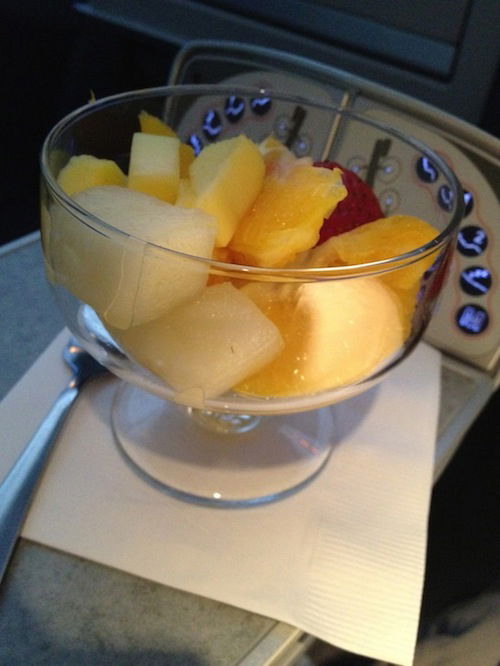 Fresh fruit
At that point I decided to watch a movie, and went with "I Love You, Man." Meh, it was okay.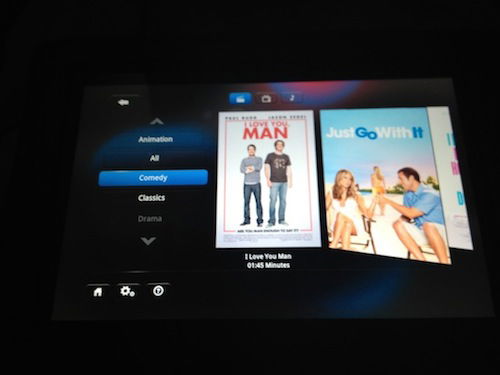 Entertainment selection
About 90 minutes out of New York the pre-arrival meal was served, consisting of the following options: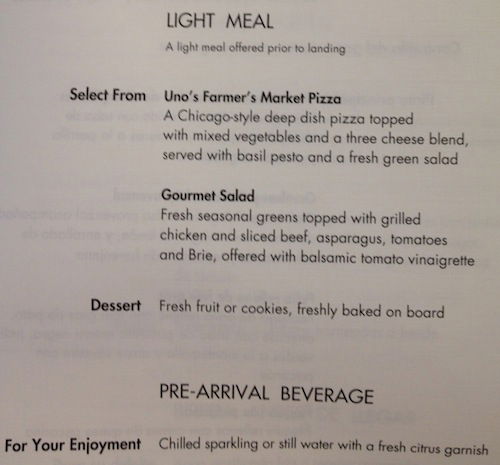 I ordered the pizza, which was served with a salad and freshly baked chocolate chip cookie.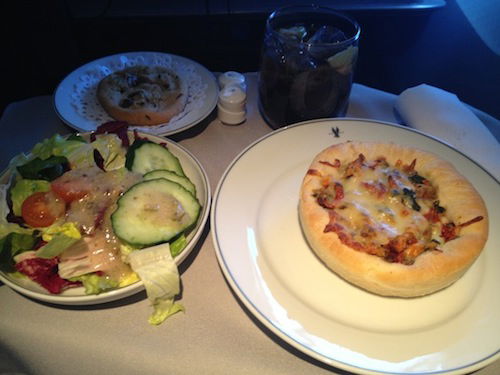 Pre-arrival meal
About 30 minutes out headphones and entertainment systems were collected, and the seatbelt sign was turned on. We made it to JFK almost on-time.
I have nothing but positive things to say about the crew, as they were friendly and attentive. Jokingly I couldn't help but hand the flight attendant the following on the way out, given our conversation: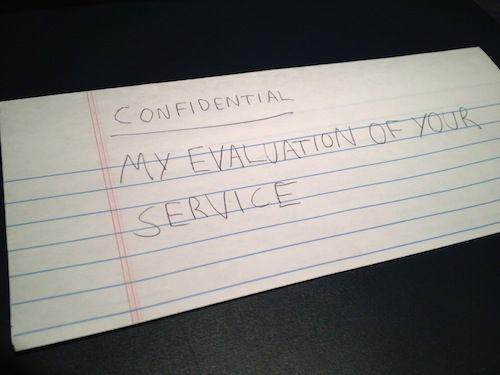 Inside I just wrote "Thanks for the great service, and hope to be on another one of your flights soon."
The trip to Barcelona was actually my first time flying American internationally on their 767s, and as I noted in the outbound trip report, the meal service is considerably better on the 767 than the 777. While I do find the 777 to be a bit more comfortable of an aircraft, the enhanced meal service more than makes up for the narrower seats and portable entertainment systems.
I'm really excited about American's new business class cabins, and in the meantime the value of booking coach and upgrading to business class using systemwide upgrades can't be beat with American!