---
After a 20 minute cab ride from the airport we arrived at the Le Meridien shortly before 8AM. The Le Meridien is located off of Las Ramblas, one of the busiest tourist zones of Barcelona.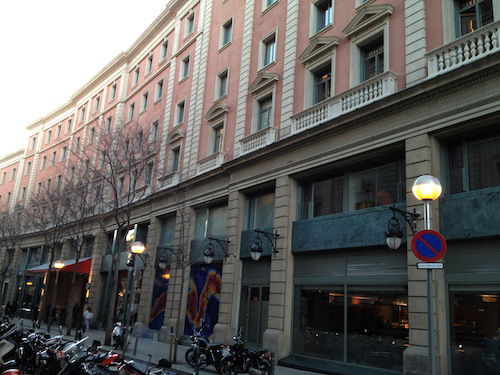 Unassuming hotel exterior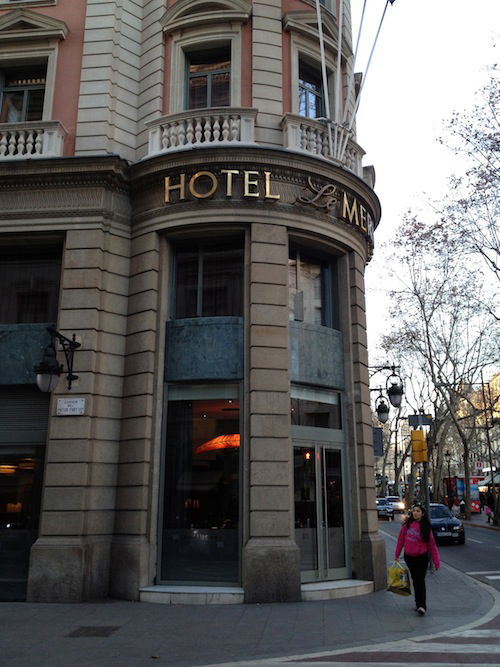 Le Meridien restaurant entrance
Once in the lobby we were welcomed by two super-friendly check-in agents, who couldn't have been nicer. As a matter of fact they were scam-artist friendly, if you know what I mean. Fortunately they didn't appear to have any ulterior motives.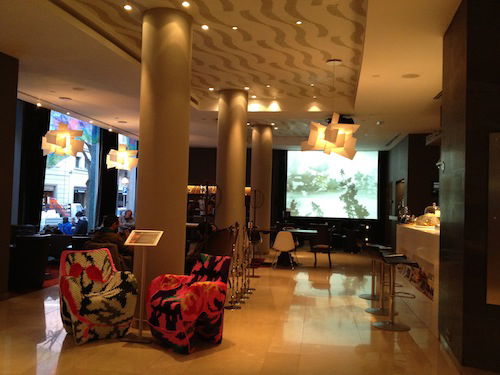 Lobby
Despite it being before 8AM they had no problem checking us in. We even got (without asking!) an upgrade to one of their prestige suites. While the free continental breakfast for Platinum members wasn't yet a benefit during our stay, we did get a voucher for two free coffees from their café. On the whole, a pretty great deal on cash and points for only 4,800 SPG points and $90USD per night.
Our suite was located on the 4th floor overlooking Las Ramblas.
The suite featured a living room with plenty of "open space." There was a circular couch, table with chairs, and desk.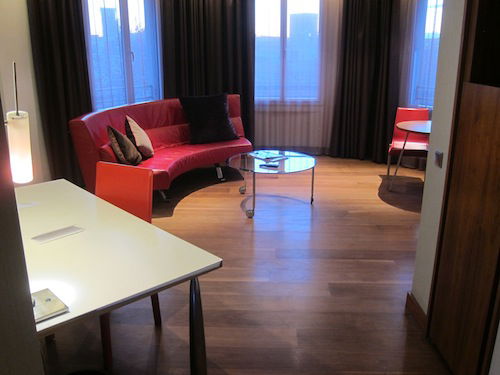 Living room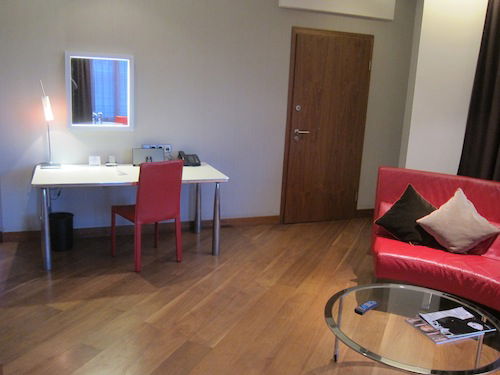 Living room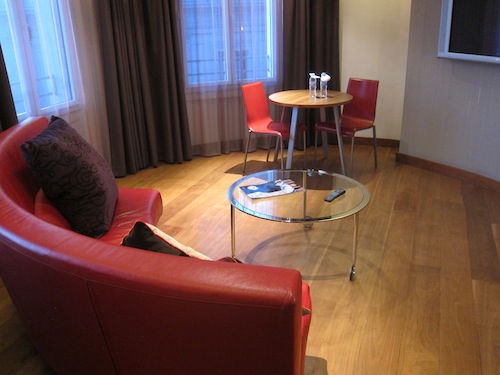 Living room
To the right side was the bedroom, featuring a really comfortable bed.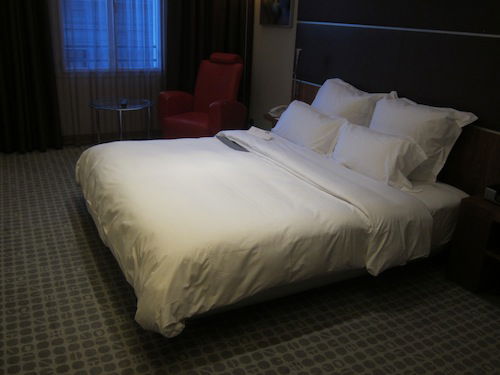 Bedroom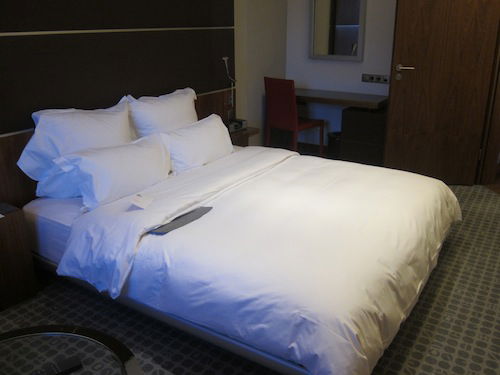 Bedroom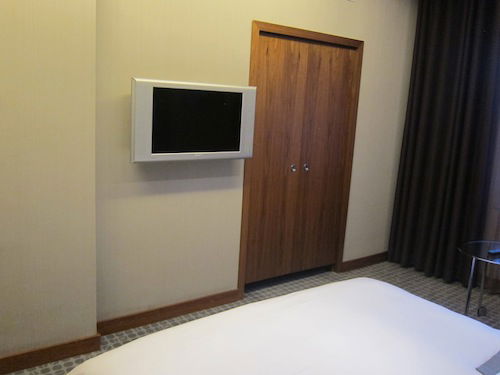 Bedroom
Across from the bedroom was the bathroom, which featured a walk-in shower, tub, toilet, and sink. The water pressure and temperature control were both excellent.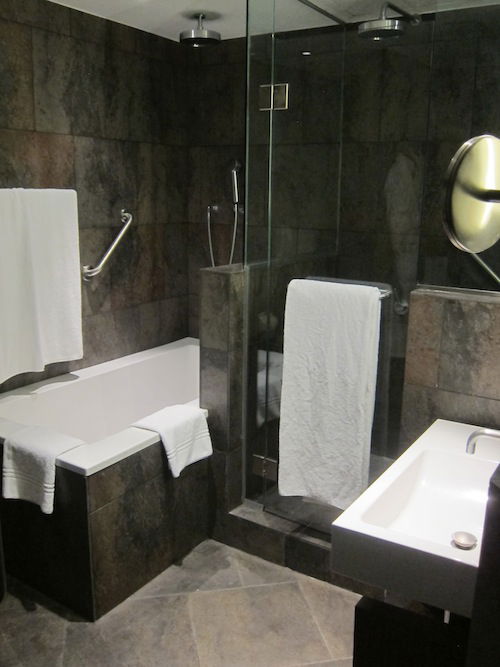 Bathroom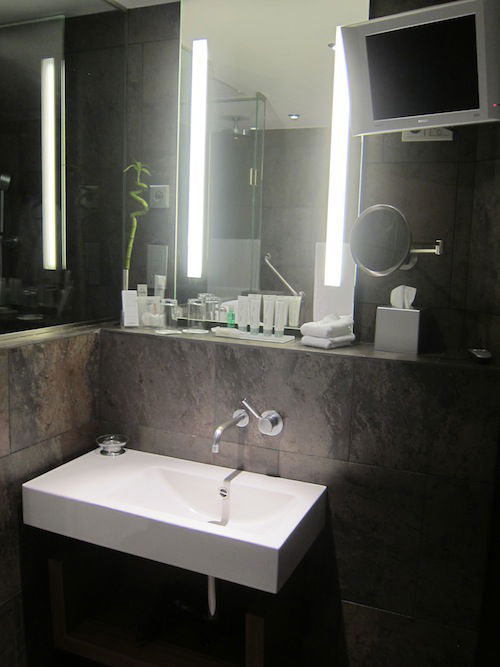 Bathroom
Even though there's construction going on at the hotel I can't say I noticed it all that much. Any noise we heard was from Las Ramblas, given that our room was directly overlooking it.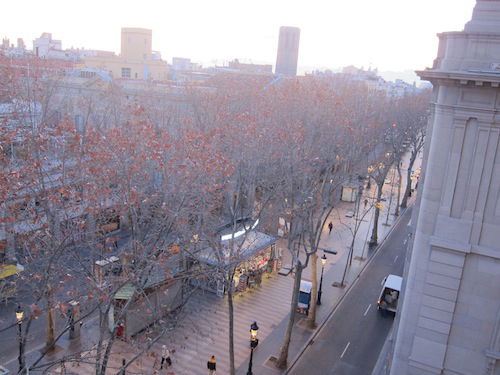 View from room
On the whole I found the service at the hotel to be phenomenal. All of the employees — from the front desk to the concierge to the bellman – were top notch and genuinely eager to please.
As far as the location of the hotel goes, it's both a blessing and a curse. Las Ramblas is as touristy as it gets in Barcelona, so on one hand you're centrally located for just about anything touristy you'd want to see. At the same time, Las Ramblas really is a bit of a tourist trap, so any restaurants and activities located along the street are over priced and lower quality than what you'd get elsewhere.
For what it's worth I noticed the Mandarin Oriental is located along Passeig de Gracia, which is more like the 5th Avenue of Barcelona, while Las Ramblas would be more likes Times Square. Obviously it's a bit more pricey, though if it wasn't too much more I'd definitely consider it in the future.
Anyway, on the whole I found the Le Meridien to be fantastic. The service and suite upgrade were great, and an especially good value given that I used cash and points.
If I were to return I might try the W Hotel which is located by the water, or if it were a special occasion I might stay at the Mandarin Oriental, which looked really nice from my brief visit to the lobby. But I wouldn't for a second hesitate to stay at the Le Meridien again.