Marriott has announced some "enhanced" contactless hotel features intended to respond to "consumer desires," but I'm not sure this is actually what we want. Actually, I'm pretty positive this isn't what most of us want.
Hotels will never be the same post-coronavirus
While we've seen hotels cut all kinds of services during the pandemic in the name of safety, it's becoming increasingly apparent that hotels will never fully be the same.
Recently Hilton's CEO bragged about how hotel service cuts are permanent, and that the focus is on making hotels higher-margin businesses by creating more "labor efficiencies," particularly in the areas of housekeeping, food and beverage, and other areas. He stated that the hotel industry would be higher-margin and require less labor than it did pre-coronavirus.
Well, Marriott has just made an announcement that makes it clear that the hotel group has a similar plan, except Marriott is spinning this as being due to customer feedback. Natch.
Marriott's "enhanced" contactless technology
You've gotta love the title of Marriott's press release:
"Less Hassle, More to Explore: Marriott International Continues to Deliver on Consumer Desire for Enhanced Contactless Technology"
Marriott is promoting a new pilot program that's being rolled out at select hotels, which is intended to create a "seamless guest experience." This includes two things for now:
Contactless arrival kiosks at select-service hotels
The launch of a proof-of-concept for contactless grab-and-go marketplaces at two Fairfield by Marriott properties
Let's look at the details of these changes.
Contactless arrival kiosks
Marriott is piloting contactless arrival kiosks at the Moxy NYC Times Square, Courtyard New York Manhattan/Midtown East, and TownePlace Suites Monroe.
Upon arrival, guests will have the option of skipping the traditional check-in line altogether and completing a three-step process at the kiosks to check in for a single reservation, with room keys created on the spot. Guests can also check-out using these kiosks.
Marriott claims that the kiosks employ antimicrobial technology baked into a touchscreen glass, powered by UV light, to kill bacteria and viruses.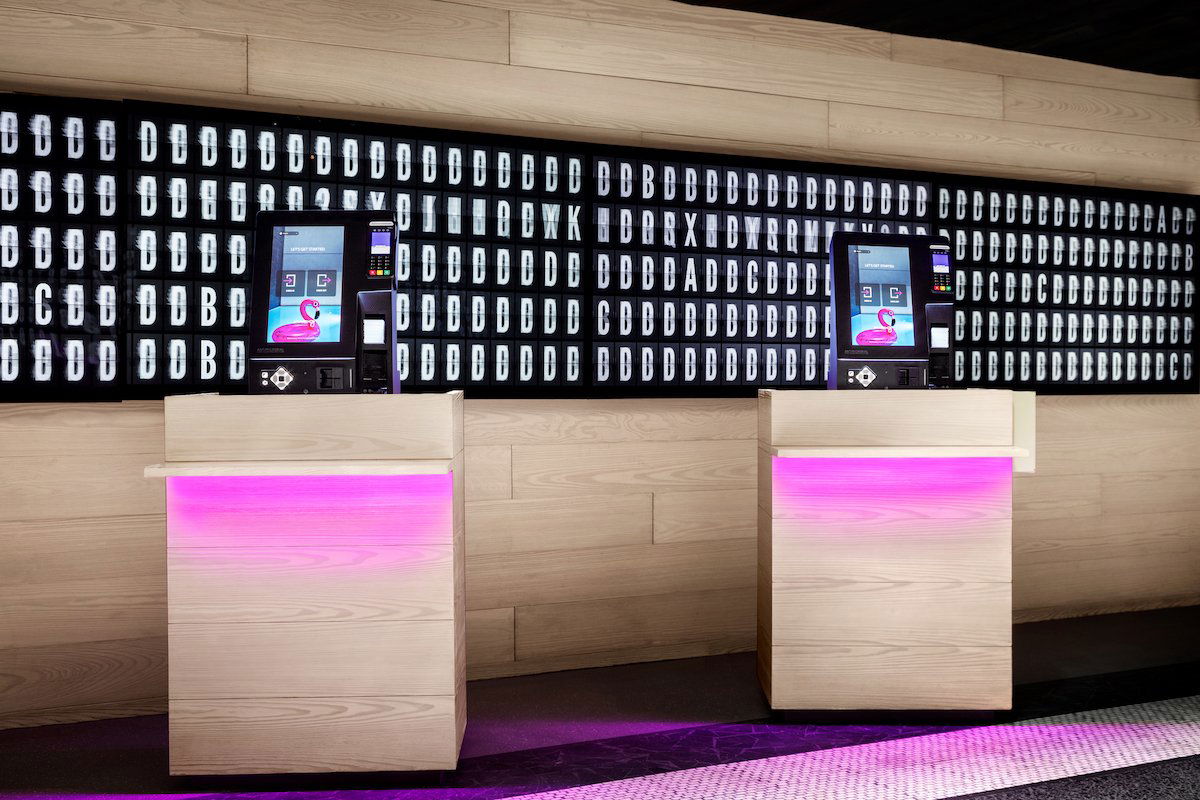 I have a few thoughts on these kiosks:
Marriott is referring to these kiosks as "contactless," but rather it seems that they're just human contactless, rather than actually contactless; that's an important distinction
Will the kiosk check your ID? I'm not saying it's not possible, I'm just curious if the plan is for that to happen, though I suppose many people may prefer no ID check in terms of the mattress run opportunities
Even if this was a good idea in theory, the reality is that this doesn't help if you're checking in and want to ask about an upgrade or any of the hotel's amenities, and doesn't help at check-out if your charges aren't correct (which I find to be the case more often than not as an elite member)
Why doesn't Marriott simply make its app more usable for checking in and checking out, rather than installing these new kiosks? Because I'd totally use the app if it worked properly, but as an elite member the functionality sure is limited
As an introvert who avoids human interaction at virtually every opportunity possible, I still haven't found a single hotel that has an app or kiosk that fully replaces a front desk in an efficient way; I don't need to be thanked for my loyalty or need a 10 minute speech about the amenities, but even apps and kiosks often can't get the basics right
New grab-and-go machines will serve you breakfast
Marriott claims that Fairfield by Marriott will be "an industry disruptor" with the testing of a new grab-and-go marketplace concept. This pilot is available at the Fairfield Inn & Suites Frederick and Fairfield Inn & Suites Arundel Mills BWI Airport.
These wall-to-wall kiosks offer a centralized marketplace where guests can select snacks, beverages, light bites, and sundries. Furthermore, the breakfast offering will be incorporated into the design during breakfast hours, with a selection of hot breakfast sandwiches, cereal, yogurt, fruit, and more. Specialty coffee and a-la-carte items will also be available for purchase at the kiosks with contact-free bluetooth payment.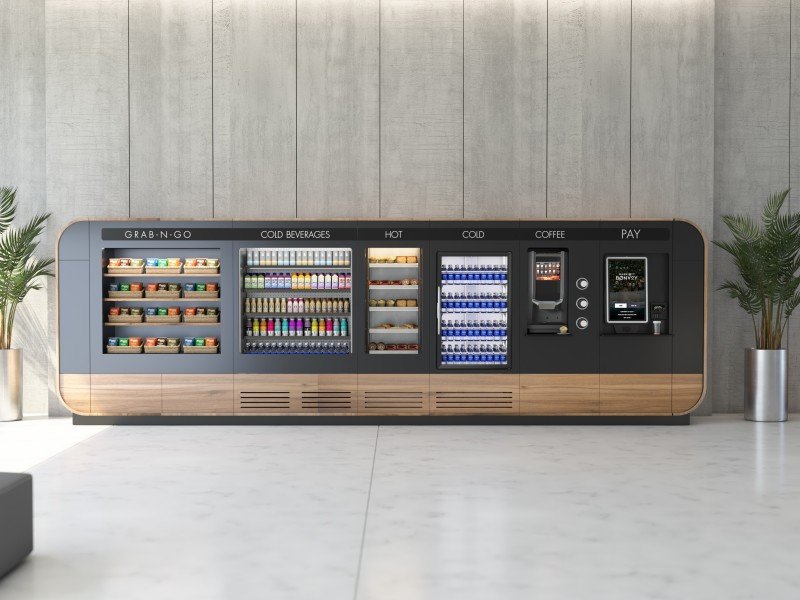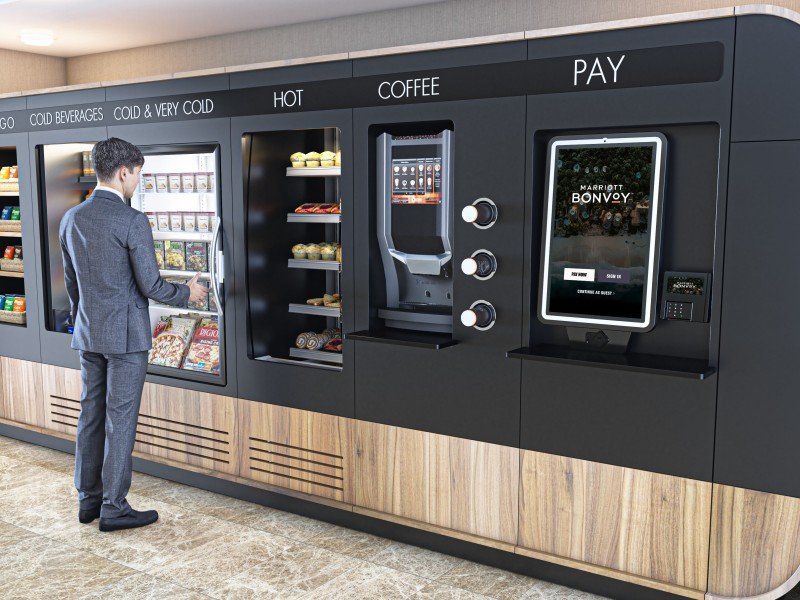 My thoughts are similar to the kiosks:
While I get the ability to make contact-free bluetooth payment, these grab-and-go offerings don't seem to be contactless at all?
While I would appreciate something like this as a complement to other food & beverage offerings, it sounds like this will replace whatever was previously on offer
Lovely, hotel breakfast will be replaced by something in a machine, just what customers have been asking for!
As someone who loves good coffee, the stuff coming from these machines will not be "specialty coffee"
This is about cutting staffing, not customer experience
In fairness to Marriott, this is probably the direction that the industry is headed, and it'll be a race to the bottom. But I at least respect Hilton's CEO for calling a spade a spade, and saying that the hotel industry is going to become higher-margin, and that includes "labor efficiencies."
I mean, seriously, look at Marriott's claims around these new features:
"Both new technologies will help streamline operations with increased efficiency, allowing hotel staff to engage with guests in more meaningful, personalized ways. Exemplifying the art of modern hospitality, they provide thoughtful conveniences to better serve guests throughout their stays."
Right, I'm sure they're eliminating interaction between employees and guests to allow "hotel staff to engage with guests in more meaningful, personalized ways," rather than to reduce staffing and cut costs.
Then Marriott justifies these initiatives by claiming that they're intended to "boost traveler confidence while reinforcing the company's Commitment to Clean initiative." Here are the statistics that Marriott uses to support this:
65% of travelers say that accommodations will need to use the latest technologies to make them feel safe
87% of US customers say they would like to see companies continue to offer options that limit in-person service
Social media posts including the phrase "self-service" increased by 170% year-over-year from 2019 to 2020
To be clear, I largely agree with the above statistics, with one very important distinction — that's how I feel about hotel stays during the pandemic, and not how I feel about hotel stays post-pandemic. We're potentially months from a return to normal in the US, so to use these statistics to justify long-term changes that will be implemented years down the road at many properties is disingenuous.
Lastly, I love how Marriott says that these new options create "less hassle." What does that tell you about how Marriott views its customer service if the company considers interacting with Marriott employees to be a hassle?
Bottom line
Marriott is piloting new contactless features, including check-in kiosks and grab-and-go machines. Except best I can tell they're not actually contactless (in the sense that you still have to touch stuff).
Marriott claims that this will allow guests to have more "meaningful, personalized" interaction with staff, and claims that this is all due to customer feedback. The memo that the company didn't seem to get is that guests might be looking for this during the pandemic, but not long-term.
I can't wait for 2023, when I can be denied a Bonvoy upgrade by a machine, and pick my breakfast out of a machine.
How do you feel about Marriott's new "contactless" features?