I don't think I've ever been so excited about a startup airline, though I fear that their chances of success are probably quite low.
Let's take a look at AURA, which bills itself as "America's first five star flight experience."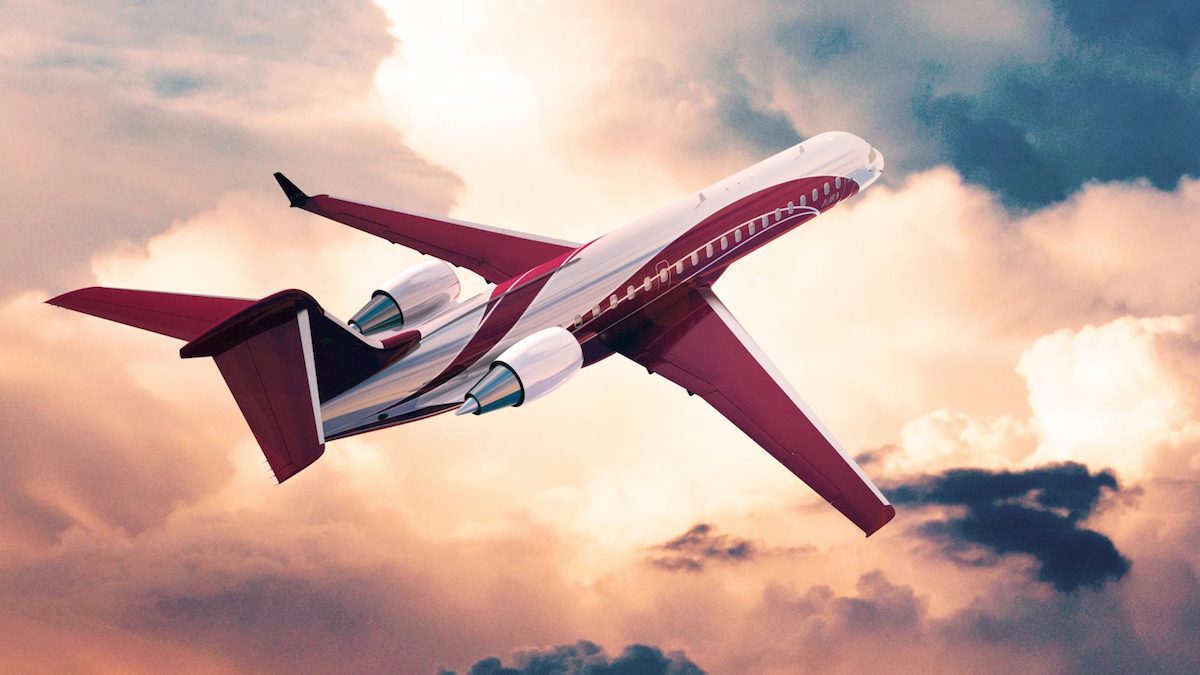 What is AURA?
AURA is a new airline startup that hopes to fly by 2019. They'll operate a fleet of CRJ700s featuring only 29 seats.
This includes eight WAVE seats, which will be in a 1-1 configuration.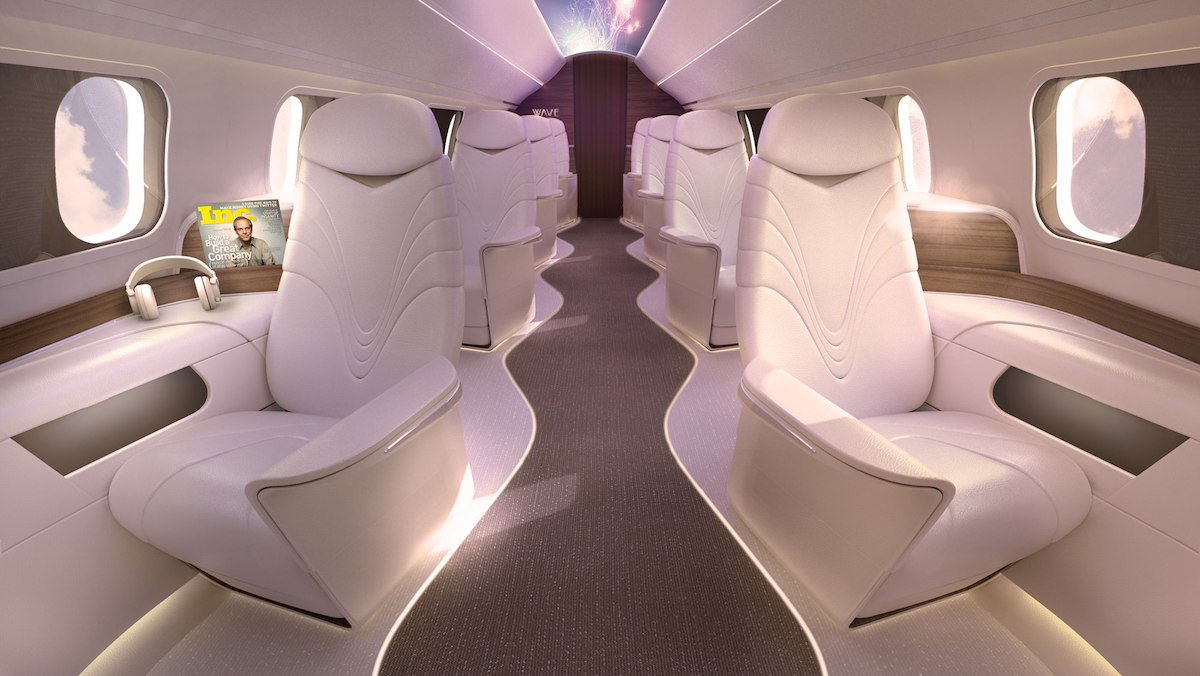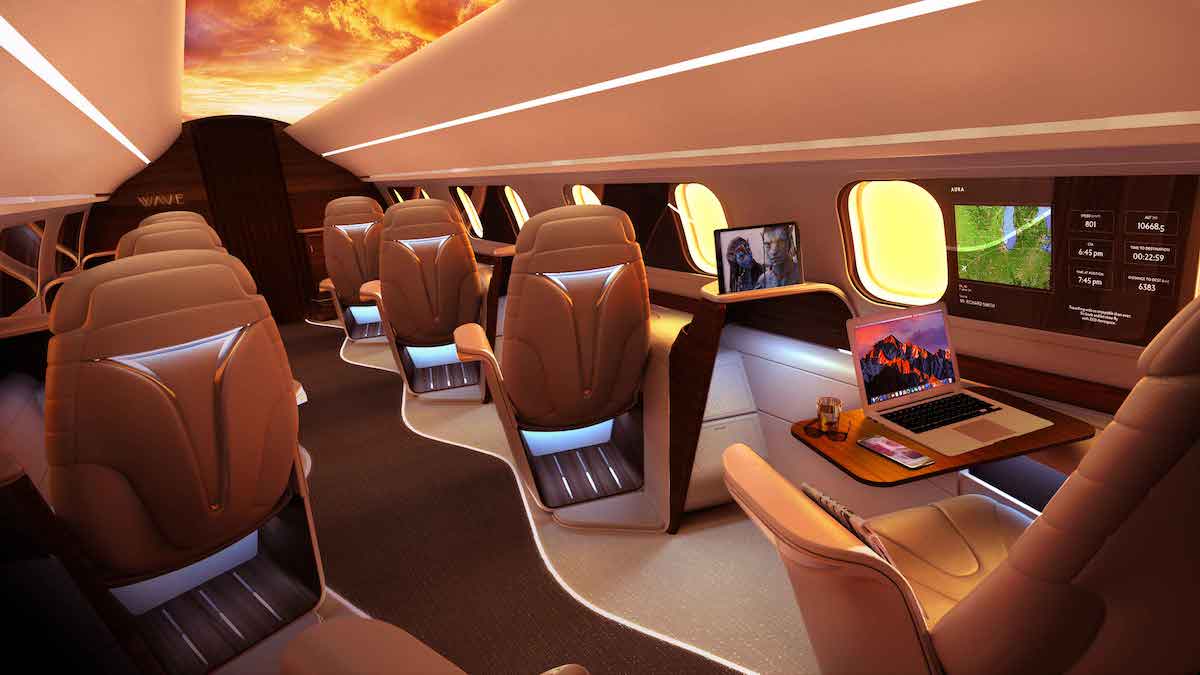 While the seats aren't fully flat, they go nearly flat.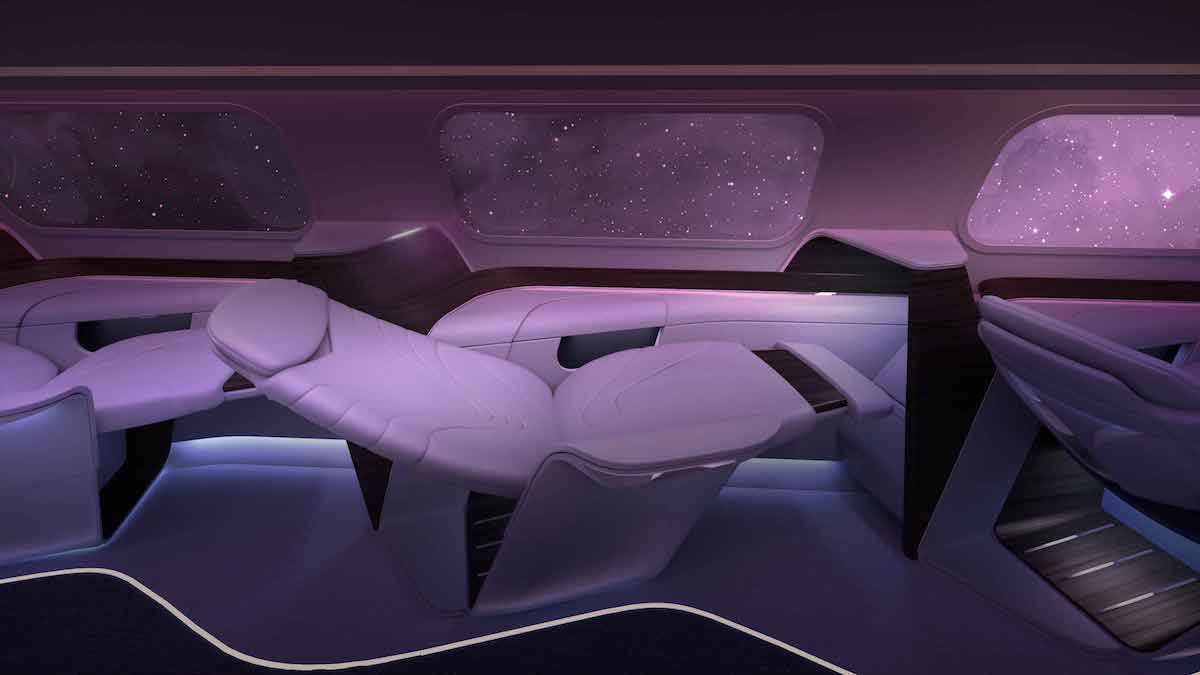 Then there will be 21 FIRST seats, in a 1-2 configuration. These seats feature 44″ of pitch, making them significantly more spacious than typical domestic first class seats.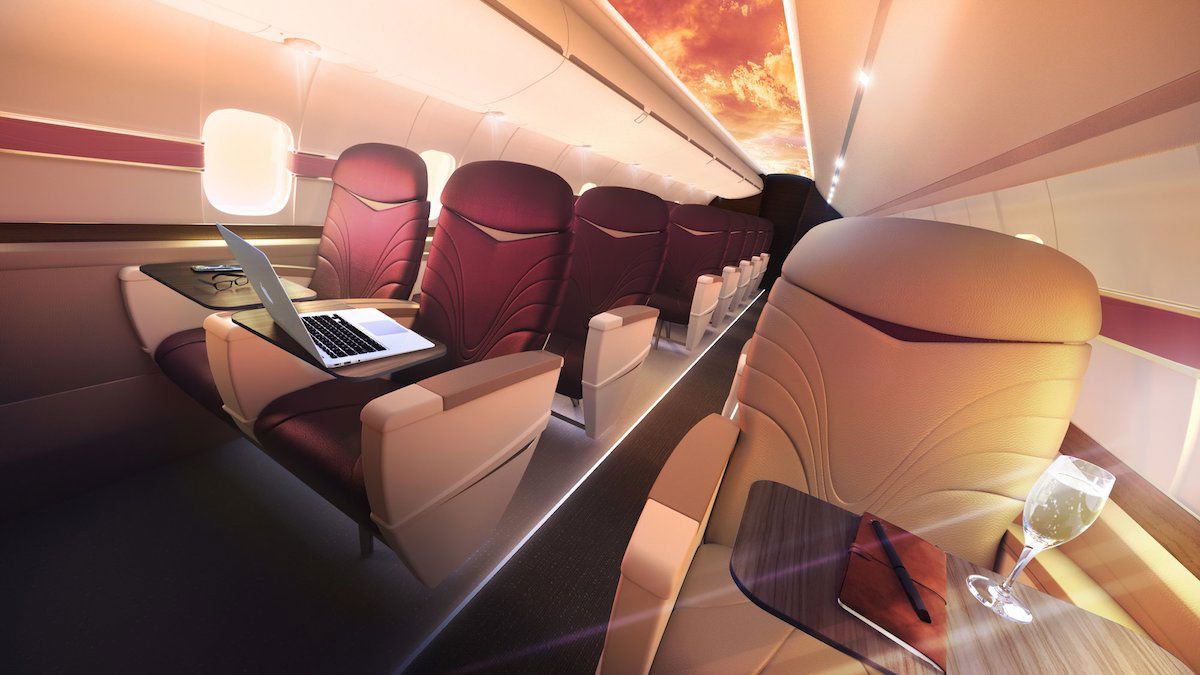 AURA planes will feature Wi-Fi, complimentary food and drinks, and more. They advertise a "book the cook" service for WAVE passengers, where you'll be able to select what you want to eat in advance. Furthermore, they claim that the food is "never frozen" and is "cooked onboard," which I'm somewhat suspicious of, given that we're talking about a regional jet.
Those in FIRST will get fusion tapas, and both WAVE and FIRST passengers can enjoy sushi and sashimi.


AURA flights will depart out of private hangars rather than commercial terminals, to save everyone time. Furthermore, AURA says that the same flight attendants will operate the same flights every week, so you can get to know them better.
Where will AURA fly?
Initially AURA says that they'll operate in the following markets year-round:
Atlanta to Miami
Atlanta to New York
Chicago to Atlanta
Chicago to Miami
Chicago to New York
Los Angeles to Chicago
Los Angeles to Denver
New York to Miami
All city pairs will be served at least twice daily. Furthermore, seasonal routes will be launched to ski, event, and holiday destinations, like Sundance, SXSW, etc.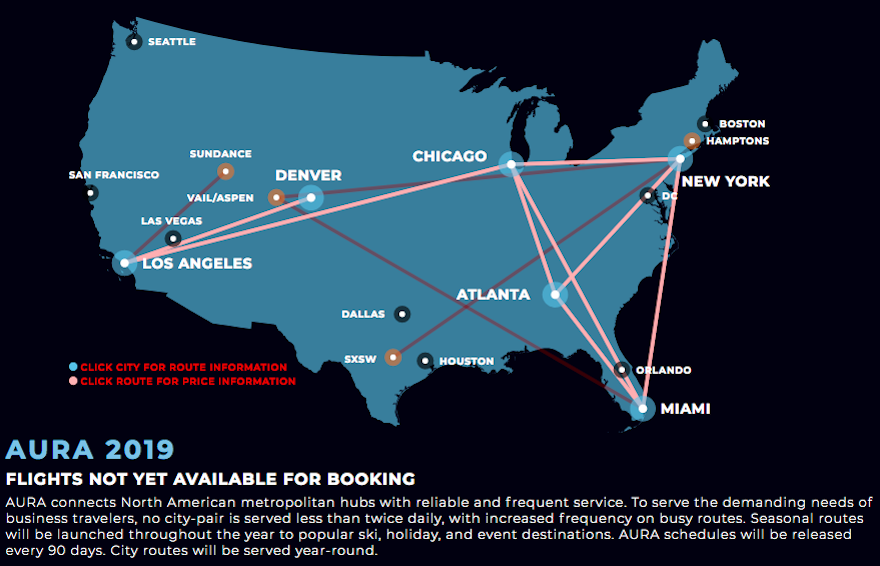 How much will AURA tickets cost?
AURA will operate on a membership basis. While you don't have to be a member to fly with AURA, members do receive a 50% discount. AURA claims that eventually they'll charge $250 per month for membership, but through July 31, 2018, they're charging $100 per month to be a member. While that's a significant discount, I'm not sure I'd buy into the concept yet, since they haven't even announced a launch date.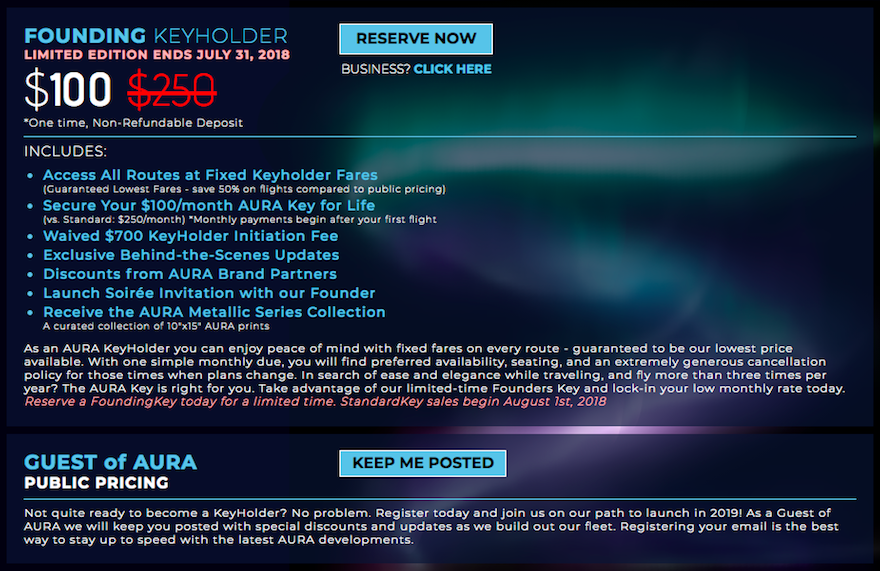 Here's the pricing for members and non-members: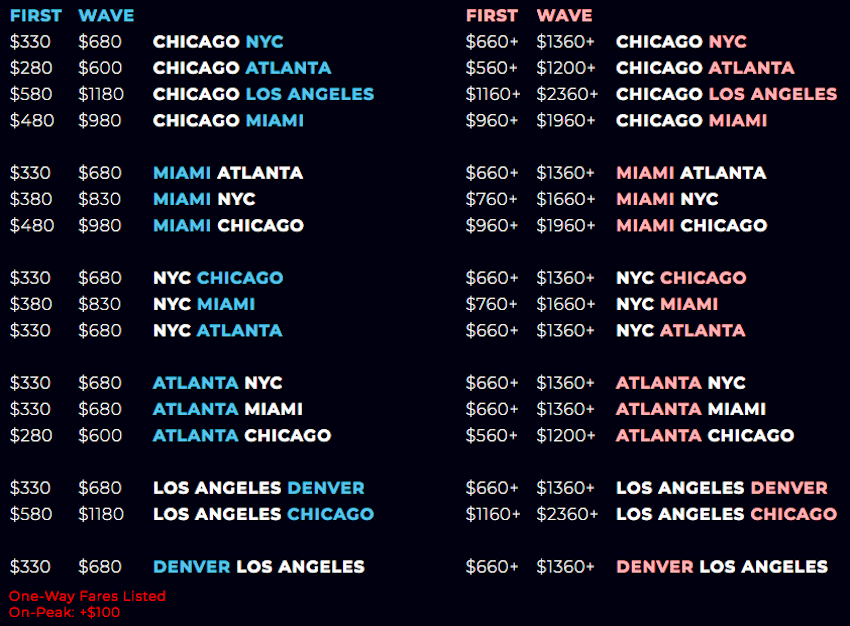 While this won't be for those looking for the cheapest possible ticket, the value seems excellent for what you (theoretically) get, at least for members. They're promising a great experience, and in many cases this pricing is on par with what airlines charge in first class, or possibly only a little bit more.
What are the odds that AURA ever launches?
When I first saw this I of course said to myself "this sounds like Baltia, there's no way in hell this is ever happening."
But then the other side of my brain kicked in and thought that surely there's some room for innovation in the US aviation market. We see such little innovation among US airlines, so I should be rooting for an airline like this to succeed. The more I thought about it, the more I think something like this could actually work… though maybe not under the current concept.
I have concerns with AURA:
Based on looking at the management team behind AURA, it doesn't look to me like there's all that much airline experience there
While I can appreciate that they wanted to fully develop their concept, I feel like they're too focused on selling an experience that seems unrealistic, like promising non-frozen food, sushi for all, etc.; I'm not saying that's impossible, but rather that they seem so focused on the details that it almost hurts the overall believability of the concept
It looks to me like this is more of a tech/membership company, like JetSmarter, than an airline, because AURA won't actually be operating the planes, but rather Presidential Aviation will; there's nothing inherently wrong with that, though I generally have less faith in a concept the more parties are involved
I'd love to see someone like David Neelman behind a concept like this (though he's working on another US airline startup). As the US domestic flying experience has gotten worse and worse, and as we're seeing more fuel efficient aircraft, surely there's a market for a more civilized experience.
But again, unfortunately we just don't see any innovation in the US airline industry. It's much easier to turn a profit packing people into a plane like sardines and charging them for everything, than it is to come up with something unique.
In the case of AURA, we're seeing a CRJ700 with 29 seats rather than the usual 70 seats. That means AURA would need an average of 2.4x the revenue compared to a comparable plane to make up for the lost seats (I get this is an oversimplification). Surely there's a market for that.
Bottom line
When I first heard about AURA, I thought "wow, how cool" and "there's no way this is ever going to work." However, who knows, maybe the US airline industry has gotten to the point where it's time for some innovation.
Like I said, I'm not convinced AURA as such will work, but I do think that maybe there's eventually room for a similar concept. Ideally it would be an actual airline start-up, rather than a company that's essentially trying to sell memberships and is using a third party to operate the actual flights. This isn't that far off from what JetSmarter has done, and they've had some shady business practices.
So I'm rooting for AURA, but if not AURA, I'm rooting for some other seasoned airline industry person to launch an actual airline, perhaps operating CSeries aircraft (since they could operate transcons) in a premium configuration. I realize it's probably not happening, but that won't stop me from dreaming.
What do you make of AURA, and do you think there's any chance they'll launch operations?