As y'all know, I've been quite fascinated by La Compagnie, the new all business class airline between Paris and Newark. As I've written about, they had some hiccups getting off the ground, though I managed to fly them from Paris to Newark a couple of weeks ago.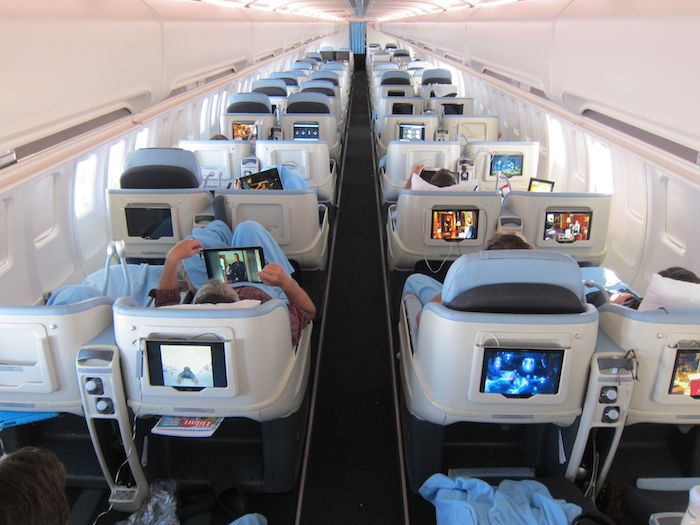 La Compagnie business class cabin
I found them to be a spectacular value, given that I paid less for a business class ticket than I would have paid for an economy ticket. But:
There were aspects of the service that left me shaking my head if they ever hope to pass as a true business class product
At the end of the day charging economy prices for business class tickets can't be their business model
After my flight I had the opportunity to speak with La Compagnie's Deputy CEO, and he had some interesting insights into the operation, which at least helped me see things from their perspective.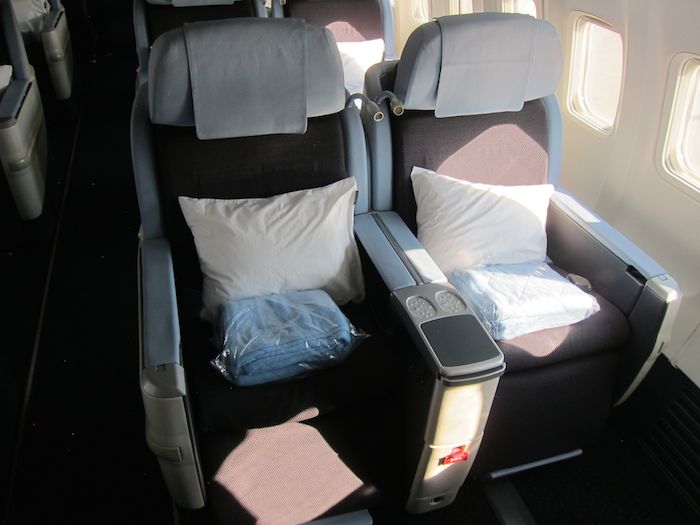 La Compagnie business class seats
Anyway, I'll be sharing my full review of the flight shortly, though reader Eric just emailed me about a La Compagnie flight he just took from Paris to Newark. He was kind enough to let me share it here, since I figured you guys would find it interesting.
As you'll see, there are areas where our experiences are very similar, and areas where they differ greatly:
After reading about La Compagnie on your blog and before you posted your initial impressions I booked a trip with them from CDG-EWR. I did this as I was having trouble finding affordable one way flights home to NYC from Berlin for my friend and I. I will preface everything that I'm about to say about La Compagnie with the fact that they were incredibly cheap. They were not only the cheapest business class option but the cheapest option period. Even including a Lufthansa positioning flight from TXL-CDG, I paid only $875 per person (including all taxes and fees). I'm evaluating the flight based on this price.

I knew where to check-in based on your post detailing your challenges. In today's world of Passbook, Mobile Apps, and text updates I was unpleasantly surprised that I didn't receive a single communication from La Compagnie reminding me of my flight or detailing check-in procedures. I arrived at the check-in desk right after they opened and was number three in line. Two agents opened stations and then proceeded to take roughly twenty minutes to assist their initial customers. One agent's computer crashed and he had to change workstations which took an additional ten minutes. When we were finally assisted the check-in was smooth and quick, likely because we had no baggage to check. The agent surprised me by giving us two lounge passes with our boarding passes. Given the price of the ticket, I didn't expect lounge access, even if it was a business class ticket. The lounge was overcrowded with passengers from our flight and mostly forgettable. We ended up waiting at the gate instead.

Apparently our flight changed gates to one gate down from the one printed on our boarding pass but the airline didn't feel that it was relevant to disclose this. Fortunately, I caught it as I knew that La Compagnie had only one flight. Boarding was called on time and the process was quick. The purser greeted us as we boarded and helped us locate our seats. My initial impression was that the plane was a bit older although in decent shape, the seats appeared to be nicely upholstered and refurbished. This is where my indifference towards our thus far mediocre experience ends.

As we began taxiing for takeoff, I noticed that the emergency exit sign over the left wing was flashing intermittently along with the pathway lighting leading to it. I immediately dreaded that we would likely have to turn around for the maintenance issue. I'd been on a Delta flight with the same issue and the captain had refused to depart without having it fixed citing safety concerns in the event of an emergency. Fortunately or unfortunately, our captain did not have the same concern. In the event of an accident or emergency, this could have been a real issue. The light was coming on intermittently (every few seconds to every few minutes) when it was supposed to remain off, it's unlikely it would have come on and stayed on when needed.

After taking off, I decided to recline my seat to enjoy a movie on the Samsung tablet. Unfortunately, my seat controls did not function consistently. I found that it was best to hold the button for the control that I wanted and that it would slowly adjust over the next several minutes. It took roughly ten minutes to get my seat configured the way that I wanted it. Often times when pressing a control it would suddenly regress back to the fully upright position.

I assumed that my seat was the only one having issues until the passenger in front of me went to adjust his. He initially fully reclined it into the "flat" position. When he went to recall it to a more upright position, it got stuck. He continued to hold the button and the seat began to twist and bind while making loud popping noises. Suddenly a screw flew out from under his seat and hit me, his seat then began working normally. After this incident, I cringed each time he'd adjust his seat for fear of being hit in the face with a screw.

The seat issues don't end here. My friend decided that he was ready to rest and tried to adjust his seat. Unlike mine, even holding the controls down for long periods of time had no effect. The purser came over and explained a trick with the tray table sensor to get it to adjust, this caused certain functions of the seat to work, but not others. The couple next to us had similar issues with their seats and ended up moving. My friend made due with an awkward seating position.

Meal service was mostly what I expected. The food was served covered on a tray from the cart. The meal was served fairly quickly after takeoff. My meal consisted of a Caprese Salad, cheese and grapes, with a small tart for desert. The food was surprisingly decent and definitely above most of the economy class meals that I've had and even a majority of the business class meals.

My friend and I waited for a main course but it seemed that the salad was it. We were really surprised that a salad was a main but attributed it to the cost of the ticket. Imagine our surprise when 45 minutes to an hour after finishing the salad, a main course was actually served. I had a stuffed chicken breast and it was very good but a bit late given that we'd already consumed our cheese and desert thinking that no additional food was coming. This was a general theme on our flight. The service was extremely good when you were being helped, the staff was friendly, but it was also PAINFULLY slow. The same was the case when our pre-landing snack was served.

Landing and deplaning was uneventful, the staff again was friendly and even said goodbye to me by name.

Overall, the value is unbeatable. However, out of any airline at any value, I expect the plane to be mechanically sound. Even "minor" issues such as emergency lighting should be addressed. Also, if you're going to advertise a certain hard-product, it better work. I would have paid the same price for an economy seat with little recline, I would however expect my seat to be mechanically sound and work as advertised. This was certainly not the case with La Compagnie. I'm always looking for a flight home from Berlin. This was cheap and somewhat comfortable. I'm torn as to if I would fly with them again. I don't think that I will, at least not until they fix the seats. As these flights fill up, you could easily be stuck in a non-reclining seat on a trans-atlantic flight.
Thanks for sharing your thoughts, Eric! Very interesting.
It seems he had more issues than I did with the condition of the plane. It's amazing that only a couple of weeks after starting operations they're already having so many seat issues. And the emergency exit light going on and off the whole flight is kind of bizarre.
The service was slow on my flight with about six flight attendants, but as it turns out the long term plan is to have just three. I mentioned this concern to the Deputy CEO, but he explained that they have a very efficient plan and will have no problems conducting the service with just three flight attendants. I have quite a few friends that are cabin crew for international airlines, and when I've asked them their thoughts on a 72 seat business class cabin being staffed with three flight attendants, they all laughed out loud.
If anyone else has flown La Compagnie and has an experience to share, I'd love to hear it!