A few weekends ago I was in New York for my brother's bachelor party. It was supposed to be on Saturday, so I flew out on Friday just to be on the safe (and well rested) side. Friday just happened to be my birthday, and I do what I can to not fly on my birthday, oddly enough. However it wasn't preventable in this case, so I flew up to New York in the afternoon on American, and spent the first night at the Andaz Wall Street and the second night at the Andaz 5th Avenue.
The Andaz Wall Street was a bit cheaper for both nights, though my brother asked that I do what I can to get a two bedroom suite at the Andaz 5th Avenue, both so we could have drinks there beforehand and also in case anyone wanted to crash there afterwards.
So I ended up using one of my Diamond suite upgrades for the night at the Andaz 5th Avenue, and then emailed the hotel to see what could be done in terms of a better room. They offered to upgrade me to a two bedroom suite (similar to the one I had the first time I stayed here due to a mishap) for $250, which I gladly paid. Not something I'd usually do, but given the circumstances I figured it was worthwhile.
I've stayed at both hotels plenty of times, so I'll keep the reviews pretty stay and room-centric. You can find my previous reviews of the Andaz Wall Street here and here, while you can find my previous reviews of the Andaz 5th Avenue here and here.
I arrived at the Andaz Wall Street at around 3PM where I was promptly helped at check-in. The "host" was pretty cold and didn't exchange a word with me, which was certainly a change of pace from the usually overly talkative hosts.
The good news is that I had been upgraded to an Andaz XL King (basically a junior suite) on the top floor. As usual the room was beautiful. I especially love the decor of the Andaz Wall Street rooms.
There was a seating area near the entrance which faces a big closet (also where the TV is), on the other side of which is the bed.

Living room area

Facing bedroom area

Desk

Bed
As usual at Andaz hotels, the minibar soft drinks and snacks were complimentary, as well as the wifi.

Minibar

Snacks/booze
I especially love the bathrooms at the Andaz Wall Street, as they feature an enclosed shower/tub, which is among the nicest out there. I'm not usually a "tub" person, but once in a while I can be tempted, and the Andaz Wall Street is one of those instances.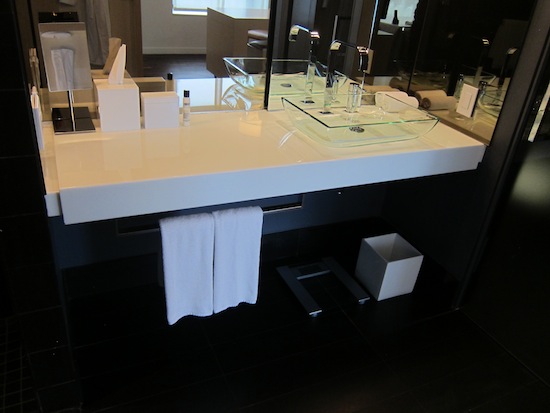 Bathroom

Shower/tub

Toilet
There was a little birthday cake waiting on the table when I entered, which surprised me given that I made a reservation the night before. While I want to give Hyatt credit for this, apparently a friend called the hotel the morning of my arrival to let them know it was my birthday. So I guess Hyatt gets half credit in this instance for executing…

Birthday cake
On Saturday morning my brother joined me for breakfast at Wall & Water, which has a nice brunch on weekends. The non-hotel crowd is usually pretty odd (who has brunch on Wall Street on a Saturday, other than losers like me?), though the food is always good. I do wish the hotel would clarify their breakfast policy for Diamond members. The general consensus is a $50 credit per day, though that doesn't really cover their standard offering, so seems a bit low. Anyway, we only had a few dollars of overage, so I wasn't about to argue.

Wall & Water

Buffet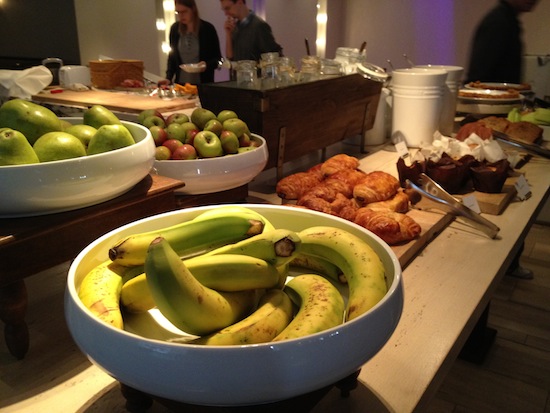 Buffet
After visiting some family and going to Central Park for a bit my brother and I headed over to the Andaz 5th Avenue for check-in. Our room was ready at around 3PM, and was one of the hotel's two bedroom suites (they only have a total of two). The last one I stayed in was bigger though didn't feature a balcony, so it was nice to be able to compare both rooms.
This one featured a nice sized living room with a couch facing a flat screen TV, as well as a desk with a kitchenette. The fridge was well stocked, and as is always the case, the soft drinks and snacks were complimentary.

Entryway

Living room

TV in living room

View from balcony

Kitchenette

Fridge
There was also a welcome amenity consisting of a chocolate tart and bottle of wine.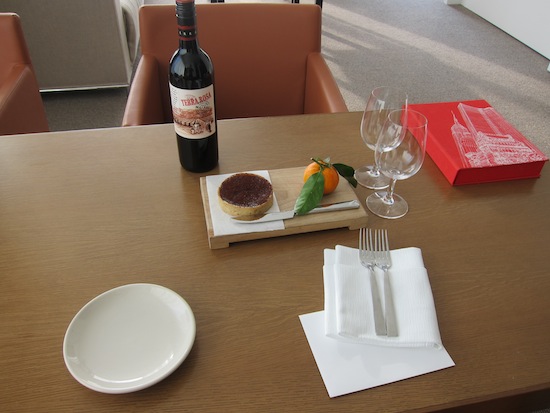 Welcome amenity
The suite also featured two nearly identical bedrooms and bathrooms. Unlike the Andaz Wall Street, the 5th Avenue hotel doesn't have tubs in the bathrooms, though the showers themselves are awesome.

First bedroom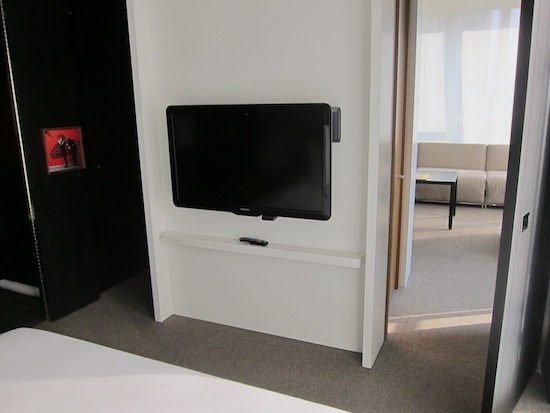 First bedroom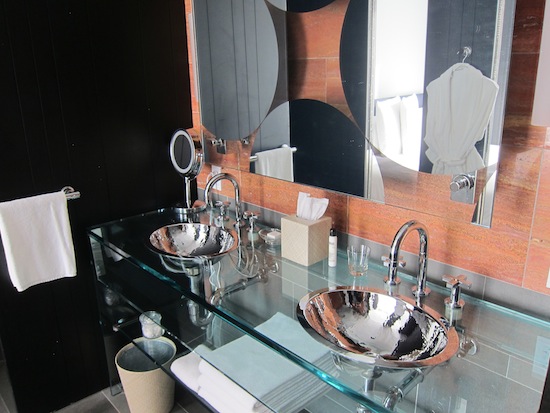 First bathroom

First shower

Second morning
The following morning we had breakfast at the hotel's restaurant, The Shop, where there was about a 30 minute wait.

The Shop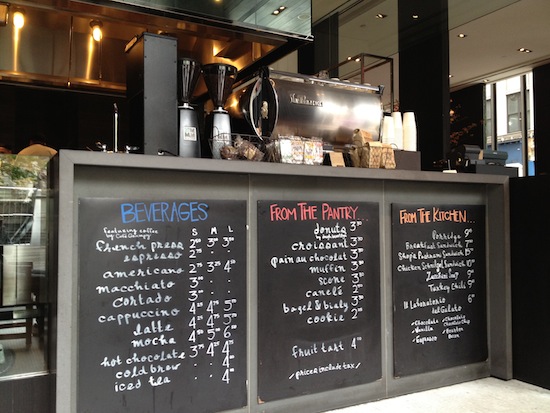 The Shop
I ordered the hotel's famous lemon poppy seed pancakes, while my brother ordered an omelet, both of which were delicious. This was my first time not ordering room service breakfast at the hotel (since they let Diamonds do that).

Lemon poppy seed pancakes

Omelet
Anyway, as usual both Andaz stays were great. While I prefer the location of the 5th Avenue location, there is something remarkably relaxing about Wall Street on weekends, and at the end of the day New York transportation is pretty inexpensive and efficient, so I don't really care where I stay.
These two hotels are my "go to" hotels in New York, though I'm still not sure which I prefer. I'm leaning towards the 5th Avenue hotel since I think they've really improved a lot since opening (especially in terms of Diamond recognition), though I'll continue to choose based on their rates and where in the city I need to be.