I was in New York for Frequent Traveler University, and figured I might as well make a long weekend out of it. The weather was starting to get a bit warmer, so a couple of days in the city didn't sound half bad to me.
For the past year or so my go-to hotel in New York has been the Andaz Wall Street. I've reviewed the hotel a couple of times before, including my first stay back in 2010, and also my more recent stay in a suite at the hotel a couple of months ago. While the service was a bit shaky at the Andaz Wall Street when it first opened, the hotel has really worked out all the kinks and improved staff training, so I firmly believe it's one of the best values in New York. While Wall Street isn't the most exciting place in New York to stay, public transportation is great, so I don't mind staying a bit further from my preferred area to stay at a hotel I really like.
I planned my stay last minute, so was faced with either paying the "daily rate" or using points. The daily rate was $295, while the hotel is a category six hotel, making is 22,000 points per night. So while 22,000 points for a $295 hotel isn't a great deal (the Park Hyatt Paris, for example, costs the same number of points, despite typically going for double or triple the cost on a paid stay), I was more willing to part with 44,000 points than about $700 at the moment, for a two night stay.
A friend would be staying with me, and we shared a ride from Frequent Traveler University with Gary and his wife. When we got to the hotel we talked in the lobby for a few minutes, though after about ten minutes one of the "hosts" nonchalantly informed us that we needed to move for security reasons. Pretty ironic, given that I was waiting to check-in.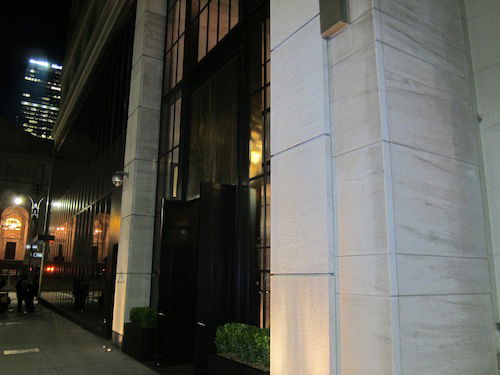 Hotel exterior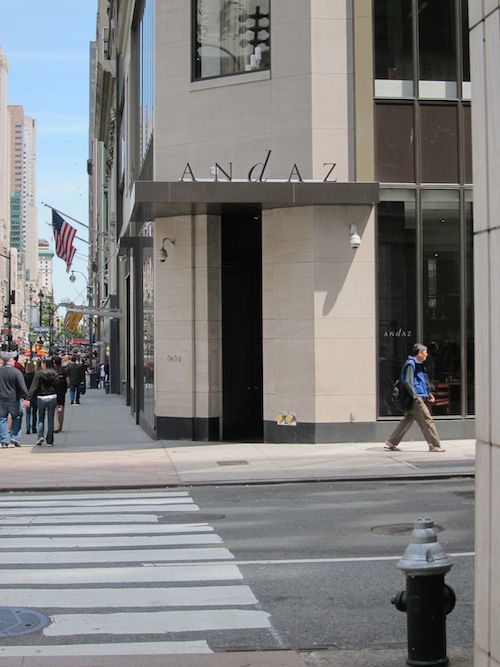 Hotel exterior (by day)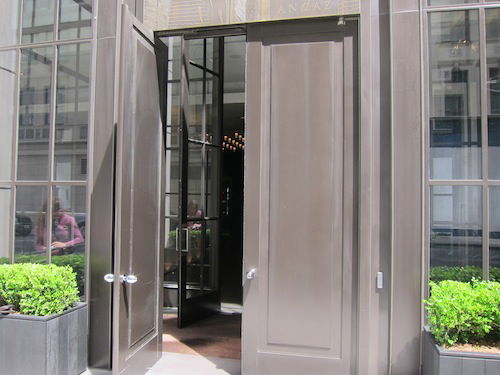 Hotel entrance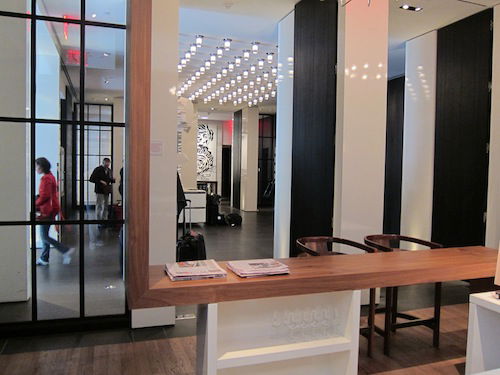 Lobby
While the lobby is small, it's stylish, and next to it is the library, which I suppose is the "social center" of the hotel.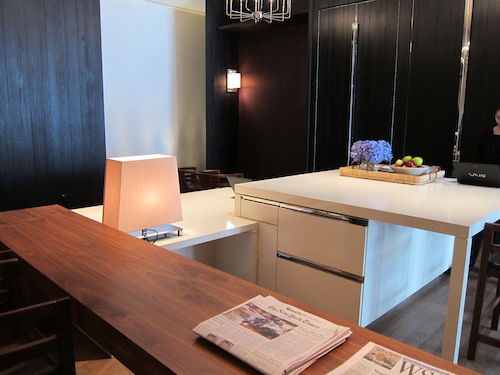 The Library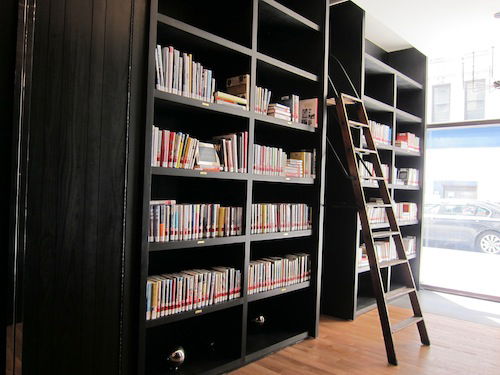 The Library
Check-in was prompt, and I was offered a Diamond amenity of either 1,000 points or a $15 food and beverage credit. I went with the latter. We were brought up to our room by another one of the hosts. I was a bit surprised when she pushed the third floor button in the elevator. I realized the hotel was full, so figured we were given a slightly larger room on the third floor.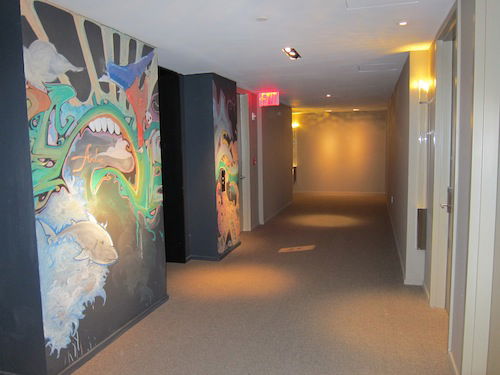 Elevators
As it turns out we were given a standard room. After she showed us around I took a look at the floorplan, only to see that it was one of the three smallest rooms on the second to lowest floor. Look, I have fairly modest expectations of Diamond status. I think the benefits are great and I definitely didn't expect a suite upgrade or anything spectacular. But I did expect either a slightly larger room OR a room on a higher floor. Anyway, instead of staying at the hotel and never returning, I went to the lobby and politely shared my disappointment. It's actually the first time I can remember that I've done so. I outlined that interaction here, so instead of repeating the entire post here, I suggest you check it out.
Long story short we were upgraded to a two bedroom suite which went for over $3,000 per night. The whole situation made me uncomfortable. It wasn't my goal to get some ridiculous suite upgrade, and I explained that to the host when we received the upgrade. It seemed to me, however, that it was literally the only "premium" room remaining in the hotel.
Anyway, the suite was spectacular, probably one of the nicest I've ever stayed in. Certainly taking into account that this was a room in New York City, it was the nicest suite I've ever stayed in.
Upon entering was a dining room table with couch and two chairs. Next to that was a kitchenette with fridge, dishwasher, microwave, and sink.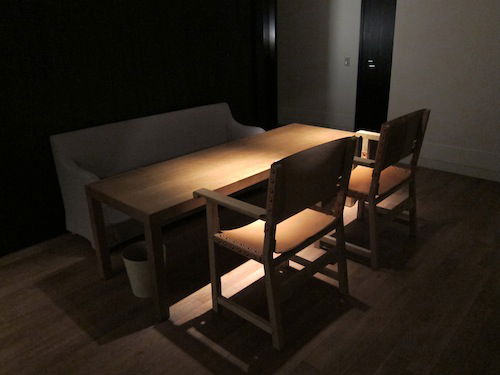 Dining room table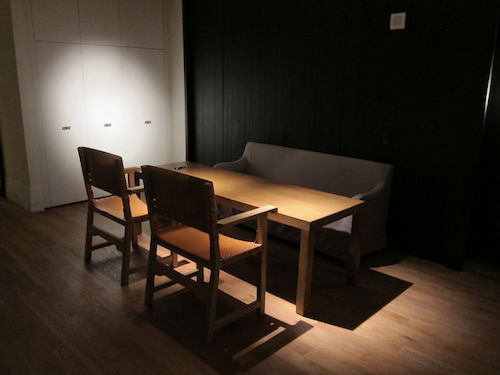 Dining room table
One of the nice things about Andaz hotels is that all snacks and non-alcoholic beverages in the room are complimentary.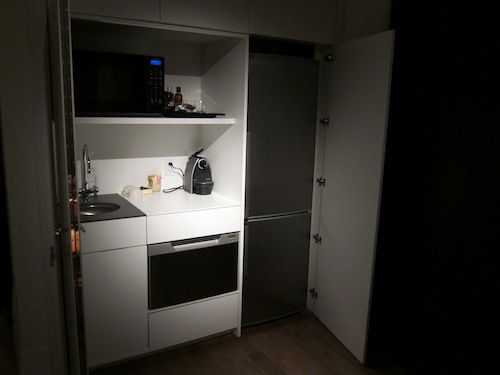 Kitchenette
In this case the snacks were a bag of potato chips and some sort of granola bar.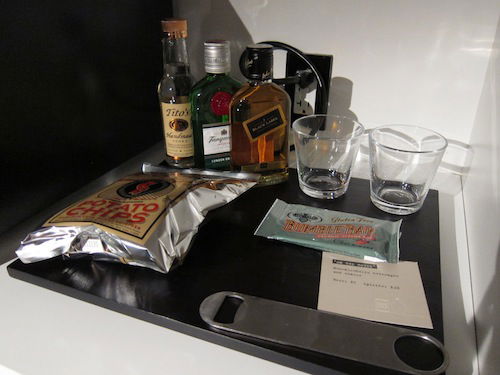 Snacks
The drink selection consisted of a bunch of bottled water, Coke, Diet Coke, Sprite, tea, apple juice, still water, sparking water, tonic water, etc.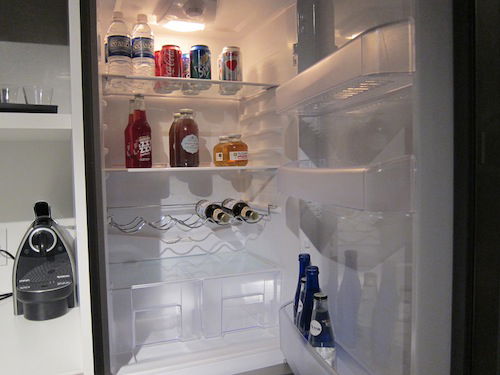 Fridge
The dining room led to the living room, which featured a huge couch, two swirling chairs, a desk, and a large flat screen TV.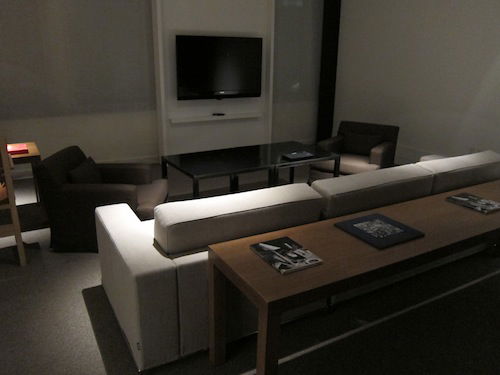 Living room
To the left of the living room was the first bedroom, which was nicely decorated and featured a full bathroom with huge shower and double sink.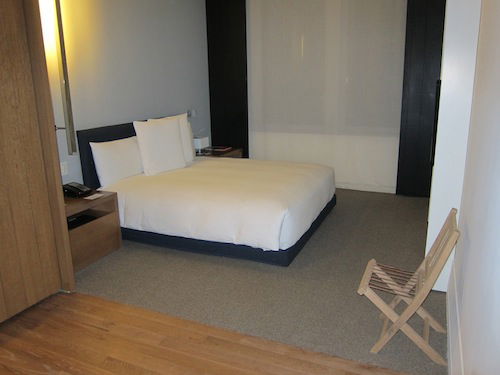 Bedroom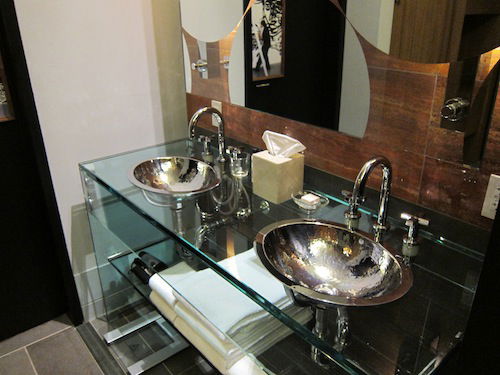 Bathroom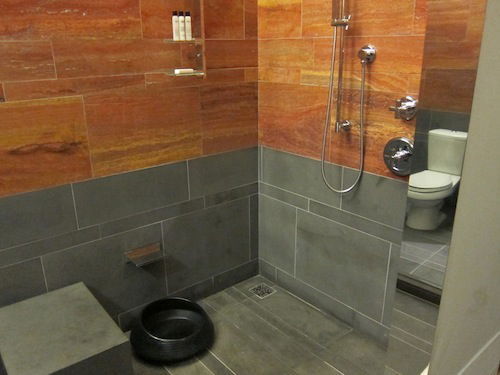 Shower
The second bedroom was a larger corner bedroom and featured stunning views of the city.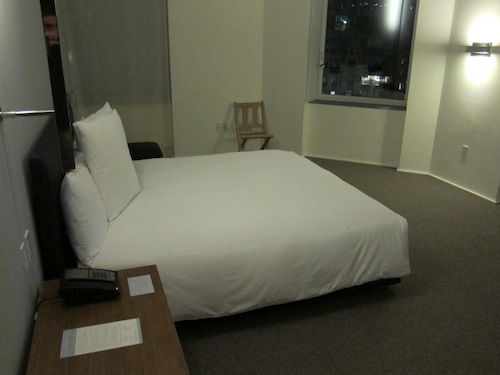 Second bedroom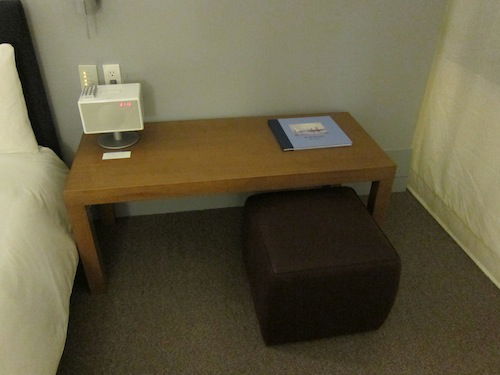 Night table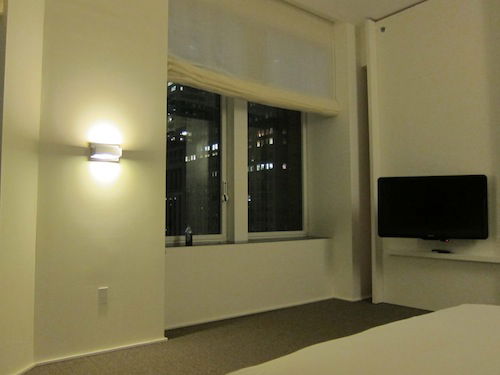 TV from bed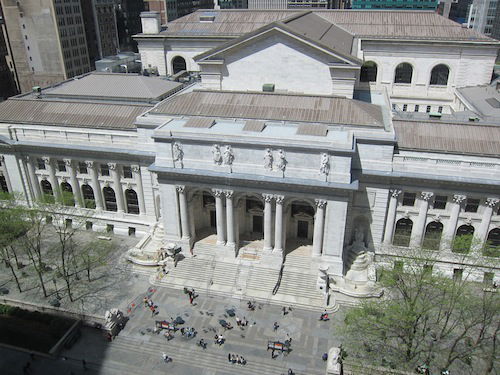 View of the library from bedroom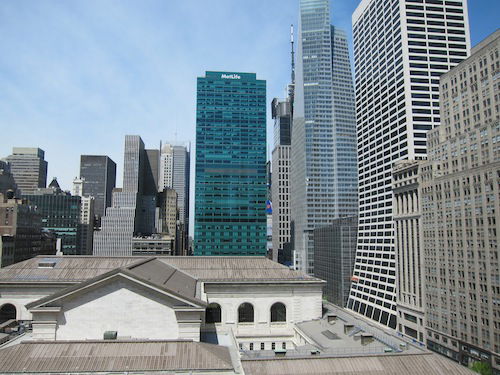 View from the bedroom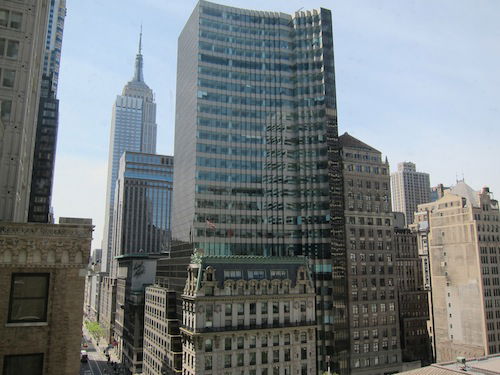 View from the bedroom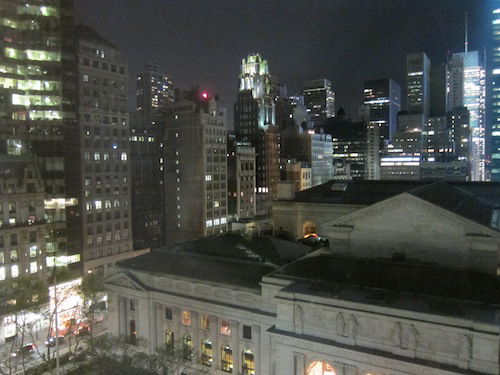 View from the bedroom at night
The bedroom featured a large closet and even bigger bathroom and shower than the first room.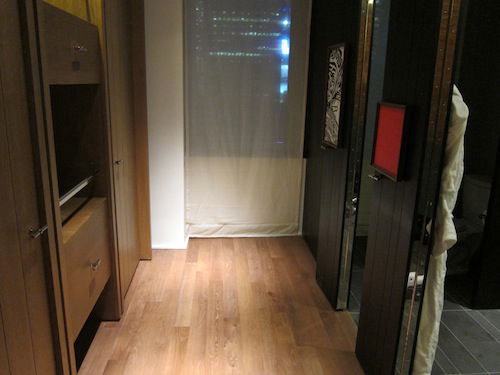 Closets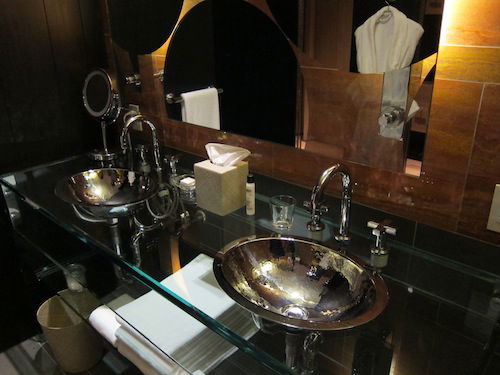 Bathroom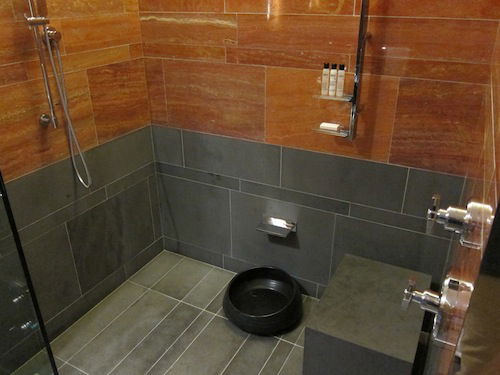 Huge shower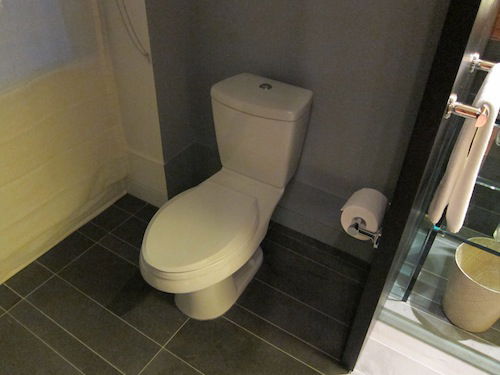 Toilet
The stay continued to get better as time progressed. While the Andaz Wall Street has a fantastic restaurant breakfast, the Andaz 5th Avenue lets Diamonds order unlimited room service breakfast for free (I'm not sure if it's actually "unlimited," but there's no stated limit, so be reasonable). The first morning my friend had french toast and berries, while I had scrambled eggs and a croissant.

Breakfast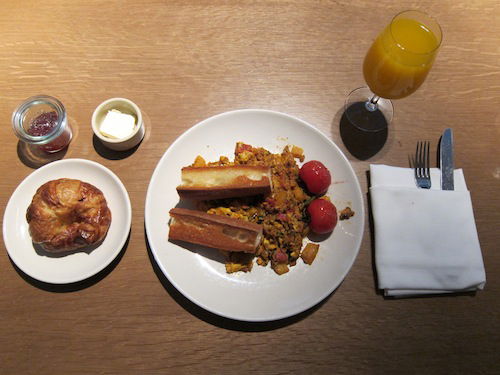 Breakfast
The breakfast was really good. I've heard from others that the breakfast at the Andaz 5th Avenue isn't that great, though I have to disagree.
Being a recent college graduate and living on west coast time, it hadn't occurred to me that restaurants close fairly early in New York… at least earlier than I expect for the "city that never sleeps." I mean, in Florida the "last call" for dinner at many restaurants is around 6:30PM, while the "early bird special" starts around lunchtime for all of those lovely retired folks. As a result we found ourselves without much of an option other than to order room service one of the nights.
By New York City standards, the prices were actually very reasonable, and the quality was quite good. They have a "make your own sandwich" menu, so we each had that, plus a ceasar salad and slice of cheesecake. All in, with tax and tip, it came out to about $60. While not cheap, I'd say that's very reasonable for room service, especially after applying the $15 Diamond credit, bringing it down to $45.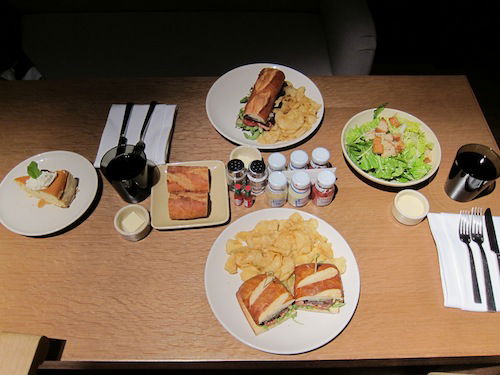 Dinner
The second morning I just had to try Gary's beloved lemon poppyseed pancakes. Now, I'm no foodie, but these were hands down the best pancakes I've ever had. Period. They were amazing. Hell, I'll stay at this hotel again just to have those pancakes. Yeah, they were that good.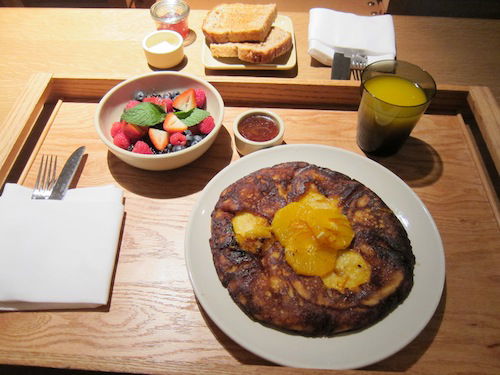 Lemon poppyseed pancakes
Aside from the first night of my stay, the service was great. Room service was quick, the housekeeping folks were attentive without nagging, and the "hosts" were generally wanting to please.
I'd definitely return to this hotel, assuming that not getting any sort of an upgrade was a fluke. The Andaz Wall Street almost always upgrades Diamonds to at least some sort of a premium room, usually an "XL" room, so I'd hope that's the standard here too and it was just a function of poor planning on the hotel's part.
The location of the Andaz 5th Avenue is also more central for those looking to do touristy things.
So I'm thinking I'll return. Next time I'm in New York I'll take a look at the rates of the two Andaz properties. If one is substantially cheaper than the other, I'll take it. If they're the same price, I'll probably give the Andaz 5th Avenue another go, in hopes that the stay is flawless from start to finish, as this one was after my initial problem (and no, I'm not expecting that suite ever again). 😉