We're increasingly seeing travel brands get creative when it comes to generating revenue during these tough times. In particular, we've seen hotel brands sell discounted gift cards for future stays, and we've now seen these promotions from Belmond, Marriott, Small Luxury Hotels of the World, and more.
We can now add another hotel group to the list…
Anantara selling gift cards with 30% bonus
Through June 28, 2020, Anantara is selling gift cards with a 30% bonus:
Each electronic gift card will automatically receive 30% extra value
You need to use your gift card for a stay within 12 months
Only the recipient of the gift card can use it, so it's non-transferrable
Gift cards need to be purchased with a Mastercard or Visa
Each gift card can have a value of up to $5,000
Gift cards can be purchased in USD or THB, though you can use them globally; for markets with different currencies, the gift card will be converted to local currency at the hotel's official exchange rate of the day
Gift cards can be used at all participating Anantara and Avani hotels and resorts
Electronic gift cards can only be used once, towards a single transaction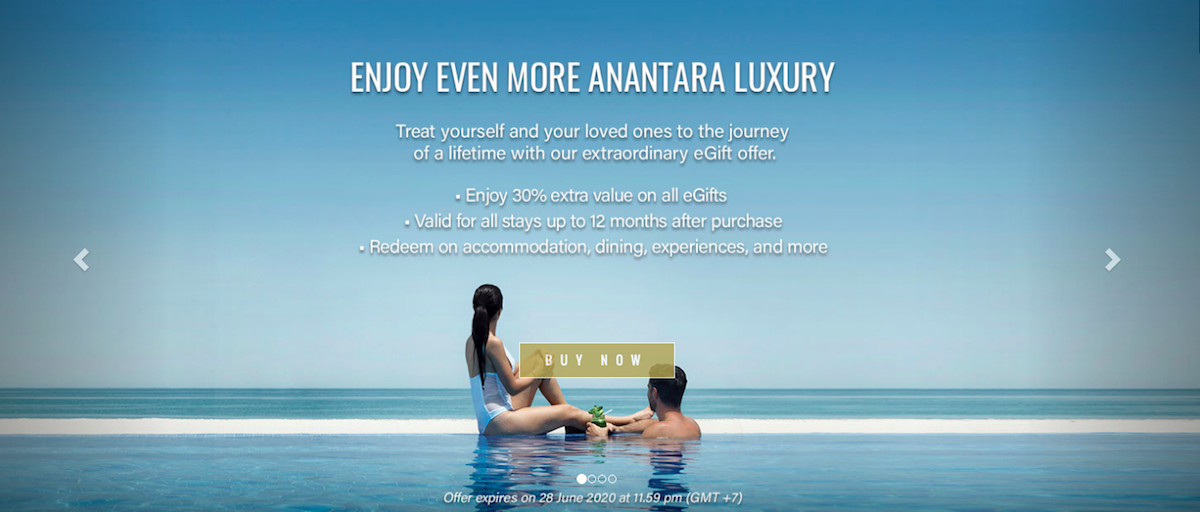 What is Anantara?
For those of you not familiar with Anantara, they have about 40 hotels and resorts around the world, with a particular focus in Southeast Asia and the Middle East.
As mentioned above, gift cards are also valid at Avani properties, of which there are about two dozen, also with a focus on Southeast Asia.
Bottom line
Anantara is offering a 30% bonus on electronic gift card purchases. That's potentially a significant bonus if you have any upcoming Anantara stays, though also keep in mind the major limitations — gift cards are valid for 12 months, they're non-transferrable, etc.
I'd only take advantage of this promotion if you have a specific stay planned, but that's just me…
Anyone plan to take advantage of this Anantara gift card promo?
(Tip of the hat to Frequent Flyer Bonuses)