All Nippon Airways recently became the last airline in the world to take delivery of their first A380. The airline has three of these planes on order, and plans to use them exclusively to fly between Tokyo and Hawaii, which sure is an unconventional use for these planes.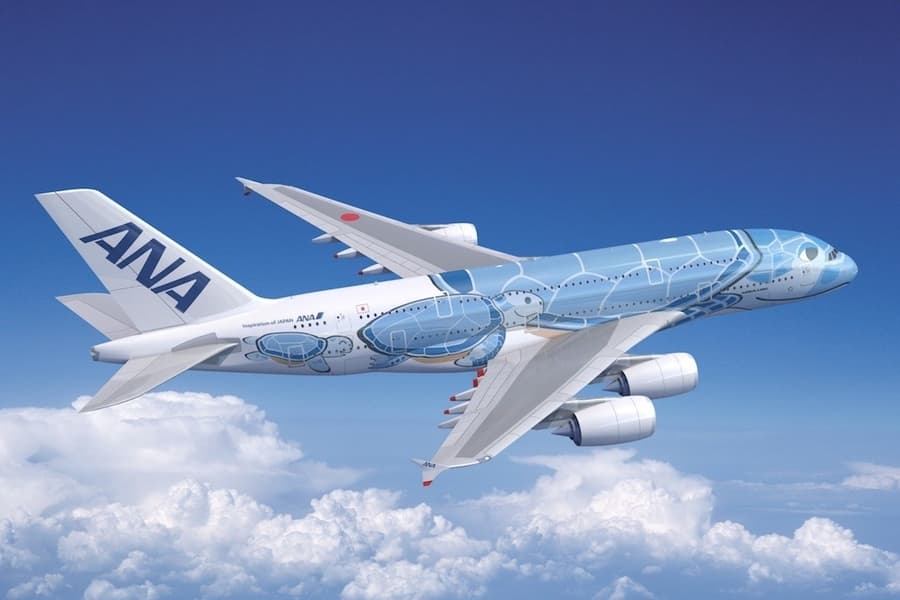 The inaugural ANA A380 flight took off yesterday from Tokyo to Honolulu, and I saw tons of pictures from the flight. The one thing that stood out to me the most in the pictures was the flight attendants, and specifically how they all had a portable tablet strapped around their shoulder, and an earpiece in one ear.
I wondered if I was the only person who noticed that, but I wasn't, because Paddle Your Own Kanoo also wrote about this. ANA is the first airline to test such a concept, and it sort of makes sense.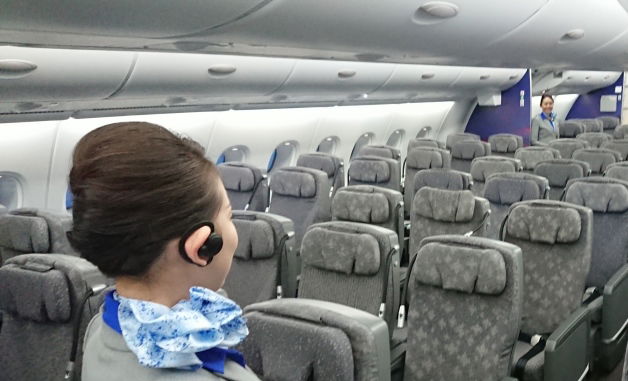 Image courtesy of ANA
An A380 has a massive crew of 20+ flight attendants, so what's the best way for them to communicate? Historically you'll see flight attendants make calls between galleys, which always results in a "chime," and also isn't necessarily an efficient way to reach a particular crew member.
So instead ANA flight attendants have earpieces, so that they can be reached at any point during the flight. This is no different than what you'll notice on the ground in Japan, as ANA lounge attendants and even gate agents all seem to have earpieces as well.
It's interesting that the last airline to take delivery of the plane is also the first to trial a concept like this.
An ANA EVP said the following regarding the concept:
"By making it easier for flight attendants to communicate with each other, they will be better equipped to meet passenger needs.

These wearable devices are just one important tool that ANA is testing, and we look forward to harnessing the latest technological breakthroughs to improve every aspect of the travel experience."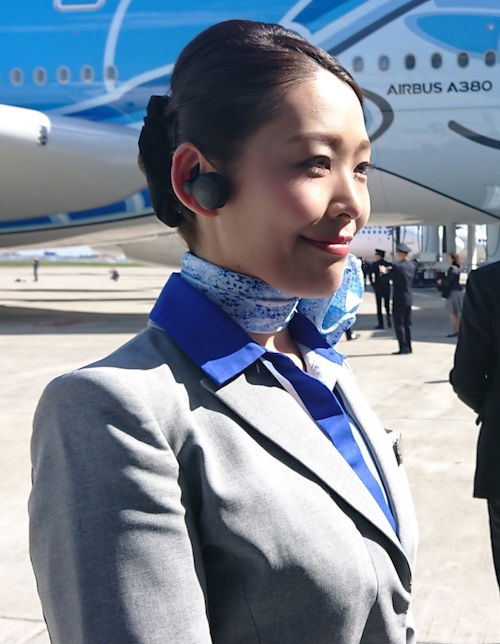 Image courtesy of ANA
While I'm skeptical of a lot of the technology advances crews are using, this is actually sort of genius. It's an efficient way for crew members to communicate, and it also limits cabin disruptions.
The one downside is that it just seems sort of uncomfortable to have a tablet dangling over your shoulder the entire flight, especially given the number of functions crews have to perform.
Conversely, I'm actually not a huge fan of the trend we're seeing at some airlines where they use smartphones to take your meal orders. I experienced this recently in Emirates business class, and thought it was very poorly executed. The systems don't seem to be easy to use, and the crew members just stare at their phone the whole time, rather than making eye contact with passengers.
I'll be curious to see if other airlines adopt ANA's system, or if ANA expands this concept to other planes.
What do you make of flight attendants wearing earpieces to communicate with one another?