Shortly after midnight yesterday we departed Tokyo Haneda for Los Angeles in ANA's 777-300ER first class. This was after our flight from Hanoi to Tokyo in ANA business class.
As usual I'll have a much more detailed trip report shortly, but in the meantime I figured I'd share my initial impressions in another "10 pictures" installment. I've only flown ANA's new first class product once before, so was curious to try them again, given that it has been a few years.
ANA's first class cabin consists of a total of eight seats, spread across two rows in a 1-2-1 configuration.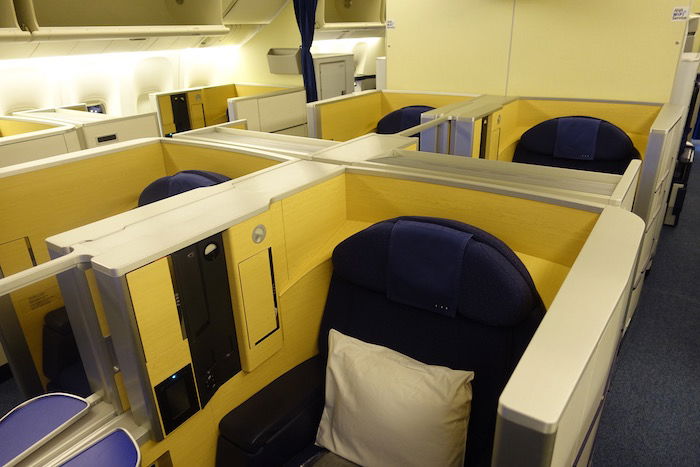 The seats are fully flat and all have direct aisle access, so they have that going for them. That being said, I like these seats less than other comparable seats. Why? Because you can't easily look out of the window when seated. The seat is "boxed in" so that there are "walls" for about two feet on each side of your head. Even more puzzling is that they box the seats in that much without making them fully private, as there's not a door. The good news is that this will be changing soon, as ANA is introducing new first class seats.
Ford and I were seated in the center section, and they have the same barrier at the side of the seats, so we had to lean way forward in order to talk. That's a very poor design, in my opinion.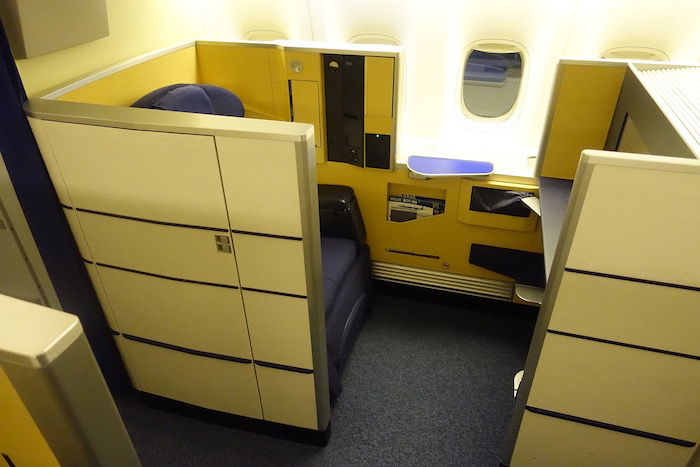 I know these are all first world problems, but if traveling with someone else then don't expect you'll be able to enjoy the flight together, even if seated together in the center section.
On a more positive note, service was typical Japanese perfection. I don't remember the last time I didn't have near perfect service on a Japanese carrier, and this flight was no exception. The crew was charming, engaging, and so attentive. Japanese carriers just set the bar so high on that front.
This flight from Tokyo Haneda to Los Angeles is an odd one, as it departs Tokyo shortly after midnight and lands in Los Angeles the previous evening at 6PM, so it's a redeye where the focus is on sleep.
The drink selection was impressive. ANA serves Krug in first class, and several types of sake.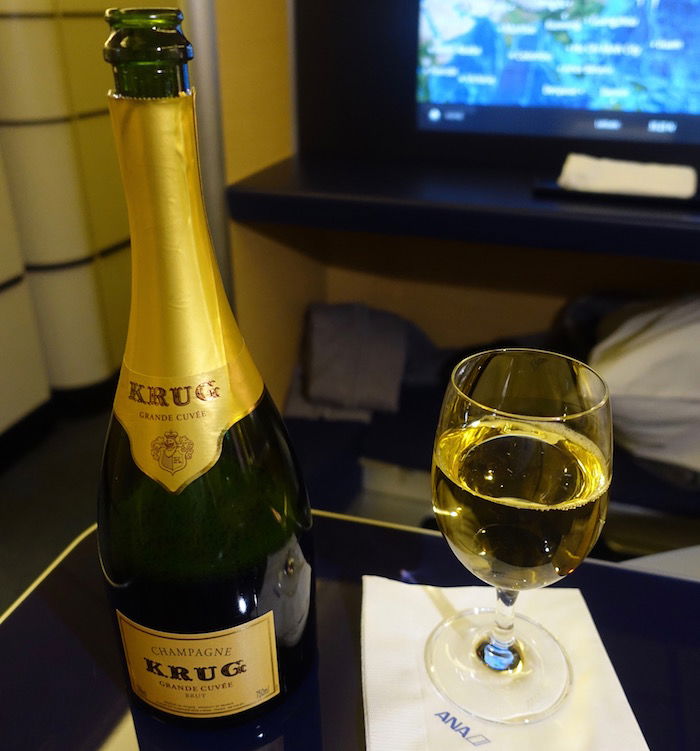 Unfortunately the accompanying food wasn't as impressive. There was a "set" breakfast before landing, but otherwise just a "dine on demand" menu. A selection of canapés was served after takeoff.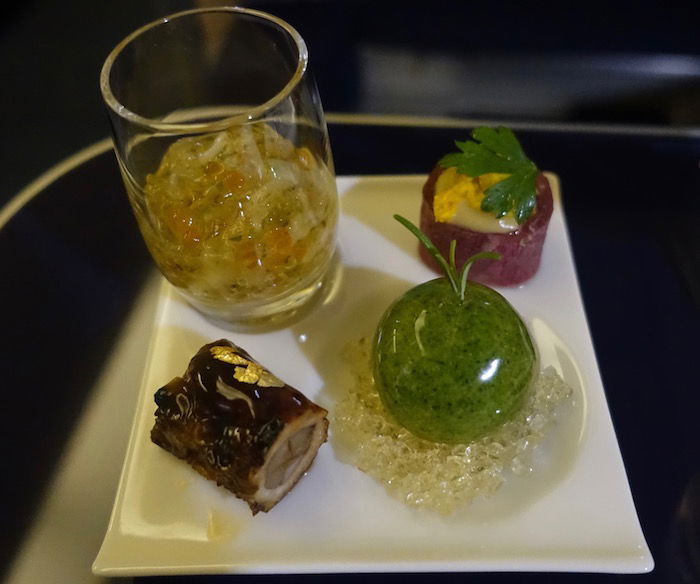 Then you could choose between things like salad, curry, sandwiches, etc. I had a garden salad and chicken curry, both of which were good, though both of which I'd also expect to be served in business class.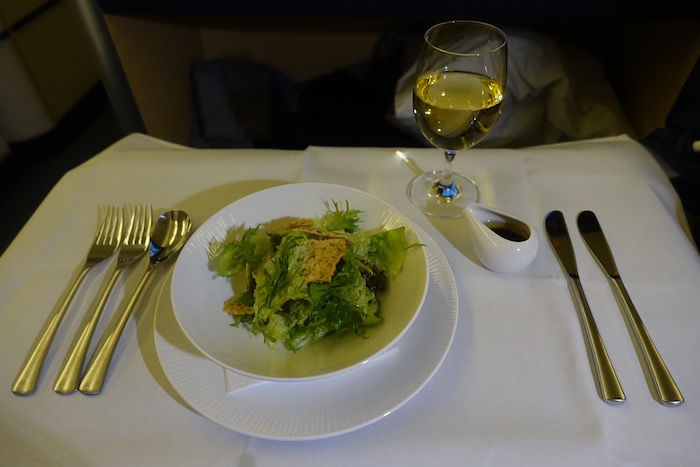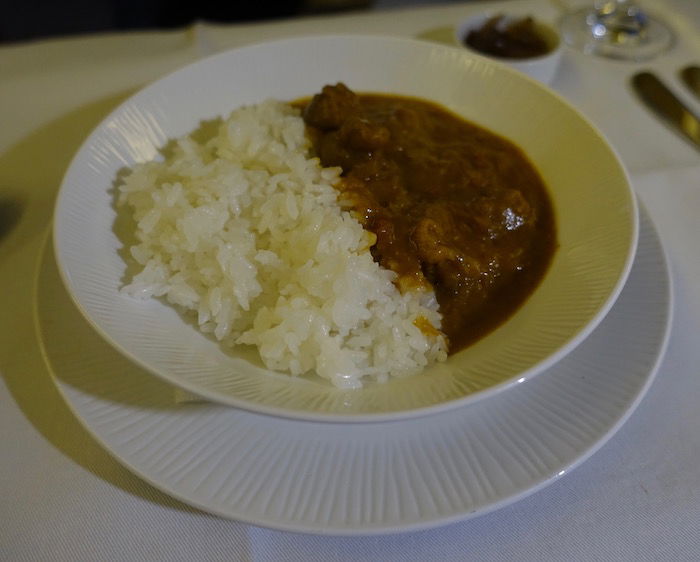 Fortunately the meal service was quick, so I managed to get nearly six hours of sleep. ANA's beds are excellent, so I slept very well.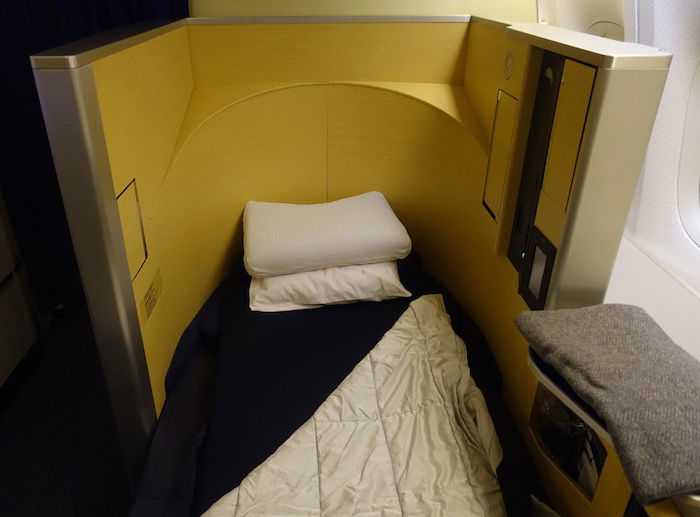 Then for breakfast there was the option between a Japanese set menu…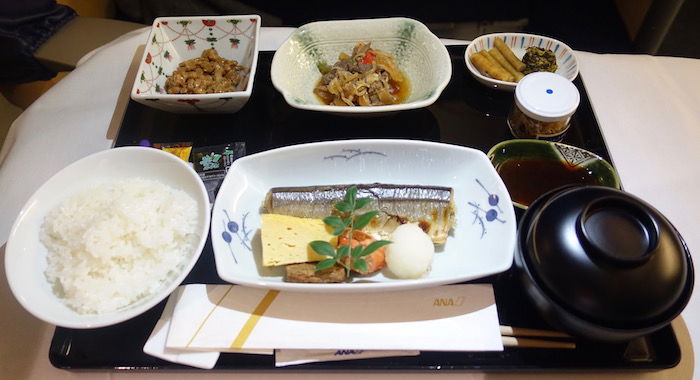 …and salmon eggs benedict.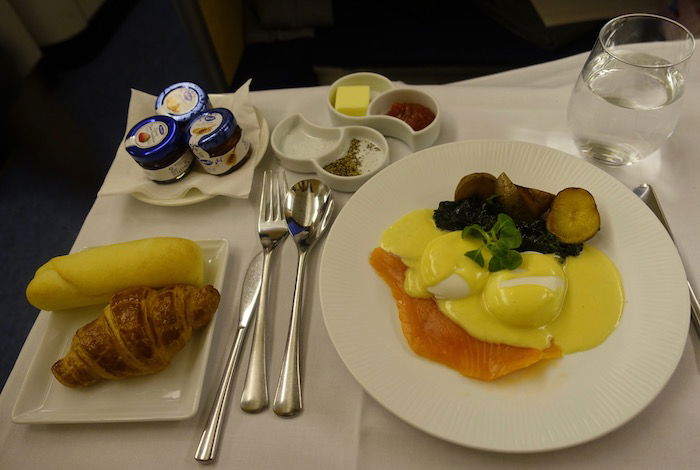 As far as amenities go, ANA now offers Samsonite amenity kits in first class. I don't like them quite as much as the Rimowa kits they used to offer in first class, but they're still decent.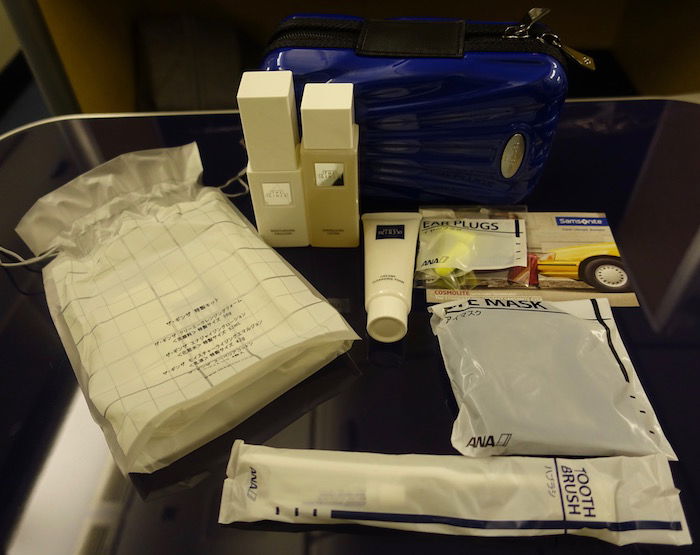 Bottom line
This was probably the worst flight on which to review ANA first class, given that the meal service is much more limited than what they otherwise offer. So I don't want to make too many judgments of the airline based on this flight. At the same time, I flew JAL first class last year from Jakarta to Tokyo (an even shorter redeye), and I preferred their menu, as they had fresh sushi, caviar, etc.
On the plus side, the service was impeccable, as I've come to expect from both ANA and JAL.
However, I think I prefer JAL to ANA, all things considered. There are two main things I prefer about JAL:
The seats aren't as restrictive, and you can actually look out the window if in the window seats or talk to your companion if in the center seats; on top of that you can actually dine face-to-face using the buddy seat on JAL, which ANA doesn't offer
JAL doesn't have caps on Wi-Fi data usage, so for $20 you can use Wi-Fi for the whole flight, while ANA caps you at 100MB, which isn't a lot if you're trying to work.
To sum it up, ANA first class is a great way to fly, though if you care about the soft product, try to take a daytime flight instead. I still think I prefer JAL to ANA, all things considered.