In the interest of full disclosure, OMAAT earns a referral bonus for anyone that's approved through some of the below links. The information and associated card details on this page for the The Platinum Card from American Express card has been collected independently by OMAAT and has not been reviewed or provided by the card issuer. These are the best publicly available offers (terms apply) that we have found for each product or service. Opinions expressed here are the author's alone, not those of the bank, credit card issuer, airline, hotel chain, or product manufacturer/service provider, and have not been reviewed, approved or otherwise endorsed by any of these entities. Please check out our advertiser policy for further details about our partners, and thanks for your support!
Update: Plans have been revealed for the Centurion Lounge Seattle to be expanded to 13,700 square feet.
As most US-based travelers know by now, American Express has started opening up more of their own airport lounges in part because quite a bit of value has been lost in terms of the lounge privileges of The Platinum Card® from American Express. The card used to get you access to American Admirals Clubs and US Airways Clubs, though that was discontinued last March. Furthermore, guesting privileges have been reduced at Delta SkyClubs as of last May.
So far, US locations of The Centurion Lounge include Dallas, Las Vegas, Miami, New York, San Francisco. These are all "full service" Centurion Lounges, which have great food spreads and bars, and in some cases even spas.
Late last year, American Express announced that they'd be expanding the Centurion Lounge concept, and would be building a Centurion Studio in Seattle, which was slated to open this summer.
Well, this lounge finally opened yesterday, and contributor Alex was able to check it out on its opening day. Here are his thoughts on the lounge:
AmEx Centurion Studio Seattle Airport hours and location
The Centurion Studio is open daily, from 5AM until 10PM. It's located directly across from gate B3, near the Central Terminal.
The quickest way to the lounge is by entering security at TSA checkpoint 3 (available to travelers on all airlines). Once through security, follow signs towards the A, B, & S gates.

Seattle-Tacoma Airport central terminal 
Once you enter the hallway for the B gates, the Centurion Studio will be immediately visible to your left, directly across from gate B3.

AmEx Centurion Studio Seattle Airport outside entrance
The Centurion Studio Seattle access policy
The Centurion Studio has stricter entry guidelines than The Centurion Lounges, presumably because it's quite a bit smaller:
Those with The Platinum Card® from American Express and American Express Centurion Card receive complimentary access
Those with either of the above cards may bring their spouse and children under the age of 18, or one travel companion as a guest
The difference between this policy and The Centurion Lounge access policy is that you're limited to one guest (rather than two), and that there's no way to purchase a day pass if you're not otherwise eligible for entry.
AmEx Centurion Studio SeaTac review
The reception desk was staffed with three representatives in familiar black uniforms, who requested my ID, boarding pass, and Platinum Card for access. They were excited to tell me I was the 26th visitor to the studio, and I was briefly shown around before I set off taking pictures.

AmEx Centurion Studio Seattle reception desk
Once inside, the design elements were nearly identical to all the other AmEx Centurion Lounges: clean, modern, bright, high ceilings, and a living wall near the entrance. Or as Ben likes to call it, a "plant wall."

AmEx Centurion Studio Seattle Airport living wall

This Centurion Studio features AmEx's signature "Centurion scent," which I've come to associate with other AmEx lounges. Scent marketing is a powerful tool, so if you're into conspiracy theories, you might want to plug your nose before visiting.

AmEx Centurion Studio seating Seattle Airport
The lounge is approximately 3,100 square feet, which makes it the smallest of the Centurion Lounges/Studios, and it has a capacity of 101 guests. For context, The Centurion Lounge LaGuardia is ~5,000 square feet, while The Centurion Lounge Dallas/Ft. Worth is ~9,000 square feet.
It's basically a large rectangular room, aside from the entrance. Windows line the back wall of the space, and the buffet spread basically divides the lounge.
Restrooms are located just near the entrance, and even the sinks are similar to other Centurion Lounges, stocked with L'Occitane products. This Centurion Studio does not feature showers like some of AmEx's other Centurion Lounges.

AmEx Centurion Studio restroom Seattle Airport
There's unfortunately just one toilet per restroom (there's one for men and for women). That means you may need to visit the airport restrooms outside of the lounge if the club gets full.

AmEx Centurion Studio restroom Seattle Airport
The tarmac views are fantastic, especially considering the lack of views available from other Centurion Lounges (aside from MIA). The AmEx representative who gave me a welcome tour made a comment that no other lounge in the airport has views like this.
Maybe she meant no other AmEx lounge has tarmac views like this, because most lounges at SeaTac look out over the tarmac, like the Alaska Airlines Board Room, British Airways Galleries Lounge, and Delta SkyClub.

AmEx Centurion Studio seating SeaTac Airport
I found most other guests were sitting at the "communal table" near the food, or at the workstation bar along the windows.

AmEx Centurion Studio seating SeaTac Airport

AmEx Centurion Studio seating SeaTac Airport
The back of the lounge features a small "living room" that's partitioned off by a wall.

AmEx Centurion Studio living room SeaTac Airport

AmEx Centurion Studio seating SeaTac Airport

AmEx Centurion Studio seating SeaTac Airport

AmEx Centurion Studio buffet Seattle-Tacoma Airport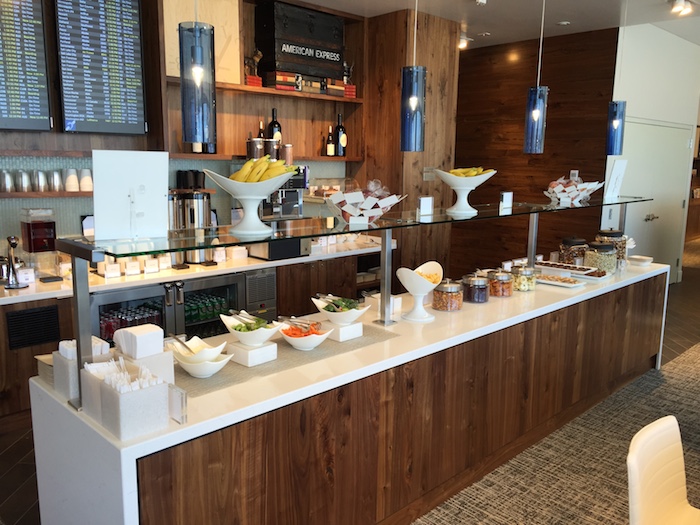 AmEx Centurion Studio buffet Seattle-Tacoma Airport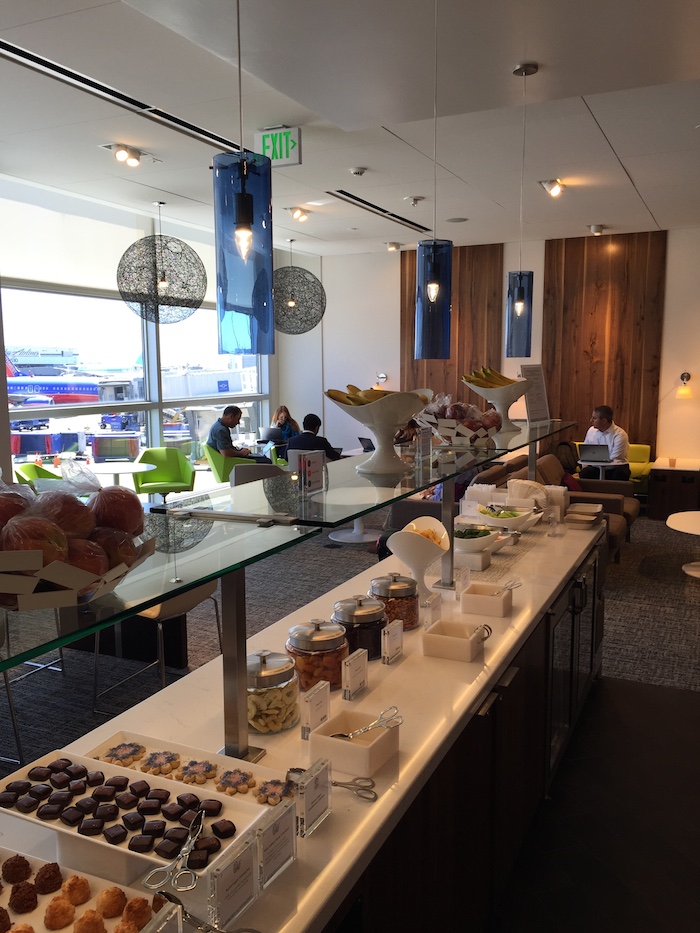 AmEx Centurion Studio buffet Seattle-Tacoma Airport
Even though it's considerably smaller than the other AmEx lounges, it definitely doesn't feel small, nor is it crowded in terms of the design. All the furniture is considerately spaced, so even if at capacity, you shouldn't be tripping over other travelers (or their belongings) unless you enjoyed a bit too much wine or beer inside the lounge.
Notice how I didn't mention hard alcohol — that's because there isn't any: this Centurion Studio lacks a bar! But don't panic, there's still a complimentary selection of three local draft beers and two local wines.

AmEx Centurion Studio alcoholic beverage menu Seattle-Tacoma Airport
I ordered a glass of the NxNW Chardonnay from one of the roaming servers, and I thought it was pretty darn good. A Google search came back with prices for the bottle ranging from $13.99 to $20.99.

AmEx Centurion Studio complimentary house white wine Seattle-Tacoma Airport
Definitely not an alcoholic's dream, but I think quality over quantity wins here. I imagine AmEx will eventually work with the Washington State Liquor Control Board to serve hard alcohol. It's a glaring omission from the lounge's amenities.
Besides a lack of toilets and alcohol (maybe these issues are related), hot food is not offered in this lounge. I'm assuming the kitchen space is too small to handle hot food preparation, which puts this lounge another notch below its bigger and better Centurion siblings.
The upside is that AmEx is using locally sourced products for the food spread from some of my favorite places like Macrina Bakery, Theo Chocolate, and Jones Soda.
The menu is as follows:
So while not very impressive, the buffet area offered excellent presentation. #lipstickonapig

AmEx Centurion Studio buffet Seattle-Tacoma Airport

AmEx Centurion Studio buffet Seattle-Tacoma Airport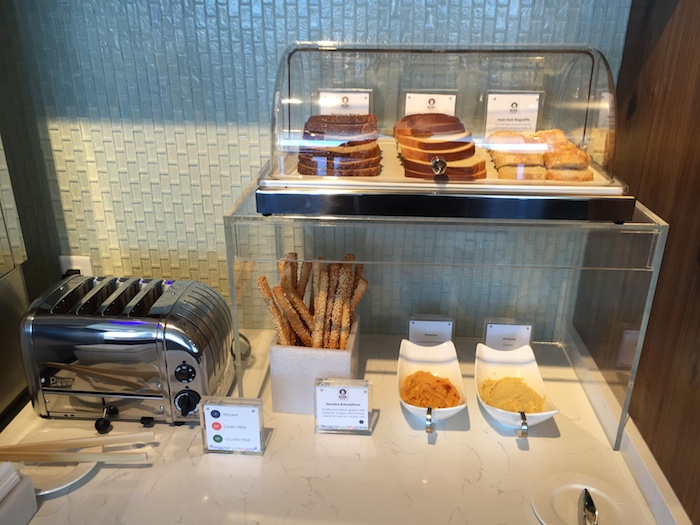 AmEx Centurion Studio buffet Seattle-Tacoma Airport
To be fair, the deserts were good. I might have overindulged in the sea salt chocolate caramels… might have.

AmEx Centurion Studio buffet Seattle-Tacoma Airport
While the beer and wine was served by the roaming waiters, soft drinks were self serve.

AmEx Centurion Studio buffet Seattle-Tacoma Airport
Look, one of Ben's favorite coffee machines! You can be a barista too.

AmEx Centurion Studio buffet Seattle-Tacoma Airport

AmEx Centurion Studio buffet Seattle-Tacoma Airport
How useful is the Centurion Studio?
The Centurion Studio is located in the B concourse, which is where Southwest, Virgin America, and Delta depart from.
This is somewhat of a walk to the A, C, and D gates, and definitely a train ride or two away from the N Satellite and S Satellite gates. However, all of these gates are within security, which makes the transit much easier.
I cut my morning departures pretty close, so the Alaska Airlines Board Room is my go-to lounge. Aside from the convenience of a lounge near my gates, the Board Room offers friendly familiar faces, a more-than-sufficient breakfast spread (I'll usually grab hard boiled eggs and yogurt as the novelty of the pancake machine has worn off), and their spicy Bloody Marys hit the spot if I choose to drink.

Alaska Board Room pancake machine
This likely holds true for Delta and United flyers using proprietary lounges — in the early morning, airline lounges are more a convenience than a luxury.
However, my feelings change when departing in the afternoon or evening. I generally allow myself more time at the airport when flying later in the day due to the variability of traffic, so I'd rather spend my extra time at the airport in a nicer space than an airline-operated lounge.
That's really what the Centurion Studio is — a nice space to wait before a flight, which is only useful if you actually have time to wait.
Bottom Line
As somebody who lives in Seattle, this is an excellent addition to the lounge offerings at SeaTac. There really wasn't much space for AmEx to have built this lounge, so it's reasonable to expect it to not be at the level of other Centurion Lounges.
And I feel like it's pretty clear this isn't a Centurion Lounge — it's branded a Centurion Studio for a reason. Plus, they're definitely managing expectations by limiting access to Platinum and Centurion cardholders. This way an AmEx cardholder who once purchased a pass to the Centurion Lounge in Dallas won't be disappointed when the one in Seattle isn't up to par.
Overall, this is another great benefit of holding a credit card with lounge access.
What are your thoughts on the AmEx Centurion Studio SeaTac Airport?