In late 2015 American announced that they planned on adding a premium economy cabin to much of their longhaul fleet. While the airline has long offered an extra legroom economy section, this is the first time they're offering an actual premium economy cabin.
American has been retrofitting their longhaul planes at a surprisingly fast pace, and back in May we learned American's intentions to reconfigure existing planes with the following timeline:
American's A330-200s will be reconfigured between September 2017 and December 2017
American's 787-8s will be reconfigured between March 2018 and June 2018
American's 777-200s will be reconfigured between June 2017 and March 2018
American's 777-300s will be reconfigured between December 2017 and June 2018
As you can see, American's 777-300s should start their reconfiguration process right around now, and it looks like we now have more details as to what these planes will look like. That's because American has just started the process of reconfiguring their first 777-300. American's 777-300ERs are the only planes in the fleet featuring international first class, and the plane is in a fairly premium heavy configuration.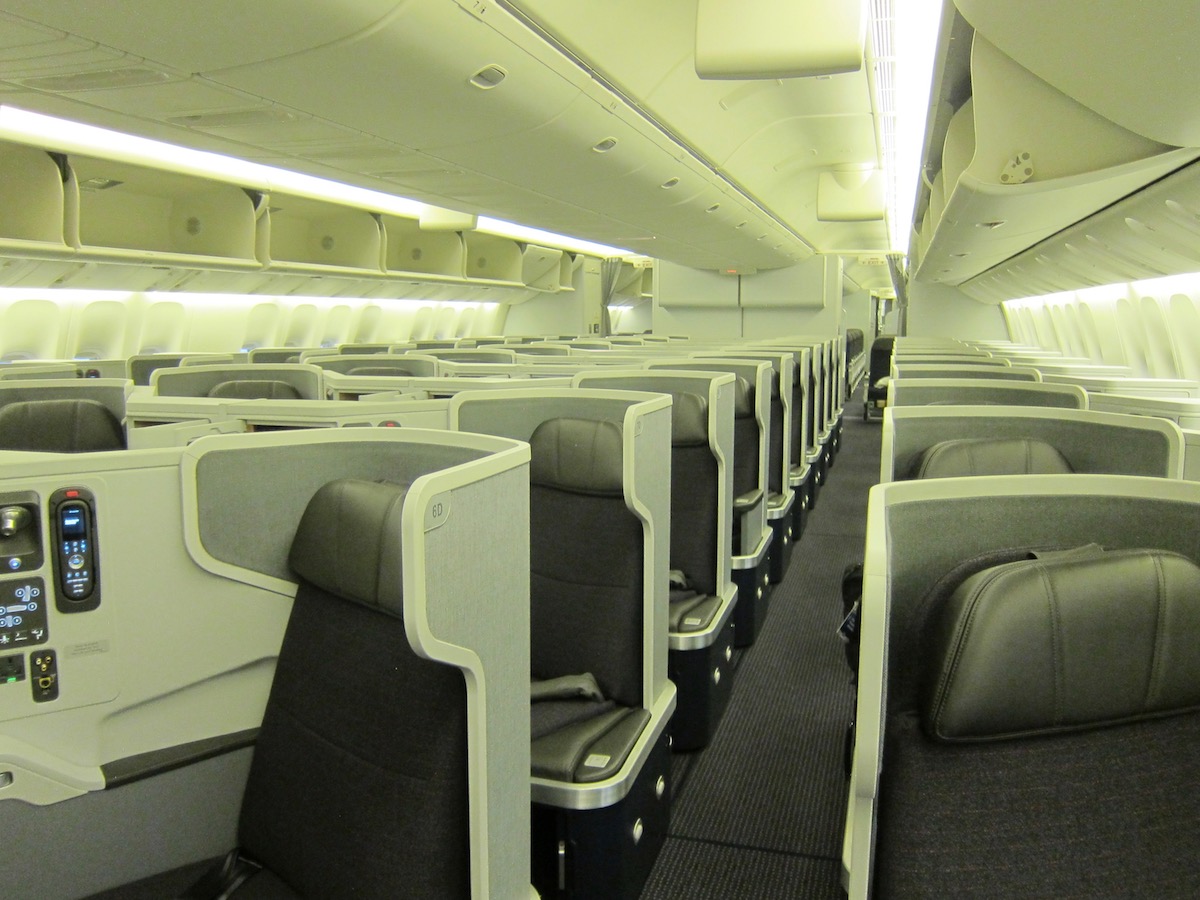 American's 777-300s have 52 business class seats
A lot of us have been worried that on the 777-300, premium economy seats would come at the expense of business class seats, rather than economy seats. Here's how the seat count on American's 777-300s is changing:
The plane will maintain eight seats in first class
The plane will maintain 52 seats in business class
The plane will get 28 premium economy seats
The plane will go from having 250 economy seats to having 216 economy seats
In other words, we're seeing a net reduction of only six seats, which isn't bad from American's perspective.
We only know this because American seems to have loaded their new 777-300 seatmap for all flights as of April 19, 2018, as noted by Traveling For Miles. However, they're not yet selling premium economy on the plane, but rather the seats show as blocked for now.
First & business class looks the same before and after:
Here's what the economy seatmap between doors three and four looks like before the changes:
And here's what the economy seatmap looks like between doors three and four after premium economy is added:
The one big loss here is that previously American's 777-300 Main Cabin Extra was in a 3-3-3 configuration, while the rest of the cabin was in a 3-4-3 configuration. That always seemed far too generous given the bean counters that work at the airline, so it's no surprise that this will be eliminated. This is actually the same area where premium economy will be after the changes.

American's 777-300 Main Cabin Extra
Bottom line
While I'm sad to see American eliminate the spacious Main Cabin Extra cabin on their 777-300s, at least they're maintaining the same number of first and business class seats.
With premium economy installation expected to be complete within about seven months, the next big question is what this means for upgrades. As of now American continues to let you upgrade from economy to business class, but once premium economy is readily available, will American enforce their policy of only allowing systemwide upgrades to be used for a one cabin upgrade?
Presumably award redemptions will also eventually be allowed in premium economy. While that doesn't necessarily have to result in an award chart devaluation, historically airlines have used that as an opportunity to devalue their award charts.
(Tip of the hat to View from the Wing)