Over the past few years American's saver level award availability for their own flights has gotten terrible. While there are lots of great award redemption opportunities on partner airlines, American saver level award availability is quite hard to come by.
We know that American will eventually be following the lead of Delta and United in introducing variable award pricing, though they haven't gotten that far yet… technically.
American's abysmal last minute award availability
One annoying trend from American over the past few years is that they don't even open up award seats at the saver level last minute, even when flights are empty. In other words, if a flight departs in a few hours and there are five first class seats remaining with no one on the upgrade list, you'd think they'd want people to cash in their miles for those seats. But nope.
Instead for the most part American has been charging premiums for last minute travel.
For example, take American's 6AM flight tomorrow from New York to Los Angeles, which has seven seats for sale in first class with no one on the upgrade list to first class. Rather than opening up some saver level first class award seats, they're instead charging an outrageous 115,000 miles one-way.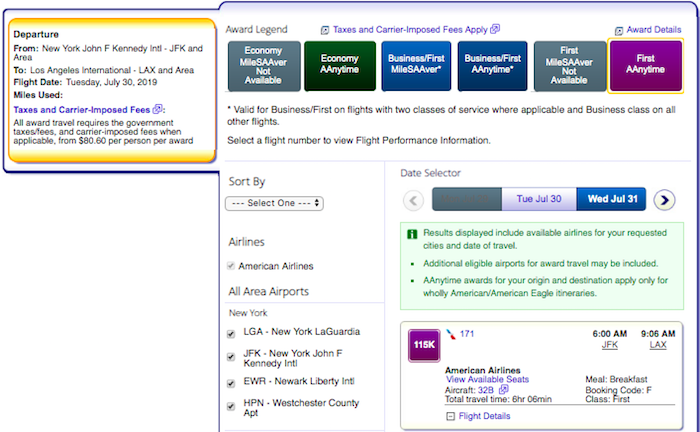 This is an overall trend we're seeing from both American and Delta (United is the exception here, as they're good about last minute awards). They're viewing awards from a revenue management perspective rather than a loyalty perspective.
Rather than considering the very low opportunity cost of those seats and getting the value of the miles off their books, they say that "if tickets are expensive when paying cash, they should also be expensive with miles."
I could do a whole different post about why I think this is terrible logic, but that's definitely how management at AAdvantage and SkyMiles has felt the past few years.
American's new last minute award pricing
@xJonNYC notes something very interesting going on with last minute American awards in some markets. As I said above, historically American is charging an outrageous number of miles for last minute tickets on their own flights.
It appears that for flights to several destinations in Asia they're testing out something new. While American isn't making saver level award seats available in business class, they are offering some really reasonably priced "AAnytime" awards (which are intended to be their rule-buster awards).
While the normal saver business class price is 70,000 AAdvantage miles one-way, American seems to be charging as little as 87,500 AAdvantage miles one-way when booking last minute.
Below is an example from a flight tomorrow from Dallas to Hong Kong.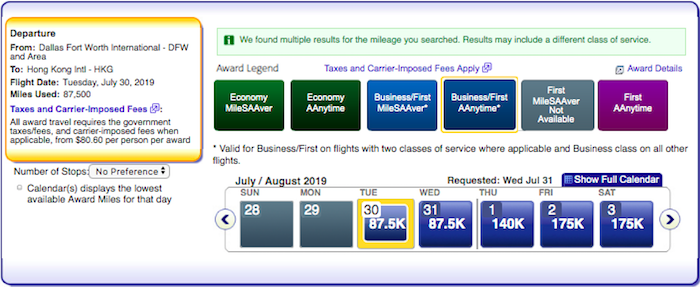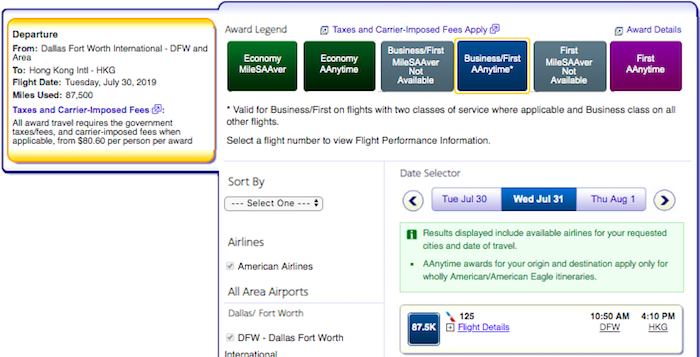 That's interesting because otherwise they charge 140,000-175,000 miles one-way in the days leading up to flights (which matches what the award chart shows).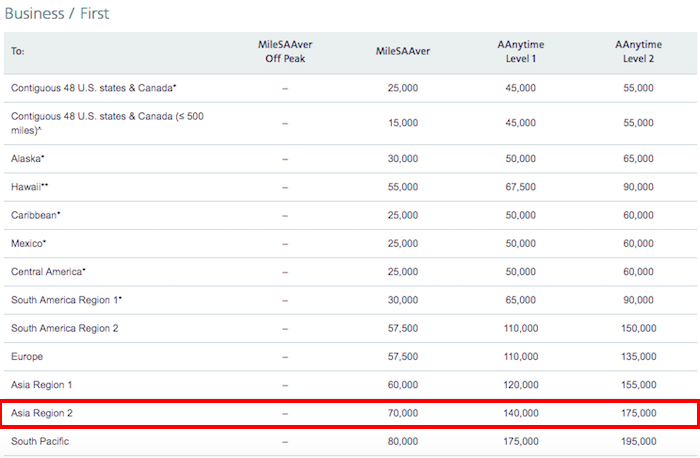 This isn't just limited to Hong Kong, but the same is true in other markets as well, like Los Angeles to Shanghai.

I don't currently see this on flights to Australia, South America, or Europe, so I'm guessing American is testing something out here.
It's an interesting concept, as they're offering award seats at a more reasonable price last minute, but not at the saver cost.
Of course this also hints at them moving closer to dynamic award pricing, since the 87,500 miles isn't otherwise an award price they have.
Bottom line
For now this is just something to keep an eye on, though American does seem to be reducing premium award prices in some markets within a couple of days of departure, and they're also charging prices that aren't otherwise on the award chart.
Ultimately I think this is better than nothing — 87,500 miles isn't an unreasonable amount to pay for a last minute business class award ticket — though would it kill American to just make some saver space available?
For what it's worth, this isn't the first time they've had lower award pricing. In May they launched a "sale" on AAnytime awards to Europe, where we saw pricing from 85,000 miles one-way in business class.
What do you make of this trend from American AAdvantage?