There's no denying that American's catering has become significantly worse over the past several years. I wouldn't tie it exclusively to the merger, as the downhill trend of American food has been going on for years now. That being said, there's no denying that American and US Airways "aligning" meals has led to a decrease in quality.
Just a few years ago American had international style service on all transcontinental flights, while nowadays you basically get the same food on a two hour flight as you do on a six hour flight.
My beef isn't even with the fact that the service is less "elaborate," but rather the fact that American food has become borderline inedible over the past year or so.
As I wrote about in late March, I've gotten to the point where I just avoid American's domestic food whenever possible and would rather grab an overpriced sandwich in the terminal. And I suppose that's ultimately better for my health anyway.
My main complaint has been that regardless of whether you're on a lunch or dinner flight, you have the choice between a microwaved pasta dish and a terrible chicken or beef dish.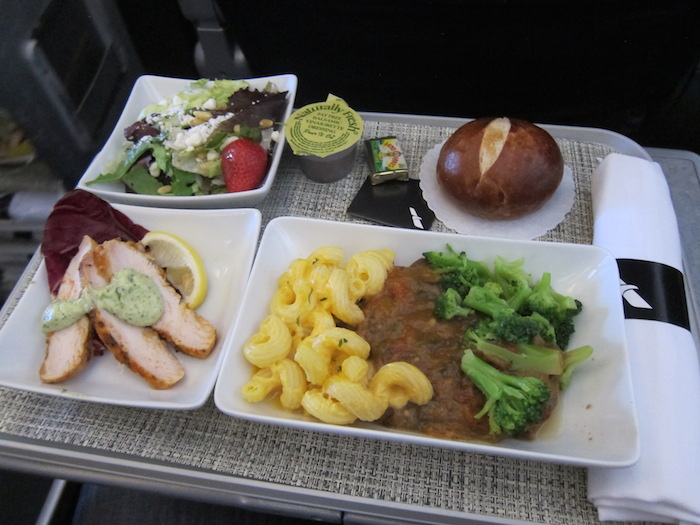 But it looks like there are finally some actual positive changes. As View from the Wing reported in early April, American changed up their domestic catering a bit as of May 1, 2015. The most significant improvement is that they finally brought back the entree salad on lunch flights.
I had it on a lunch flight today, and it was actually good. It's the first time I've eaten lunch on a domestic American flight in a long time.
I know this is really minor in the grand scheme of things, though color me very excited about the fact that American finally has edible food for lunch again.
Now if they'd only start offering the salads on dinner flights as well!
Anyone else excited by American bringing back entree salads on lunch flights?